If you're hoping to beat the lines in Disney World, there are a few different options. You can buy Genie+, which allows you to reserve Lightning Lanes at certain attractions and skip the standby line. You can also buy individual pay-per-ride reservations at the most popular rides, which aren't included with Genie+.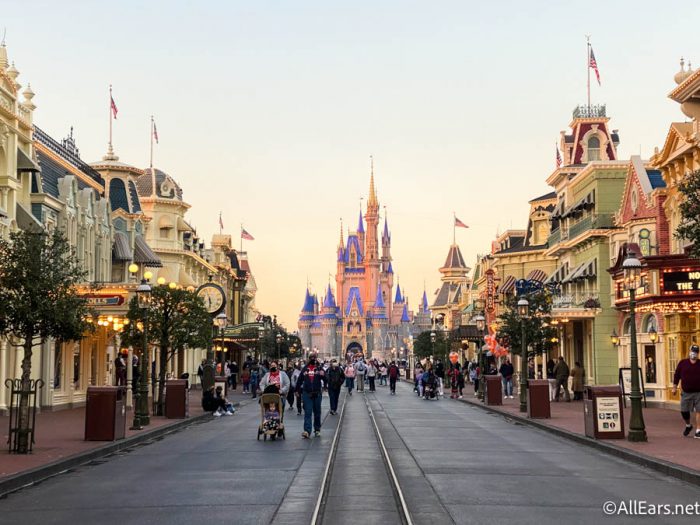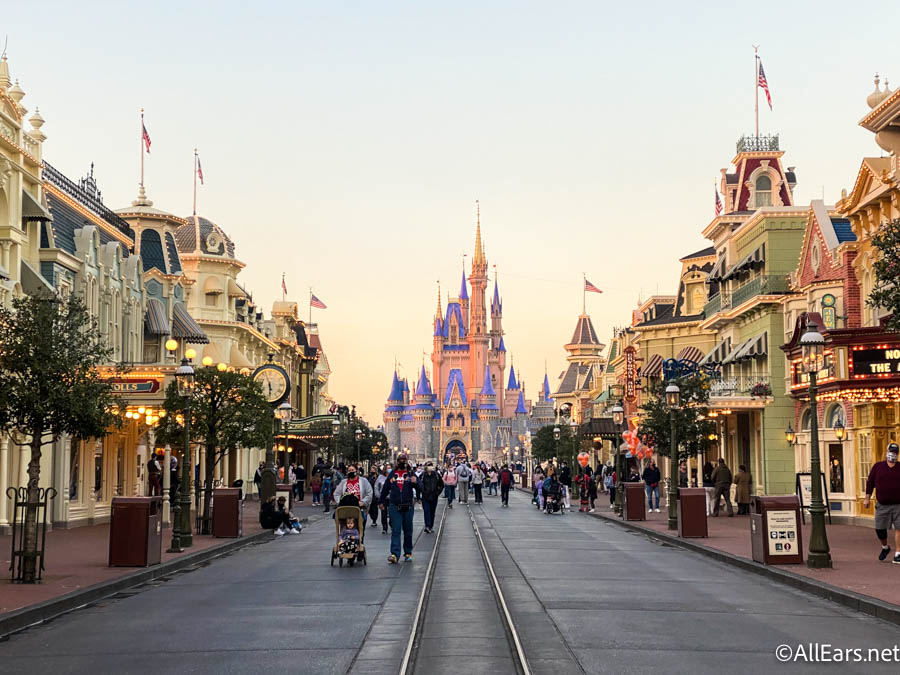 But for a free option, we recommend getting to the parks as early as possible so that you beat the crowds and get on those rides before other guests arrive. If you're staying at a Disney World hotel, you can utilize Early Theme Park Entry, which means that you can enter the theme parks 30 minutes before other guests. This applies to every park, every day, as long as you have a park pass for the one you're visiting. How much does this extra perk actually help? Come with us as we test it out in Magic Kingdom!
We've already experimented with Early Theme Park Entry at Disney's Hollywood Studios and EPCOT, so now it's time to test it out in the most magical park. We learned from Hollywood Studios that parking lots don't usually open at the parks until an hour before Early Entry, which means an hour and a half before the park opening time. The Magic Kingdom opens at 9AM today, which means Early Entry is at 8:30AM.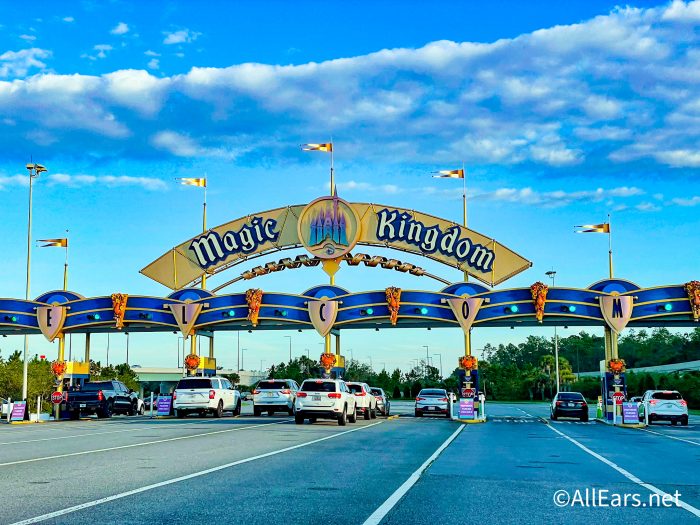 So we arrived at the Transportation and Ticket Center parking lot right at 7:30AM. (Remember that if you're driving to Magic Kingdom, you'll park at the TTC and then take a Monorail, bus, or ferryboat to Magic Kingdom.)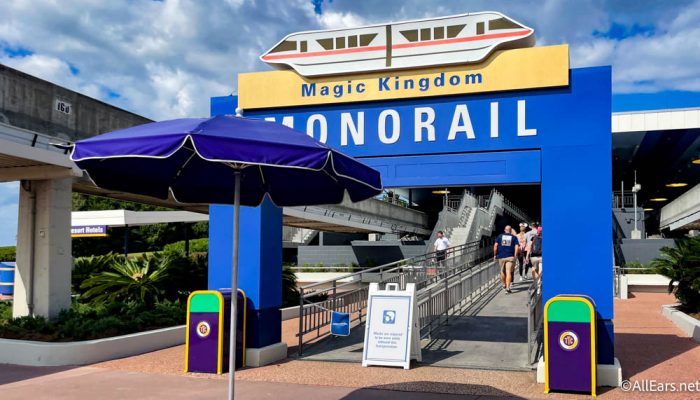 There weren't very many people at the TTC when we arrived, so we were able to park and get on a monorail by 7:45AM.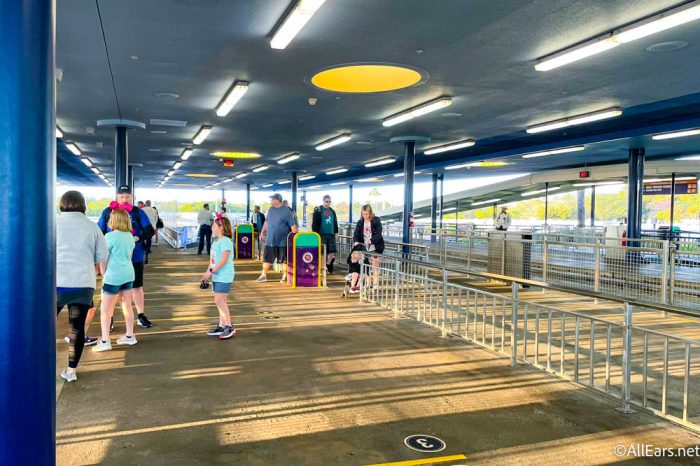 During our trip, we found the crowds. There were already long lines at Magic Kingdom's entrance.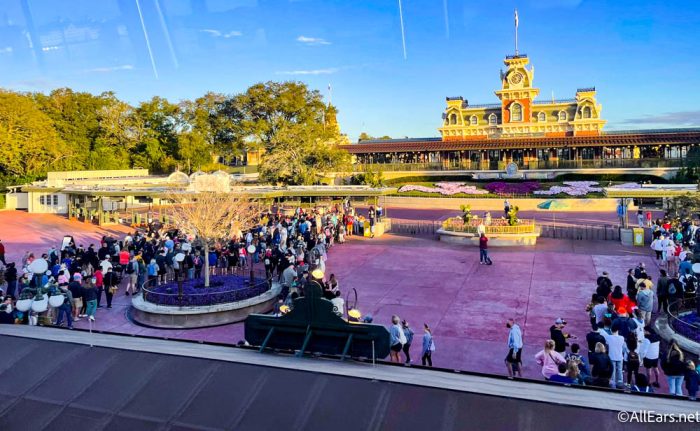 We arrived at Magic Kingdom by 7:55AM, and Cast Members let people into the park at 8AM. The rides don't start operating until 8:30AM (when Early Entry starts), but you can usually enter the park and head towards the ride of your choice a little earlier than that.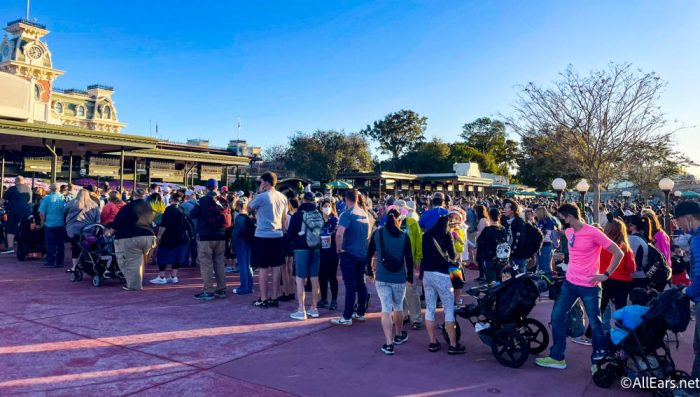 Keep in mind that not all of the rides are open for Early Entry! For the most part, Fantasyland and Tomorrowland are the only lands that are available at this time, but see our Early Entry page for a full list of the open attractions.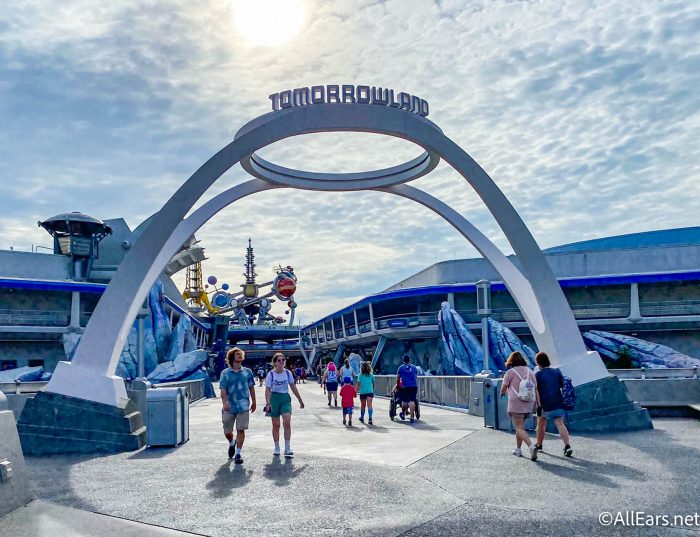 We headed to Fantasyland because our top priority was Seven Dwarfs Mine Train, since this is one of the most popular rides in Magic Kingdom. Turns out, a lot of people had a similar idea (although some people stopped at Main Street Bakery for their morning Starbucks drink on the way).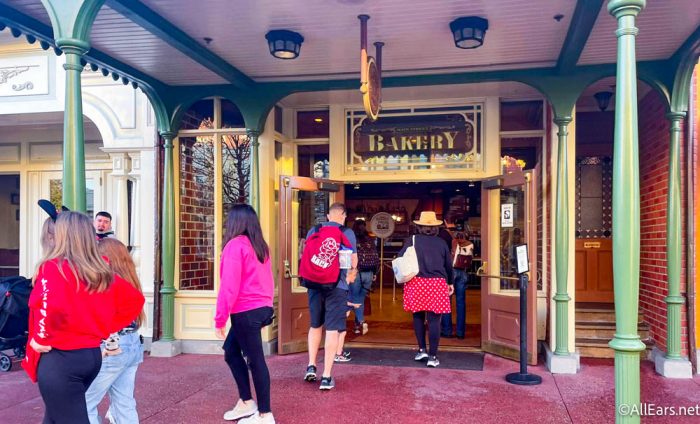 Cast Members stopped guests near Cheshire Café, and we waited there until 8:30AM (when Early Entry officially starts).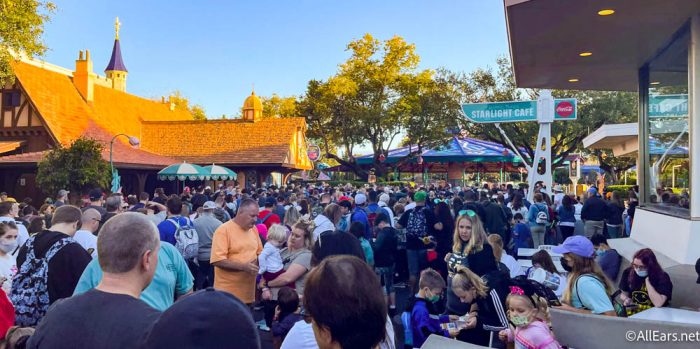 We were definitely not the only people here! Most of the guests headed to this spot to get to Seven Dwarfs or Peter Pan's Flight. The other popular option was Space Mountain, but since that coaster usually doesn't have long lines all day, we chose Seven Dwarfs.
At 8:30AM, Cast Members let us through, and we hopped in line at Seven Dwarfs Mine Train. Just a few minutes after 8:30AM, the queue already extended back to Storybook Circus.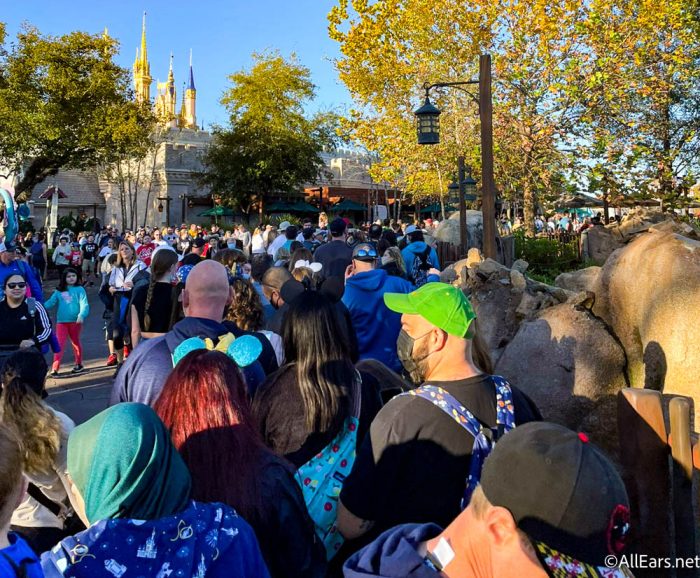 Even though it looked long, this line only took us about 20 minutes to get through. By 8:53AM, we were boarding a mine train car.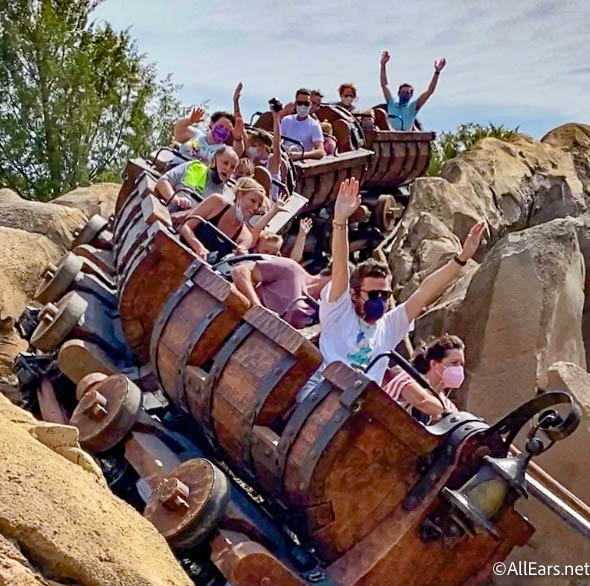 When we got off the ride, it was just before 9AM, which is when the rest of the guests could enter Magic Kingdom. We speed-walked to Jungle Cruise, since that popular ride opens at 9AM with the rest of the park.
When we arrived at 9:05AM, the line for Jungle Cruise extended past Aladdin's Magic Carpets, but the wait time only said 30 minutes, so we hopped in line.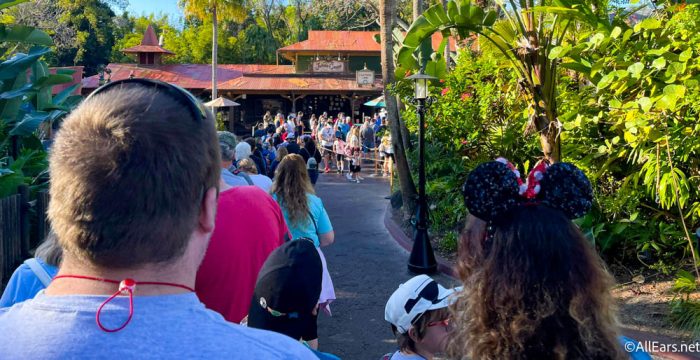 We got to the front of this line in about 25 minutes…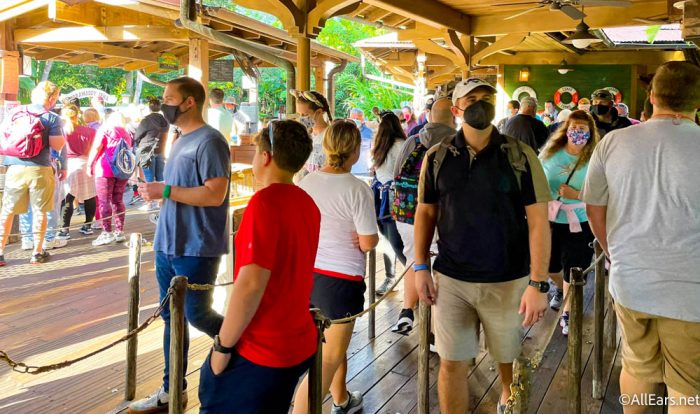 …and were off on a jungle adventure with our Skipper by 9:30AM.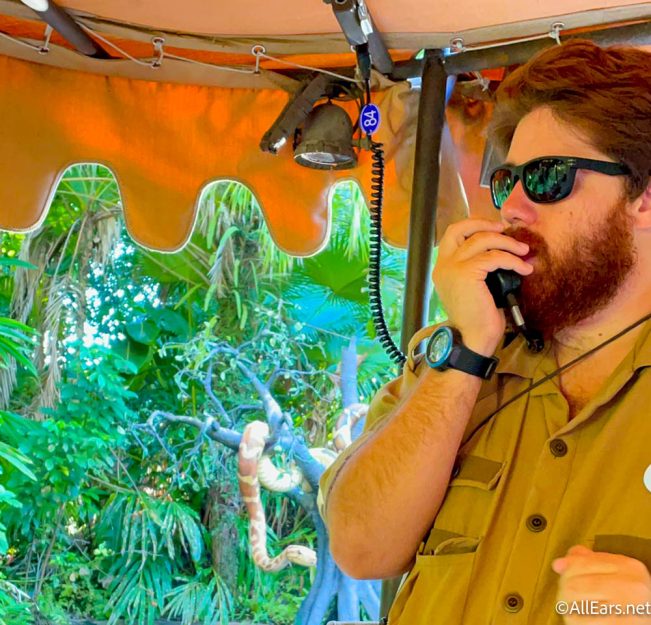 So we were able to ride two of the most popular rides in Magic Kingdom before 10AM, which means we avoided the longer lines that usually form for these attractions later in the day.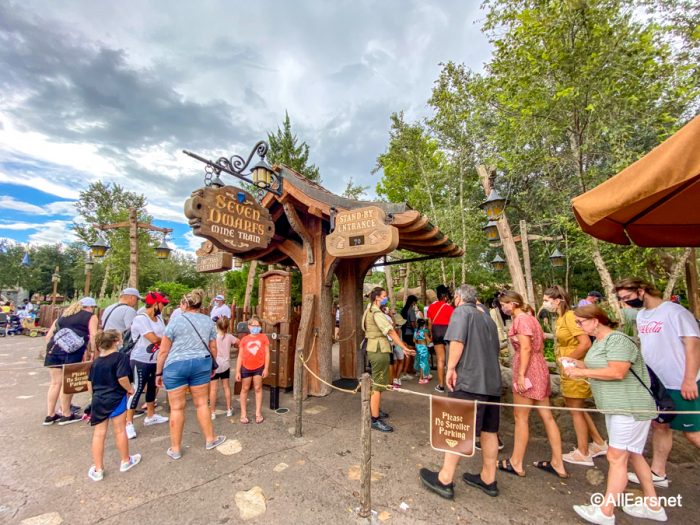 Our biggest takeaways from this experiment are these:
You should arrive at the park early — even before Early Entry begins. We try to be at the entrance at least a half-hour before Early Entry starts.
You'll probably be able to ride one or two big attractions during Early Entry, so choose your top rides and head straight there.

Know which rides are and aren't open during Early Entry. Some of the biggest attractions in Magic Kingdom (like Splash Mountain, Big Thunder Mountain Railroad, and Jungle Cruise) don't open until 9AM.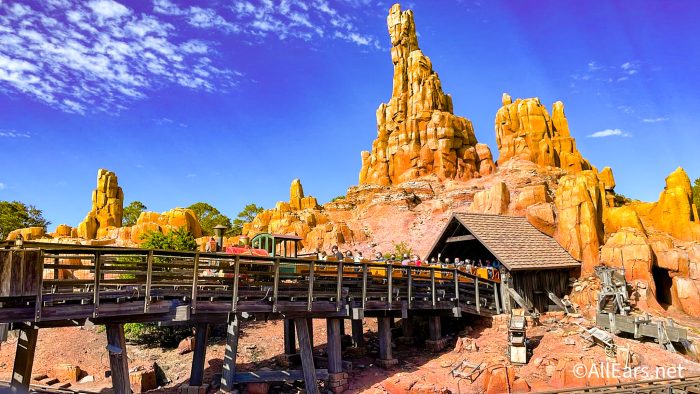 If your Early Entry plan doesn't work out, you can always use Genie+ and pay-per-ride to get ahead of the standby lines in the parks. But remember that some of the attractions, like Seven Dwarfs Mine Train and Peter Pan's Flight, fill their Lightning Lane reservations pretty quickly. If you're hoping to skip the line at those attractions, book your Lightning Lane reservation ASAP.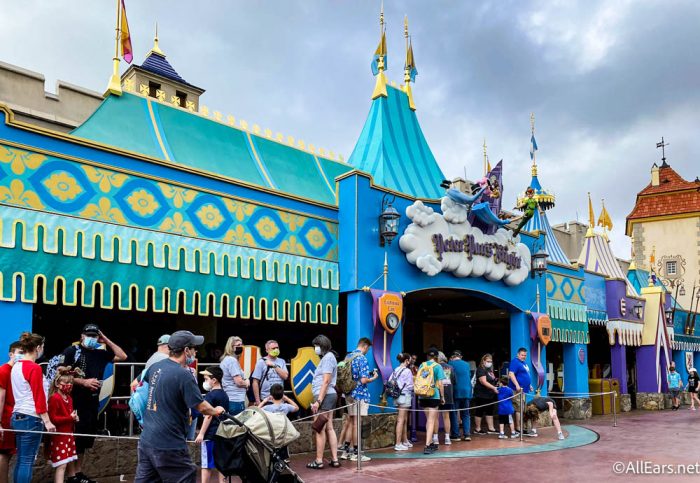 Our experiment this morning was in mid-January, which usually means smaller crowds in Disney World. If you're heading into the parks during a busier time of year, you experience might look different. Peak times of the year can be the most valuable times to use Early Entry, since crowd levels later on in the day will likely be much higher.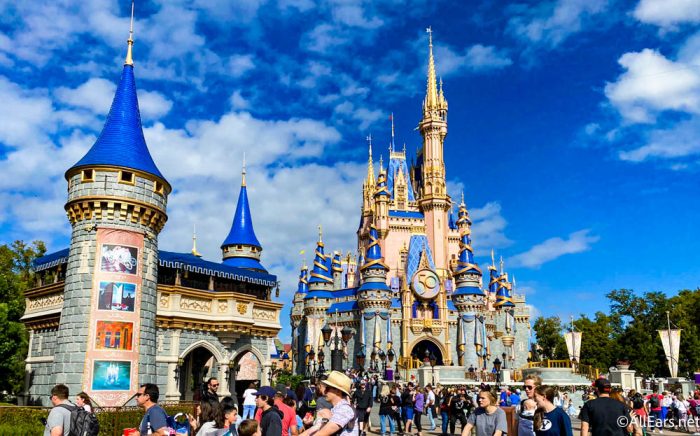 Keep following AllEars for all the latest news and plenty of tips as you plan your Disney World vacation!
What are your best tips for beating the lines in Disney World? Let us know in the comments.