Mickey and Minnie's Runaway Railway debuted on March 4th, 2020, at Disney's Hollywood Studios.
It was an immediate hit…so much so, that MMRR – the first-ever Disney parks attraction that stars Mickey and Minnie Mouse – received a 2021 Thea Award, a prestigious honor given by the Themed Entertainment Association, for Outstanding Achievement: Attraction.
Thanks to my friendship with Kevin Rafferty, the now-retired Walt Disney Imagineering creative director, I was able to follow the progress of the attraction from afar as Kevin guided his amazingly talented team through the years-long process from the attraction's concept to creation to construction to opening day.
At first, Kevin was understandably vague about his work on MMRR. In emails, he would hint about how he was working on an attraction that was "something special" and "groundbreaking."
I met Kevin for coffee outside the Trolley Car Café on Hollywood Boulevard less than four months before MMRR opened.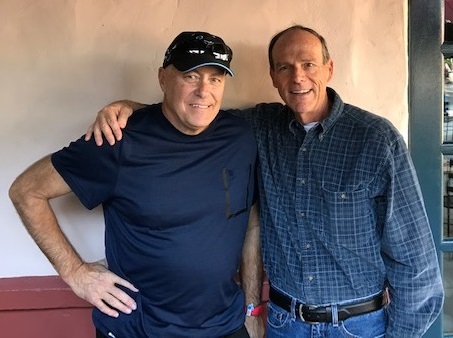 The exhaustion brought on by far-too-many 16-hour days was evident, but the always affable Rafferty seemed to relish in the fact that he was allowing himself an all-too-brief respite from the intense pressure he was under.
Our conversation ran the gamut, from what it's like working with a deadline hovering overhead … to how the basic storyline of MMRR was conceived … why the Chinese Theater at Hollywood Studios was chosen … to how he promised Marty Sklar – his former boss at Imagineering and the man who was both his mentor and dear friend – that he'd someday create an original attraction which featured an original theme song.
"I wish Marty were here to see what we came up with," Rafferty said on that brisk November day.
I was among the hundreds of folks in attendance at the grand opening of Mickey & Minnie's Runaway Railway. And I was fortunate to be able to steal a few minutes of Kevin's time during the press preview event on March 3.
I told him how much I enjoyed the ride … and how proud Marty would have been of his accomplishment.
I also got to chat with Charita Carter, the producer of the attraction, as well as Christopher Willis, who co-authored the ride's catchy "Nothing Can Stop Us Now" theme song with his wife.
That night, both Kevin and Charita walked arm-in-arm along a red carpet in front of the Chinese Theater to kick off the fun-filled grand opening ceremonies.
A FEW WEEKS AFTER OPENING, DISNEY PARKS SHUT DOWN
Just a few weeks after MMRR opened, however, COVID-19 forced all of Walt Disney World to shut down.
Fast forward to this past July and our first visit to Walt Disney World in 17 months.
On the day we scheduled a visit to Hollywood Studios, we made a bee-line to the Mickey and Minnie's Runaway Railway queue after entering the park.
It was a hot and humid afternoon and the wait time was 50 minutes. But I couldn't wait to see my wife Janet's reaction to the attraction, which I had talked about effusively since I first rode it in March of 2020.
She was excited to experience every twist and turn during her deep dive into the wacky cartoon world Kevin and his team had created.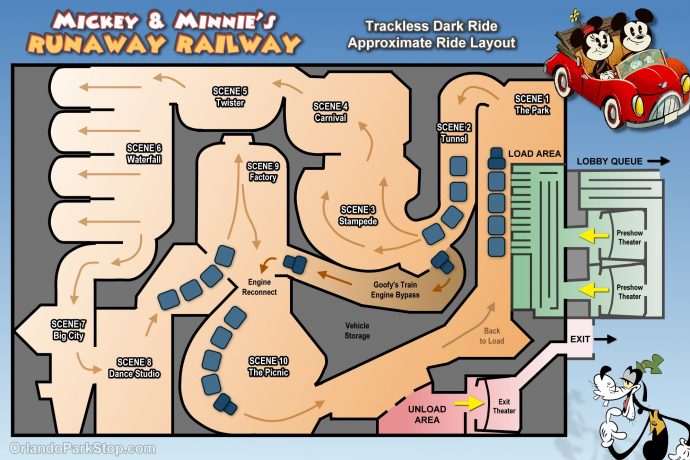 Near the end of the ride, with Mickey, Minnie and Pluto finally enjoying their picnic – at the point when Conductor Goofy accidentally pushes the wrong lever and each guest aboard the Runnamuck Railroad receives a gentle jolt on the back – I had this exchange with my wife:
"Did you feel that?" I asked.
"Yes, I did," she said.
"What other ride has a similar surprise at the end?"
"The bug ride in Animal Kingdom."
"That's right. And who designed both rides?"
"Kevin Rafferty."
'GENTLE NUDGE' IS A KEVIN RAFFERTY TRADEMARK
It turns out that the gentle nudge – kind of a Kevin Rafferty trademark – at the end of Mickey and Minnie's Runaway Railway wasn't in the original plans for the ride. After years of meticulous planning down to the smallest detail, Kevin admits he was winging it for that last surprise.
According to Kevin: "I didn't originally design that gag into the script, especially since the finale was so romantic. But when I was directing and programming the show (and going on all those ride-throughs while doing so) it felt like something was missing at that very moment prior to unload."
So he tapped into his bag of tricks and came up with the idea to incorporate the little jolt before guests get off the train.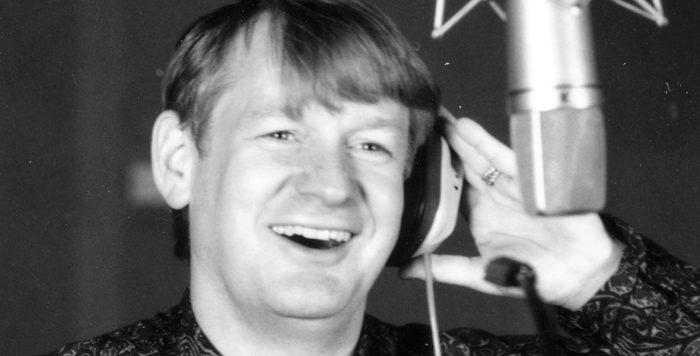 "As I always do in recording sessions, I tossed a bunch of unwritten, unplanned lines and situations at Bill Farmer [the legendary voice of Goofy] to perform improvisationally, in case we needed something in the field," Rafferty said.
"I was able to work with our media designer and reach back into that recording session and pull everything I needed to build that moment into the end of the show."
So, just prior to guests loading from their ride vehicles, Goofy blurts out "What does this lever do?" and riders receive a gentle nudge in the backside.
"My goal was to surprise guests with something totally unexpected, a little bit of extra show-biz when they thought it was all over, exactly like I did in It's Tough to be a Bug!
"The best part of actually adding that in the field was I didn't tell anyone else on my team, so no one expected that gag at the end, including management.
"That way, I was able to see sincere reactions among my colleagues – folks who knew the show so well – when they were surprised. It worked every time!"
Over the course of his career, Kevin made it a habit of getting in the last word on many of the attractions he conceived.
"It's always fun to add something totally unexpected at the end of a show, like Donald's butt sticking out of the back wall in Mickey's PhilharMagic, or the rapid-fire "lightning round" at the end of Toy Story Midway Mania!, or the "kiss good-bye" moment with Lightning and Mater at the end of Radiator Springs Racers [at Disney's California Adventure].
"Always leave 'em laughing, I like to say!"
Chuck Schmidt is an award-winning journalist who has covered all things Disney since 1984 in both print and on-line. He has authored or co-authored seven books on Disney, including his most recent, The Beat Goes On, for Theme Park Press. He also has written a twice-monthly blog for AllEars.Net, called Still Goofy About Disney, since 2015.