You know it's going to be a good day when a restaurant reopens in Disney World!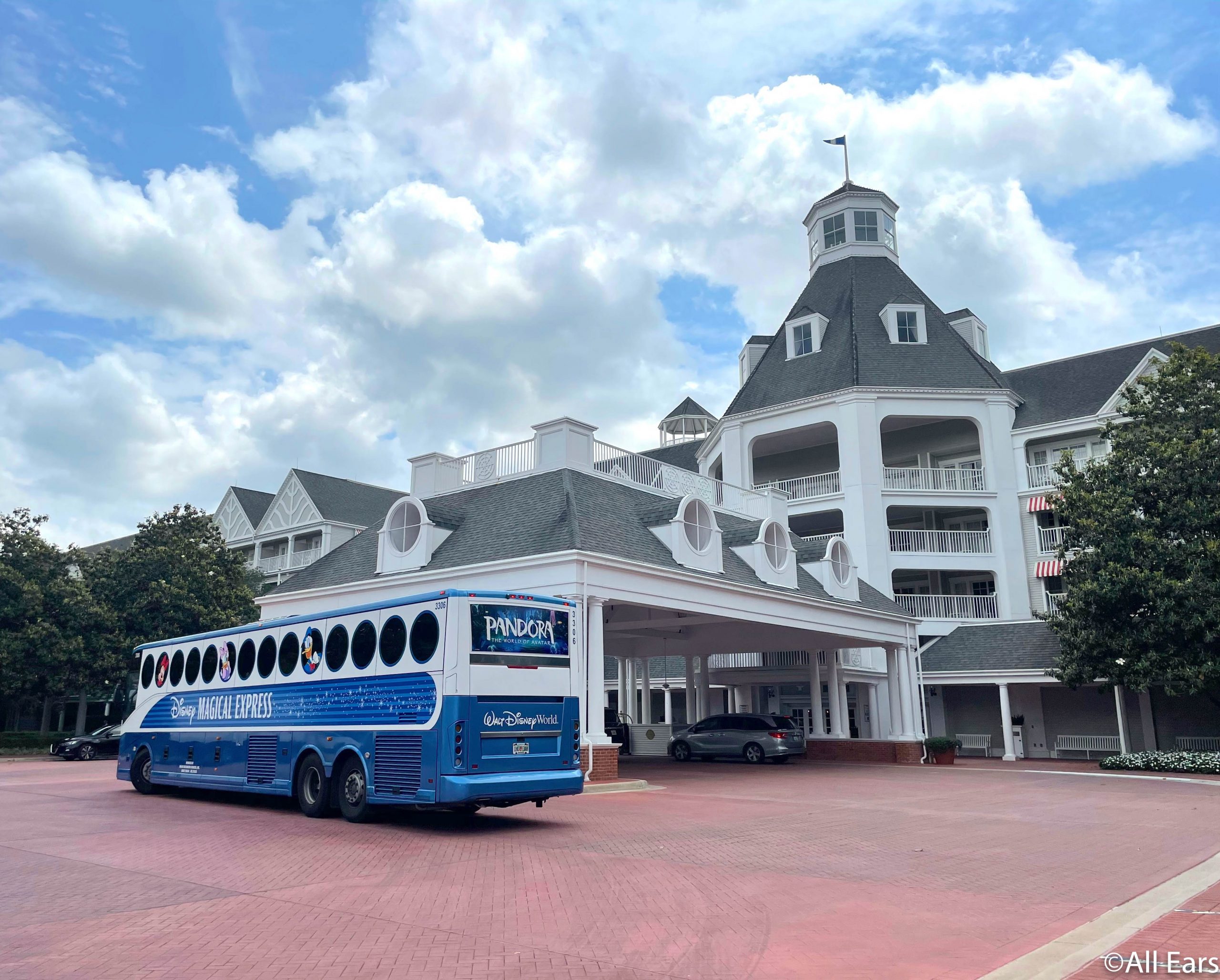 Recently, we've spots like Fairfax Fare and Terra Treats welcome guests back in the parks. But, we're heading to the Disney Resorts to sit back and indulge on a surf and turf meal!
Disney announced that Cape May Cafe would reopen to guests on May 18th at Disney's Beach Club Resort. And, the day has officially come that we're at the beach inspired restaurant!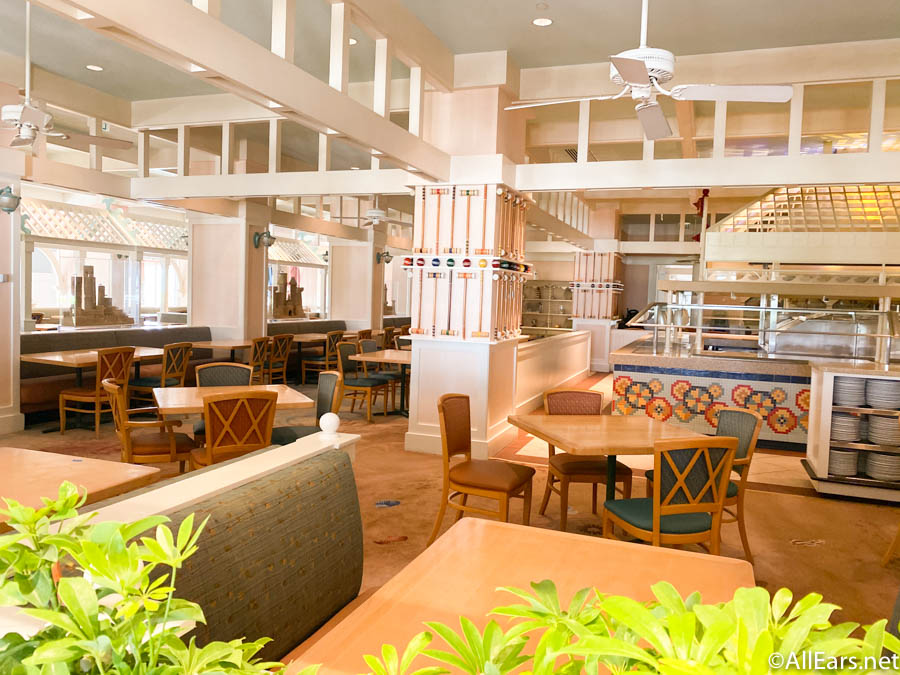 It's important to note that Minnie's Beach Bash Character Breakfast and the Seafood-and-More Dinner Buffet won't be returning at this time. Instead, there's an all-you-care-to-enjoy family-style breakfast with omelets, Mickey and Minnie Waffles, and pastries like the Lobster Tail. And, if you're coming later in the day, dinner will include house-made Parker House rolls, corn bread, a seafood boil, lobster mac and cheese, and the Turf Platter with steak and chicken.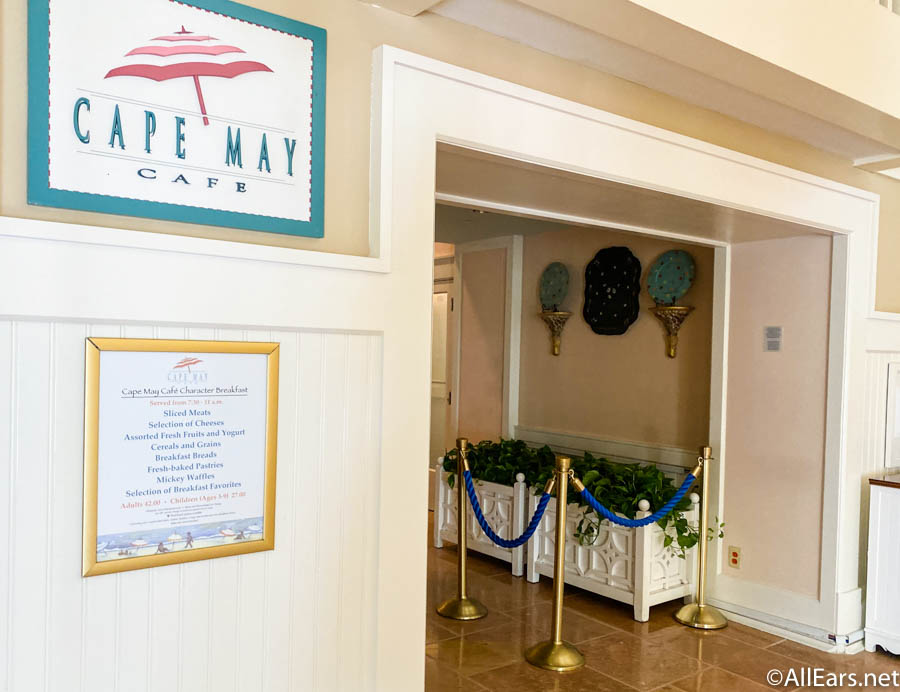 Ready to dive in? So are we!
Check-in
When we first arrived to the restaurant, we were able to check in using the Mobile Dine Check-in feature on our phones. Since it was an early and quiet morning, we received our call-back text right away and checked in with the hostess.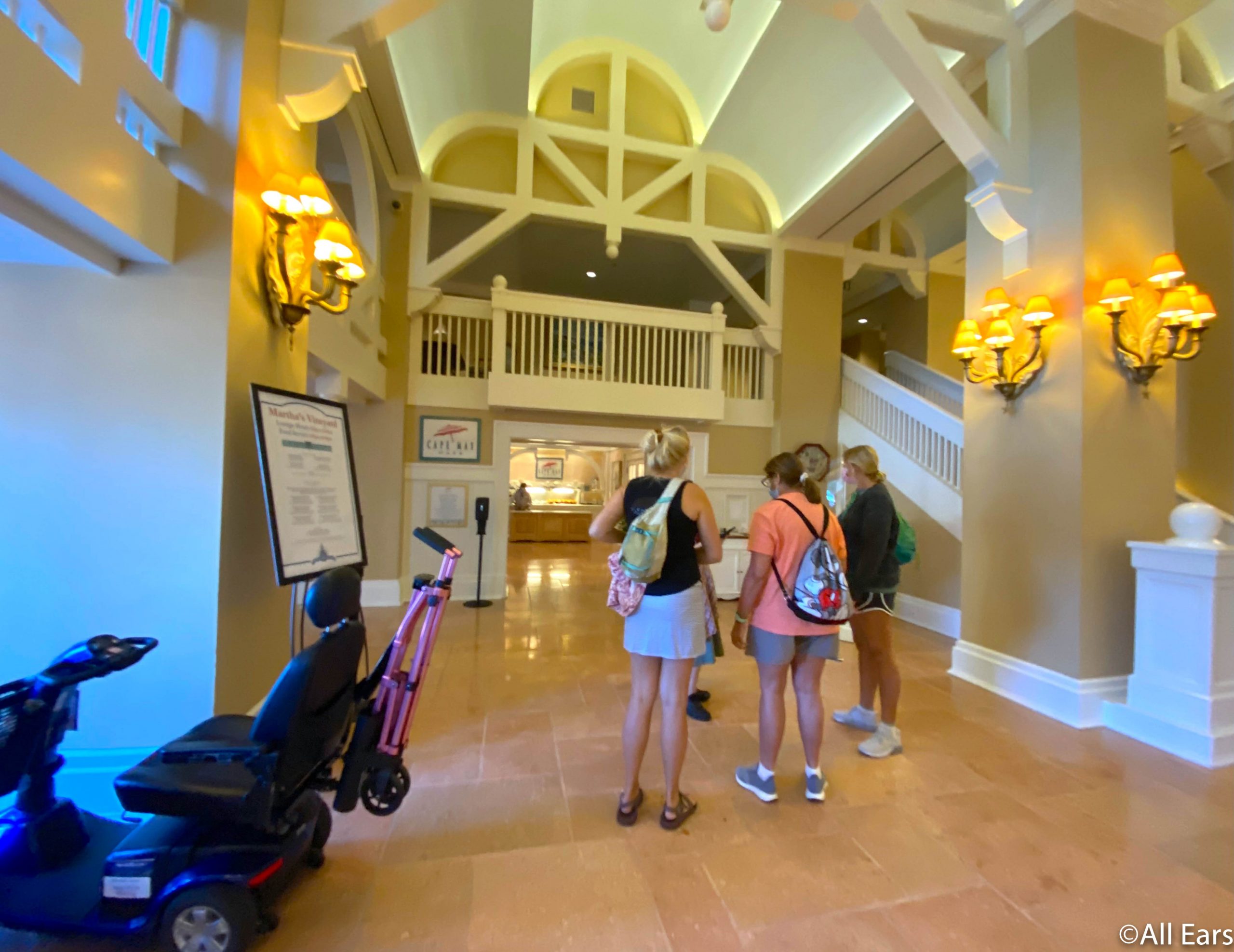 Guests will no longer need to undergo temperature checks. Cast Members didn't ask visitors to keep their masks on unless they were eating, like previous procedure called for at restaurants.
Seating
As our Cast Member led us to our table, the seater picks up the pastries for the table so guests have something to snack on before the rest of their meal arrives as the table.
Breakfast
The pastry basket brought to the table included various croissants, muffins, rolls, and the Lobster Tail (which is a crispy pastry filled with cream)…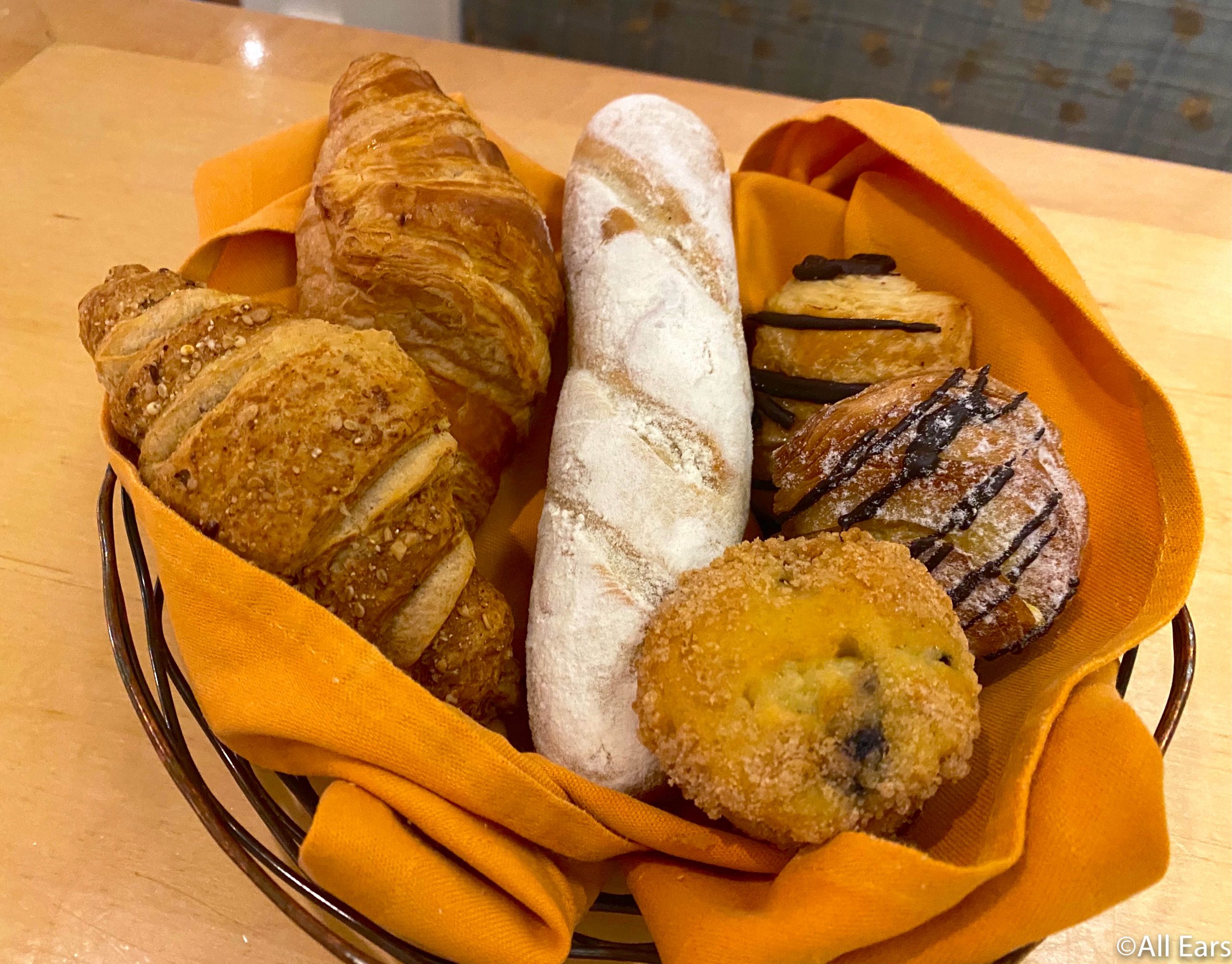 …which were all paired with a trio of butter, jelly, and chocolate-hazelnut spread to use on them.
We were also given mixed seasonal fruit and a yogurt parfait to go along with our meal for those looking for something more on the healthy side!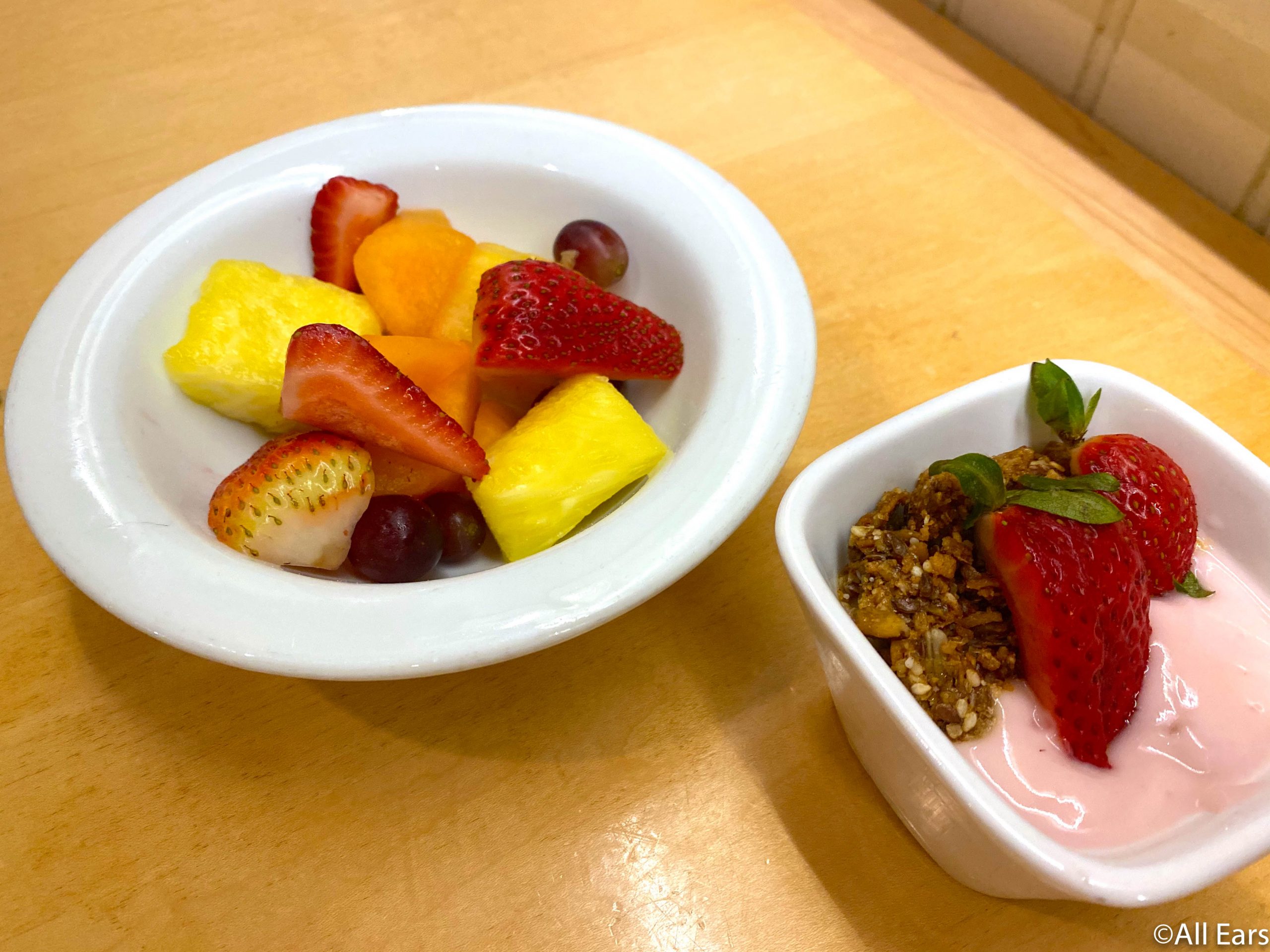 Prior to our Hot Breakfast Platter being brought out, we were given ketchup, syrup, and salt and pepper.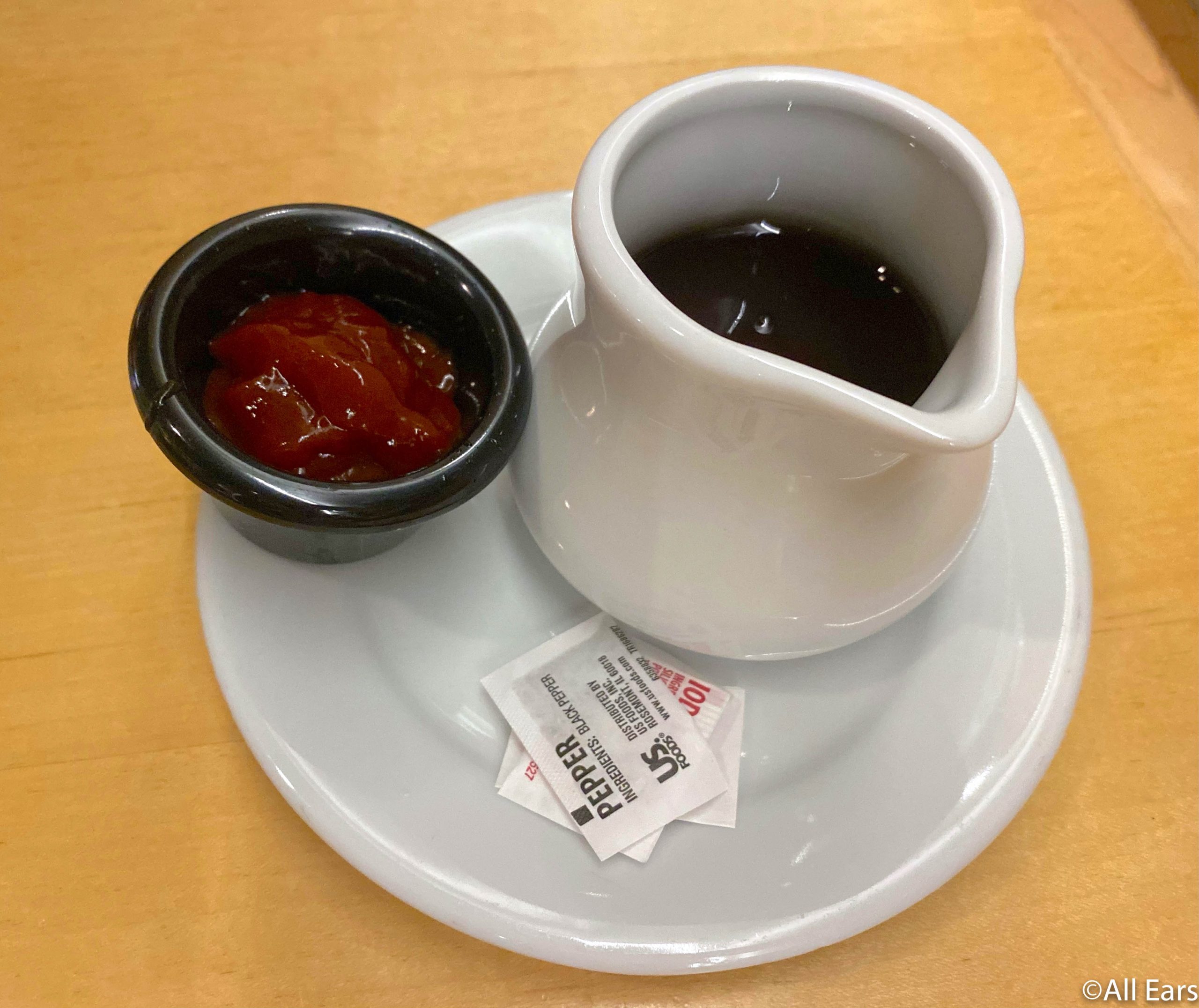 And, then our main dish finally arrived! The breakfast platter was made up of Mickey Waffles, seasonal pancakes, French toast…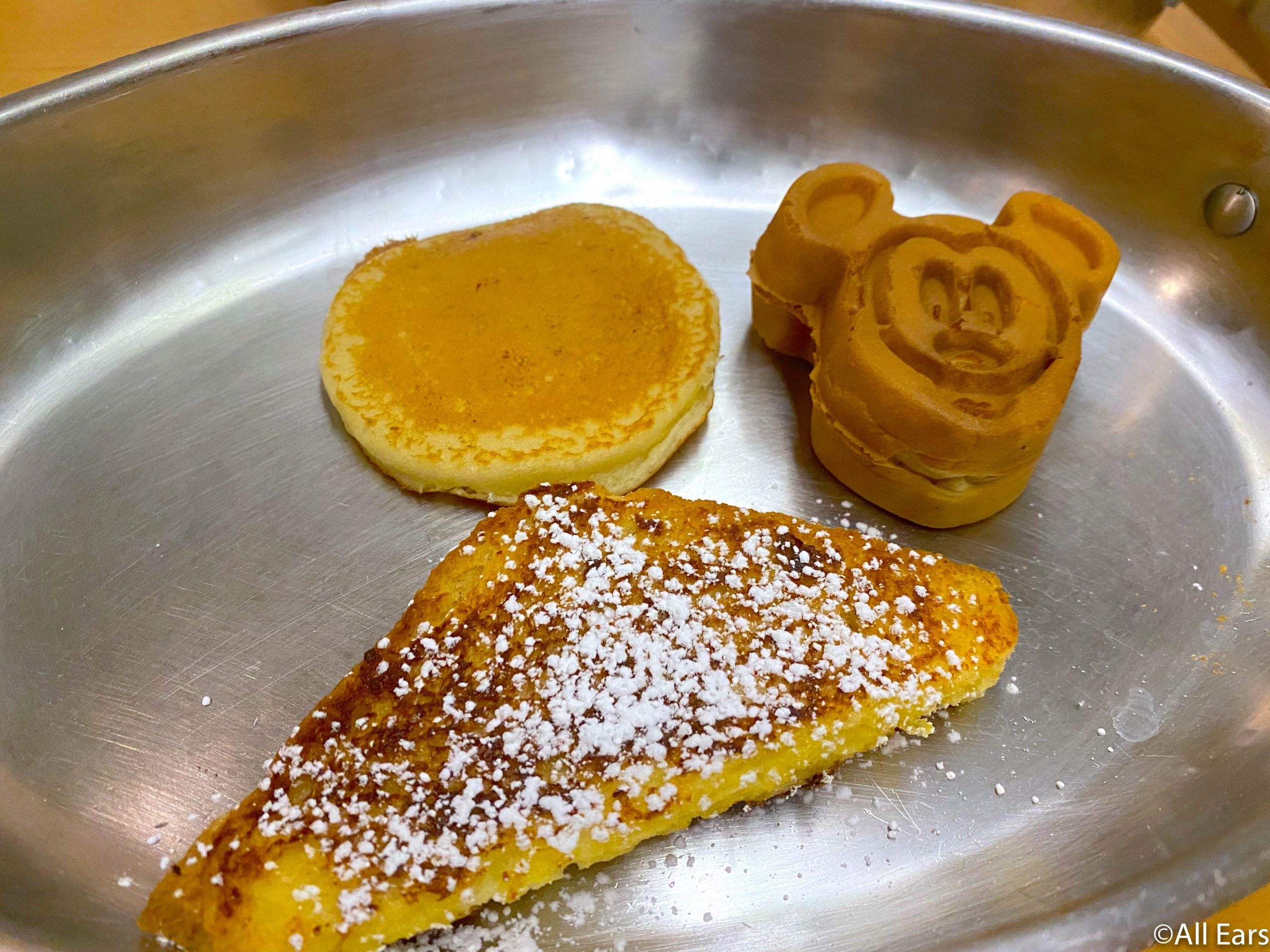 …scrambled eggs, bacon, breakfast sausage, crispy potato barrels, and beef hash. The meal is all-you-can-eat, so this was just our starting point for the morning! An omelet station was also available with the options of ham and cheese, western, or veggie based omelets.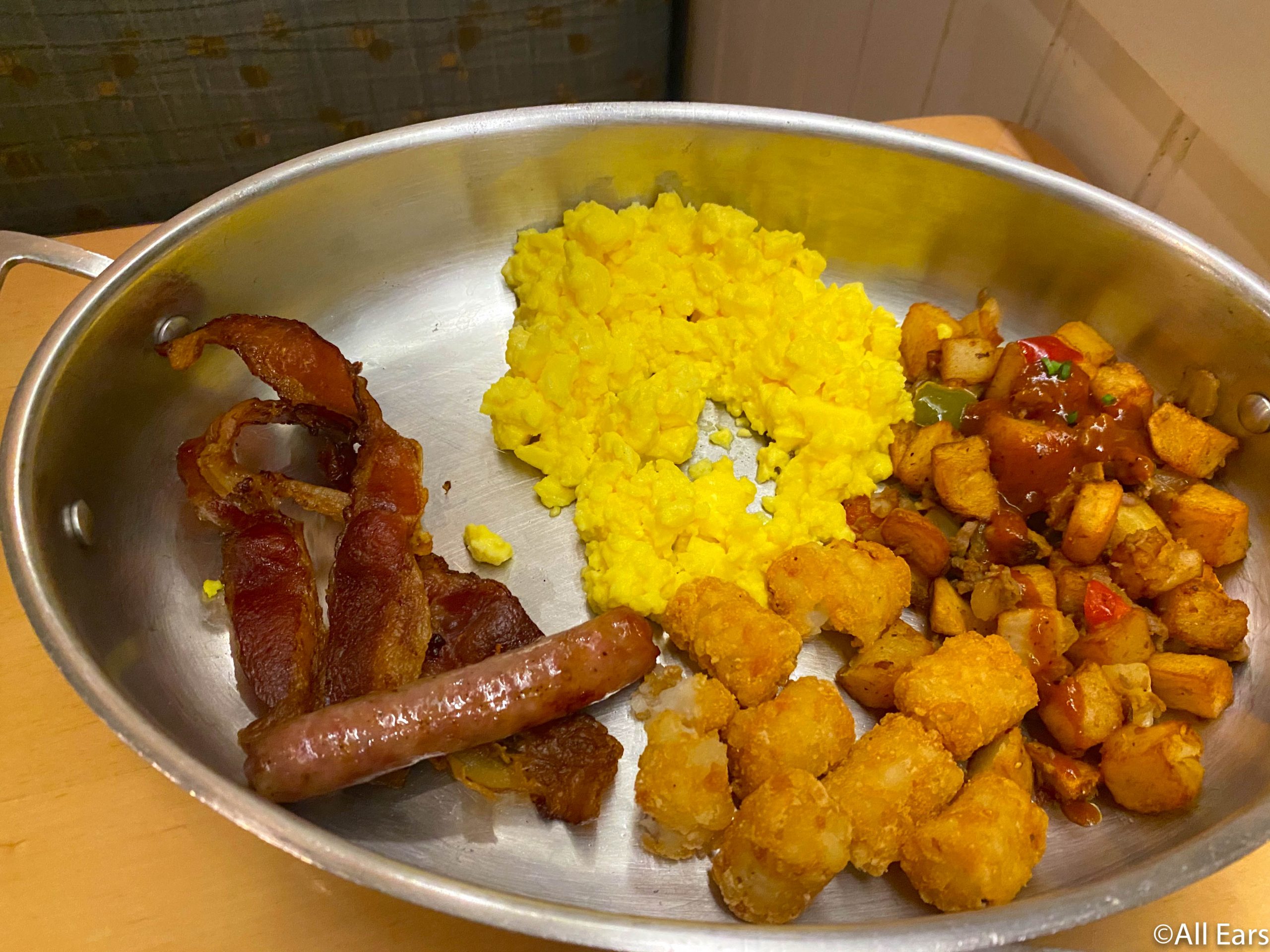 Adults can also order morning beverages to go along with their meal like the Cape May Cafe Sunrise and Bloody Mary…
…while kids can sip on the non-alcoholic specialty Keepin' It Real mocktail too!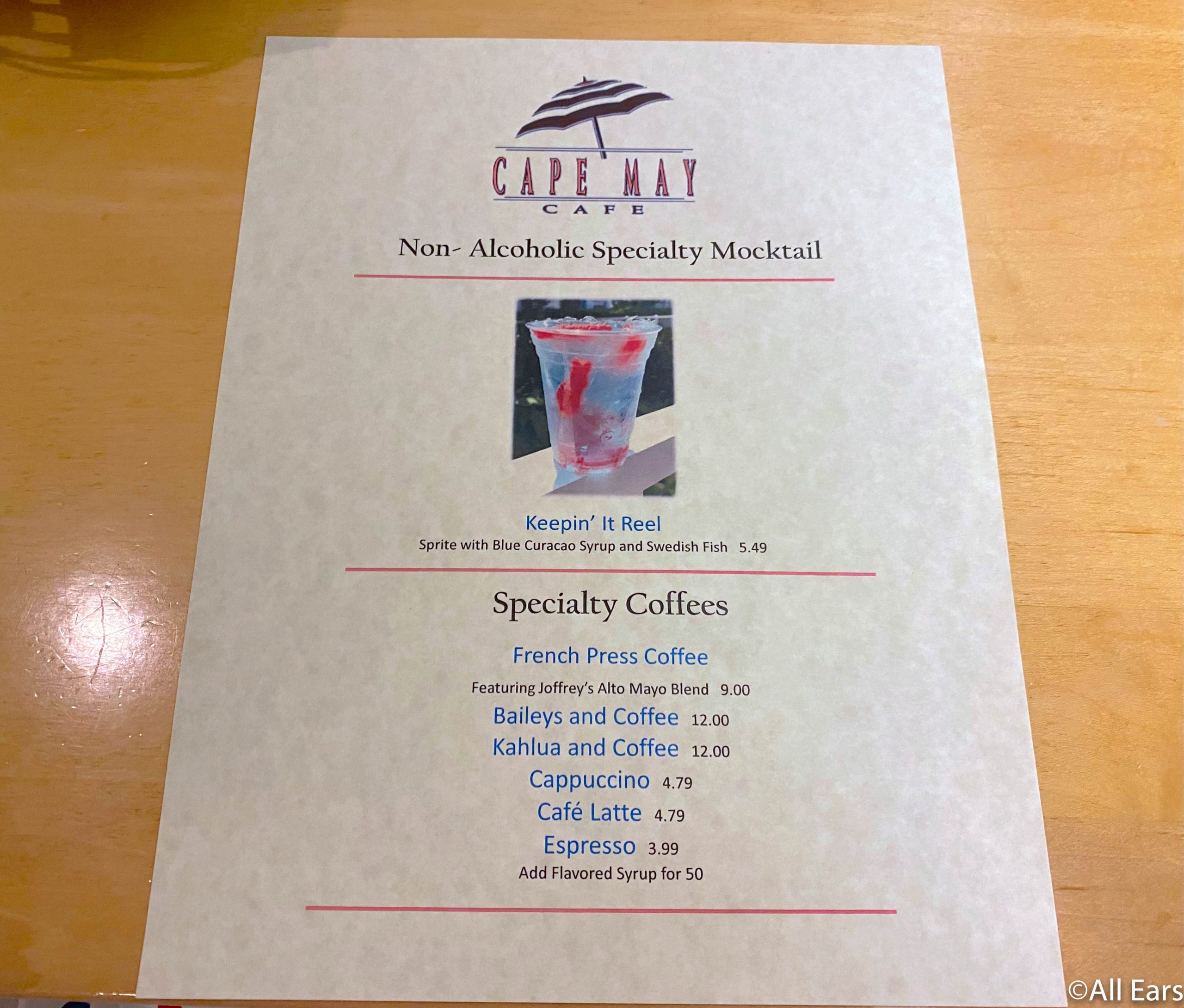 We decided to go with the Canella Blood Orange Mimosa Cocktail, which was made with sparkling wine, juice, and pulp of Sicilian blood oranges. The glass itself was $11, but you could also purchase a whole bottle for $45.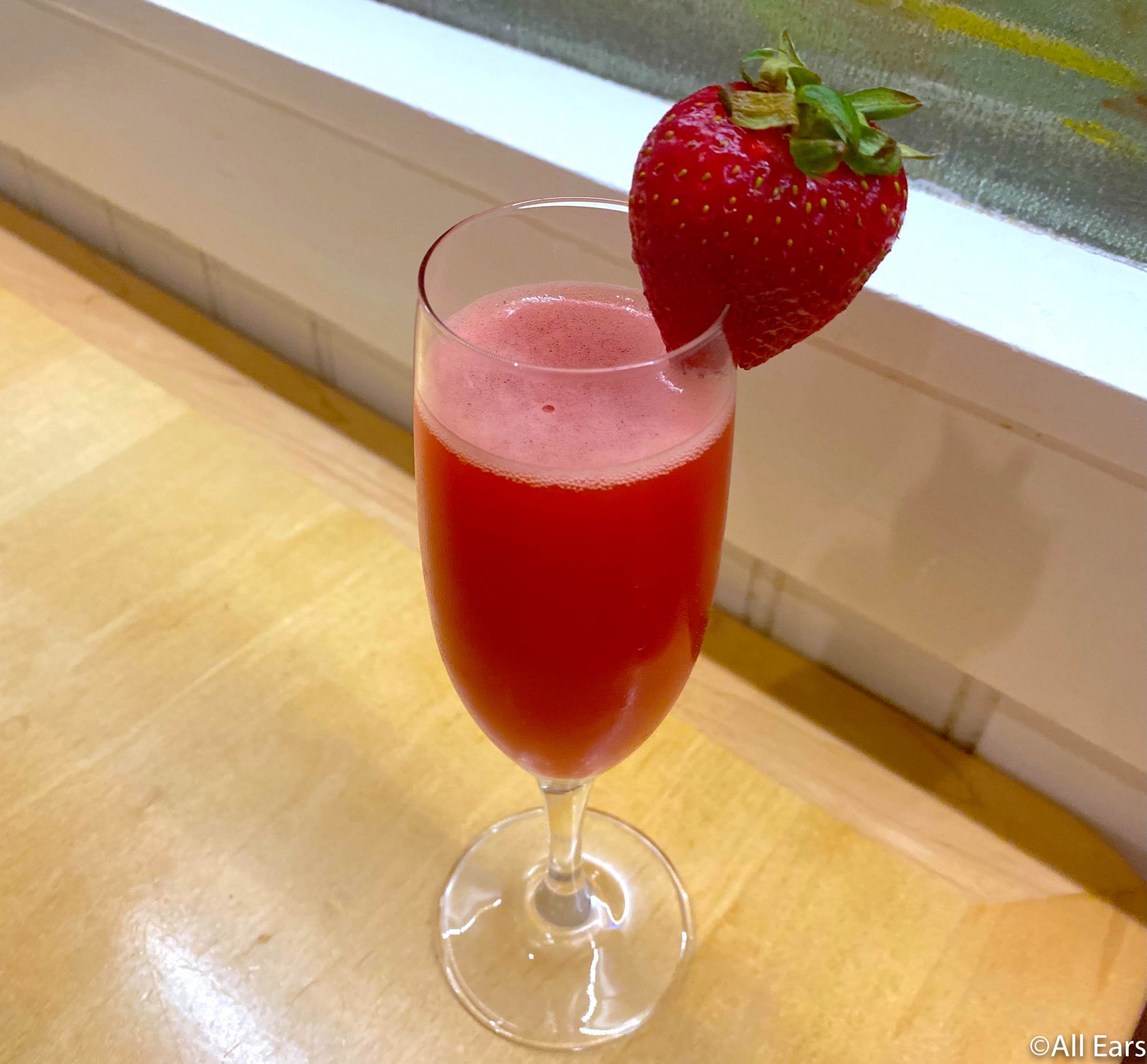 It's also important to note that Disney does offer plant-based versions of all the food items on the menu. So, guests do have a wide variety of options for members of their party! Just be sure to list that preference when you are checking in!
Overall
Cape May Cafe's all-you-can-eat breakfast is $25 for adults and $14 per child (plus tax and gratuity. Plus, we'll take any excuse to eat as many Mickey Waffles as our heart desires. We had a blast back at Cape May Cafe! And, we can't wait for more Disney restaurants to continue reopening all around the property. You can stay tuned with All Ears for the latest Disney news you need to know before you head back to the parks and resorts!
Have you ever been to Cape May Cafe? Let us know in the comments below!