Walt Disney World's many resorts are wonderful not only for their high-quality theming and accommodations but also for the excellent dining experiences they offer. Each hotel has its own unique restaurants for guests to try, which makes dining an increasingly-fun part of a Disney Parks vacation.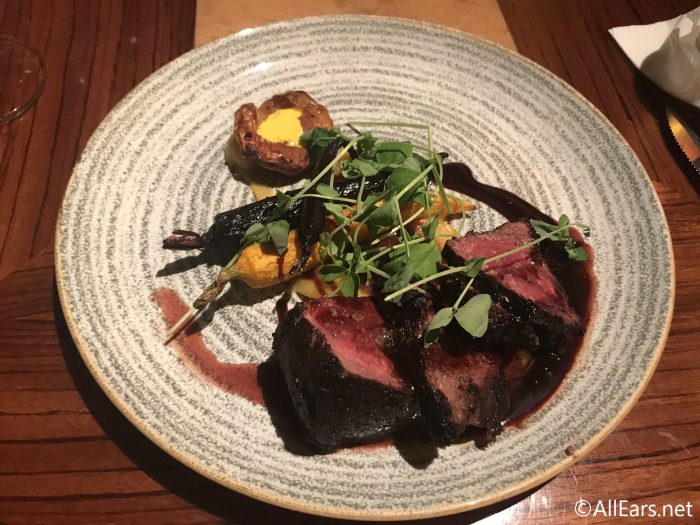 Don't forget, even if you aren't staying at a resort, you can still dine at the different resort restaurants, so they're definitely worth checking out. At present, you'll need an Advance Dining Reservation (or a same-day dining reservation) or a confirmed Mobile Order Quick Service order to visit a resort for dining.
Here are our top ten Disney World resorts, from first to tenth, ranked by their food choices.
(Please note that due to COVID-19 restrictions, some of these resorts and/or restaurants may not be open at this time.)
1. Animal Kingdom Lodge
Animal Kingdom Lodge maintains a consistently bright and authentic theme celebrating the diverse cultures and peoples of Africa, and that includes the dining. Furthermore, Animal Kingdom Lodge actually consists of two different sections – Jambo House and Kidani Village – each with its own quality restaurants.
You won't find the African foods served at Animal Kingdom Lodge anywhere else at Disney World.
Boma: Flavors of Africa styles itself after a traditional African market (though the name boma refers to an enclosure for animals), and the buffet serves local foods from over 50 different countries all across Africa. At Jiko, the resort's Signature dining option, you'll savor a rich mix of dishes from Africa, India, and the Mediterranean, demonstrating Africa's diverse geography and history. The East African restaurant Sanaa likewise has many delicious choices, with sampler platters offered to help you pick one just right for your tastes. The Mara is the resort's Quick Service dining location, but it still features many great foods like African stew and flatbread.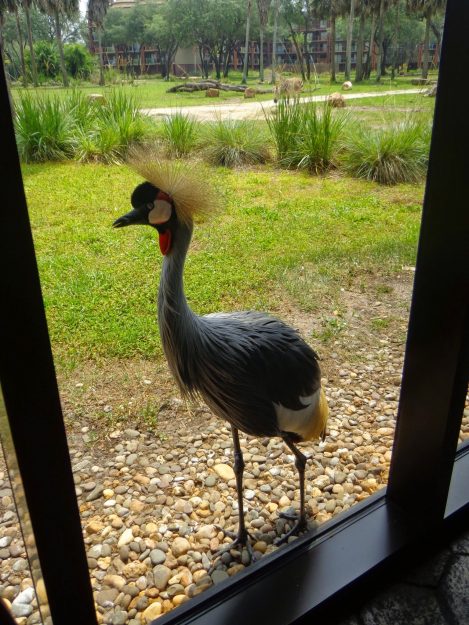 More than just providing excellent meals, these restaurants also stand out in presentation. Sanaa, for instance, overlooks the resort's extensive wildlife savanna, where you can view various African animals as you dine. For dinnertime at Boma, the onstage kitchen lets you watch the chefs create their gourmet recipes live in front of you. Then there are the special dining programs that you can register for, including wine tasting at Jiko and dining with an animal specialist at Sanaa. The Wanyama Safari package even takes you on a behind-the-scenes safari through the savanna and culminates with a meal at Jiko. Please note that some of these programs cost extra, and reservations are recommended.
2. Dolphin and Swan Resorts
The proximate Dolphin and Swan Resorts at Disney World offer many high-end, critically recognized dining experiences. For example, Kimonos (found in the Swan) features excellent Japanese cuisine has even been rated the best sushi restaurant in Orlando via the Orlando Sentinel's Critic's Choice. Likewise, Shula's Steak House honors the undefeated 1972 Miami Dolphins NFL team with a menu that has won numerous awards, including Wine Spectator's Award of Excellence and Critic's Choice award for Orlando's Best High-End Steak House. And these are just two of over a dozen different dining options spread across the two hotels.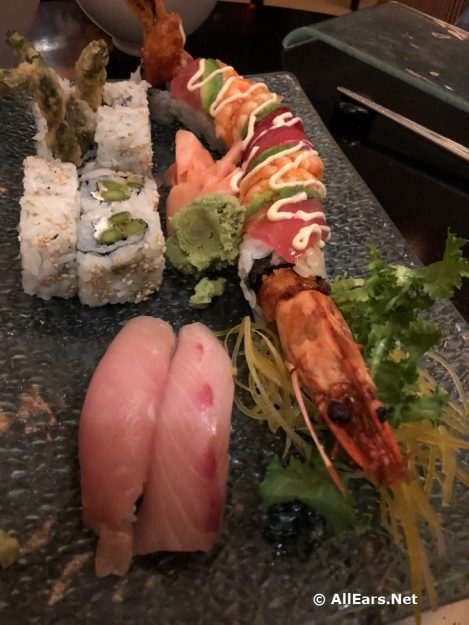 Il Mulino New York Trattoria bases itself off what has been consistently New York's best Italian restaurant by Zagat for over 20 years. Todd English's bluezoo – founded by internationally acclaimed celebrity chef Todd English – serves a rich variety of seafood. Fresh Mediterranean Market features an all-you-can-eat dessert buffet, along with specialty cocktails from around the world. Please note that since the Swan and Dolphin Hotels are technically not run by Disney, their restaurants are not part of Disney Dining Plans and cannot be paid for with a MagicBand, Disney gift card, or Quick Service dine card.
3. Contemporary Resort
Not only is the Contemporary Resort conveniently located right next to the Magic Kingdom, but it also hosts several great restaurants. The award-winning California Grill stands out with its vibrant celebration of California's internationally diverse cuisines, with menu items changing seasonally. An onstage kitchen lets you watch the foods be prepared by professional chefs right before your eyes. Not only that, but California Grill offers over 300 different handpicked wines. Plus, California Grill features prime fireworks viewing (when they're back), with live music from the Magic Kingdoms fireworks show playing in the restaurant at night.
Besides California Grill, the Contemporary Resort also has a couple of other good dining locations worth trying. The Wave specializes in modernist "new" American cuisine, adding unexpected twists to classic foods like cauliflower taco and pork tenderloin in coffee-barbeque sauce. Kids and family alike will enjoy Chef Mickey's buffet, which includes character dining with Mickey, Goofy, and more. There are several other bars and lounges with snacks to enjoy at the hotel, too.
4. Grand Floridian Resort
The Grand Floridian Resort highlights the elegant splendor of vacationing during the Victorian era, and the same goes for the dining at Victoria and Albert's. Victoria & Albert's has earned numerous awards, including Forbes Travel Guide's Five-Star Award and AAA's Five Diamond Award. Likewise, the over 700 selections for wines have earned Wine Spectator's Best of Award of Excellence. The menu changes seasonally with exotic foods like Japanese beef, caviar, and wild boar among others, certain to delight gourmands. Also, if you reserve far enough ahead, you can get exclusive seating in the Queen Victoria Room – a private room fit for royalty – or at the Chef's Table, where you can watch and talk with the chef preparing your personal meal.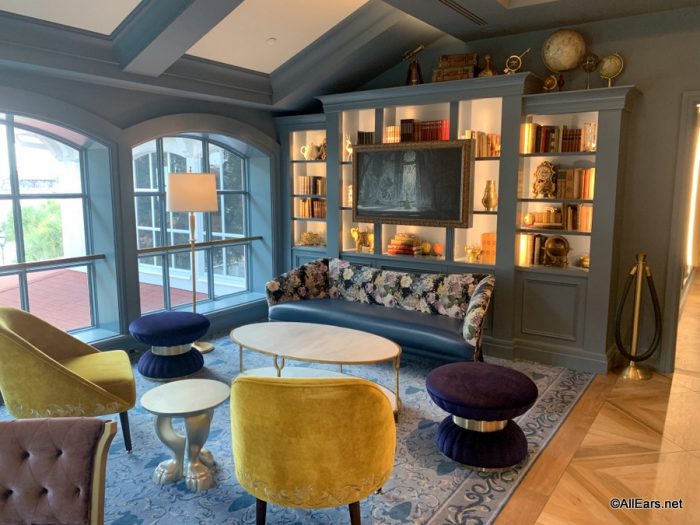 In addition, the Grand Floridian hosts several other fantastic dining services. Cítricos combines Mediterranean and American cuisines for a spectacular blend of flavors, while also offering an award-winning wine list. Narcoossee's serves a rich array of local and international seafood dishes while also providing splendid views out at the Seven Seas Lagoon. Children will enjoy 1900 Park Fare's character breakfast featuring stars from Alice in Wonderland, Winnie the Pooh, and more. There's even a special cocktail lounge – the Enchanted Rose – styled after Beauty and the Beast. Please note that many of Grand Floridian's restaurants, as with other Disney World Signature dining experiences, have dress code requirements.
5. Beach and Yacht Club Resorts
While the Beach Club and Yacht Club Resorts are two separate resorts, due to being connected to each other they share many of the same facilities, including New England-style restaurants. The Yachtsman Steakhouse is particularly high-end in price and quality, with beef aged in-house and cooked in the restaurant's open kitchen on an oak-fired grill. In addition to hearty meats like elk and black angus filet mignon, the steakhouse serves seafood as well as unique sides like truffle macaroni and cheese. Also, each second Wednesday of the month, guests can pay $45 to take part in an international wine sampling event at the Yachtsman.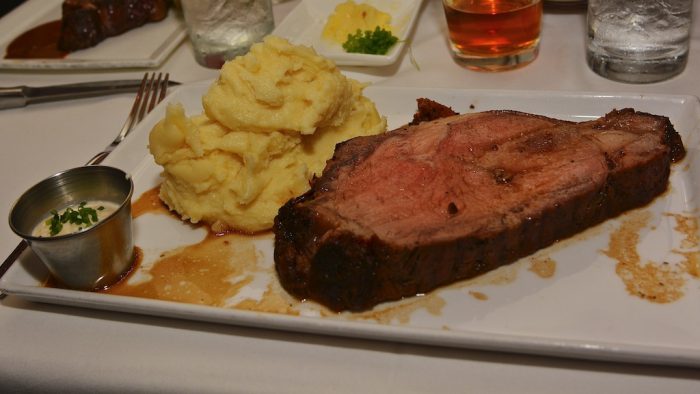 The resorts' other restaurants are less high-end but nonetheless serve many tasty meals that the whole family can enjoy. Ale & Compass's menu features a mix of seafood and New England comfort foods like seafood pot pie, New York strip steak, and bacon and Vermont cheddar burger. Another fan favorite is Cape May Café, which includes a rich buffet of clams, crab legs, ribs, corn on the cob, mussels and much more – not to mention a sweet assortment of desserts! In addition, Cape May's Beach Bash Breakfast character dining starts off the day with beach-dressed Disney characters like Minnie – sure to delight children.
6. Polynesian Village Resort
Want to experience a tropical getaway to the Pacific? The Polynesian Village Resort captures the Pacific island feel not just in its aesthetics but also with its numerous fun dining options. 'Ohana, for example, takes place inside an elaborate Polynesian dining hall and serves Hawaiian specialties like Hawaiian-style ham and pineapple-coconut bread. During the meal, everyone can also compete in fun games like "coconut races" (sweeping coconuts across the hardwood floor) and Hula dancing. At breakfast, kids can even meet Lilo and Stitch.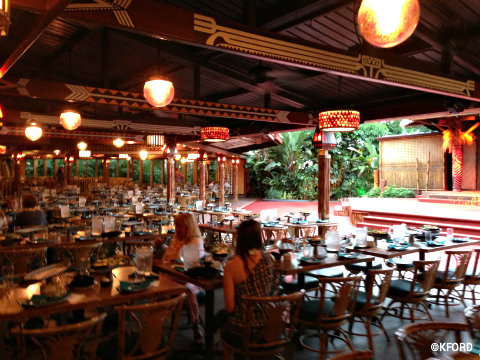 There are plenty of other great dining options at the Polynesian Village, too. The Spirit Of Aloha Dinner Show at Luau Cove combines Polynesian cuisine with a lively show complete with a fire-knife performance. Kona Café blends Asian and Pacific dishes while also hosting its own onstage sushi kitchen. Older guests should also check out Trader Sam's Grog Grotto, a tiki bar with unique cocktails and whimsical decorations. If you order the specialty cocktail Uh-Oa, the goddess Uh-Oa on the wall will start to glow and speak.
7. BoardWalk Inn
While technically the BoardWalk Inn itself lacks internal dining aside from a couple of lounges, the resort gets its name from the immediately adjacent BoardWalk – an area recreating the classic Atlantic boardwalks of the early 20th century, complete with lots of awesome restaurants. The BoardWalk and its restaurants are only less than five minutes away from the BoardWalk Inn, and the inn is the closest Disney World resort to the BoardWalk. In fact, the official Disney World listing for the BoardWalk Inn lists the BoardWalk restaurants as part of the resort's dining selection, demonstrating the inn's close proximity to the BoardWalk.
Flying Fish offers a wide range of sustainable seafood options on its menu, including Hokkaido scallops and Spanish octopus. Big River Grille & Brewing Works is Disney World's sole working brewpub and adds fun twists to American classics such as ribs and burgers. The ESPN Club features almost a hundred television screens broadcasting sports to accompany the onion rings and other comfort foods and snacks, making it popular with sports fans. As for the Trattoria al Forno, the restaurant prides itself in an all-Italian wine selection of over 60 different kinds coming from Italy's historic wine areas. Plus, Trattoria al Forno offers a special character breakfast with Ariel, Rapunzel, Prince Eric, and Eugene.
8. Coronado Springs Resort
Coronado Springs draws its theming from the vibrant and diverse cultures of Central America and the American Southwest, and the resort's restaurants likewise reflect a mix of Mexican, Southwestern, Spanish, and Central American cuisines. The resort contains numerous dining options, ranging from the food court set-up of El Mercado de Coronado to more elaborate restaurants like the rooftop restaurant Toledo – Tapas, Steak & Seafood.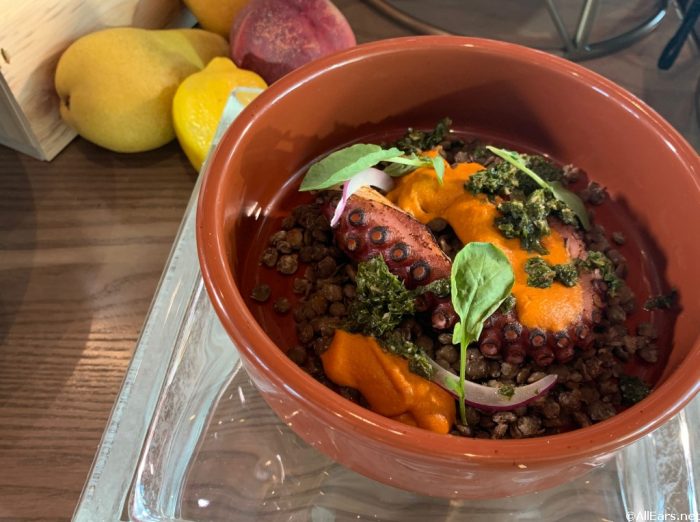 Toledo takes a unique approach to dining with its emphasis on tapas – a Spanish term for appetizers.  You can enjoy a wide range of small dishes as well as larger entrees like a 28-oz ribeye steak. All the while, you can admire Toledo's rooftop view. Another restaurant, Three Bridges, gets its name from sitting in the middle of Lago [Lake] Dorado at a crossroad of bridges, offering splendid views of the lake and the resort to accompany the Spanish-American menu. There's also the Maya Grill, which combines old and new approaches to Mexican recipes in the Nuevo Latino style.
9. Caribbean Beach Resort
As you'd expect, the Caribbean Beach Resort focuses on tropical cuisine from the Caribbean islands, but each restaurant has its own unique twists. For instance, Spyglass Grill adds Caribbean flavors to classic American meals like hamburgers, resulting in unique dishes such as the chorizo burger, pineapple-banana pancakes, and plantain and yuca chips with mango chutney.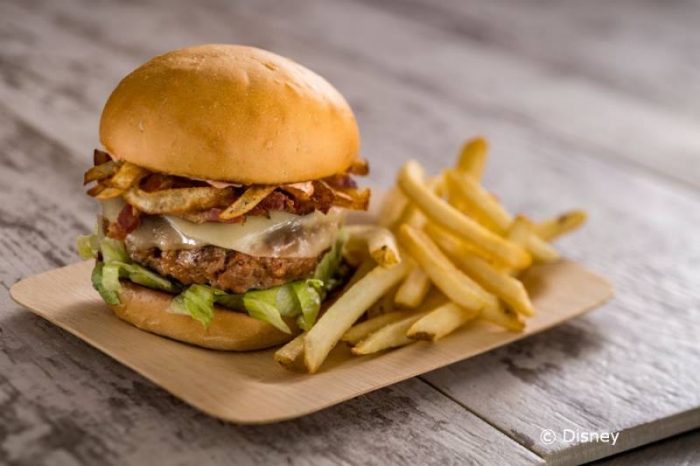 Sebastian's Bistro provides a wide range of Caribbean and Latin American entrees and desserts alike, and even the quick-service Centertown Market contains Caribbean specialties. All these different restaurants are relatively affordable, making them a good choice if you want to watch your dining budget but still enjoy marvelous meals.
10. Port Orleans French Quarter and Riverside Resorts
Last but not least on this list for the top 10, we have Port Orleans Resort – consisting of the separate French Quarter and Riverside area. While the two resorts are connected to each other, they aren't as close to each other as other linked resorts on this list, and each only has a couple of restaurants. However, their dining options are still superb, capturing the vivid feel of Louisiana's rich culinary history.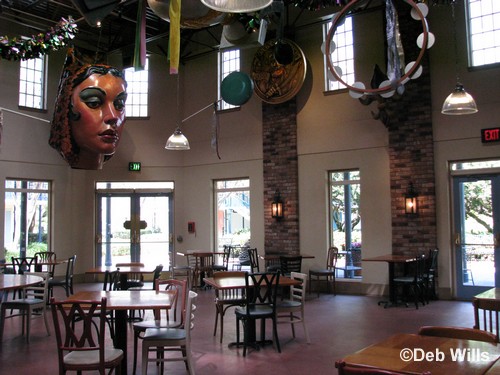 Sassagoula Floatworks and Food Factory, found in the French Quarter, has a Mardis Gras atmosphere and Cajun-style entrees such as gumbo and jambalaya. It also offers many other kinds of foods like pizzas, pastas, and sandwiches, with Creole and Cajun blends added into the mix. As for Boatwright's Dining Hall at Riverside, this nautical-themed restaurant features its own Southern specialties like Mississippi mud crème brûlée and crawfish macaroni & cheese. Both of these Louisiana-style restaurants make the Port Orleans resorts worth checking out.
With all these gourmet restaurants in addition to everything else the hotels have to offer, the resorts form a key part of the Walt Disney World experience. You won't want to miss out on the wonderful meals. Since you can visit the resorts and dining locations even without staying at the resorts, don't forget to stop by in between your adventures at the parks. There's something for everyone to enjoy.
Which Disney World resort is your favorite, and why? Please let us know in the comments below.
Join the AllEars.net Newsletter to stay on top of ALL the breaking Disney News! You'll also get access to AllEars tips, reviews, trivia, and MORE! Click here to Subscribe!