Even when I had a Fisheye lens on my camera, I could not help myself to take a photo of the Germany pavilion in Epcot's World Showcase. Germany is so different then all the other countries with a wide open and welcoming courtyard with the statue of St. George on his horse in the center.
I do not want to go over how I "normalized" the Fisheye distortion here. If you are interested, visit this post from a few months ago: Adjusting Disney Fisheye Photos. I followed the same work flow detailed there.
I did do several more edits as I have been using my time to dig into more ways to improve my photos through editing using Adobe's Lightroom Classic (desktop version).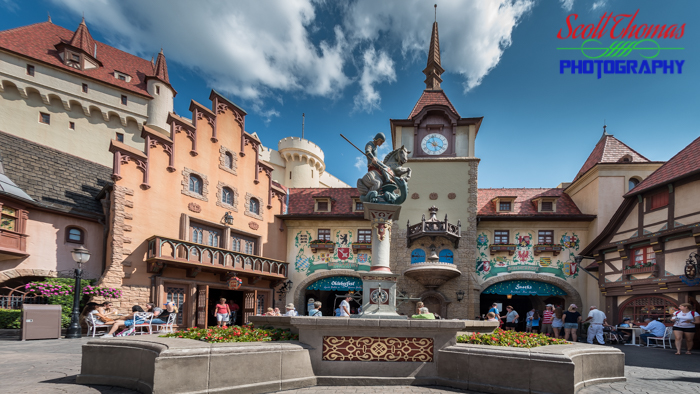 In the final image, I used a Graduated filter for the sky to bring down the exposure to bring out more detail in the clouds and color in the sky. I added several Radial filters to lighten out areas around the courtyard buildings. Here are the locations: Clock face, both entrances to the restaurant and the people and building on the far right. The left side I left alone as it was in sunlight. I brushed a little added exposure on the St. George statue and the red and gold tapestry painted on the statue's base.
Do you like it? Have a criticism? Leave me a Comment, please.
Be sure to follow @allearsnet on Facebook, Instagram and Twitter!
Click below to subscribe to the AllEars® newsletter so you don't miss any of the latest Disney news!