Magic Kingdom is the most iconic park at Walt Disney World; a wonderland of fantasy, futurism, and fun.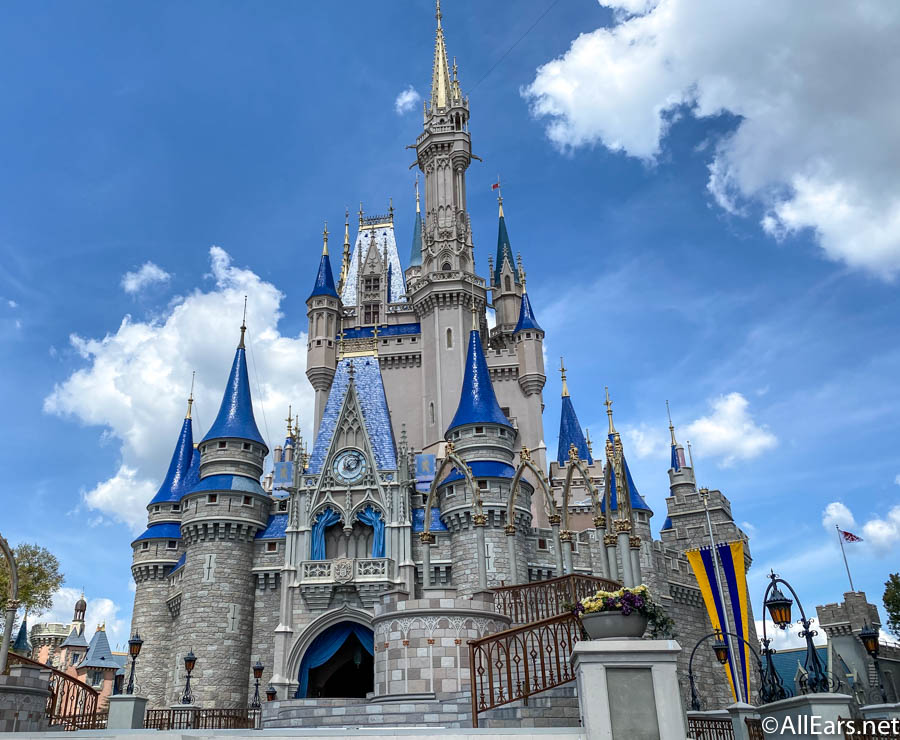 So take it from me; as someone who has been to the Kingdom more times that I can count, you gotta do these six things at least once.
Here's how to get
the quintessential Magic Kingdom experience

.
Arrive in Style
When you pass through the gates to the Magic Kingdom, you'll quickly realize that… you're not actually at the Magic Kingdom yet.
You're at the TTC, the Transportation and Ticket Center. The Kingdom is across Seven Seas Lagoon, which means you've got a choice: do you soar through the highway in the sky on Disney's famous monorail system, or do you sail across the water on their fleet of ferryboats?
As someone who has done both, I can definitively say that the ferryboats are definitely cooler when it comes to arriving in style. You get a breathtaking view of the castle as you approach, and if you're lucky you can even spot birds flying alongside the ferry in perfect sync! It does take longer than the monorail, but the experience is definitely worth it.
We usually recommend taking the alternate means of transportation on the way out. As a pro-tip, if you're not rushing, the Resort Monorails are a great way to get back to the TTC. Not only are they typically less crowded, but you pass through the Contemporary and the Polynesian resorts on your way back. You can even hop off for a snack or some shopping if it tickles your fancy!
Conquer the Mountains
The Magic Kingdom's three most iconic attractions are the Mountains: Space Mountain, Splash Mountain, and Big Thunder Mountain. Some fans also consider Seven Dwarfs Mine Train to be a mountain as well.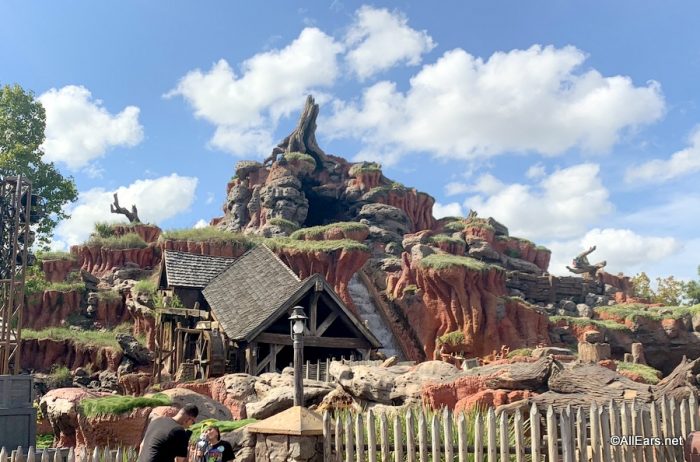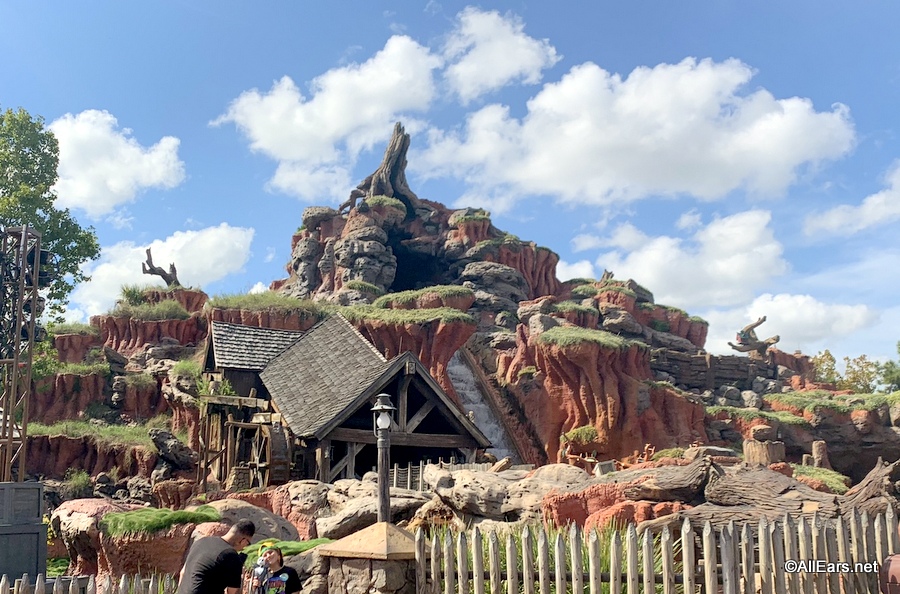 Regardless of how many there actually are, the mountains are the hot spot for Magic Kingdom thrill seekers. There are so many iconic attractions at Disney World, but few hold a candle to the coaster cred you'll get by conquering all three mountains. They may not be the most intense roller coasters (and log flumes) in the world, but they'll definitely leave you glowing with pride after you ride them all.
As a bonus, try to get a funny picture on your way down Splash Mountain. It's tradition at this point.
Cool Down With a Dole Whip
There are so many iconic Disney treats, but if we had to pick just one, it'd be the Dole Whip.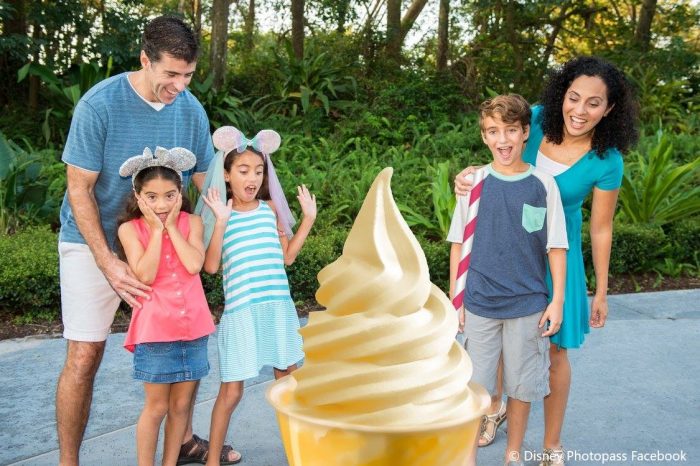 While Pineapple is the most iconic flavor of this dairy-free delight, you can also find it in orange, raspberry, lemon, lime, and mango. These flavors aren't always consistently available, so be sure to keep an eye out. Sometimes they're also referred to as a fruit soft serve, but don't be fooled! If it looks like a Dole Whip and tastes like a Dole Whip… it's definitely delicious. Look for Dole Whips at Sunshine Tree Terrace, Aloha Isle, Storybook Treats, and Auntie Gravity's.
Catch a Live Show
The Magic Kingdom has no shortage of animatronic spectacles like the Enchanted Tiki Room, Carousel of Progress, Hall of Presidents, and Country Bears Jamboree. However, nothing beats catching a live performer. There are several shows that run throughout the day, but nothing beats the OG Disney performers. I'm speaking, of course, about the Dapper Dans!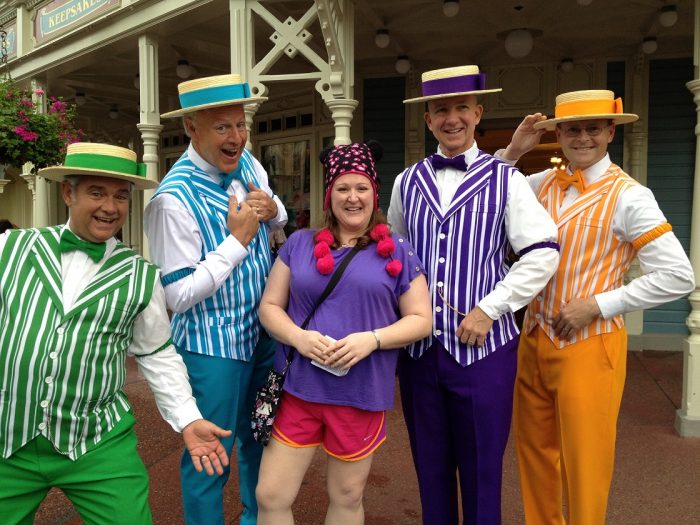 This genuine barbershop quartet has been a staple of the park since it first opened in 1971 and provides the most intimate experience of any show at Disney World. You'll likely just run into them on Main Street. They interact with guests, sing Disney hits, and crack groan-inducing puns.
If you're extremely lucky, you can even have them serenade you as you get your hair cut at the Harmony Barber Shop!
If you like your experience to be a bit more parade-shaped, the Festival of Fantasy is the way to go. Featuring all your favorite Disney stars, my favorite place to watch it is from the tables on Tom Sawyer Island. It's spacious, there's plenty of seating, and you can see all the floats… though you might have a hard time spotting performers on the ground.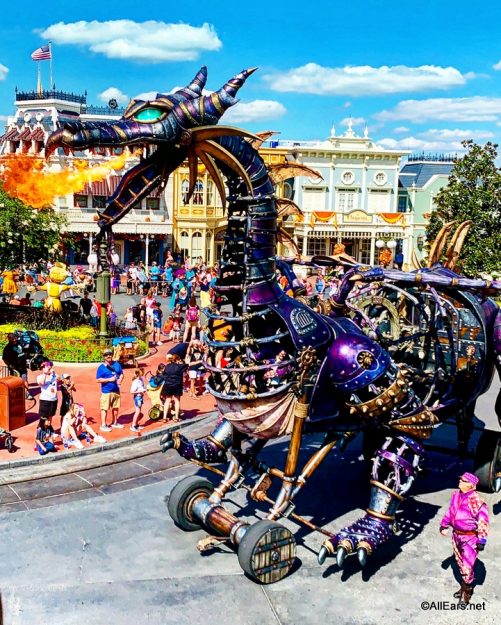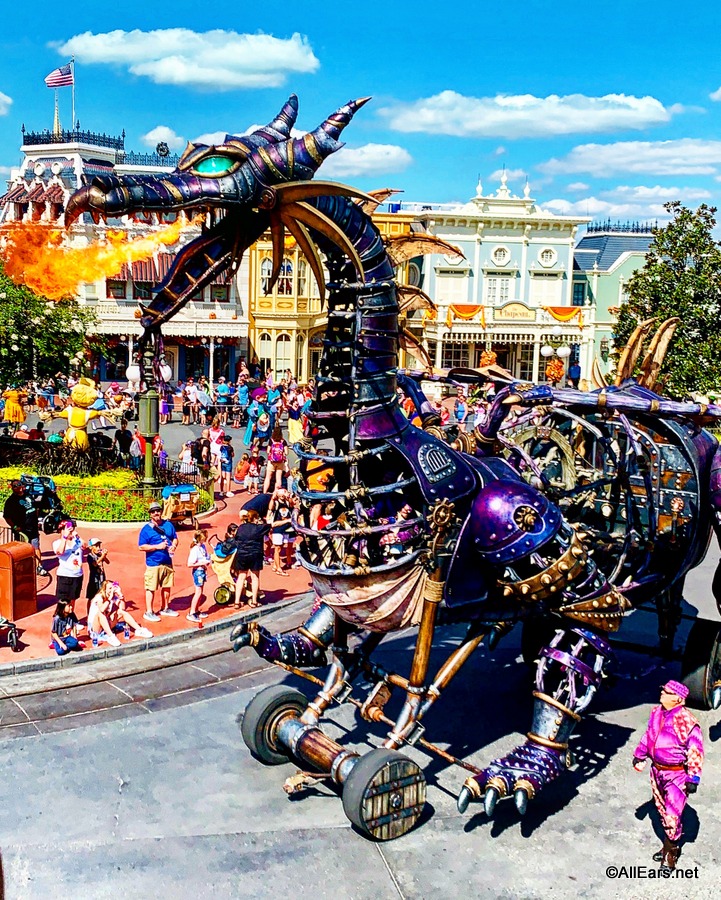 Finally, if you love Mickey and love Princesses, catch the Royal Friendship Faire in the Castle Plaza. You can sing and dance to recent Disney hits, and see Donald in a viking outfit! He is the Snuggly Duckling! It's the best thing ever!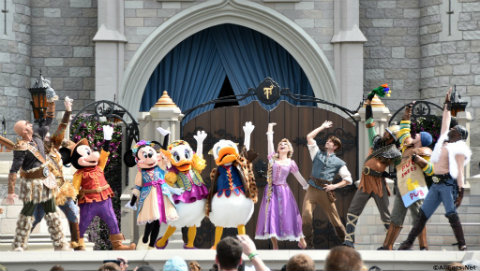 Meet Mickey (or your favorite Disney Character!)
Is it really a Disney trip if you don't meet Mickey?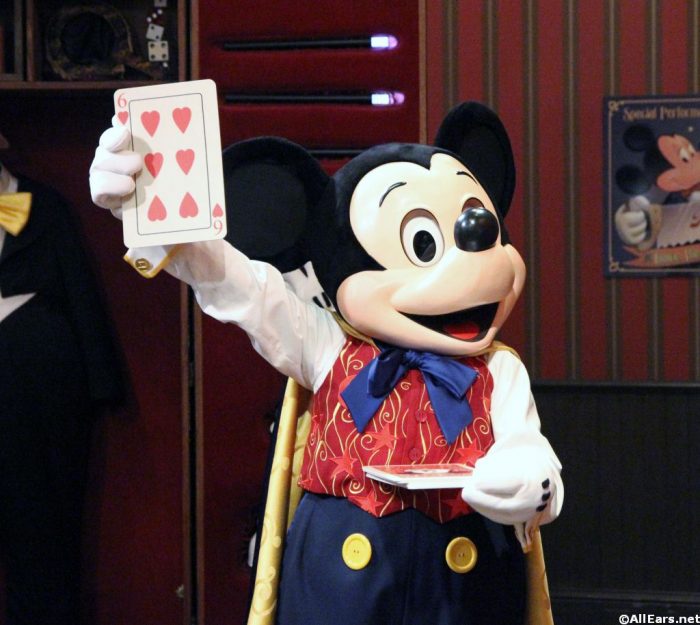 Well… yes, technically. But that shouldn't stop you! Meeting Mickey at the Town Square Theater is a must-do, but he's not the only star you can meet at the Magic Kingdom. If you're raving about royalty, there are plenty of princesses to meet at Princess Fairytale Hall, Enchanted Tales with Belle, and Cinderella's Royal Table. Or, you could see the rest of the sensational six at Pete's Silly Sideshow.
Live Happily Ever After
Every Disney fairy tale ends with a Happily Ever After, so why would this one be any different?
Happily Ever After is the iconic fireworks and projection show that closes out every night at the Magic Kingdom. The sky lights up as the castle comes to life with your favorite Disney characters.
There are so many ways to enjoy this show; grab an ice cream from the Plaza Ice Cream Parlor and watch it in front of the castle, slip over to the Fantasyland Turrets for a 360-degree view… you can even be bold and try to time your ride on Big Thunder Mountain to coincide perfectly with the fireworks. How you do it is up to you, but it's not Disney without that fantasy in the sky.
Is this a comprehensive list of all there is at the Magic Kingdom? No, of course not! There are so many "must-dos" that an article dedicated to all of them would take up this entire site! Still, you owe it to yourself to at least try these six things. Believe me, it'll make for a day to remember.
Stay tuned to AllEars for more vacation tips! We'll see you real soon!
Join the AllEars.net Newsletter to stay on top of ALL the breaking Disney News! You'll also get access to AllEars tips, reviews, trivia, and MORE! Click here to Subscribe!