Tom Sawyer Island Frontierland Magic Kingdom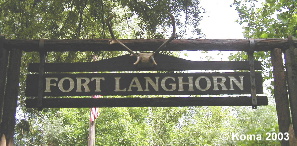 INTRODUCTION
Located across the Rivers of America in Frontierland and accessible only by raft, Tom Sawyer Island offers children a fun place to run and explore and blow off steam.
ATTRACTION
Tom Sawyer Island — A giant-sized playground geared to youngsters, Tom Sawyer Island is inspired by the famous works of author Mark Twain.
Guests board a motorized raft at a dock located just at the foot of Big Thunder Mountain Railroad over to the island. The raft ride takes only a few minutes. At the dock on the island, guests can sit in rocking chairs and play checkers, or begin to explore the grounds. Maps are posted periodically — be sure to check where you want to go, as paths meander every which way.
There are dark passageways and caves to explore, an old mine, a scary, bouncy, rope bridge, a barrel bridge (below right), and the focal point, an old-fashioned fort, named Fort Langhorn (Twain's real name was Samuel Langhorn Clemens). Kids will have fun exploring all four corners of the fort, playing with the noisy air rifles and cannons, then venturing into the dark "escape tunnel."
TOURING TIPS
Guests must be ambulatory to get around Tom Sawyer Island — with its rugged terrain and winding paths, it is NOT wheelchair friendly, though the rafts are wheelchair and ECV accessible.
Keep your eyes open for Hidden Mickeys!
Tom Sawyer Island usually opens a little later than the rest of the park, and it normally closes at dusk.
Restrooms are located at the raft landing and also inside Fort Langhorn.
KIDS AND CHARACTERS
Disney Characters are typically not found on Tom Sawyer Island, however this whole area is a kids' paradise, with plenty of caves to explore, hills to climb and an old fort to play in.
Check your daily Times Guide for times and locations of character meet and greet opportunities elsewhere in the Magic Kingdom.
Guest Comment: "I can't stress how relaxing and wonderful Tom Sawyer Island is. There are so many great places to sit and relax. My husband and I watched as our daughter ran and climbed and burned off some energy. I wonder how many people have inadvertently scared other people when trying to scare their family members in the caves? It's a good time."
Magic Kingdom Characters at a Glance
Character Meet and Greet FAQ!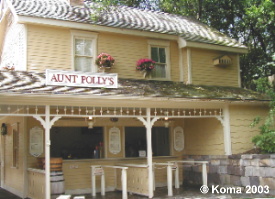 DINING
Years ago, Aunt Polly's Dockside Inn was a regular quick service restaurant, but now is only open seasonally during the busiest park days, and only with a limited menu. Ordinarily, there is no place to eat on Tom Sawyer Island but you can dine at Pecos Bill's.
Magic Kingdom Restaurants At A Glance
Menus From Around the World
Vegetarian and Other Special Diets
SHOPPING
There is no place to shop on Tom Sawyer Island.
INTERESTING FACTS
Tom Sawyer Island opened in the Magic Kingdom in 1973.
The original Tom Sawyer Island opened to the public at Disneyland Resort in 1956. The attraction has the distinction of being the only one designed by Walt Disney. A version of this attraction also exists at Tokyo Disneyland.
Initially, the highlights of Tom Sawyer Island were called Injun Joe's Cave, Magnetic Mystery Mine and old Fort Sam Clemens. The fort's name was changed in 1996 after the release of the Disney movie Tom and Huck, which featured a Fort Langhorn.
If you have comments or tips to share with others about touring the Magic Kingdom, please email me. Thank you.