Harmony Barber Shop Main Street USA Magic Kingdom
Harmony Barber Shop Highlights:
Real working barber shop offering haircuts to guests of all ages
Known for "My First Haircut" experience for young kids
Make appointments online at My Disney Experience
Harmony Barber Shop
by Pete Saroufim
Everyone has their "place" to get their haircut, and for me that place is Sebastian's — a little corner barber shop in the area of Boston where I live. Changing your barber is akin to cheating on your girlfriend, or switching doctors in the middle of surgery. However, when you're vacationing in the hot Florida sun, sometimes you have to make an exception. The barbershop in Magic Kingdom is an easy exception to make. It doesn't matter if you're a 6-year-old, a teenager, or a parent just looking for a trim, you'll walk out of the Harmony Barber Shop with a smile on your face and a masterpiece on your head.
At first glance into this small hidden establishment preceding Main Street, you'll notice the comforting old-fashioned barbershop look. The ornate carved wood, the etched glass, the potbelly stove, all complete the illusion that you've walked in to a Norman Rockwell painting. On further inspection, you'll find Michal and Billie, smiles on their faces, scissors in their hands, ready to do your dirty work. It's easy enough to feel at home here, but it gets easier each minute you stay. Not only do these barbers look friendly, they really are friendly. Good conversation is one of the many bonuses of getting your Disney haircut. You learn a lot about your new friends, and get the sense that they care a lot about what you have to say as well.
In reality, we all know that none of these pleasantries really matter until you see the final result. The last thing you want is to spend the remainder of your vacation looking like you're trying out for the part of Quasimodo at the Disney-MGM Studios. Rest assured – now that it's time for business, there's no better place that these artists excel. In frequent visits, I have never had cause for complaint nor have I ever heard one from another customer. Not only did I enjoy the result, but I even enjoyed the time spent waiting. With a little luck, you may even be treated to a visit and a song by the Dapper Dans, Disney's famous barbershop quartet!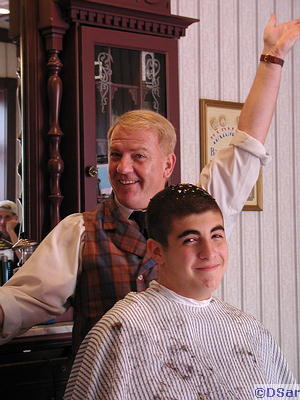 So, you walk away with a good haircut, and you feel you got your money's worth, but is this a good place to bring your kids? The answer is a simple yes. I don't think a trained nanny could handle kids better than these people can. From the second the first child enters the door, these barbers begin their act, and they don't stop until the day is over. From the Mickey cape to the giant red scissors to the generous sprinkling of pixie dust on children and adults alike, these barbers are a class act.
Whether you're just looking for a quick trim, or getting the full groom, you know you have somewhere magical to go while vacationing at Walt Disney World. It's very comforting not having to worry about long trips away, or wondering if the kids will decide they absolutely need to get a buzz before the trip is over. If you're ever in town, and I know you will be, stop by for a while; it'll be worth it.
The Harmony Barber Shop is located on the left as you enter the Magic Kingdom, past City Hall, tucked in between the "car barn" and the Emporium.
Cost for a haircut is $19 for adults and $18 for children 12 and under. Colored hair gel, $5. Beard and mustache trims are $10.
"First Haircuts" is the establishment's specialty. Young Walt Disney World guests who receive their first haircut at the Magic Kingdom barbershop are treated to many delightful surprises, from "pixie dust" and bubbles to Mickey Mouse stickers, and an extra-special "My 1st Haircut" set of Mouse Ears and certificate.The "My 1st Haircut" special is priced at $25.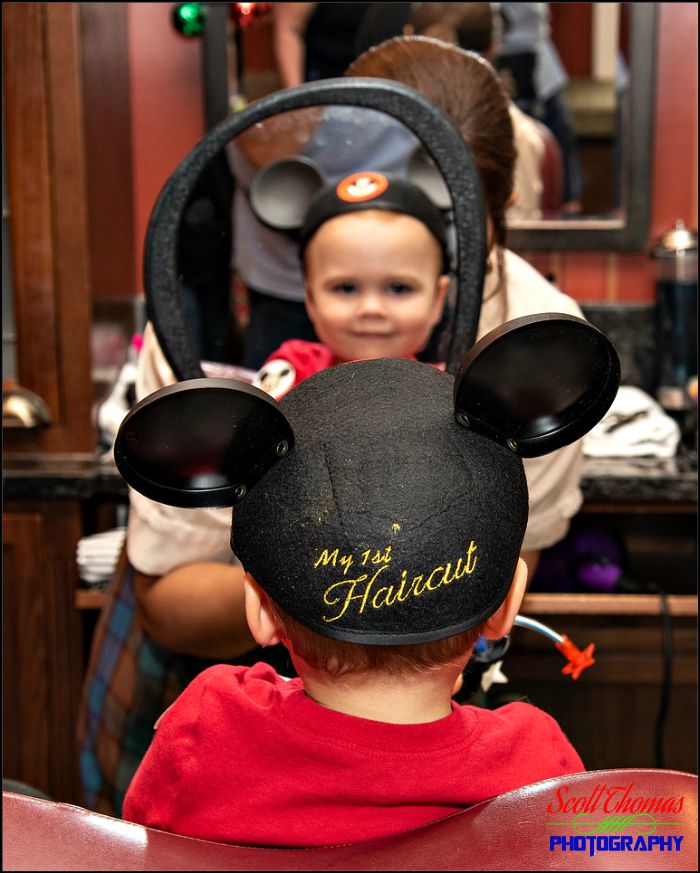 The Harmony Barber Shop takes appointments. You can call 407-WDW-DINE, Disney Vacation Club Member Services, or the lobby concierge at your Disney Resort Hotel to make appointments. You can also book them online through My Disney Experience.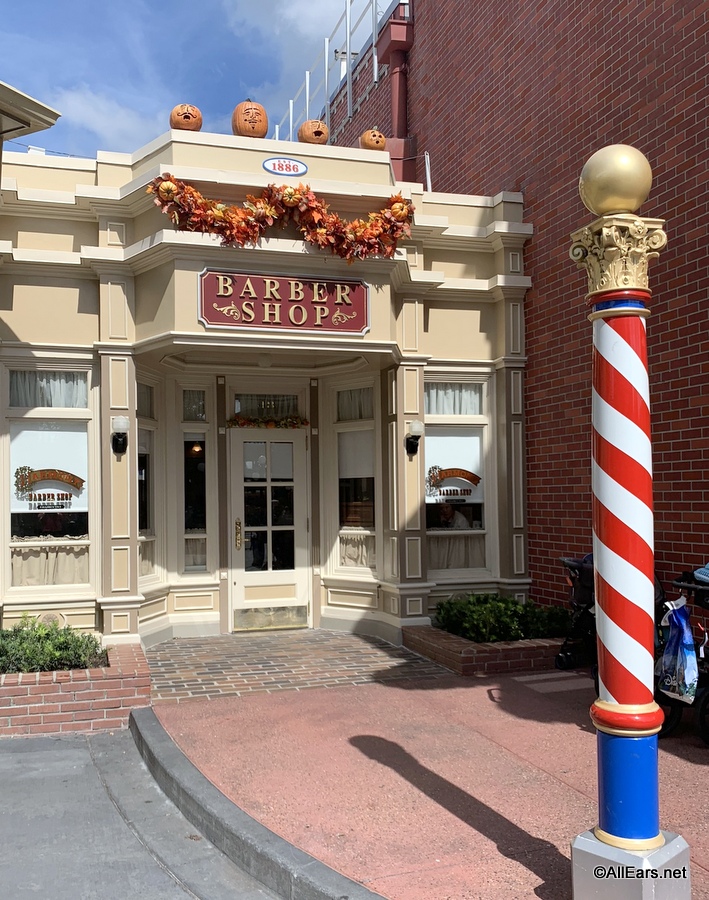 Other spots for a haircut around Walt Disney World (these places take appointments):
–Contemporary Resort: American Beauty Shoppe and Captain's Chair, 407-824-3411
–Coronado Springs Resort: Casa de Belleza (House of Beauty), 407-939-3965
–Grand Floridian Resort & Spa: Ivy Trellis, 407-824-2581
–Yacht and Beach Club: Periwig's, 407-934-3260
Don't forget to visit our Harmony Barber Shop Photo Gallery!