Hi, AllEars readers! If you would like to read more information regarding the temporary closures at the Disney Parks, please
click here for a list of closures at the Disney Parks
, or
click here for some of our most FAQs
. From all of us at AllEars, our thoughts are with those affected. While the Disney Parks are closed, we will continue to write articles and bring you AllEars TV videos to enjoy and for our readers to use once the parks reopen. 
Character dining is one of our favorite things to do at Walt Disney World. After all, what could be better than sitting down in the air conditioning, while eating a good meal, and having some of your favorite characters come visit you!?
And while there are tons of Character Dining options around Walt Disney World, some are better than others. Don't get us wrong — they all have their pros (and any meal that Mickey is at is a win in our book), but these are a few of our consistent favorites.
Whether it be the food, the characters, or the location, here are our top picks when it comes to character dining locations.
The Seven Best Character Meals at Walt Disney World
'Ohana Best Friends Breakfast
Tasty Breakfast Eats? Check. Great Location? Check. Fun characters? Check!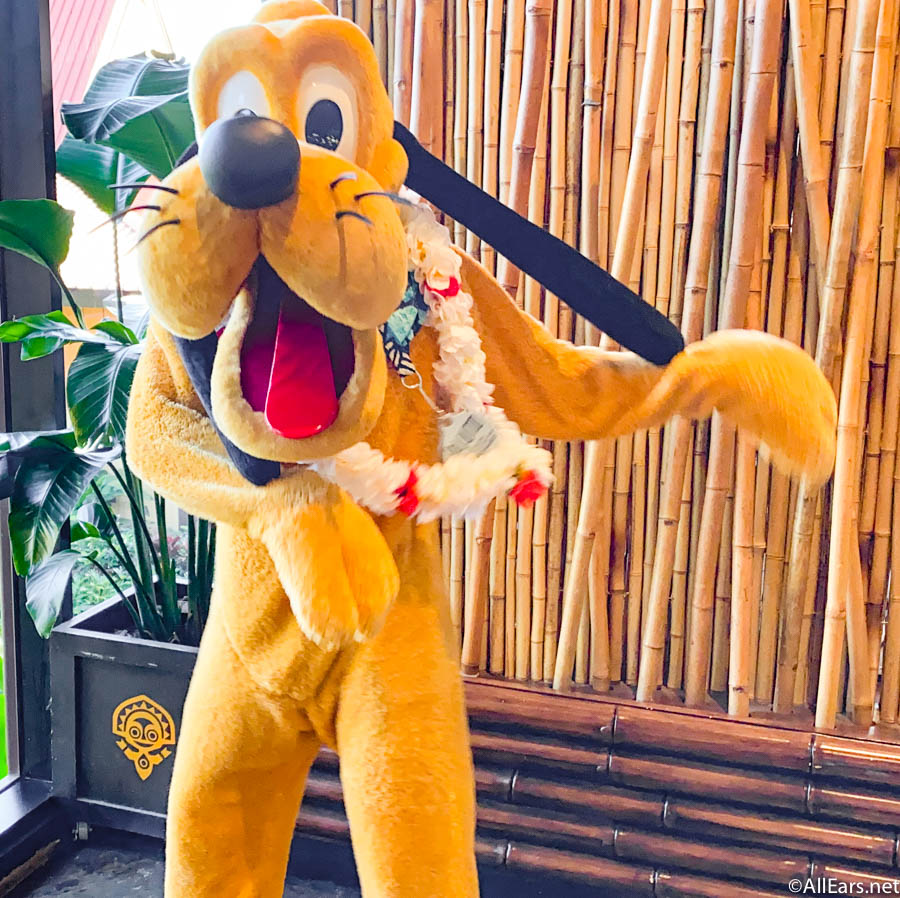 'Ohana is a very popular restaurant located at the Polynesian Resort — just a monorail ride away from the Magic Kingdom. The meal is served Family Style, which TBH is our favorite way to eat a character meal. It's still all you care to enjoy (the servers will bring you more of anything you like), but you don't have to worry about getting up and down to visit the buffet with your littles, or miss a character at your table because you're up getting food.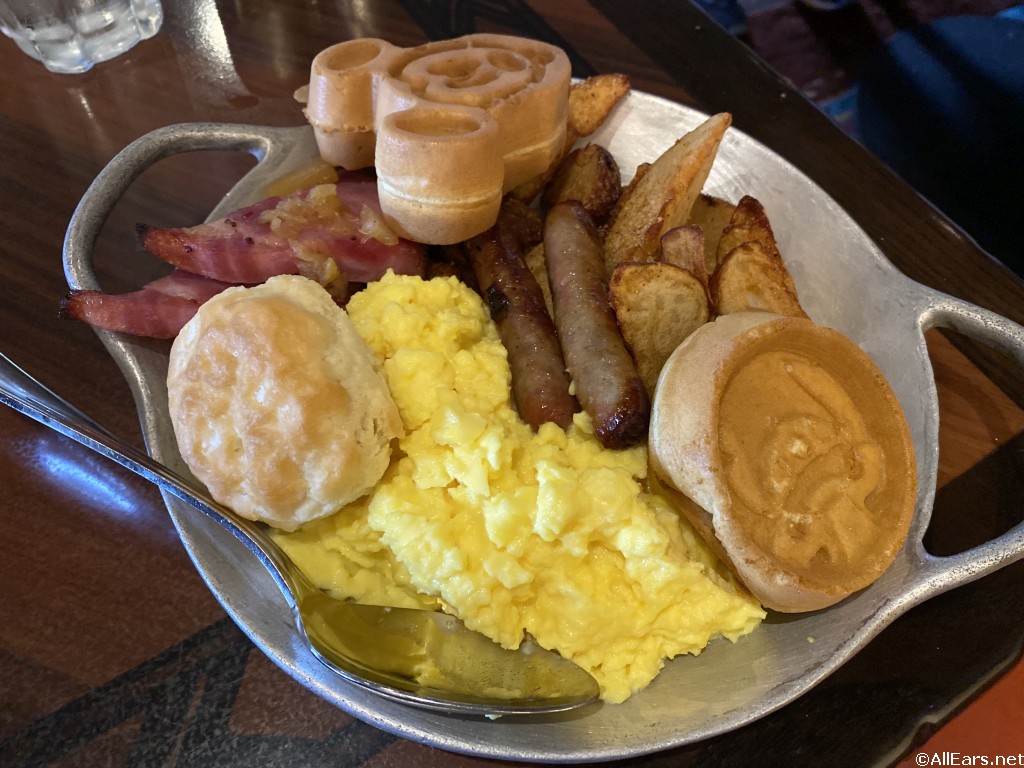 Most of the food isn't anything too exotic — eggs, bacon, potatoes, waffles (including STITCH waffles!) — but they are all cooked perfectly.
The best part of the meal is a coconut pineapple sticky bread that I literally still dream about.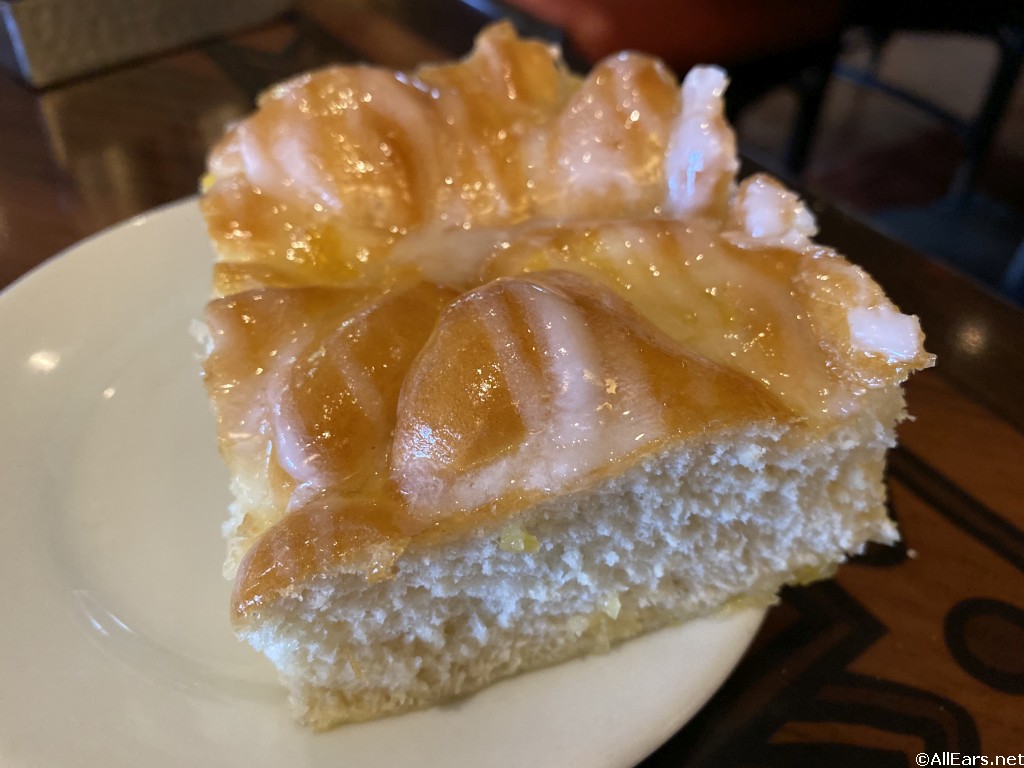 Pineapple Coconut Bread
The 'Ohana Best Friends Breakfast features two sets of BFFs — Mickey and Pluto and Lilo and Stitch. If you're a Stitch fan, this is a must do!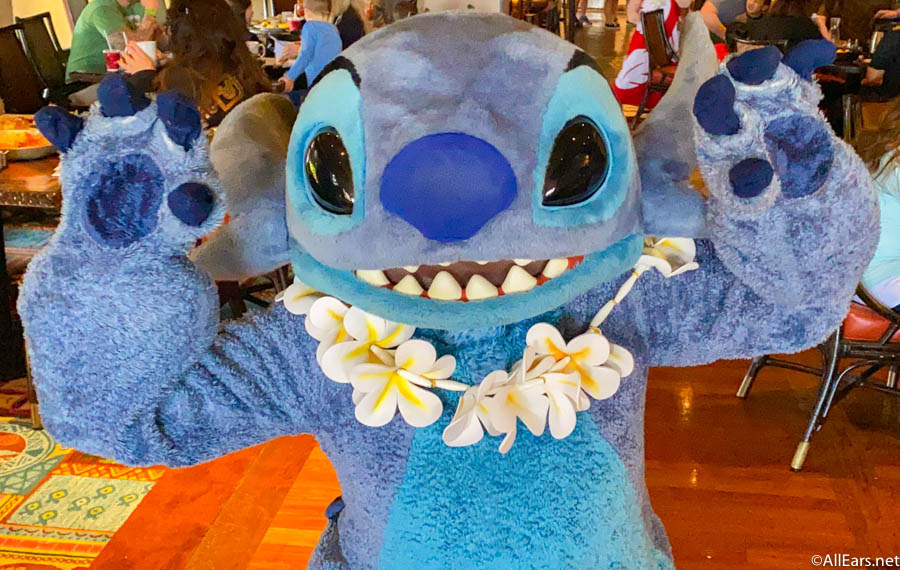 All of these simple elements stack up to make a wonderful character dining experience we highly recommend.
Garden Grill Harvest Feast Lunch/Dinner
Garden Grill is a delightful (somewhat) hidden gem of a character dining location in Epcot.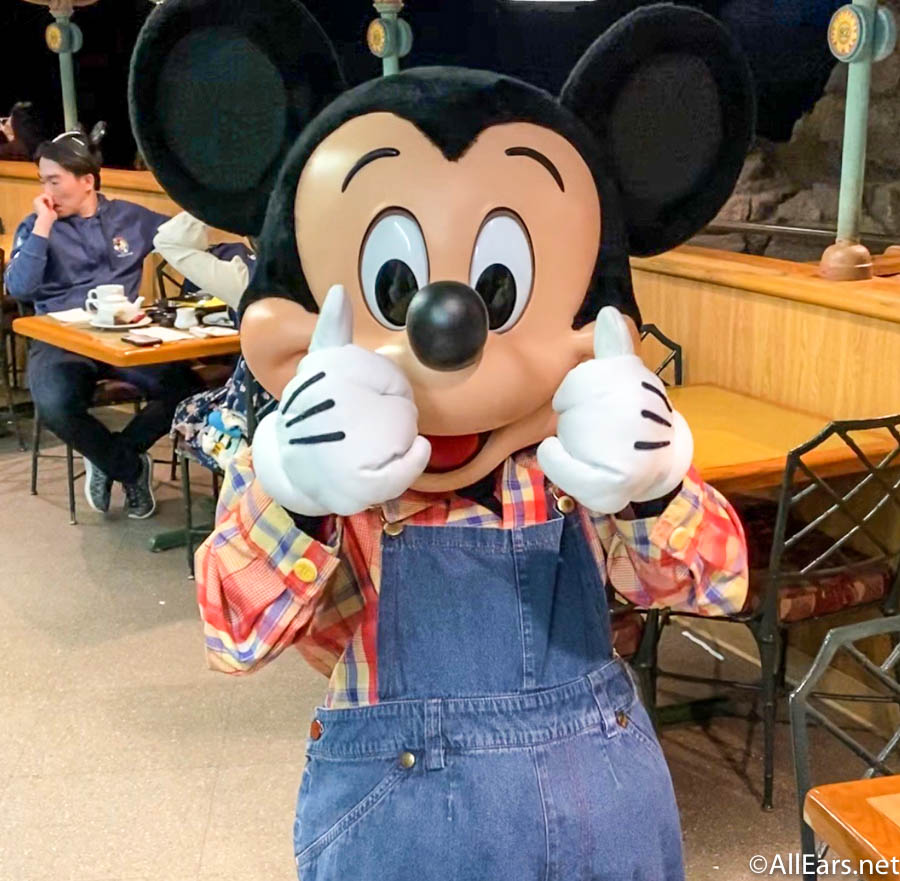 It's open for Breakfast, Lunch, and Dinner, and while it's good any time of day, we have to give a special shout out to lunch and dinner! This meal is served family style, and the menu includes beef with chimichurri sauce, macaroni and cheese, turkey and gravy, green beans, mashed potatoes, and a salad made from produce grown in the Epcot greenhouses. It's all delicious, and we love that you can request more of anything you particularly enjoy.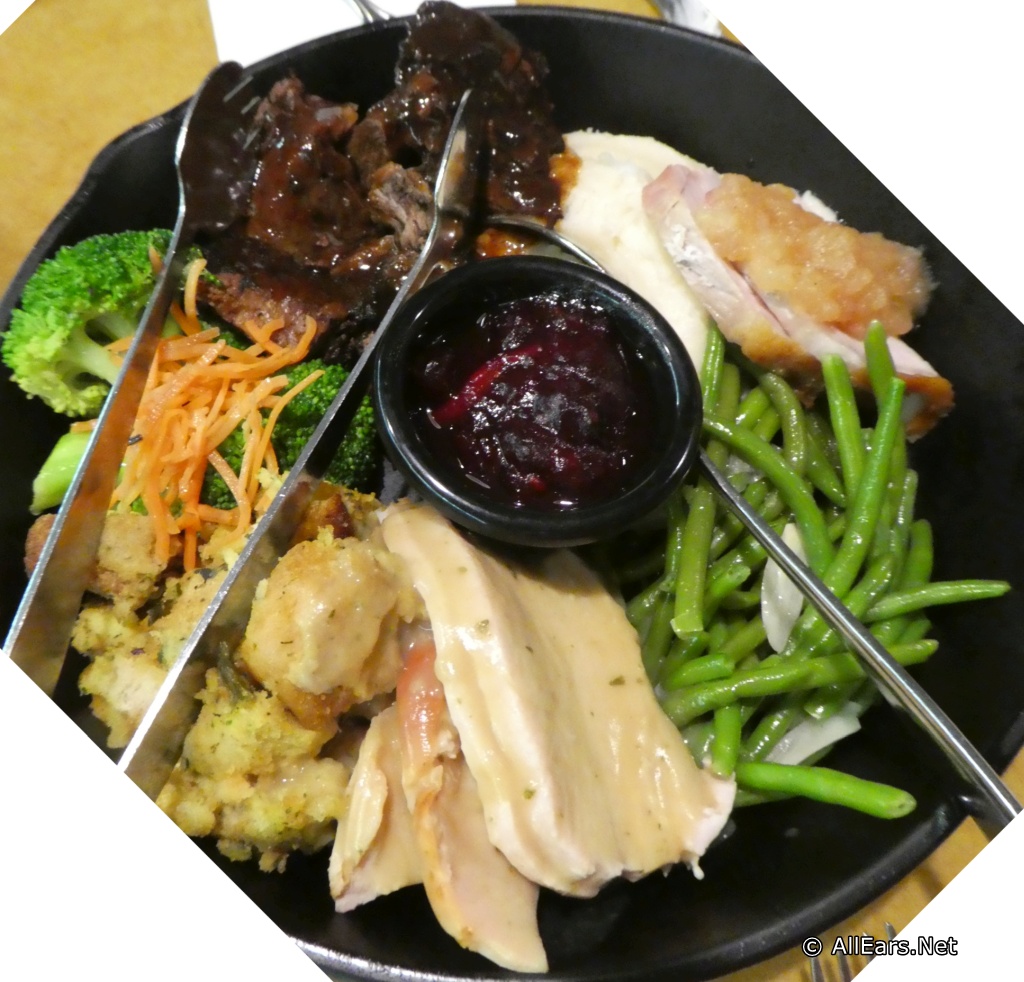 In fact, the Epcot greenhouses are one of the reasons we love this spot! Garden Grill is located in the Land Pavilion, and the restaurant slowly rotates so you can look down into various scenes from Living with the Land. Not only is this entertaining (especially for your kids), but it's fun to ride the attraction prior to the meal and show your kids the food they're about to eat!
Joining you at the tasty meal are Farmer Mickey (who is the cutest), Pluto, Chip, and Dale! This is the only meal where Chip and Dale meet regularly, so if you're a fan of theirs, you may want to book a meal here just for them!
But really, the food is quite good and will please everyone in the family. And the way the restaurant is laid out (circular) means the characters get through all of the tables quickly. I've never been where I didn't get to meet each character at least twice, which makes for an awesome experience for your kids!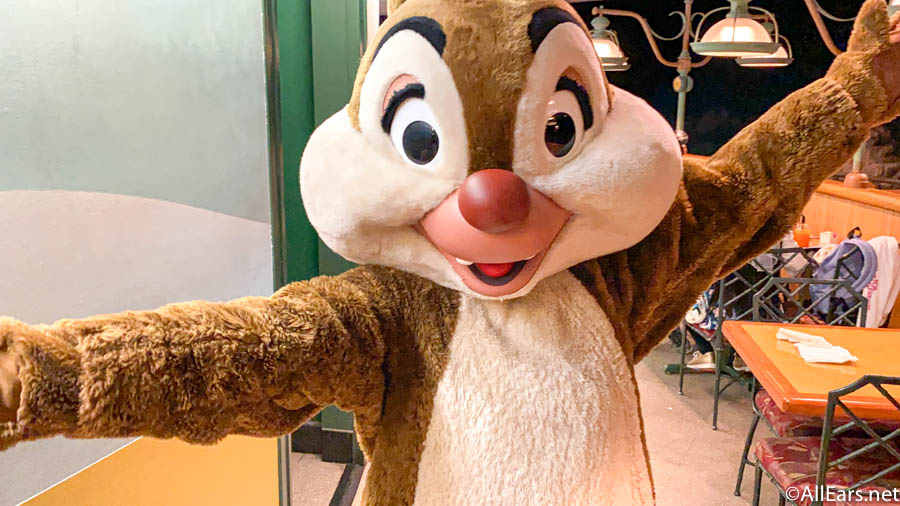 Crystal Palace Lunch or Dinner
Meet us at the end of Main Street, USA, where we're dining with our favorite gang from the Hundred Acre Wood at the Crystal Palace!
This one is a buffet-style restaurant, with plenty of options to please everyone in the family. At lunch and dinner you can feast on items such as carved meats, peel and eat shrimp, a fresh salad bar, pastas, wings, roasted veggies, and more.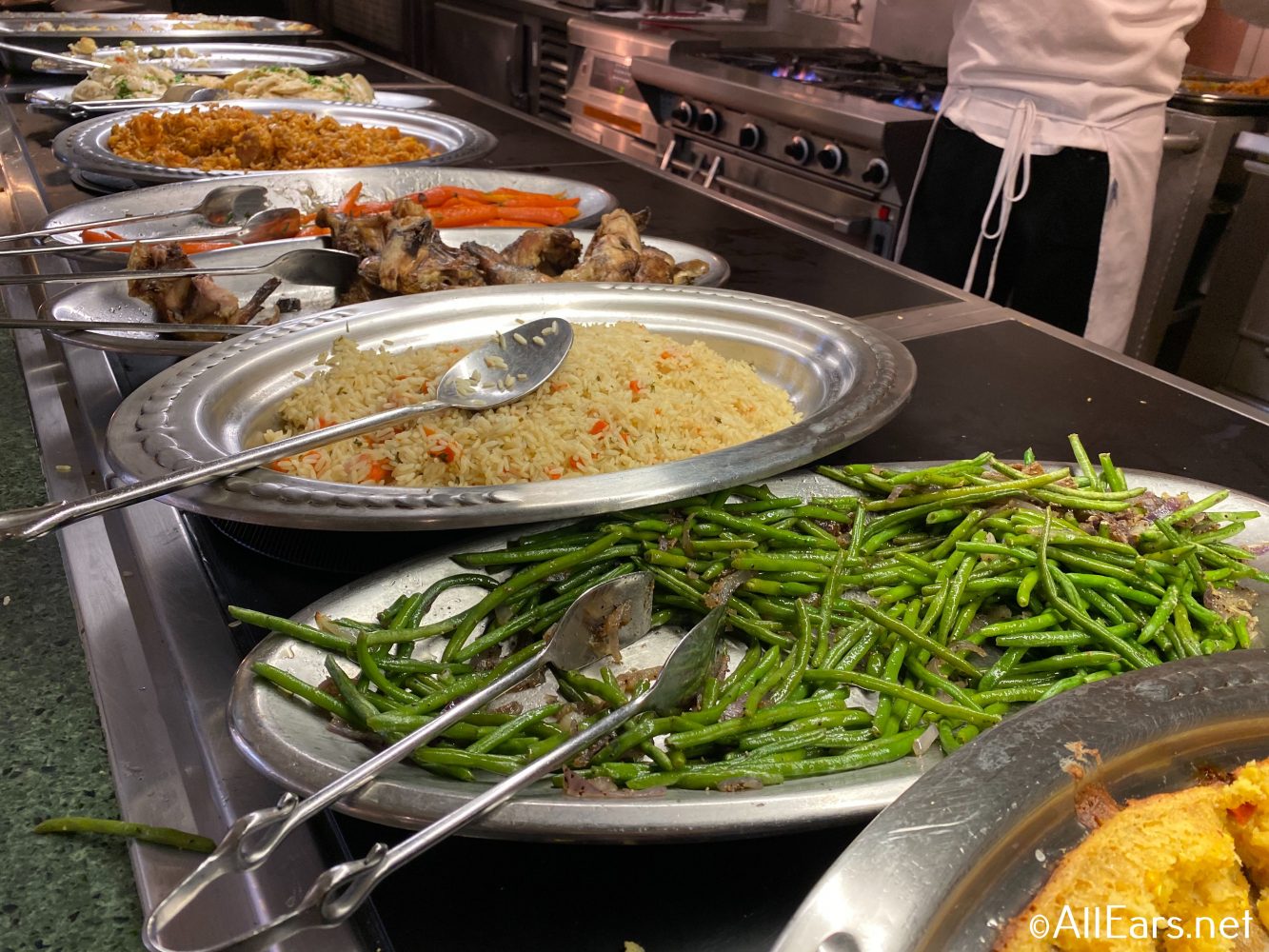 And don't sleep on the kid's options! You'll find mac & cheese, chicken nuggets, peas and corn, and corn dog nuggets — and don't worry, grown ups are welcome to enjoy these items!
We love breakfast too — full of classic eats like Mickey Waffles, Eggs, Bacon, and more, but we put lunch / dinner on here as it's the best bang for your buck if you're on the Disney Dining Plan, and the food is quite good for a character buffet. If you are paying out of pocket however, you may want to consider breakfast as it'll be less expensive.
But while the food is decent, the main reason to visit Crystal Palace is the characters! Winnie the Pooh fans will rejoice in dining with Pooh, Tigger, Eeyore, and Piglet. We love seeing this fab 4 — especially because Pooh and Tigger's line in Fantasyland is always so long! And Eeyore and Piglet don't normally do meet and greets in the park, so if you want to meet one of them, this is your chance!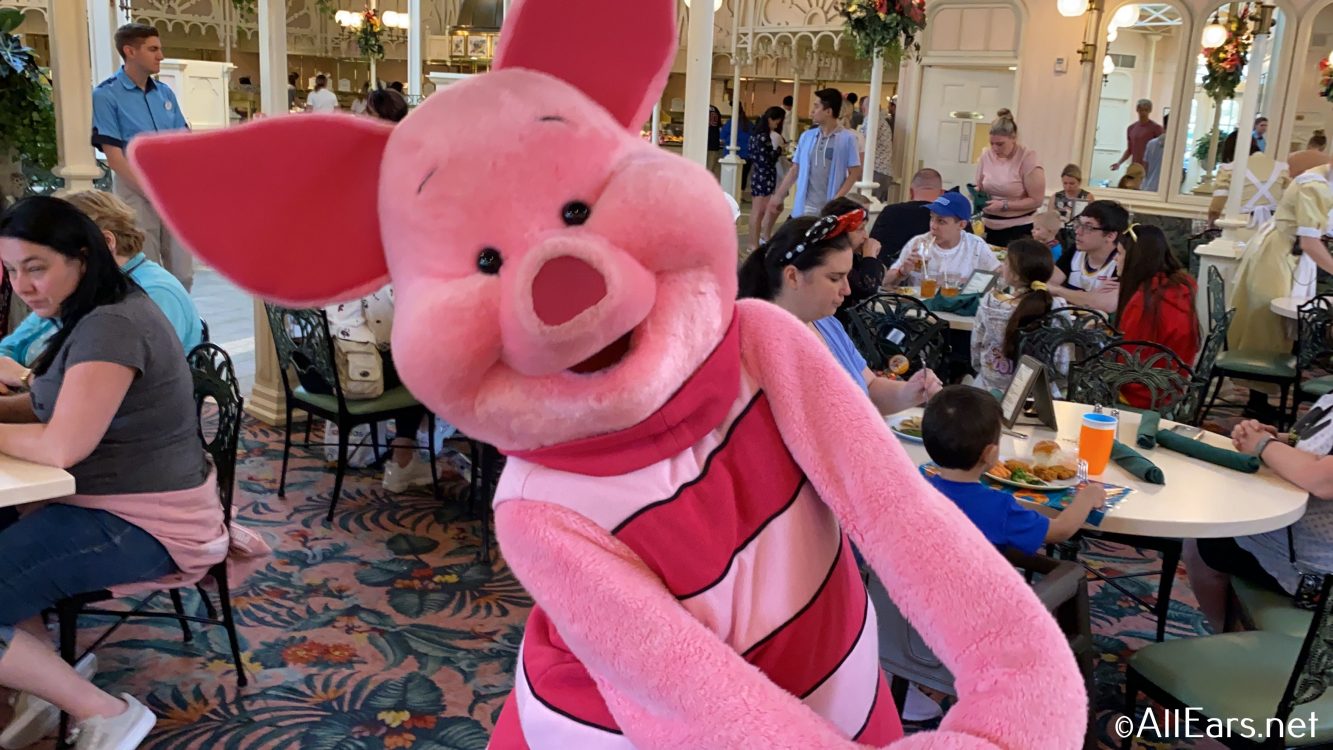 Topolino's Terrace Breakfast
Located atop Disney's newest resort, Disney's Riviera Resort, Topolino's Terrace offers breakfast with a view — and classic characters with adorable outfits.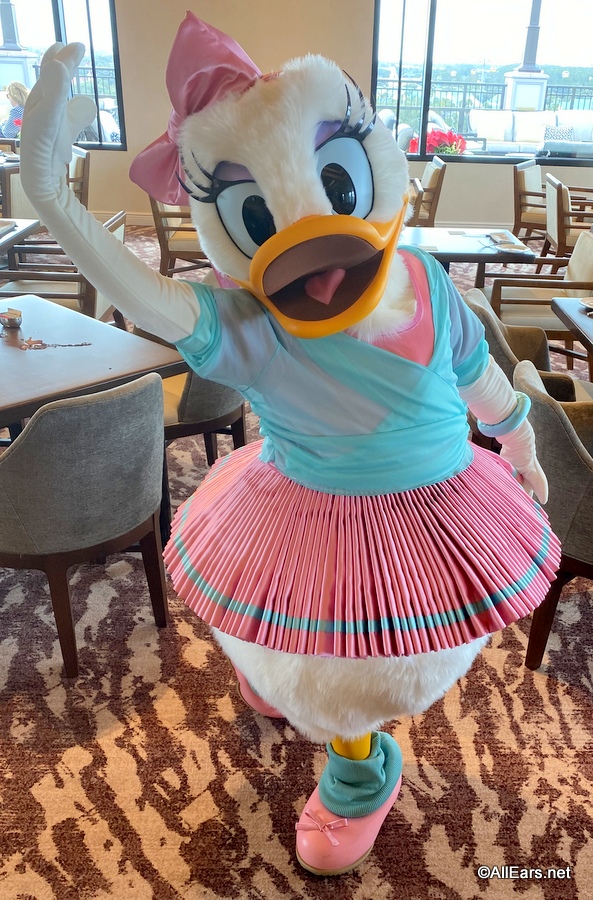 You see, Mickey and the gang have all gone to Europe to study the arts and are dressed accordingly. Mickey is a painter, Minnie is a poet, Donald is a sculptor, and Daisy is a dancer. You can even take home a plush of them in their outfits because they are THAT cute.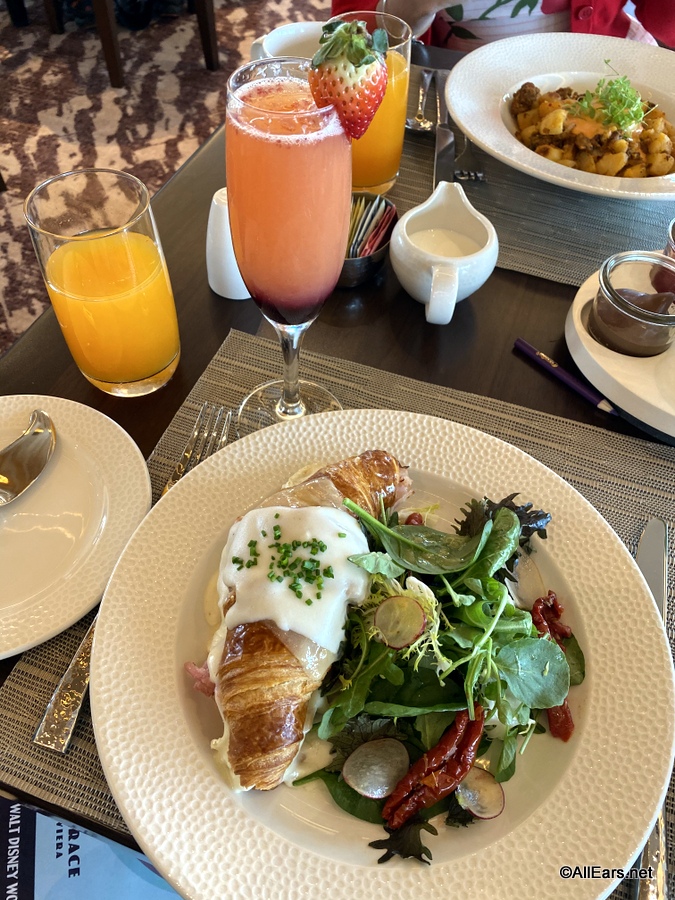 In addition to the characters being oh so adorable, the food is also excellent — in fact, it's probably the best FOOD at any character meal I've ever been to. It's served a la carte (with prix fixe pricing), and you can choose from items such as housemade Quiche, Croissant Sandwiches, Spicy Sausage Hash, and Sour Cream Waffles. Even the kid's food has updated and fun twists on the classics — just look at how cute these Mickey and Minnie waffle dippers are!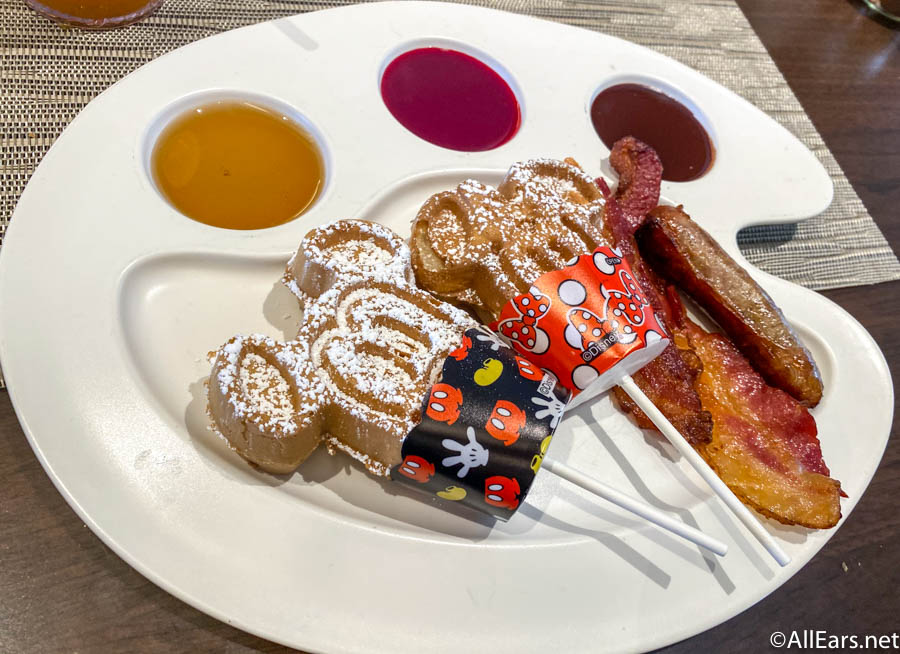 You'll also receive a basket of freshly made pastries and spreads for the table to share — and you're welcome to ask for more of these!
Additionally, the location is excellent — even if you aren't staying at Riviera. The resort is on the Skyliner, so you can easily hop on after breakfast and head to Hollywood Studios or Epcot. Topolino's Terrace is a top notch character meal, one that we highly recommend for any age!
Storybook Dining at Artist Point
Head over to Disney's Wilderness Lodge for a character meal unlike any other! Storybook Dining at Artist Point is a dinner with Snow White and her friends — and it's one of our faves!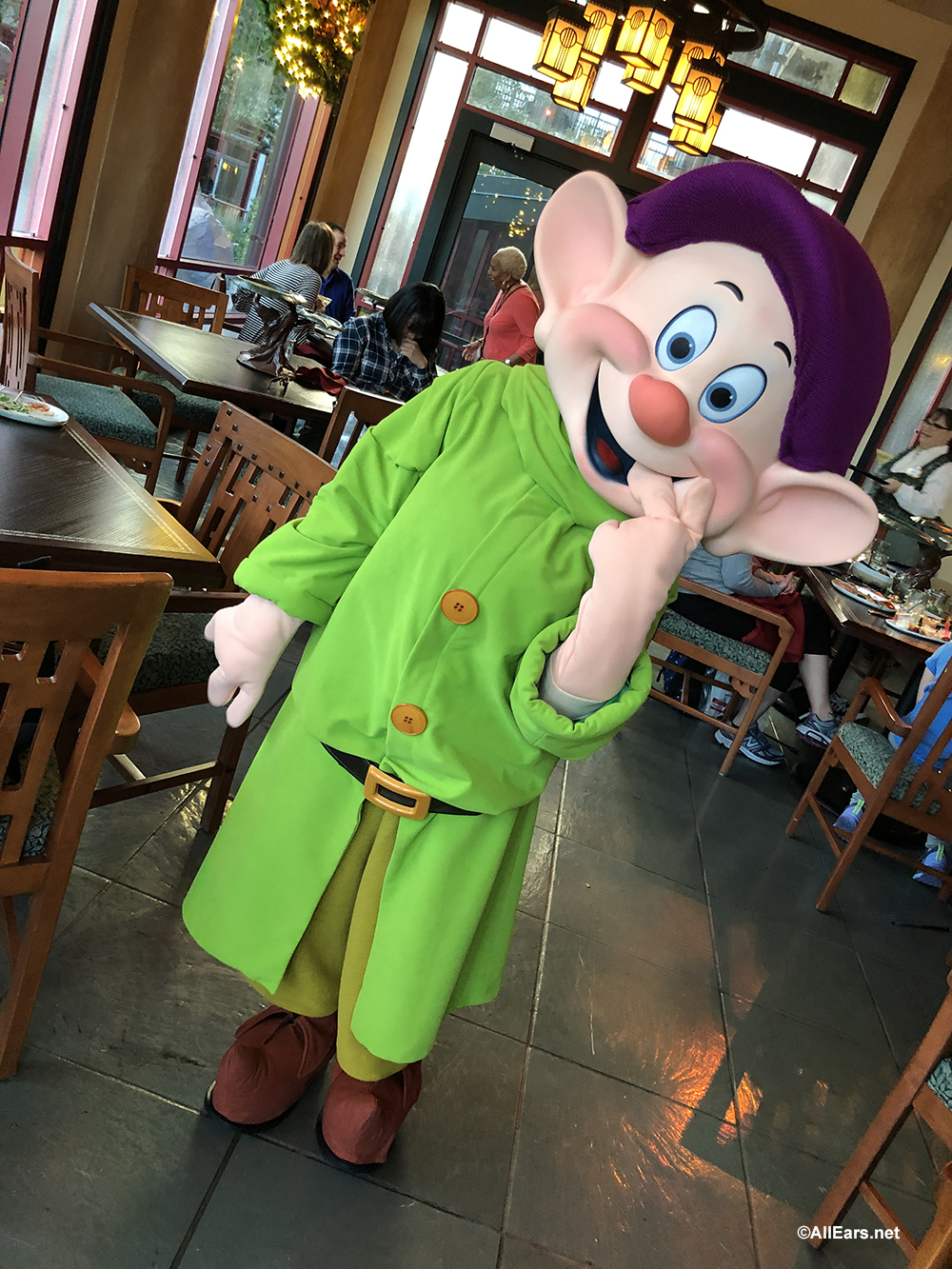 The meal is prix fixe pricing with several entree options, including tasty choices such as prime rib, pork shank, roasted chicken, gnocchi, and more. The food is very good and really high quality for a single credit meal — particularly a character meal!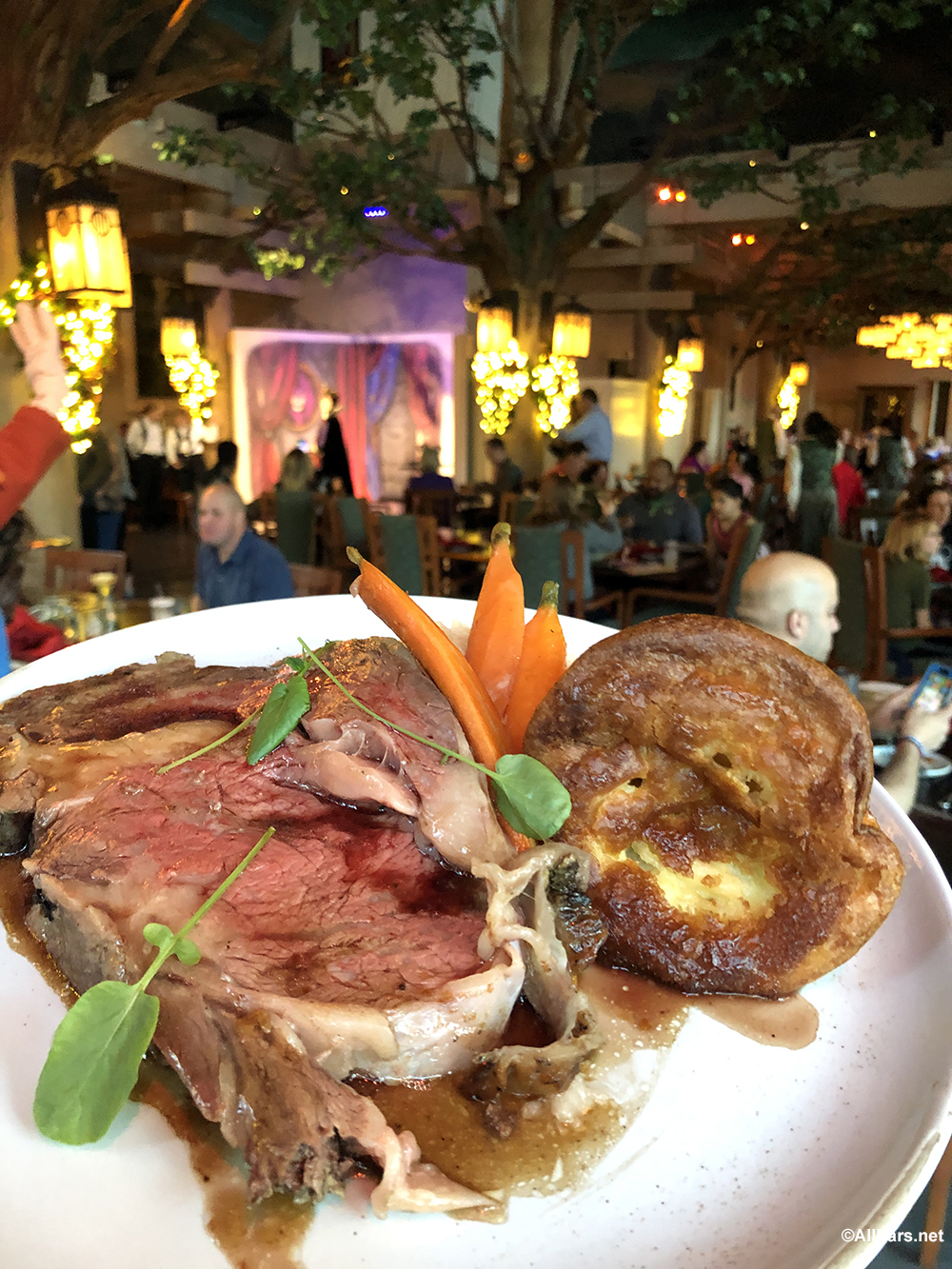 The meal finishes with beautifully themed Snow White desserts! In fact, the whole restaurant has been beautifully re-themed to feel like you're truly in an enchanted wood.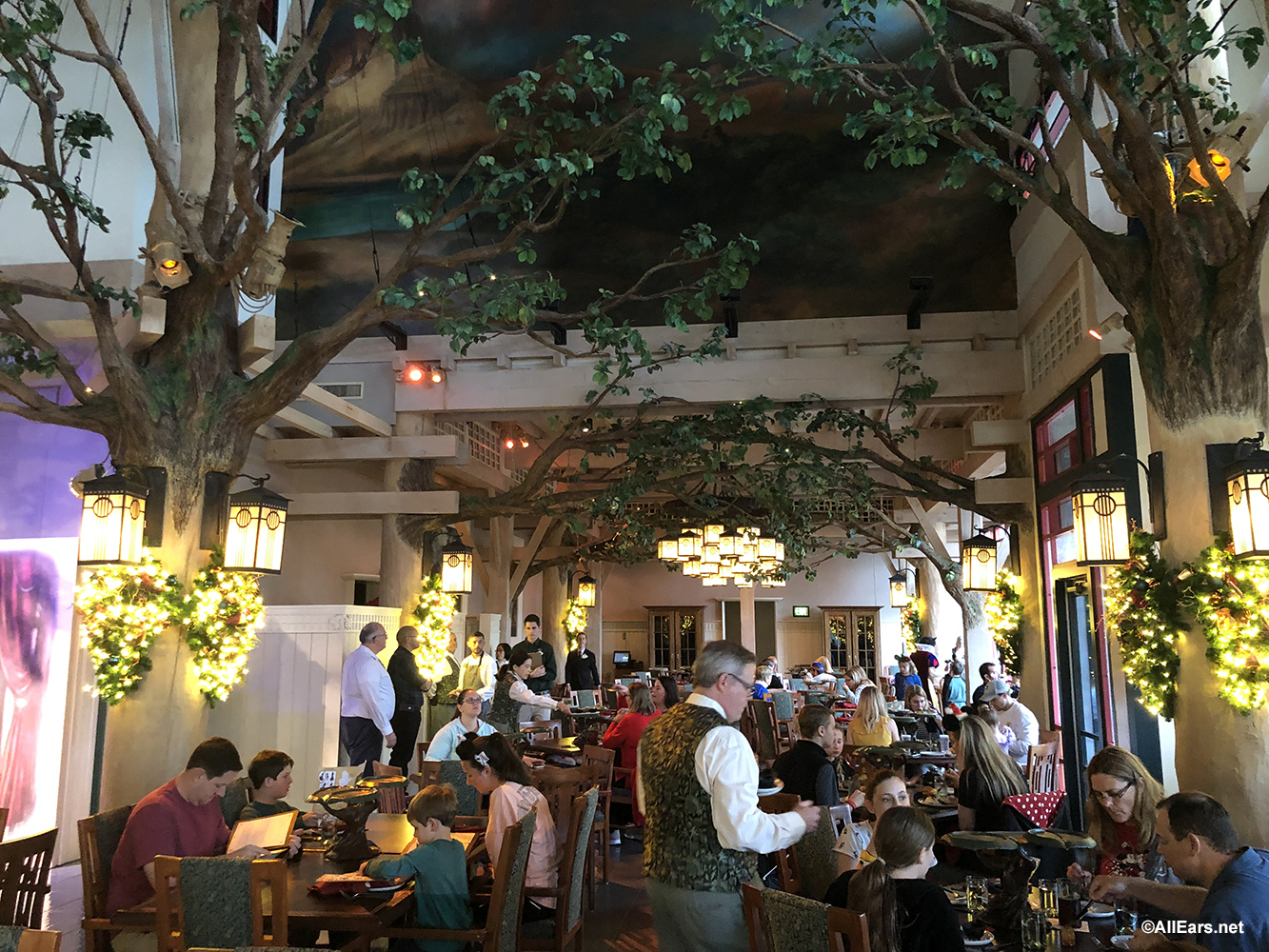 Plus you're in for a treat with the characters! Joining you are Snow White, Dopey, Grumpy, and the Evil Queen. These are really fun meet and greets — plus you're not going to find the dwarfs or the Queen in the parks on a regular day.
Overall, this is a great experience — one that's conveniently located just a boat ride away from Magic Kingdom.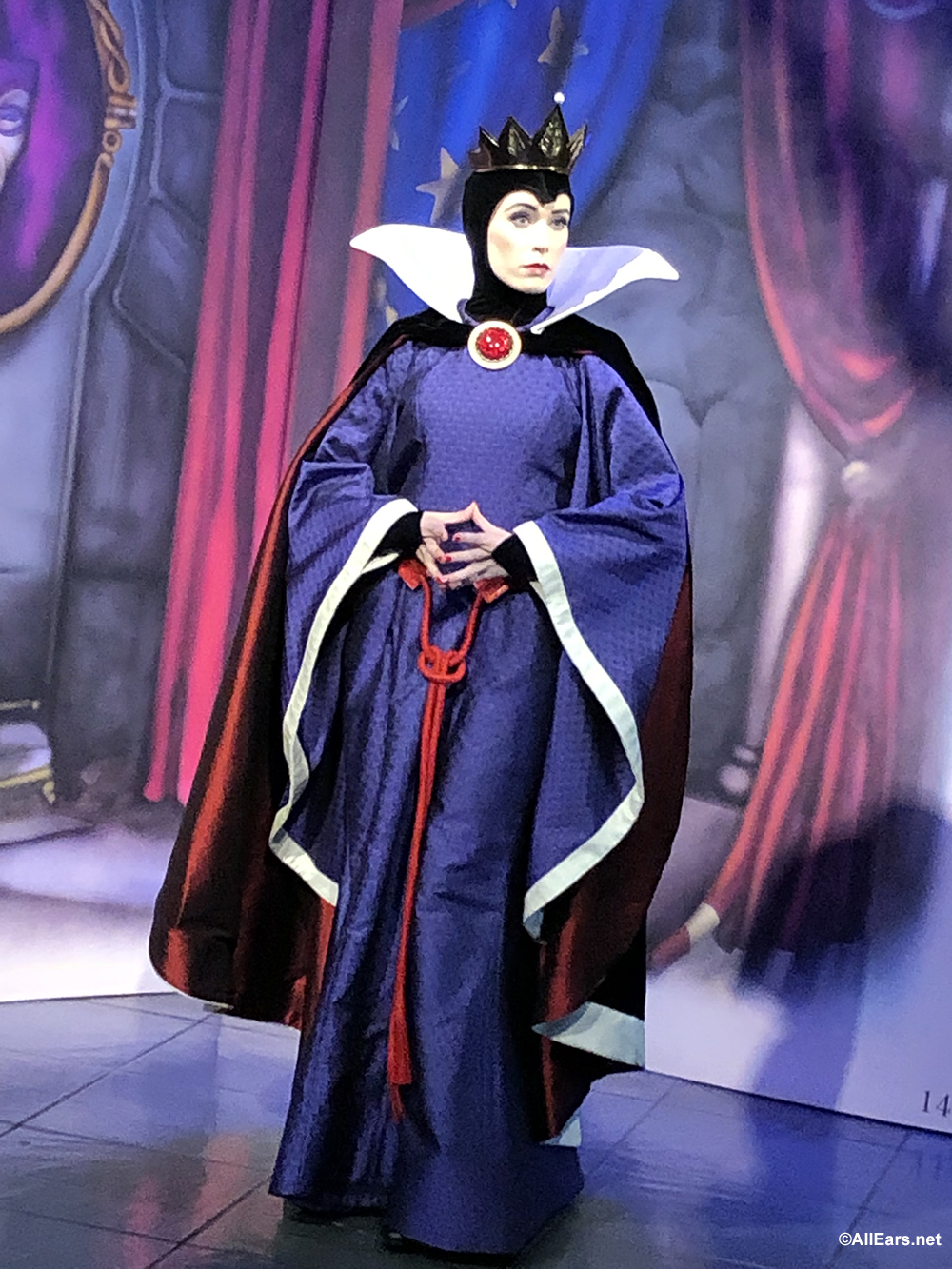 Trattoria al Forno Bon Voyage Adventure Breakfast
Stop by Disney's Boardwalk for breakfast at Trattoria al Forno where you'll find two of your favorite Disney couples!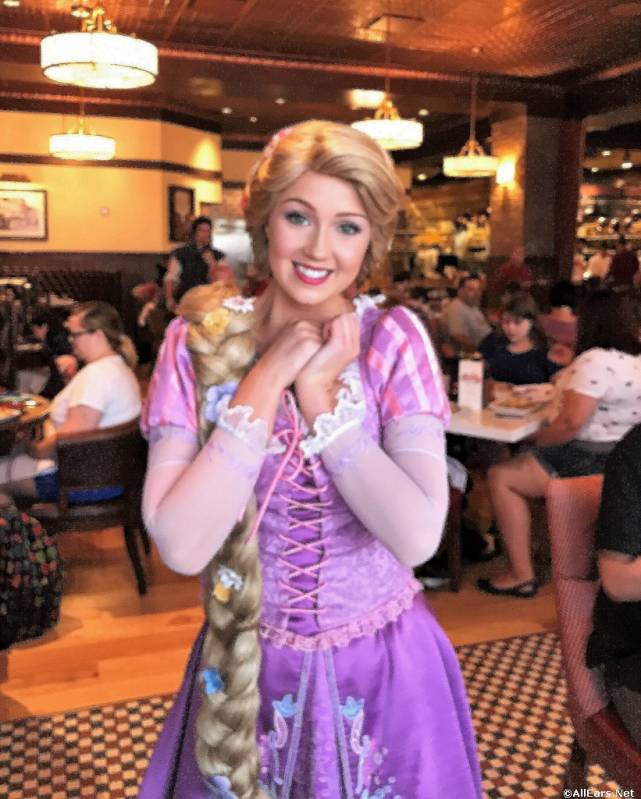 The Bon Voyage Adventure Breakfast serves up tasty breakfast treats such as a Tower of Pancakes, a breakfast calzone, steak and eggs, and a potato hash. The food is delightful — very high quality and there's enough variety for everyone in the family to find something they'll love.
Plus, everyone starts off the meal with this super cute skillet (er- Rapunzel's frying pan) full of themed pastries!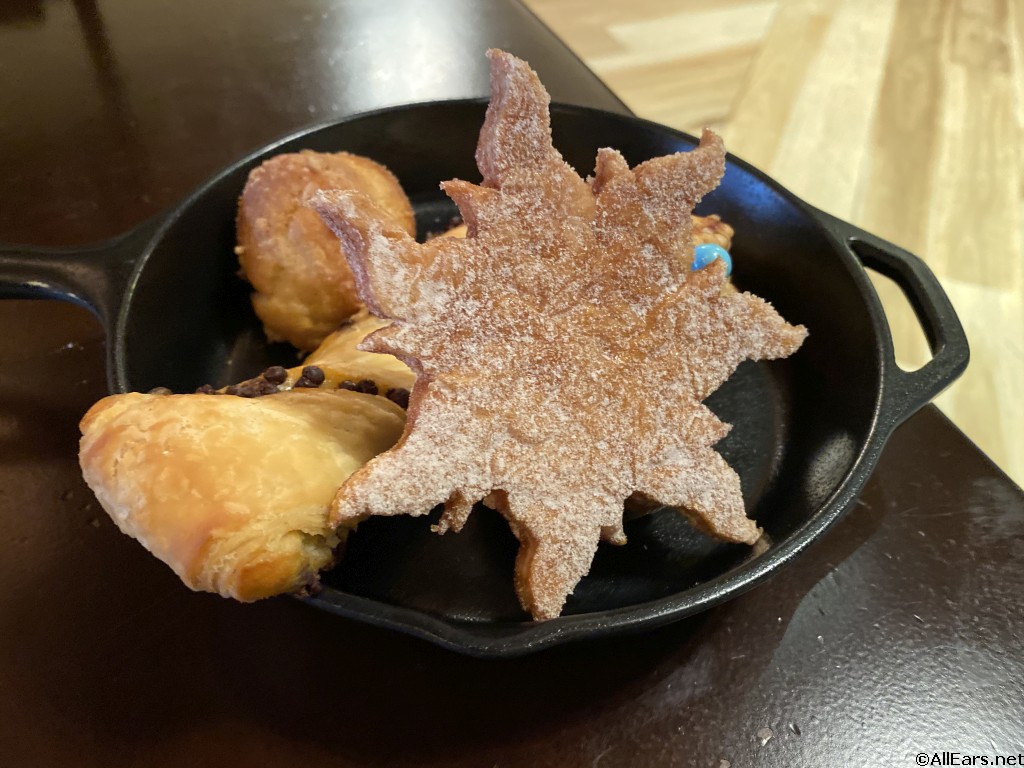 The meal features two sets of princesses and their princes — a rarity at Disney meals! On a typical day, you'll be joined by Ariel with Prince Eric and Rapunzel with Flynn Rider. It's always fun to see the men considering they rarely make appearances in the parks!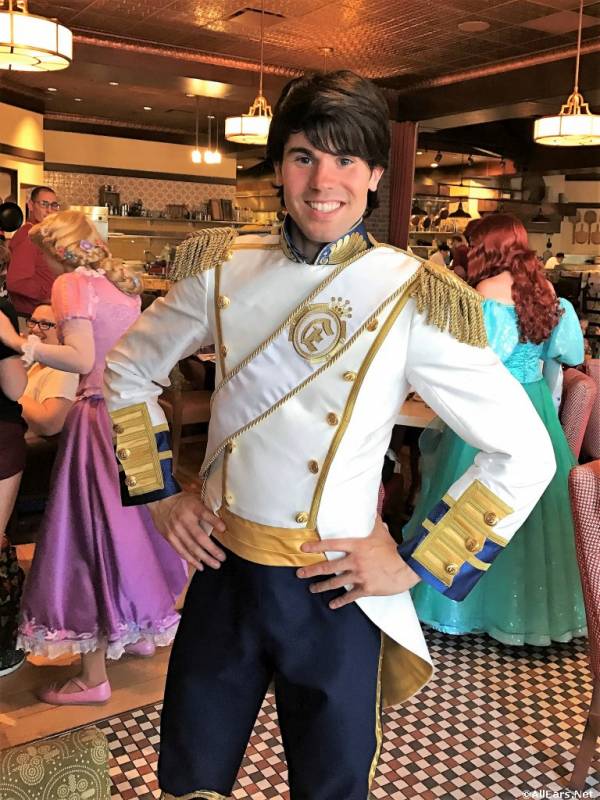 The cherry on top of this already awesome meal is that it's on the Boardwalk, meaning you can walk to Epcot or take the Skyliner to Hollywood Studios after the meal. Sounds like the Best Day Ever!
Tusker House – ANY MEAL!
When it comes to classic characters in a theme park setting, most of our team agreed the Tusker House is the place to be!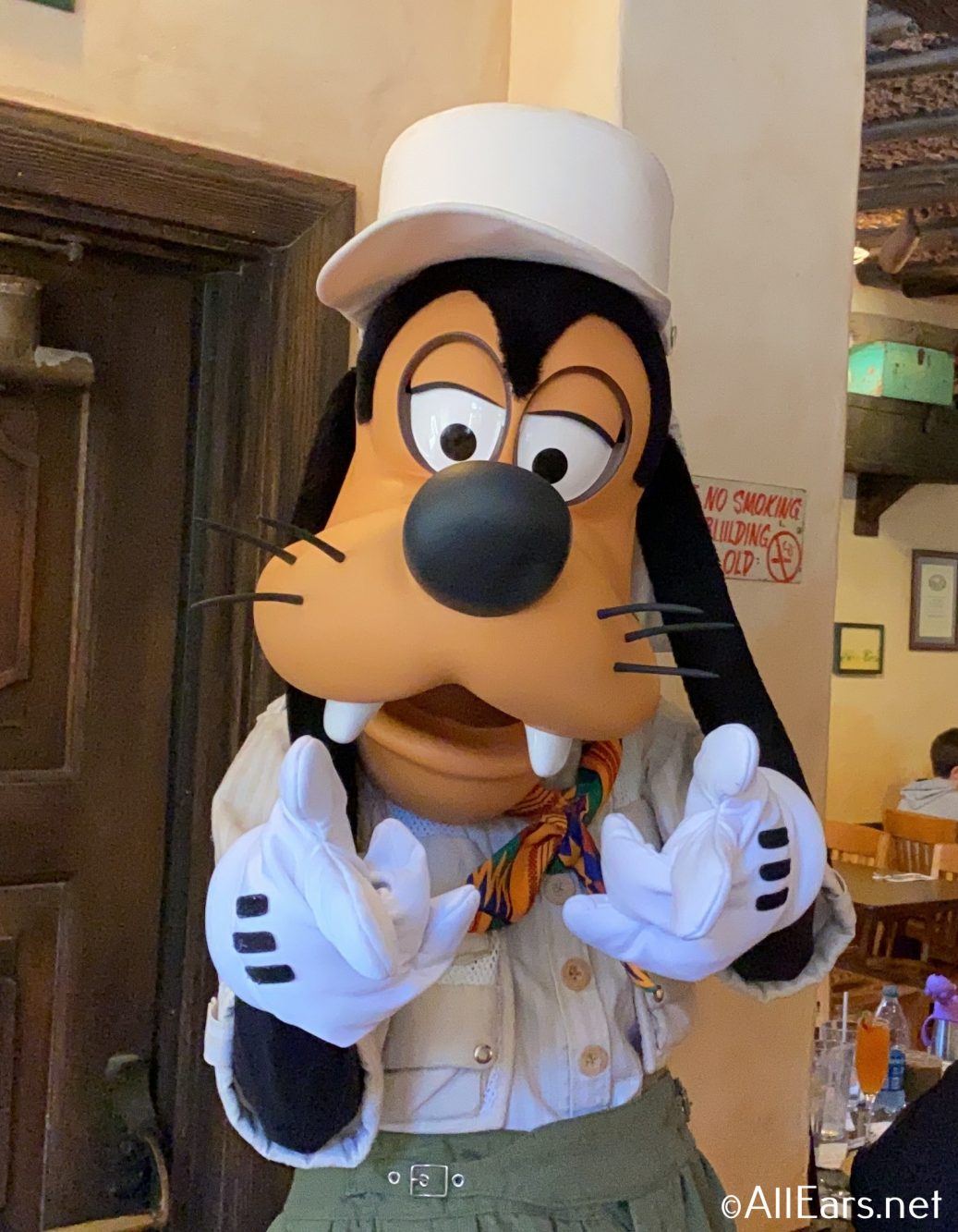 The only thing we couldn't agree on is which meal is better! Which is a good problem to have. 🙂
Personally, I love an early breakfast so you can walk through an almost empty Animal Kingdom and jump on a safari as soon as the park officially opens. On the buffet you'll find classics like Mickey waffles, eggs, bacon, and carved meats — but also some dishes with Indian and African flair.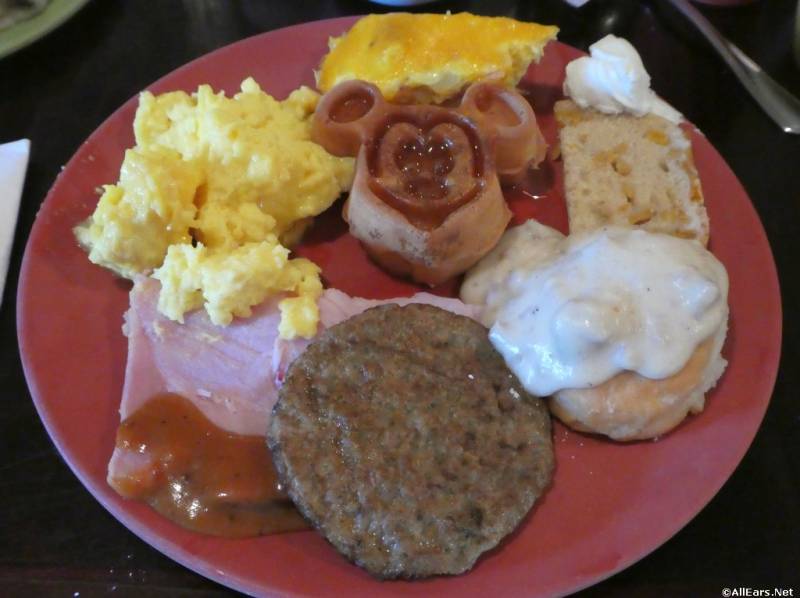 Lunch and Dinner are the same premise — classic eats everyone will love, plus more exciting dishes like curries, carved salmon, and African eats. Plus, the kids menu has some of the best mac and cheese ever. In my opinion (backed by my teammates!), this is the best buffet food at a character dining meal.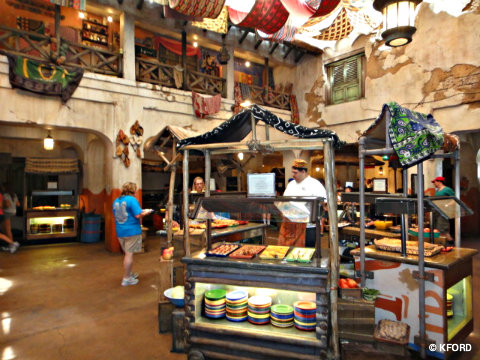 Hosted by Donald, the meal also includes Daisy, Goofy, and Mickey — all dressed in their safari finest. This is everything a good character meal should be — tasty eats, great location, and adorable characters. What could be better?!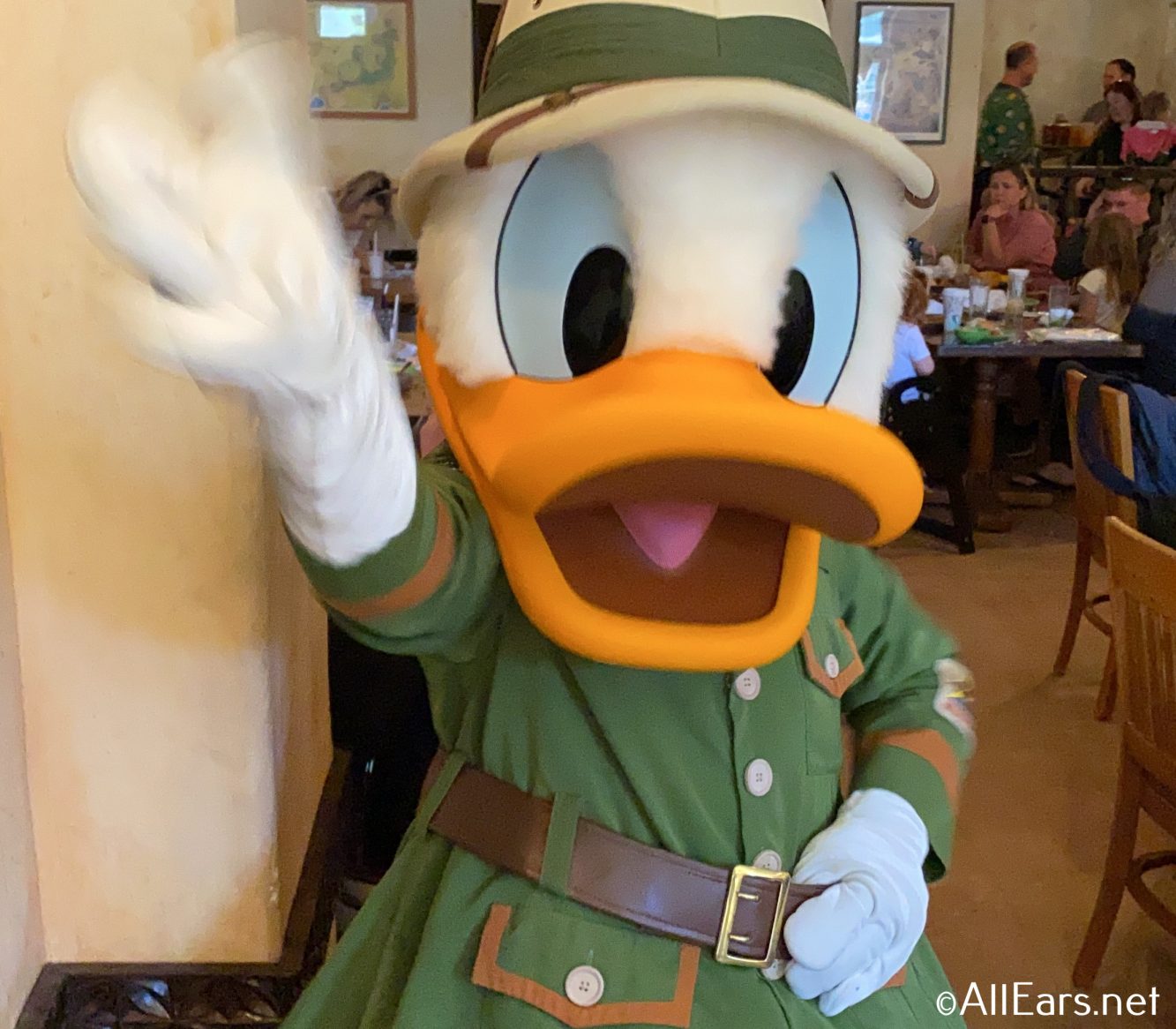 What is your favorite character meal in Walt Disney World? Let us know in the comments!
Join the AllEars.net Newsletter to stay on top of ALL the breaking Disney News! You'll also get access to AllEars tips, reviews, trivia, and MORE! Click here to Subscribe!