I called this an expedition because any time I visit a new Disney property (park, ship, or land), I feel like I am going on one. I researched the location thoroughly, looked at many photos from others on social media, and figured out the equipment I wanted to use. Yet, I was still awed by what the Disney Imagineers had done when I first set foot inside Star Wars: Galaxy's Edge at Disney's Hollywood Studios.
Where to start? It must be at the Millennium Falcon: Smugglers Run. My reaction and those around me when we came around the corner and first saw her was astounding. The smiles on our faces were huge and our eyes were wide-eyed.
The photo above was not from my first viewing of the Millennium Falcon. That was full of people (you can see it on my Twitter account @Scottwdw) around it. This was very early (around 7:00 am).  It was not the best exposure but I worked with it in Adobe Lightroom and used the Soft HDR filter from Skylum's Intensify CK plug-in to pull out the details and smooth out the high ISO noise.  I would have tried for a better exposure but, by the time I was ready, people had started to get in close to the ship.
My daughter and I had the opportunity to pilot the Falcon. After the ride was done, I snapped a few photos as I was leaving the cockpit.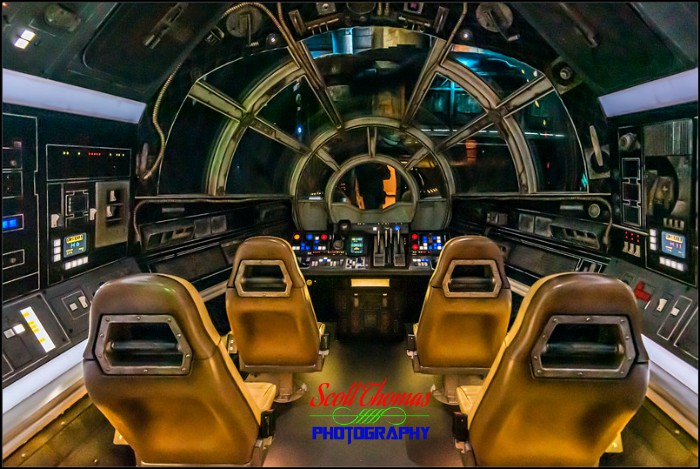 I had to do a lot of work in Lightroom to pull out the detail and the high ISO really softens up the edges. You can even see me in the doorway reflected in the cockpit's windows. On my next trip, I will be sure to use a fisheye lens on in the Falcon's cockpit.
I had the pleasure of visiting Oga's Cantina in Black Spire Outpost on Batuu twice on this trip. It is a fun location and both times I did not stay my full 45 minute time ration and never felt rushed. I do think the beer and non-alcoholic drinks are the better value. I highly recommend having a Carbon Freeze. Hold on tight as it vibrates.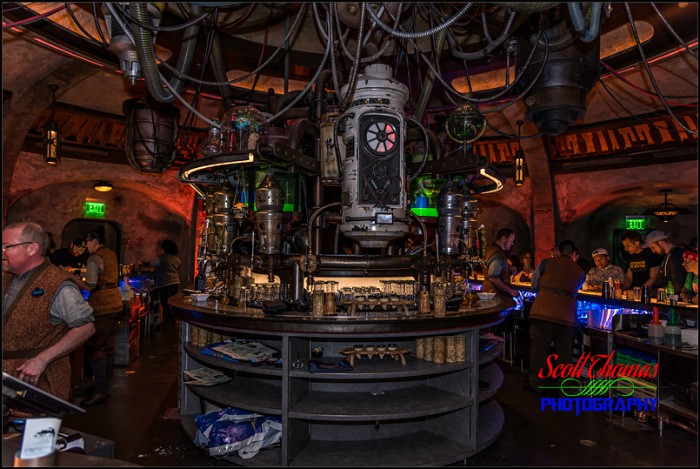 Again, a fisheye really would have captured this scene better but you get the idea. I toned it down a bit so you can get the feel of the place. It is darkened very much like the cantina on Tatooine from the Star Wars: A New Hope movie.
I went back later that night with a tripod and captured a Batuu moon over the establishment.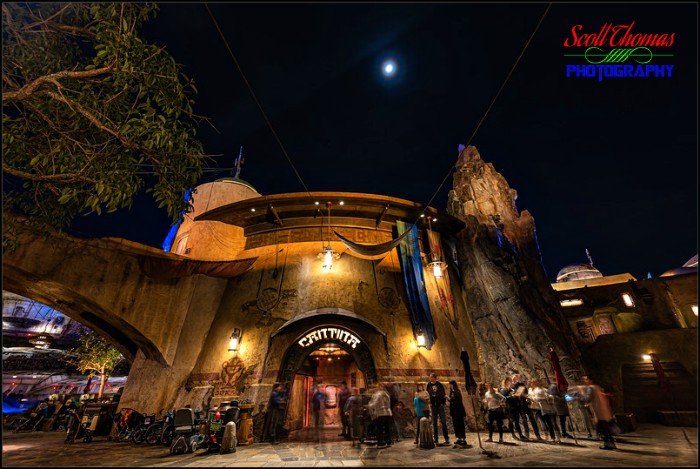 An ultra-wide angle lens was able to capture the entire scene. I dodged a bit over the people waiting to get inside to even out the exposure.  I selected f/8 for the aperture to keep the shutter speed below 10 seconds.  I did not want to have too much motion blur.
Before you ask, I did ride the new Star Wars: Rise of the Resistance which opened on December 5, 2019. My daughter and I arrived at 5:00 am to Disney's Hollywood Studios on December 7th. The gates opened at around 6:40 and soon after we were able to secure a Boarding Party thru the My Disney Experience app. We got a low number, too! This also explains how I got the clean Millennium Falcon photo above.
I will not go into any ride detail here. Let me say, it was worth the effort to get a Boarding Party as they were gone by 8:30 am. You have to be in the park to get on a Boarding Party. No spoiler here as Disney has been using this scene in all of its promotions for the ride.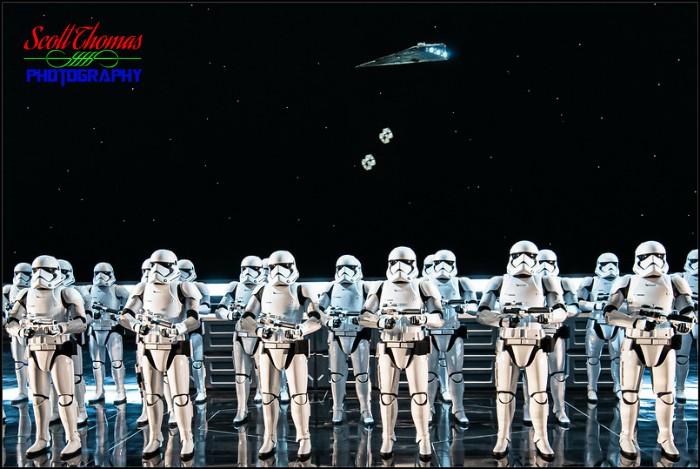 When you walk into this hanger bay, it is an amazing sight and I may have to rent an even wider lens on my next trip to really convey the expansive set.  Here, however, I cropped in quite a bit from the original 16mm image to show the stormtrooper details and the First Order battlecruiser and TIE fighters flying by.
I was excited to visit Galaxy's Edge and, now that I have been there,  I am even more excited to go back. I have a lot more photos to share from the Black Spire Outpost over the coming weeks.
If you have any questions about photographing at Galaxy's Edge, leave them in the comments below.
Join the AllEars.net Newsletter to stay on top of ALL the breaking Disney News! You'll also get access to AllEars tips, reviews, trivia, and MORE! Click here to Subscribe!