Since the announcement of the addition of Star Wars: Galaxy's Edge to both Disneyland and Disney World, a persistent question has been, "Will the lands be identical?" We discussed this here in a post a few weeks ago, in fact.
We now know one way the lands will differ in addition to general layout — as we speculated, alcohol will be served at more locations in the Disney World version of the land.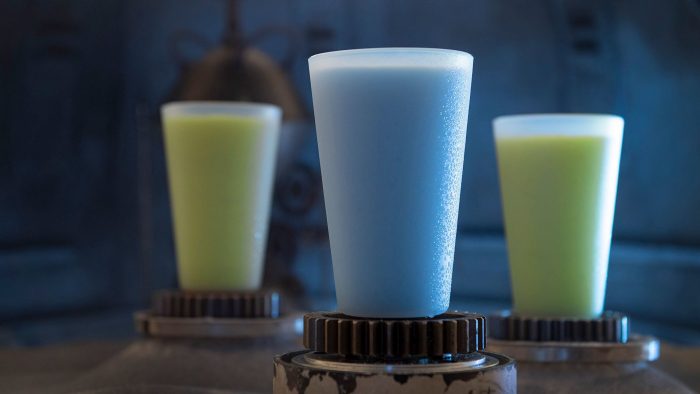 A glance at Disney World's menus shows us three locations in Disney World will be serving alcoholic drinks, while their counterparts in Disneyland do not serve alcohol.
Star Wars Galaxy's Edge Milk Stand Alcoholic Beverages

At the Milk Stand you will find the Blue Milk Cooler and Green Milk Cooler, both $14.00 each. The Blue Milk Cooler combines Blue Milk and Bacardi Rum. The Green Milk Cooler mixes Green Milk and Corazon Blanco Tequila.
Read the full Milk Stand Menu here.
Star Wars Galaxy's Edge Docking Bay 7 Alcoholic Beverages

Docking Bay 7 will be serving up a Takodana Quencher for $15.00 and a Gold Squadron Lager from Blue Point Brewing Co. for $13.25. The Takodana Quencher is made with Bacardi Dragon Berry Rum, Blue Curacao, Simple Orange with Pineapple, Kiwi. When you order the Gold Squadron Lager expect a Golden Lager with Lavender and Plum Flavors.
Read the full Docking Bay 7 Menu here.
Star Wars Galaxy's Edge Ronto Roasters Alcoholic Beverages

Over in Ronto Roasters cool off with a Coruscant Cooler for $15.00 or a Trandoshan Ale from Concrete Beach Brewery for $13.00. The Coruscant Cooler takes Makers Mark Bourbon and mixes it with Luxado Maraschino Liqueur, Carapano Antica Sweet Vermouth, Cranberry, and Lime juice. The Trandoshan Ale is a Spiced Wheat Ale.
Read the full Ronto Roasters Menu here.
What do you think of alcohol being offered at more locations in Disney World? Are you ready for Star Wars: Galaxy's Edge in Orlando? Share your thoughts in the comments.
Be sure to follow @allearsnet on Instagram and Twitter!
Check out our YouTube Channel for reviews, news, information and more!
Click below to subscribe to the AllEars® newsletter so you don't miss any of the latest Disney news!