Those that know me, know that I don't care much for shopping. I know, however, that many of you DO, so I spent a few minutes during opening weekend of this year's Epcot International Food and Wine Festival in the festival shops, checking out some of the event-specific merchandise. I found lots of things that would make perfect souvenirs, or gifts for those that you had to leave at home.
Lovers of the big purple Figment will be happy to know that he has returned as a festival mascot of sorts, and he dominates much of the merchandise. You can find him on t-shirts ($24.99 regular, $29.99 v-neck)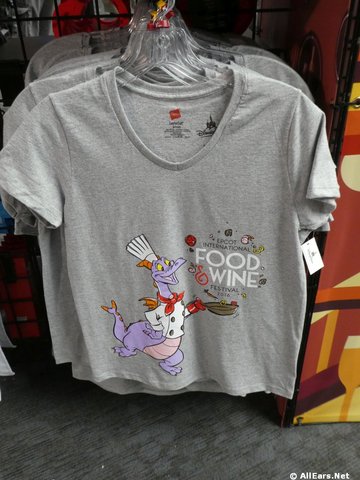 On mugs ($14.99), salt and pepper shakers ($9.99/ea.), aprons ($26.99), oven mitts ($14.99) and even ornaments ($19.99)…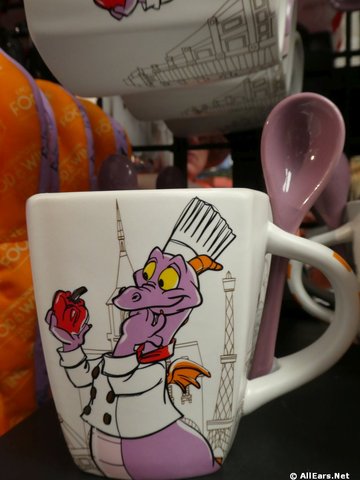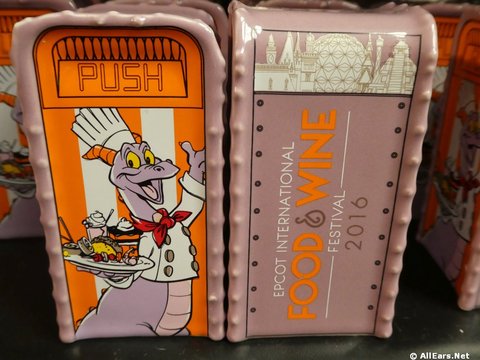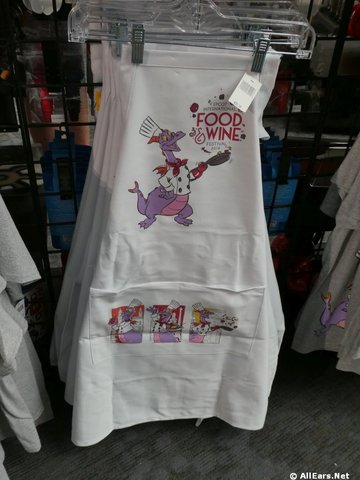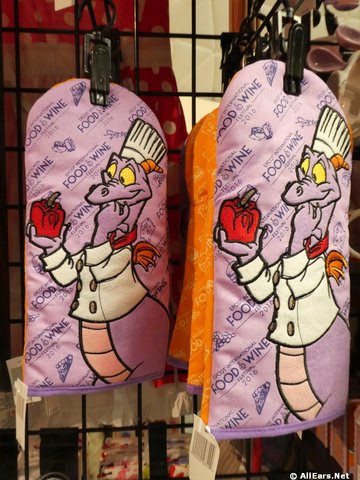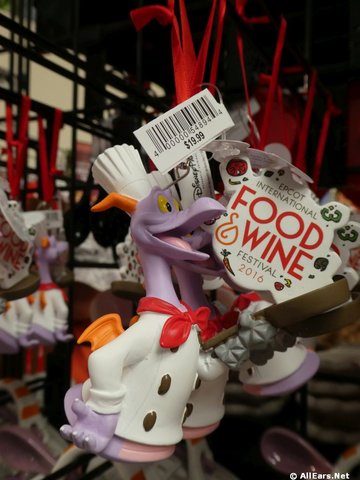 And of course Chef Figment is featured on one of the festival's two special event posters ($24.99).
Figment even graces some of the special festival passholder merchandise this year, like this Passholder t-shirt ($29.99)…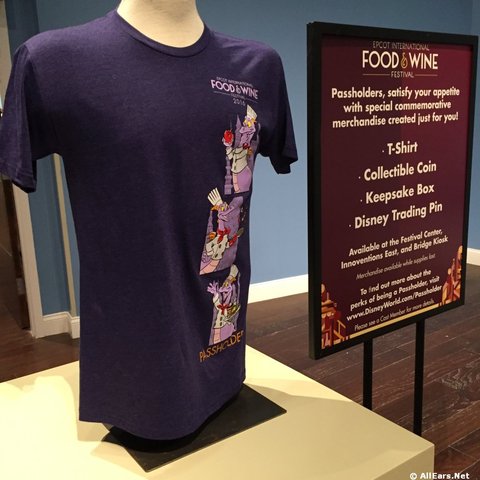 But it's not all Figment, if for some reason he's not your thing. Some of the other festival merchandise is a bit "retro", borrowing themes and motifs from Food and Wine Festivals gone by.
There are Taste Your Way Around the World t-shirts (the burgundy v-neck is $32.99; there's also a gray-blue short-sleeved shirt, as well as a long-sleeved shirt and blue scoop-neck shirt [not pictured] for around $37 each)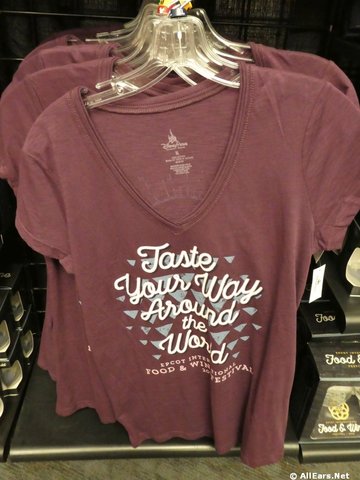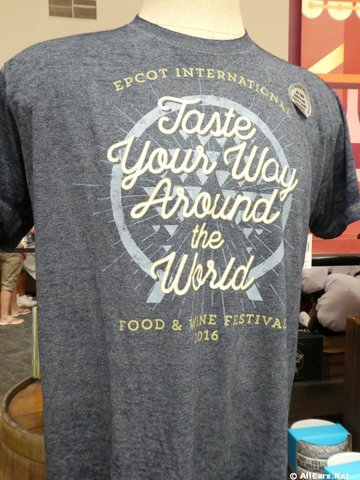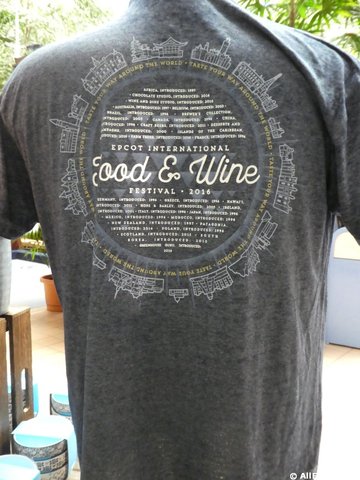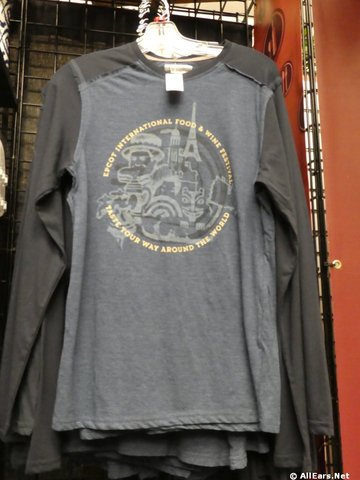 There are also "Taste" wine bottle ornaments ($12.99)….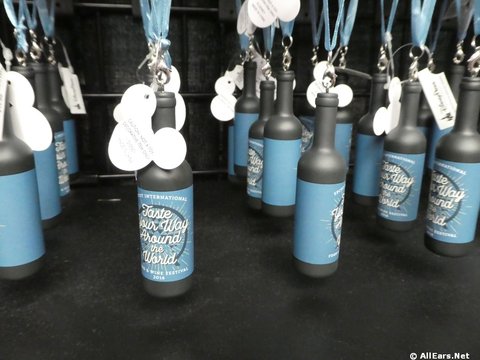 Taste Your Way Around the World housewares include Tea Towels (pair $21.99), Small Plates ($14.99), and Salt and Pepper Shakers ($9.99 each)…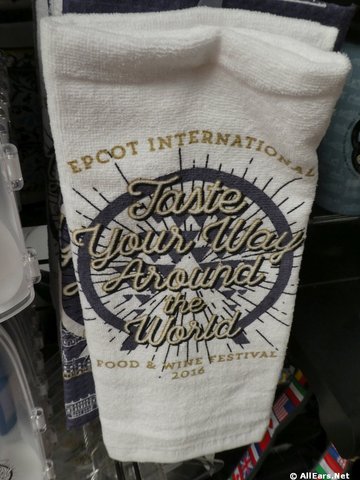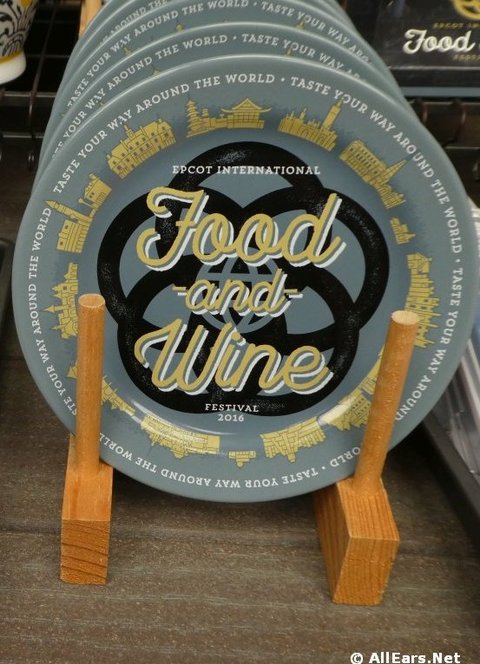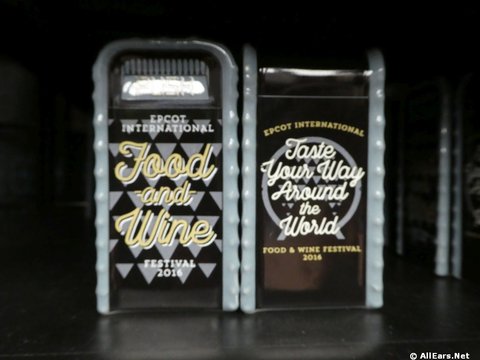 One thing I thought was a bit different, and practical, was an insulated bottle bag ($34.99)…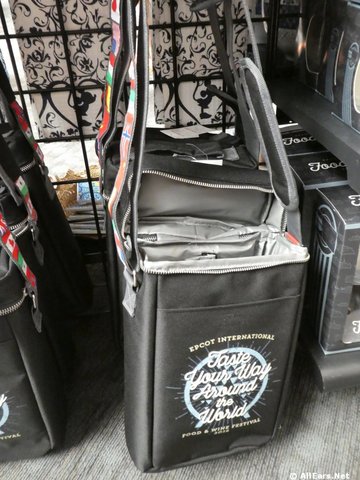 Taste Your Way Around the World is also the design of another 2016 Festival Poster ($24.99):
There's also a very useful notched plastic plate, perfect for when you're juggling multiple food and drink samples from the global marketplaces. I remember when they first introduced these plates a few years ago — they were just $4.95. They're up to $6.99 ($7.50 including tax) now.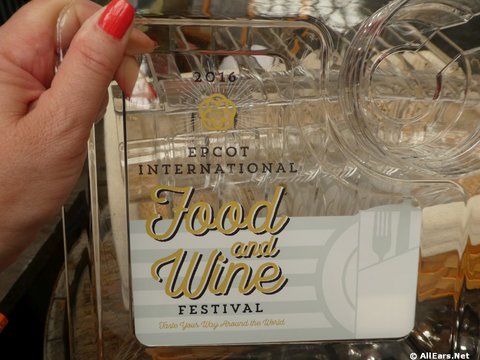 If you're looking for a plain ball cap, never fear — there's a festival cap for you ($26.99)….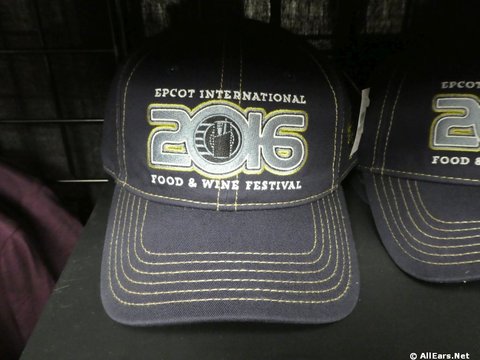 Another design you'll find on a variety of merchangise caters more to beer lovers — "Brews Around the World." You'll find mugs ($14.99), t-shirts ($27) and caps ($29.99). (No, I don't know why they are more expensive than the other caps.)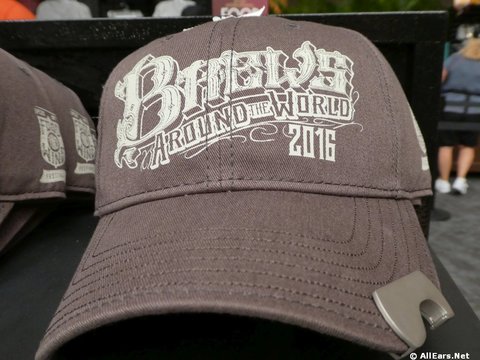 One item I almost always purchase is the Festival Cookbook. This year it's $24.95, and includes recipes from not only the Food and Wine Festival, but from the spring's Flower and Garden Festival as well.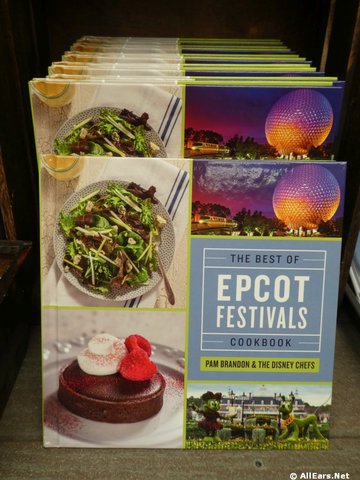 By the way, Chef Gregg Hannon and Pam Brandon, author of the Festival cookbook, will be on hand for a special signing at Showcase Plaza's Port of Entry on September 27 and 28, after a 3 p.m. cooking demonstration.
For the plush lovers, I didn't see much, but I did spy this adorable Food & Wine Festival Chef Mickey for $26.99: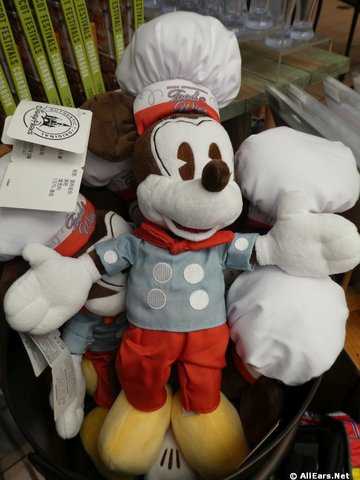 Finally, if you want to take home a bottle of wine from one of the festival events you attend, stop over at the Festival Center's wine shop. But if you want something specifically to remind you of the 2016 event, pick up a bottle of the the Festival's special label wine — both the cabernet and the chardonnay are listed at $22 a bottle: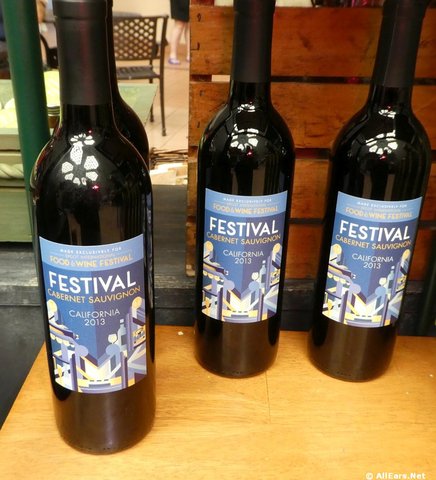 You can find all of this merchandise at the Stockpot Shop in the Festival Center. Many of the same items can be found around the other festival shops around World Showcase — there's one near Germany, one between Morocco and Japan and one near Canada. There are also merchandise kiosks on the bridge connecting Future World to World Showcase, and you may find other related merchandise in the shops in World Showcase Plaza.