By Linda Eckwerth, AllEars.Net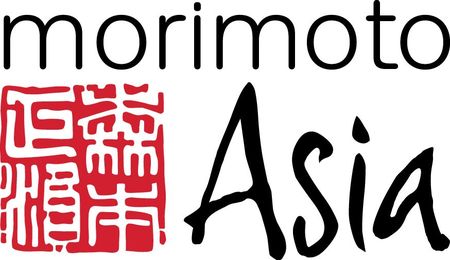 Morimoto Asia, a Pan Asian restaurant located in Disney Springs, recently started a Dim Sum Brunch on Saturdays and Sundays. I was invited to experience some of the foods offered during the brunch, and I want to share my thoughts with you.
We tasted a variety of foods that are available on the Brunch Menu. The portion sizes you see are approximately the same size you would receive at the brunch. Alcoholic beverages are not included in the brunch price.
Morimoto Asia Brunch is served upstairs either inside or on the outdoor balcony.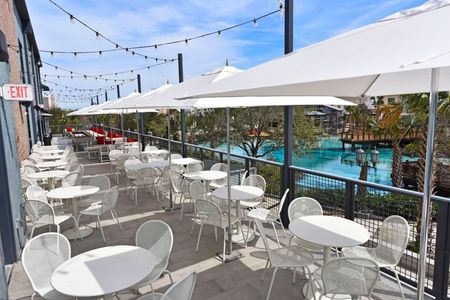 We began with a Lychee Lemon Soda, a-non alcoholic drink consisting of fresh mint leaves, lemon juice, lychee purée and soda — a very refreshing way to start our brunch tasting.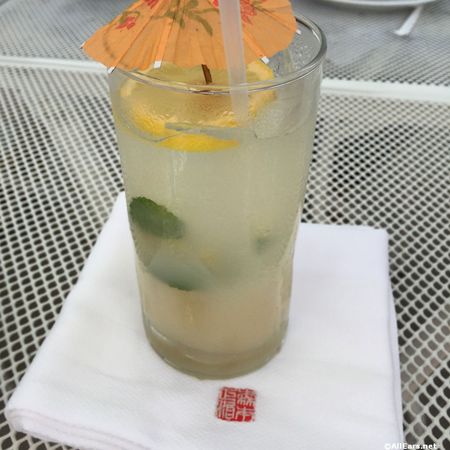 The Chef's selection Soup of the Day is one of the first course options. We enjoyed a hot and sour soup, which included onion, egg, vegetables and had a kick of spice.
Next, we tasted items from the second course menu. First up, Pork Ribs steamed with black bean sauce and Chashu Pork, which is roasted.
The ribs were bite-size, meaty and had a touch of heat. I enjoyed them.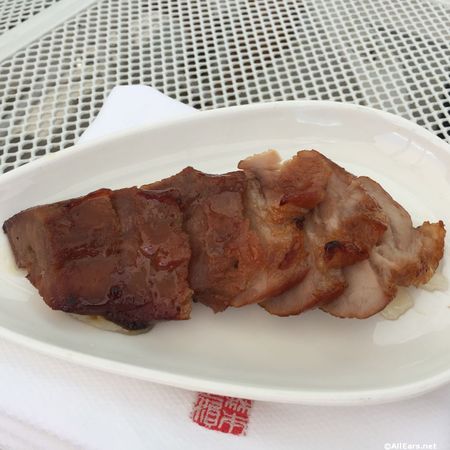 But I really loved the Chashu pork, which was very tender.
Next, we had a Nashi Pear Margarita, one of the two new seasonal autumn drinks on the menu.
It is made with Maestro Dobel tequila, pear purée, lime juice, and Cointreau. This was my favorite of the three drinks we tried. It was very refreshing, went well with the spicy food and didn't have a strong tequila or alcohol taste.
The next items are also options under the second course offerings — Fried Spicy Pork Dumplings and Xiaolong Bao.
The crust was very light and the pork filling was full of flavor. I did not detect much spice until I added the dipping sauce.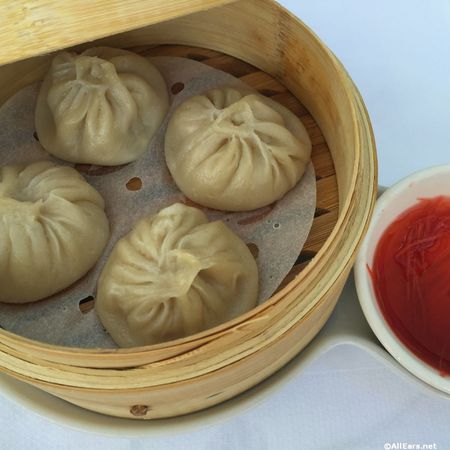 The Xiaolong Bao are little pillowy gems of deliciousness and my favorite item! When I cut into the Bao, there was tasty pork and broth. The dipping sauce was nice, but I preferred them without the sauce. Can you tell I really enjoyed the Xiaolong Bao?
We also had a chance to try one of the options from the brunch add-on menu, the Morimoto Spicy Chow Fun Noodles ($8).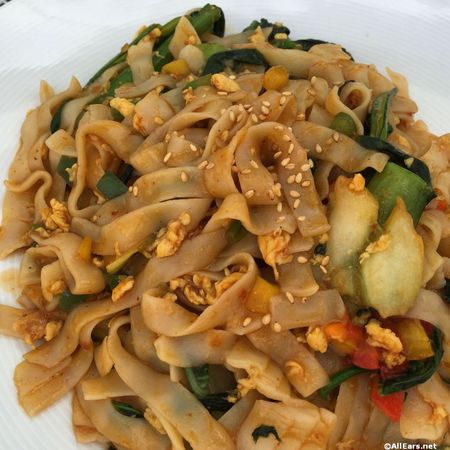 The Morimoto Spicy Chow Fun Noodles consisted of a spicy basil sauce, vegetables and egg. I enjoyed the balance of favors in this dish, and it was filling.
Finally it was time for dessert and the second seasonal drink for autumn, a Pumpkin Martini. The drink is made with Tito's vodka, pumpkin spice syrup, Bailey's Irish Cream, and almond milk.
Of the three drinks we tried, this was my least favorite because I am not a pumpkin spice fan. However, the rest of the group raved about the deliciousness of this drink, and it was a big hit.
The brunch ended with a serving of Sesame Balls, which are also a second course option. These are filled with sweet azuki bean filling.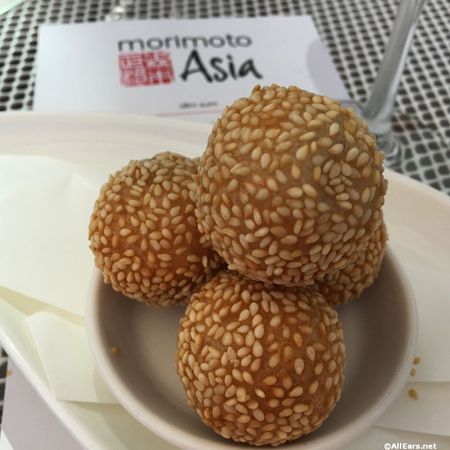 The cost for brunch is $27 per person. For your first course you choose between the soup of the day or greens. The second course consists of your choice of three items. (If you like dessert, make one of your choices something sweet.) Additional courses are $6 each. There are several add-on courses available, and those prices vary. Reservations are recommended. Brunch is served Saturday and Sunday between 11:30 a.m. and 3:30 p.m.
If you are looking for something different and relaxing to do on the weekend, give this brunch a try. With the beautiful fall weather in Orlando, the outdoor balcony will be wonderful!
RELATED LINKS
AllEars TV Morimoto Asia Review
Our Collection of Morimoto Videos
Official Morimoto Asia Website
DISCLAIMER: I was a guest of Morimoto Asia for this experience but my opinions are my own.