Fifteen years ago September, the beloved Magic Kingdom attraction

Mr. Toad's Wild Ride permanently closed its doors.
by Keith Gluck
Guest Blogger
During early planning for Walt Disney World, Chief Operations Officer of WED Enterprises Richard Irvine tapped Imagineer (and future Disney Legend) Rolly Crump to spearhead all of the Fantasyland attractions.
Thrilled with the assignment, Rolly immediately began formulating ways to improve upon the existing dark rides from Disneyland. One of the rides Disney decided to carry over was Mr. Toad's Wild Ride, which was extremely popular in Anaheim. In fact it was so popular, Vice President of Operations Dick Nunis advised Rolly that they should build two identical Toad rides, one right next to the other. Rolly did not share his vision. "I thought that was a dumb idea," Rolly said. "I told him to let me think about it for a while, and I'd come up with something better." And come up with something better, he did.
Rolly designed a two-track ride system that was housed in the same show building, giving riders two noticeably different ride experiences. On track one, passengers traveled through Toad Hall's library, over a farm, through Town Square, in and out of jail, past a shootout between cops and weasels, down the wrong way of a railroad tunnel, and ultimately, to Hell.
Track two also started riders out in Toad Hall, but through the Trophy Room instead of the library. The journey continued through a gypsy camp, Town Square, Winky's Tavern, the countryside at night, and their own Hell, also by way of the wrong way of a railroad tunnel.
The design was brilliant. Rolly even had the two tracks nearly intersect at points, giving the illusion of an impending head-on collision. Not only did having a second track double ride capacity, but in the 90s they started using motorcars that carried four passengers compared to Disneyland's two.
The ride was a huge hit, and a perennial guest-favorite from Opening Day.
In fall of 1997, however, rumors of its closure began to circulate. On October 22, the Orlando Sentinel addressed the rumor, reporting that Disney was considering replacing Toad with a ride based on Winnie the Pooh. Toad fans came out in earnest, devising ways to keep their beloved attraction open.
On October 23, Steve Guttenberg and Kirsten Dunst (stars of the soon-to-be-aired television movie Tower of Terror) were asked their thoughts on the report while at Walt Disney World. 'That's one of my favorite rides,' cried Dunst. 'Save Mr. Toad!' That same day, a Save Toad website debuted.
Petitions were signed, Save Toad t-shirts and buttons were worn, and letters to Disney executives were written, all in a concerted effort to rescue the rambunctious amphibian known to some as J. Thaddeus.
On December 7, 1997, a peaceful protest labeled a "Toad In" was held outside of the attraction. Many more Toad Ins would follow, and Rolly later recalled, "They would walk around in front of the ride and chant and cheer. I was really touched by that." As the months went on, support for the Toadies' plight grew as various news outlets across the country picked up the story. Aside from surprising a few executives at Disney, the valiant efforts to save Mr. Toad went unrewarded. After nearly a year filled with rumors, petitions, and uncertainty, Disney finally made the official announcement on September 2, 1998.
Five days later, Mr. Toad took guests on one last wild ride, to nowhere in particular.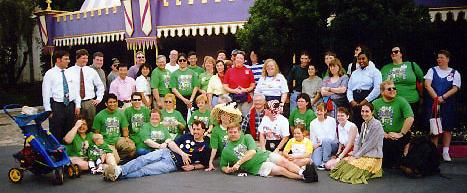 Photo Credit: http://www.math.miami.edu/~jam/toad/
Keith Gluck has been a Disney fan his entire life. While Disneyland is his 'home park,' he has been to and adores Walt Disney World and Disneyland Paris. He runs thedisneyproject.com, and also volunteers at The Walt Disney Family Museum in San Francisco. If you were to ask him his favorite thing about Disney, his answer would always be, "Walt."