Disney's California Adventure has undergone a dramatic transformation since the park first opened in 2001. Attractions like Tower of Terror, Toy Story Midway Mania, and Ariel's Undersea Adventure all opened after the park's initial opening, not to mention the nighttime spectacular World of Color, and the highly anticipated Carsland that opened in 2012. With all these changes, Disney Imagineers also wanted to recreate the park's entrance in a way that was better-themed and more immersive. California Adventure's original main entrance, known as Sunshine Plaza, was designed to make it feel as if Guests were stepping into a postcard of California. This included giant letters spelling out "California," a scaled replica of the Golden Gate Bridge, and massive murals depicting the state's vast mountain ranges.
With the new Buena Vista Street, instead of depicting California as it is today Guests are transported to Los Angeles of the 1920s, the time when Walt Disney first arrived. Now much more similar to Main Street USA at Disneyland, Buena Vista Street includes an array of shopping, dining, and entertainment. Guests can hop aboard the Red Car Trolley as it takes them past stores such as Oswald's Gas & Oil, Elias and Company Department Store, Mortimer's Market, and the Fiddler, Fifer and Practical Café and Bakery. The crown jewel of Buena Vista Street, however, is a replica of the Carthay Circle Theater; it has become to California Adventure what Sleeping Beauty Castle is at Disneyland or Cinderella Castle at the Magic Kingdom.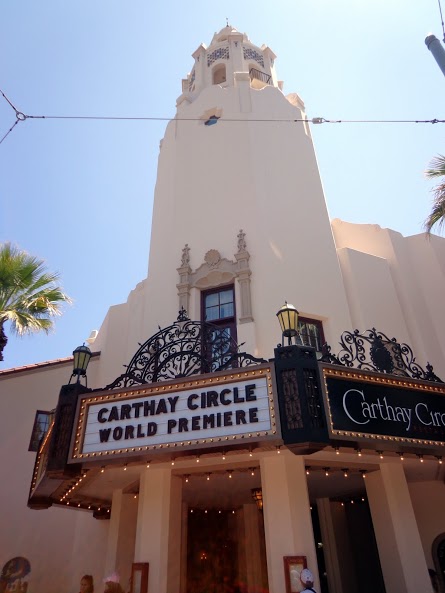 Inside this beautiful building you will find an equally incredible dining experience, the Carthay Circle Restaurant.
Overview:
The Carthay Circle Theater was one of the most famous movie palaces of Hollywood's Golden Age. Opened in 1926, the theater saw the premiere of movies such as "Romeo and Juliet" in 1936 and "Gone with the Wind" in 1939. The theater, however, also has a very deep connection with Walt Disney and was the sight of the premiere of "Snow White and the Seven Dwarfs" in 1937 and "Fantasia" in 1940.
The theater was designed in a Spanish Colonial-Revival style with white-washed concrete and a high bell tower that could be seen from miles around. When the theater first opened The Architect and Engineer praised the Carthay Circle as "simple, massive, and dignified, the building stands out for its intrinsic beauty," while the Pacific Coast Architect called it "a theater masked as a cathedral." Unfortunately, the original Carthay Circle Theater was demolished in 1969 but replicas can be found at two locations. The first is a smaller-scale façade found at Disney's Hollywood Studios on Sunset Boulevard that houses a gift shop called Once Upon a Time. California Adventure's Carthay Circle Theater, while still slightly smaller than the 1926 original, is a much closer and grander recreation and has become one of the main icons of the park.
Open for lunch and dinner, the Carthay Circle Restaurant is located on the building's upper floor with a lounge on the lower level. The restaurant is the equivalent of a Signature dining location at Disney World in terms of atmosphere, menu, and pricing. There is, however, no dress code for this restaurant. Reservations are strongly encouraged but, unlike at Disney World, can only be made sixty days in advance.
The Carthay Circle Restaurant also offers a World of Color Dining Package. This is something that has changed rather recently. The current dining package offers Guests a prix fixe meal allows you a choice of appetizer, entrée, and dessert from a select menu while also receiving access to a preferred viewing area for World of Color. If you want to have the peace of mind knowing that you have a guaranteed spot for the show without the need of getting there an hour or more in advance, this is definitely something I recommend. The viewing area is located in the very center, not nearly as crowded as the other viewing locations, and you are asked to arrive just fifteen to twenty minutes ahead of time. If partaking in the dining package for lunch you will receive a ticket for the first showing of World of Color while dining for dinner will get you a ticket for the second showing. With a cost of $39 for lunch and $59 for dinner, I would highly recommend dining here for lunch if you are looking to do the dining package. We did, and I felt it was definitely worth the price.
Atmosphere:
The Carthay Circle Restaurant completely immerses you in the romance and glamour of Hollywood's Golden Age. This begins as soon as you enter. The lower level of the Carthay Circle is a lounge where you can relax and enjoy a cocktail in an upscale setting. This is the perfect place to wait for a table to be available in the restaurant upstairs or even if you are just looking for a quiet escape from the theme park crowds outside.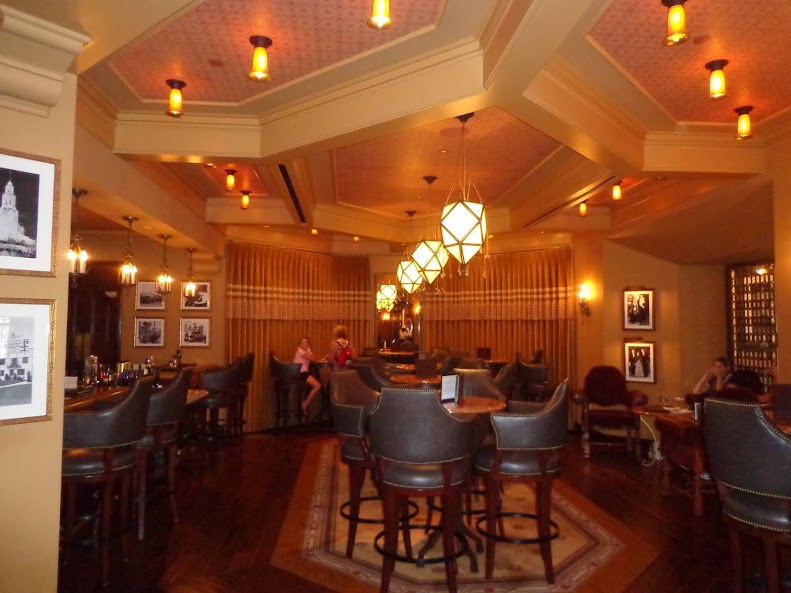 Ascending the stairs or taking to the elevator up to the second level, Guests make their way down a short hallway before entering the restaurant's grand main dining room. With the dining room's high ceilings, wood-paneled walls, and chandeliers, there is certainly a high degree of refinement and elegance to the restaurant.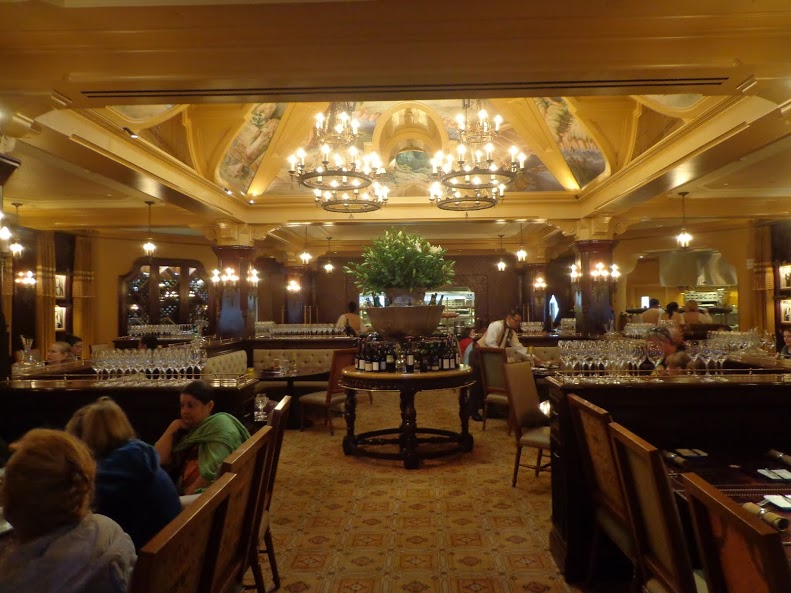 The restaurant has a certain romance and glamour to it that is distinctly "Hollywood." Dining here really makes you feel as though you have been transported to another time and place, back to Hollywood's Golden Age. It is no stretch to imagine Walt Disney himself and other famous celebrities of the time dining at a restaurant similar to this.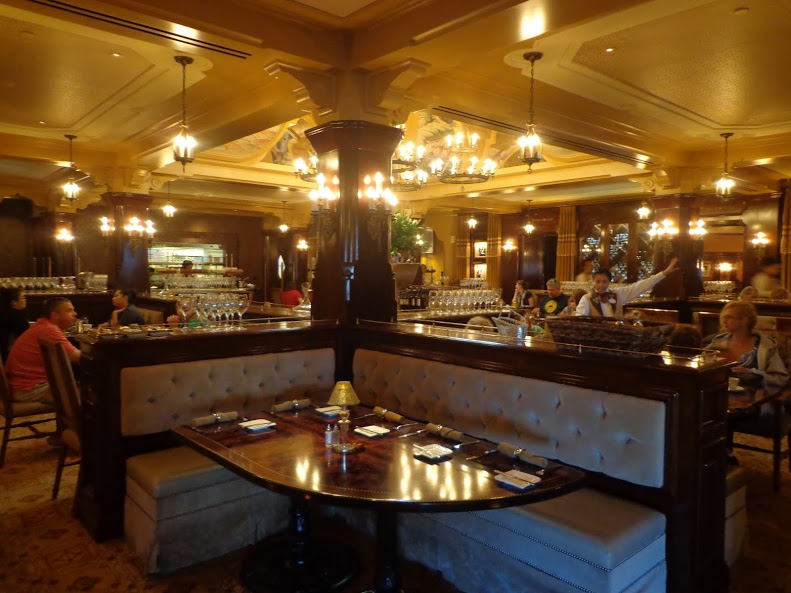 Along the walls of the main dining room are also cabinets that showcase numerous bottles of wine featured on the restaurant's extensive wine list.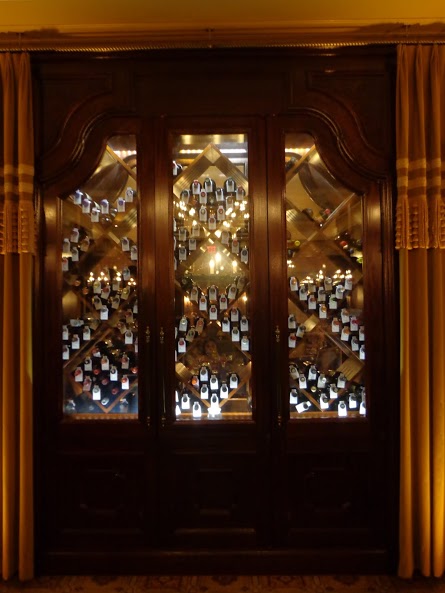 Off of the main dining room are smaller dining areas each of which provide slightly different feels while still maintaining the restaurant's upscale atmosphere.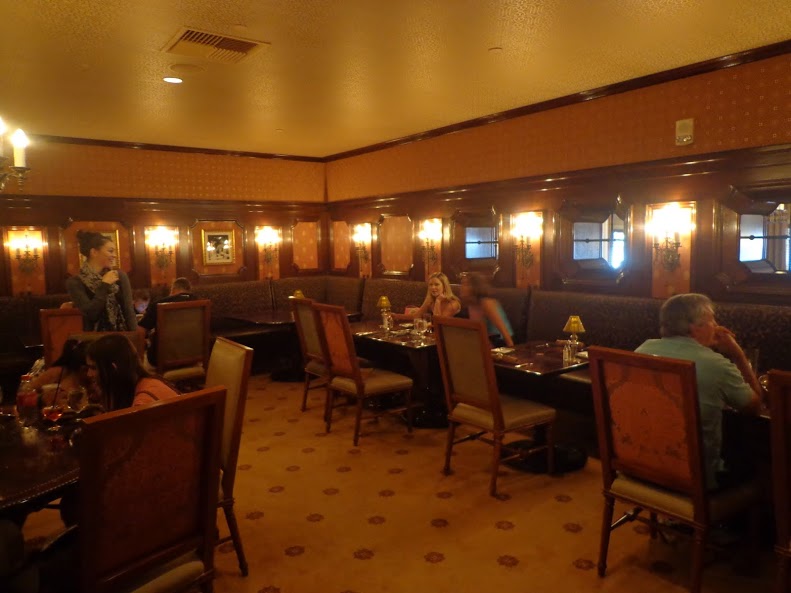 There are even two outdoor terraces where Guests can enjoy their meals with stunning views of Buena Vista Street. It is also a great vantage point from which to watch the park's afternoon parade.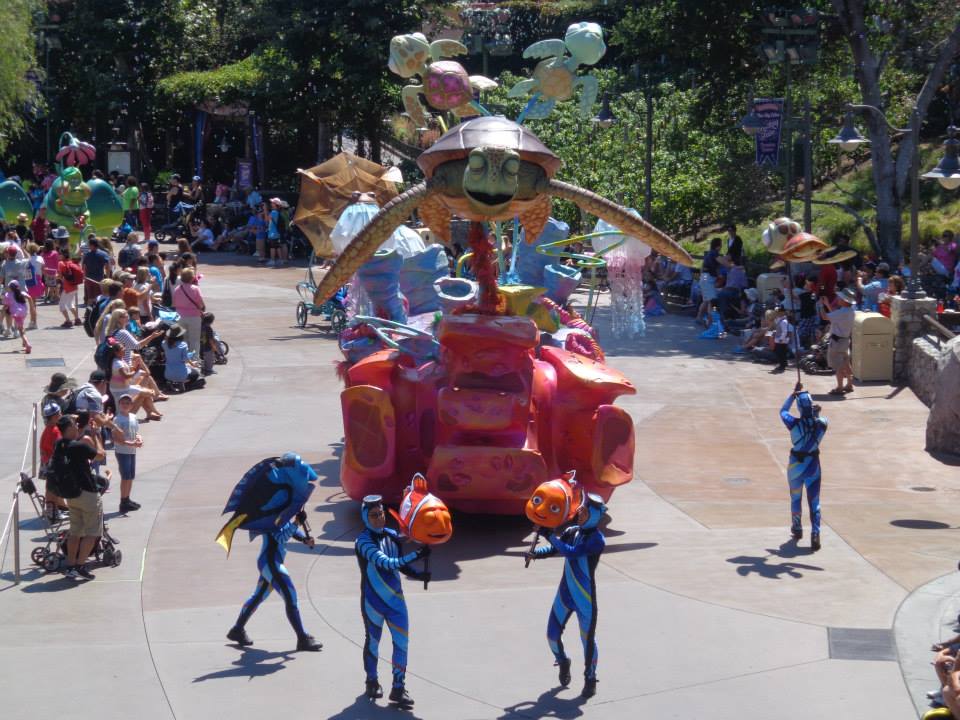 The open kitchen is also a nice touch.
What makes the restaurant so special, however, are the numerous photographs, paintings, and other pictures that adorn the walls. If you are a fan of Disney history, like myself, then you will most certainly appreciate the wide array of photographs of Walt found throughout the dining room.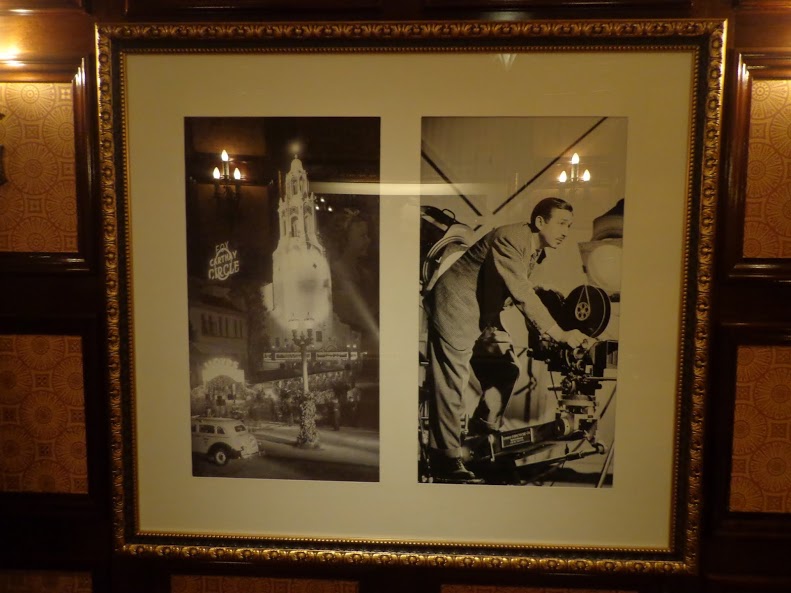 There are also many pictures showing the Carthay Circle during its heyday, including photographs from the premier of Snow White and the Seven Dwarfs.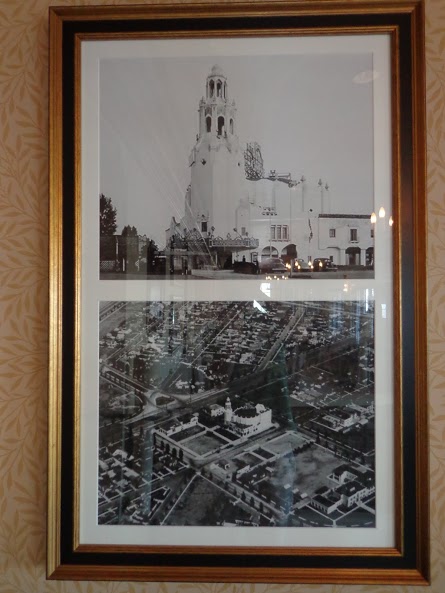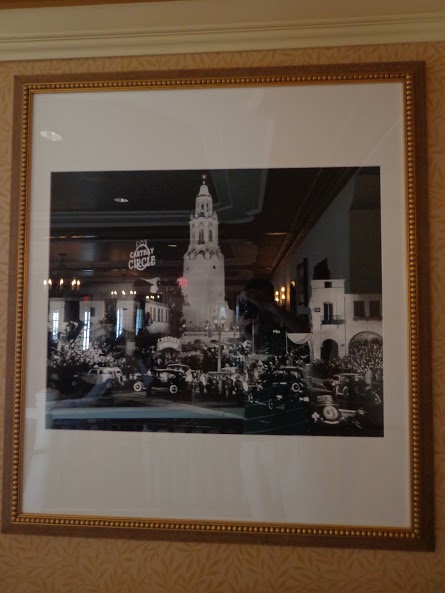 If the scenes painted on the ceiling look familiar, it is because they pay homage to the landscapes and background art of Snow White and the Seven Dwarfs.
All these images and photographs really make dining at the Carthay Circle restaurant feel as though you are experiencing part of Walt's history. In this way, it is really the perfect fit for California Adventure and especially Buena Vista Street. It is a testament not only to the restaurant's beauty and elegance, but also its tremendous theming and attention to detail.
The Menu:
The Carthay Circle Restaurant is open for both lunch and dinner and each has menus that are somewhat different. The appetizers for both, however, are essentially the same. Among these are the Carthay Signature Fried Biscuits ($12.00) which come stuffed with white cheddar, bacon, and jalapeno, Fire Cracker Duck Wings ($14.00) with a soy, lime, and chili sauce, Warm California Asparagus ($16.00) accompanied by prosciutto, asiago and a truffle poached egg vinaigrette, Pacific Ono Ceviche ($16.00), and Ginger Pork Pot Stickers ($14.00) accented with lemon grass and a mango voodoo sauce. The dinner menu also includes a Sauteed Crab Cake ($17.00) topped with a lemon vinaigrette. Both lunch and dinner menus also include a Seasonal Soup ($11.00) with a tomato broth, asparagus, spring leeks, lemon roasted chicken, and basil, as well as a Carthay Green Salad ($12.00) with jicama, cucumber, cilantro, and an orange white balsamic vinaigrette, which are the only two appetizer offerings on both the lunch and dinner World of Color Dining Package menus.
For lunch, the entrées include the Carthay Strawberry Chicken Salad ($22.00) with bacon, avocado, and cherry tomatoes in a fresh strawberry and thyme vinaigrette, an Angus Beef Arugula Salad ($23.00) with a cabernet vinaigrette, Rigatoni Pasta with Roasted Chicken ($25.00) mixed with pancetta, summer peas, and spinach, Sauteed Short Rib Raviolis ($27.00), Skuna Bay Salmon ($30.00) served on a fresh golden tomato salsa with avocado and cucumber relish, a Mediterranean Grilled Eggplant Sandwich ($20.00) with sauteed artichoke bottoms, marinated tomatoes, roasted garlic, and melted reserve cheese, and the Carthay Angus Burger ($22.00) topped with cheddar cheese, black pepper bacon, and grilled onions. All of these entrée items are also available on the lunch World of Color Dining Package menu as well.
For dinner, the Sauteed Short Rib Raviolis, Rigatoni Pasta with Roasted Chicken, and Skuna Bay Salmon all remain and are joined by a Summer Garden Vegetable Risotto ($34.00) with coastal mushrooms, truffle butter, and English pea coulis, Sauteed Shrimp ($30.00) with summer corn, zucchini, applewood smoked bacon, and basil pesto, a Grilled Angus Rib-Eye ($44.00) topped with a sauteed mushroom ragu, red flame grapes, and blue cheese, and a Western Cut Pork Chop ($37.00) with fingerling potatoes, string beans and summer peaches. Again, all these entrées are available on the dinner World of Color Dining Package menu.
The dessert options are the same for both lunch and dinner and among these are a Warm Rocky Road Brownie ($11.00),Toasted Lemon Pound Cake ($12.00), Chocolate Decadent Layer Cake ($12.00), and Warm Hand Crafted California Strawberry Rhubarb Pie ($12.00). Of these, just the Chocolate Layer Cake and Lemon Pound Cake are on both of the World of Color Dining Package menus.
Doing the World of Color Dining Package, my appetizer selection was limited but I decided on the Seasonal Soup. This soup really surprised me. While it might look fairly plain and simple, it has tremendous flavor. Light and refreshing in taste, this soup is the perfect way to start your meal without being too filling. It is a soup where all its flavors blend together very well, relying heavily on fresh vegetables with its tomato broth, asparagus, and spring leeks. For me, however, the real highlight of the soup was its use of basil. I am not someone who usually cares a lot for basil, but in this soup it was such an essential component that really added to the freshness and made the flavor pop. At the same time, I did not feel as though the basil overpowered the other flavors. While the soup also features lemon roasted chicken, it was in more of a complimentary role rather than being the main feature.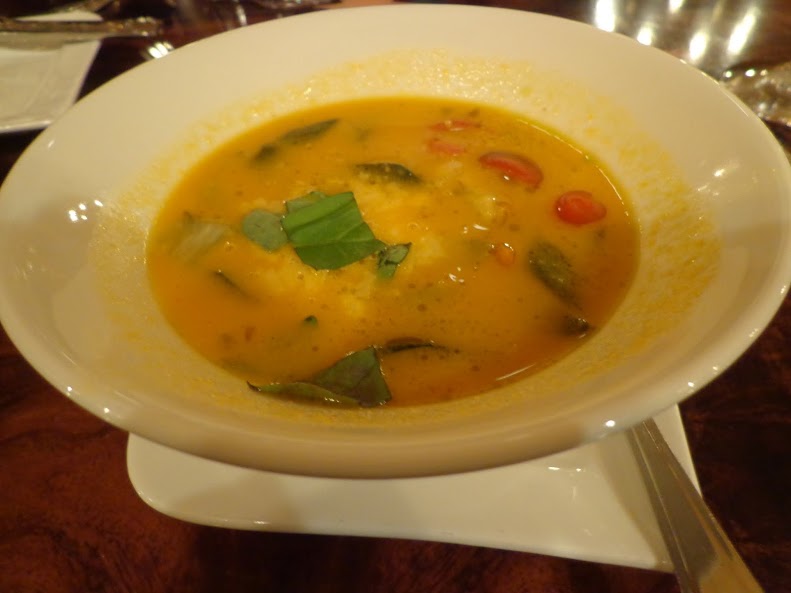 As my entrée I chose the Sauteed Short Rib Raviolis. Again, this was a dish of tremendous flavor. Just as with the soup, this was also a dish that was both light and refreshing. Served atop a medley of fresh vegetables, the raviolis were cooked perfectly al dente. The idea of serving beef short rib inside raviolis was unique, but in this dish is executed perfectly so that the flavor of the short rib is still very noticeable. Accompanying the raviolis was a red pepper and cabernet jus. This sauce packed a ton of flavor and had just a slight spiciness that paired perfectly with the more mild raviolis and vegetables. My only wish is that there had been a little more of the jus since it really added some great flavor to the dish.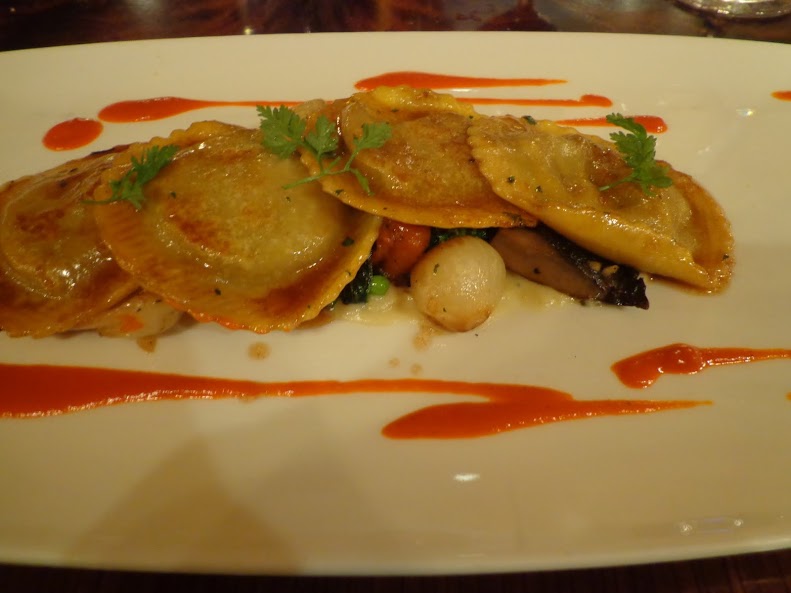 Finally, for dessert I went with the Chocolate Decadent Layer Cake. Whereas the rest of the meal had been comprised of light and refreshing flavors, this cake was extremely rich. Decadent is definitely the perfect word to describe this dessert. While the slice of cake may not appear big, it was extremely filling. The cake came topped with a generous portion of whipped cream and served with a raspberry sauce, both of which provided a lighter and refreshing contrast to the chocolaty cake. Overall, this was a great way to end a fantastic meal.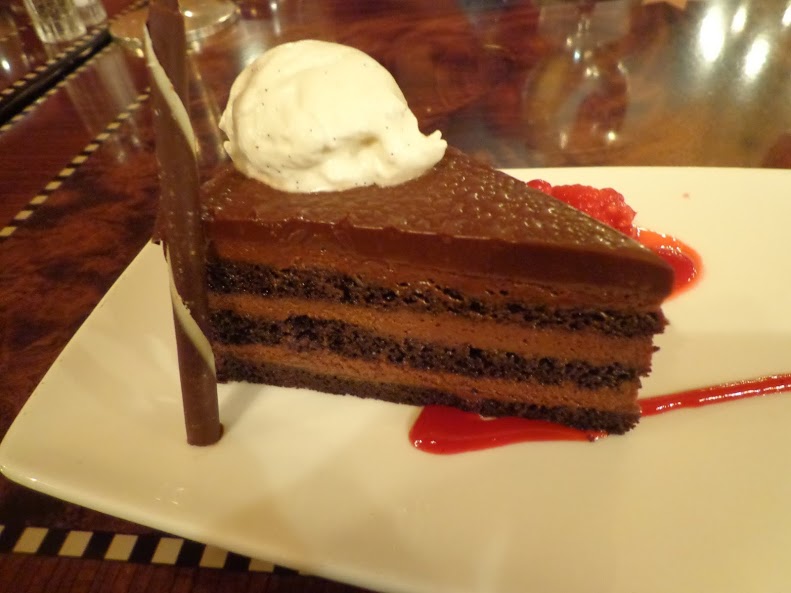 Service:
This was the only aspect of the Carthay Circle Restaurant in which I was slightly disappointed. I actually found the service to be a little on the slow side. While I am not one who wants to be rushed during my meal, I felt that this went a little too far. It started when we first arrived at the restaurant and were waiting in the lounge for quite some time before being brought up to our table even though we had a reservation and the restaurant was not even crowded. Upon being seated, we then went a good while before our server even approached our table and then even longer to get our drinks delivered. Once we had finally placed our orders, however, the meal did progress at a better pace. While our server was not the most personable or conversational, she did frequently check in with our table to make sure everything was to our liking. Overall, the service was not bad, but it is not the same caliber of service that I would expect from a comparable dining experience at Disney World.
Dining on a Budget:
While the Carthay Circle Restaurant is a little pricey, if you are visiting Disney's California Adventure I highly recommend splurging and spending a little extra to dine here. If you are planning on doing the World of Color Dining Package, I strongly recommend doing it at lunch as opposed to dinner. During the lunchtime hours it is much easier to get your money's worth on the dining package as opposed to dinner (lunch is $39 while dinner is $59). For example, my lunch of the Seasonal Soup ($11.00) and Short Rib Raviolis ($27.00) almost covers the entire cost of the dining package. Meaning that, in theory, I got the Chocolate Layer Cake ($12.00 on the regular menu) for just $1. Not to mention that the dining package also includes your choice of soft drink or coffee. On the lunch dining package, no matter what entrée you select, every combination of appetizer, entrée, and dessert more than covers the cost. This becomes much more difficult at dinner where only selecting the Grilled Angus Rib-Eye ($44.00) or Western Cut Pork Chop ($37.00) would allow you to equal the dining package's cost of $59 when combined with appetizer and dessert.
The Overall Experience:
I was extremely impressed with the Carthay Circle Restaurant. Not only does it completely immerse you with its grandeur and beauty which helps transport you back to Hollywood's Gold Age, but it also really helps to showcase Disney's history and heritage. When you combine this with a menu featuring an array of high-quality offerings, I would consider the Carthay Circle Restaurant a "must do" on any Disneyland vacation. I also highly recommend the World of Color Dining Package (for lunch). Not only do you get a fantastic meal, but the reserved viewing area is right in the very center and gives you the peace of mind knowing that you are guaranteed a spot to watch the show without having to arrive an hour or more ahead of time. Really, the addition of the Carthay Circle Restaurant is representative of the overall transformation that Disney's California Adventure has made over the past few years. It has become a truly beautiful theme park, featuring great attractions combined with immersive and detailed theming. It is a theme park that is truly worthy of the Disney name.
See past restaurant reviews by guest blogger Andrew Rossi.
Check out Reader Reviews of the Carthay Circle Restaurant and post your own too!