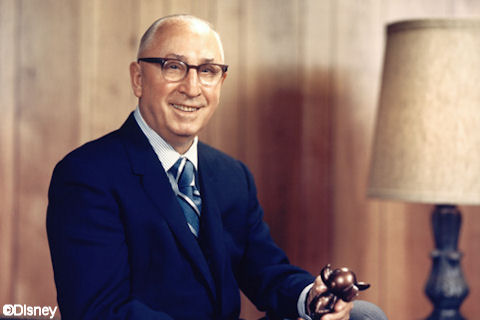 The Hidden Roy O. Disney Tribute

By Jim Korkis

Disney Historian Jim Korkis goes up into his imaginary attic to rummage around his archives and often stumbles across an unusual story about Walt Disney World. Those who have met me know that I take real joy in talking about Walt Disney.
However, when the conversation turns to Walt Disney World, I have equal passion in talking about Walt's older brother, Roy, who dedicated Walt Disney World in October 1971 at the age of seventy-eight years old.
Roy tamed a swamp land in Florida into a vacation destination in order to fulfill his late brother's dream and was a truly remarkable man.
I suspect most readers know that Roy has his name on a window above the Confectionery on Main Street at the Magic Kingdom and in Town Square, there is a statue sculpted by Disney Legend Blaine Gibson of Roy and Minnie Mouse sharing a park bench.
However, I don't think many readers know there is a hidden Roy Disney tribute that was at WDW from the very beginning and still resides prominently but generally unknown on WDW property. The story starts and ends in Japan.
Emperor Hirohito of Japan was a huge fan of Mickey Mouse. He was given a Mickey Mouse watch as a gift during his special tour of Disneyland in 1975. For years, even on formal occasions, His Majesty was observed wearing the watch. In 1979, there was panic when the watch stopped ticking, and a concerned palace chamberlain rushed it to Tokyo experts specializing in American timepieces.
This situation was of such national concern to both Hirohito and the people of Japan that it was reported in "Time" magazine in its September 18, 1979 issue. Fortunately, the watch merely required a new battery.
When Walt Disney World opened in 1971, two Japanese companies were investigating the possibilities of having a Disneyland in Japan. Official formal talks with lawyers began in 1974 with a contract finally being signed in 1979.
To help cement the friendship between Japan and Disney, Emperor Hirohito personally presented to Roy O. Disney, for the dedication of the Magic Kingdom, a Japanese lantern to light the way to success and happiness.
No, it wasn't a paper lantern. There are many, many different kinds of Japanese lanterns. This one was a Toro.
Toro are usually a stone lantern used to illuminate the grounds of Buddhist temples, Shinto shrines, Japanese gardens and other locations that are steeped in tradition. The hollowed out top piece is where a candle or oil lamp is placed. The most famous of these lanterns are the several thousand lining the entry to Nara Prefecture's Kasuga Shrine.
For almost ten years, the gift was on display, without any placard, at the Polynesian Resort. However, with the opening of Epcot's World Showcase with a Japan Pavilion (as well as the construction of Tokyo Disneyland only a year from completion), the stone lantern was moved to the Japan Pavilion, right opposite the structure at the entrance that was inspired by the eighth-century pagoda found at Horyuji Temple in Nara.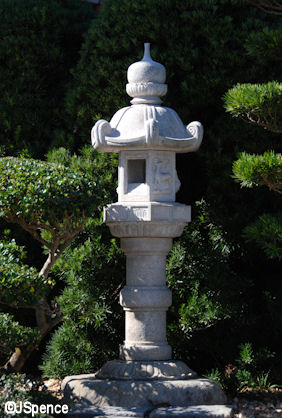 The deer on the side of the lantern represents the famous Nara Deer Park adjacent to the shrine.
When I asked one of my Imagineering friends why there was no placard sharing this story, he replied without hesitation that "it is a story of the Disney parks but not of the story of Japan we are trying to represent". However, I did notice the next year at the Epcot Flower and Garden Festival that a placard with the story did temporarily appear although it has seemed to have disappeared once again.
Thousands of guests pass the lantern every day without realizing its story but now you won't be one of them.
RELATED LINKS
====================
Check out Jim's other "From the Attic" Blogs
Full features from the Walt Disney World Chronicles series by Jim Korkis can be found in the AllEars® Archives: /ae/archives.htm
ABOUT THE AUTHOR:
Jim Korkis is an internationally respected Disney Historian who has written hundreds of articles about all things Disney for more than three decades. As a former Walt Disney World cast member, his skills and historical knowledge were utilized by Disney Entertainment, Imagineering, Disney Design Group, Yellow Shoes Marketing, Disney Cruise Line, Disney Feature Animation Florida, Disney Institute, WDW Travel Company, Disney Vacation Club and many other departments.
He is the author of three new books, available in both paperback and Kindle versions on Amazon.com:
The Book of Mouse: A Celebration of Walt Disney's Mickey Mouse
Who's Afraid of the Song of the South
"The REVISED Vault of Walt":