Wednesday, May 19 – Naples, Italy
I think we both slept pretty well – the seas grew much calmer during the
night. We got up just a bit before 7:00 – we weren't to Naples yet, but
could certainly see the Italian coastline.
Our tour wasn't meeting until 9:00, so we decided to have breakfast at
Parrot Cay. It's a buffet in the morning, and the selections were similar
to Topsider, though it's a little nicer because they seat you at a table
and a server brings your beverages. Breakfast was pretty fast, and we were
done by the time we started to enter the port of Naples ~8:00. I think
nothing is going to live up to the spectacular port entrance into Malta –
in some ways it's too bad that we got spoiled by that as our first port,
since I don't think anything else is going to compare.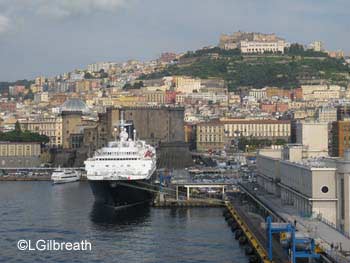 Mount Vesuvius was shrouded in clouds, though we hoped it would clear out
before we got there, otherwise we weren't going to see very much.
The tour we had booked today was a hike of Mount Vesuvius followed by a
walking tour of Pompeii. They were quite efficient in getting us going –
we met at 9:00 and we were on the bus pulling away from the dock at 9:15.
Our first stop was a little gift shop/snack bar about halfway up Vesuvius
(or Vesuvio, as the Italians call it). The main reason for the stop was
that they had restrooms (or toilettes, as they call them), since there were
only very limited facilities at the top, Even at this place there was one
unisex restroom with only three stalls, so our 10 minute stop became more
like 25 by the time everyone made it through.
The road up to the mountain was steep with lots of hairpin turns – quite a
feat to manage in a full-size bus, but our driver obviously had done this
many times and knew what he was doing. We made it to the parking area at
the top by about 10:30, and were on the trail not long after that. One
thing to be aware of…there are people handing out walking sticks at the
beginning, but what you can't really see (and they don't tell you, of
course) is that you are expected to leave a tip for the use of the stick
when you give it back.
The trail was wide and not really that steep, but there were lots of rocks
that tried to trip us up. Not surprisingly Lee and I blew by most of the
people in our group, though we weren't actually the first ones to the top –
there was another couple who beat us. But they'd started at the front of
the group, and they were about half our age. That's our story and we're
sticking to it. 🙂
I say we were among the first to the top, but that's not quite right –
because we were part of a guided tour we had to stop at the souvenir stand
(yes, they sell souvenirs up on the mountain – at three different places
along the trail, actually!!!) that's near the crater and wait until the
rest of our group showed up (which took a good 10 minutes), and then we
went on with our guide – this was the guide provided by the National Park,
and not either our regular tour guide or our Disney Port Adventure guide.
She took us to a couple of places along the edge of the crater and tried to
point out various things, but the mountain was still in the clouds and fog
was swirling in the crater. Sometimes it cleared enough for us to see
something, but it wasn't a very good day – though I guess it was better
than it had been a couple of days before when it was raining! It wasn't
that cold – right around 60, I think, so I was comfortable in just long
pants and a windbreaker. There were people on our tour in shorts and
t-shirts that seemed to be warm enough!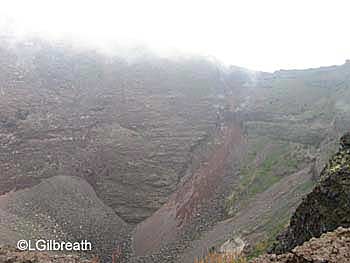 Our guide let us go and we walked to the end of the trail that goes around
the crater – that probably goes a little more than halfway around it. And
there was yet another souvenir stand at the end of the trail!!! Doing
pretty good business, so I guess there's a reason for it.
Soon after we turned back the weather started to clear a little bit, but
not enough that we could really see that much below us. But by the time we
got back to the bottom of the trail the weather had cleared and there was
lots of blue sky and sunshine. Sigh.
On the way down we caught up with Hilde, our Port Adventures guide. She
isn't a hiker, so was a little worried about being on this particular tour,
but she did just fine, and we had fun talking to her throughout the day.
We were supposed to all be back at the bottom to meet our bus by 12:10 –
and the bus had to park quite a ways down the road so we had another 5
minute walk to get to it. There was one couple that was 20 minutes late,
though – which didn't make all the rest of us that were sitting on the bus
very happy! That's a problem with these large tours…just herding so many
people around and keeping track of them takes a lot of time, and the delays
caused by the inconsiderate people who don't keep track of the time add
up and take time away from the tour – and from the rest of us who WERE on
time.
On the way down the mountain we had one very close encounter with a bus
that was coming up – the road must have been particularly narrow in that
spot, and they squeezed by us with maybe four inches between the two buses.
We weren't sitting on that side, but those who were said it was really
close! The sides of the mountain were covered with lots of vegetation and
flowers – it was really beautiful.
We got about 2/3 of the way down when our bus developed some kind of
transmission problem and stopped. Our guide phoned in and arranged for
another bus to come pick us up – our bus driver was able to get us the rest
of the way down the mountain where we met the new bus, but that delayed us
another 30 minutes.
We drove to Pompeii where we stopped for lunch (included in the tour) at the
Ristorante Lucullus. This was fast and efficient and surprisingly good!
They first served us an antipasti plate with prosciutto, and mozzarella.
Then we had two kinds of pizza, and then a slice of lemon cake for dessert.
We sat with a young couple from Orlando, and had a very nice time chatting
with them. They served us a bottle of the house red wine with lunch, and
it was very good – between the four of us we finished it.
From there we were close enough to walk to the Pompeii site. Wow. I really
didn't know what to expect from Pompeii – I guess I was expecting to see
more ruins like we saw in Carthage yesterday, and not a relatively intact
city covering such a large area! It's really amazing, and amazing what
they have been able to learn about life in the 1st century A.D. (Pompeii
was buried in 79 A.D.)
It was sunny and warm in Pompeii – at that point I wish I'd worn shorts or
crop pants – it was probably in the mid-70s, but felt warmer than that in
the sun.
We visited one house that was unearthed in a very intact state, and were
able to see the frescoes that had been painted on the walls. It was a
pretty good-sized house!
One of my favorites was this mosaic at the entrance to another house –
apparently the first known "Beware of Dog" sign.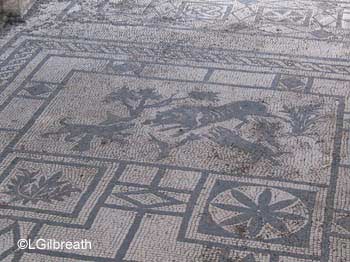 We saw a lot of red bricks in some of the walls and wondered if that had
been part of some kind of (modern) restoration, but our guide told us that
there was a huge earthquake in Pompeii about 12 years before the eruption
of Vesuvio, and the damage from that was repaired with brick.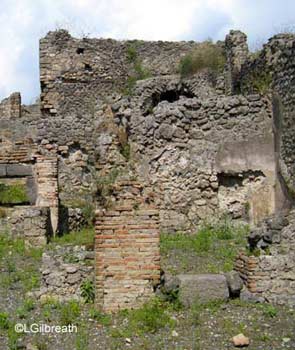 She told us lots of other interesting things, too – which I really don't have
time to write about here.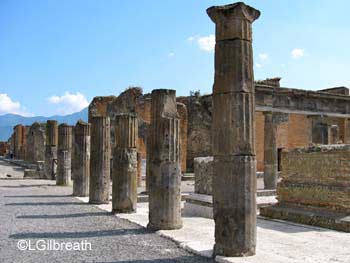 Unfortunately because of the people and bus delays we had lost an hour of
time, so instead of a 2 hour guided tour with perhaps some free time, we
had only 90 minutes and no free time at all in Pompeii. That was very
disappointing. Though maybe not having free time was a good thing – it
would be easy to get lost in Pompeii – or to lose track of time. I'm so
glad we saw it!
We had a little bit of free time outside to do some souvenir shopping –
the couple we had lunch with had told us about the yummy lemon ice they
served there and we both got cups of that. It was tangy and sweet and very
refreshing.
Late in the afternoon Vesuvio came out of the clouds and I took this picture from the bus on the way back.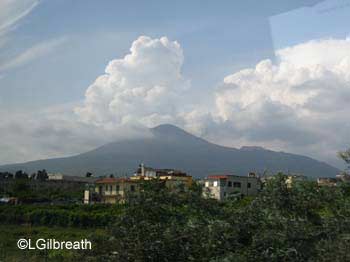 We were back in the bus about 4:45 and back at port at 5:15 – exactly 8
hours after we left. It was a long day, though, and we were pretty tired.
And it's going to be an even longer day tomorrow when we go to Rome.
Lee got a load of laundry done in between naps (surprisingly there were lots
of free machines – unlike last night).
I didn't want to eat so late tonight since we have to get up early
tomorrow, so I went up to Topsider. I was surprised to see one of our
normal dining room companions there, and she invited me to join her. Her
husband wasn't feeling well, so she decided not to go to the dining room.
She told me they'd spent the day with our other tablemates on the island of
Capri, and that they were planning to eat in Naples, so it sounded like Lee
was going to be eating by himself. 🙁
I went up there to keep him company for a short time while Geronimo was
doing his evening turndown service in our room, and sure enough, he was all
by himself. But Ignatius and Nathan were spending as much time with him as
they could, (Ignatius even had time to sit down and chat with him for a while)
and he enjoyed his dinner.
Kind of a scary towel critter tonight! 🙂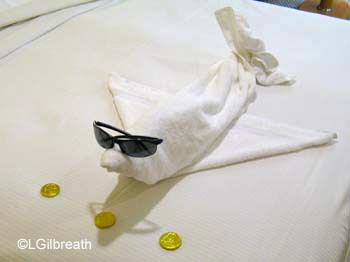 We pulled out of Naples promptly at 9:00 – a late departure, but it's a
short trip to Civitavecchia (CHIH-vi-ta-veck-ee-a) which is the Port of Rome
even though it's about 35 miles to Rome from there.
Long day tomorrow – I guess the good(?) news is that we have about an hour
each way on the train so we'll have the chance for a nap. I'm not looking
forward to getting up to be ready for a 7:45 meeting time, though!