Thursday, May 20 – Civitavecchia, Italy (Port of Rome)
Slept well for a change – just not long enough. We were already docked at
Civitavecchia (CHIH-vi-ta-veck-ee-ah) when we woke up at about 7:00. Lots
of people with early tours today (or just wanting to get off the ship
early), so Topsider was pretty crowded when we went up there for breakfast.
We ended up sitting outside – it was a brisk morning – low 60s with breeze,
and was a little chilly outside. But it looked like it was going to be a
beautiful sunny day!
We had chosen the Jumping Back into Eternal Rome excursion, which would
take us to the Colosseum, Trevi Fountain, the Pantheon, and St. Peter's
Basilica. Of course there's way more to see in Rome than those sights, but
you have to start somewhere, right? And we didn't feel comfortable with
trying to do it on our own.
Transportation logistics were more complicated today – first there was a
bus ride to the train station, and then a non-stop train ride into Rome.
And we had multiple guides, too. Our first guide, Giovanna, was with us from
the time we got on the bus at the ship until we returned to the ship that
night – she compared herself to a sheepdog at one point. She certainly
spent a lot of time trying to round us up!
The train ride to Rome was fairly scenic – we went by lots of open fields
with flowers and cows or crops. Lots of beautiful red poppies gave it a
splash of color. The trip into Rome took about 50 minutes – I spent some
of that time napping. We got off the train at the San Pietro station, and
then boarded the bus where we met our second guide, Barbara. (And she
really rolled the r's when she told us her name! Barrrrbarra) She was the
one who did all of the narration, and spoke very good English, very easy to
understand.
Our first stop was the Colosseum (Colosseo). Though we passed by
many beautiful buildings and fountains along the way – and got our first
taste of what it's like to be driving around in Rome. Those people are
crazy!!!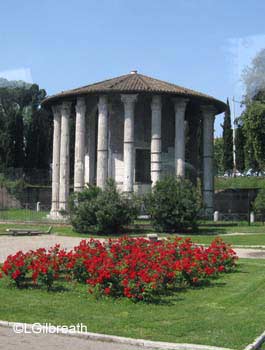 Just outside the Colosseum is the Arch of Constantine. Once again,
I am not going to be able to show you nearly as many photos as I would
like…it was really incredible, with so much to see all around us!
Because we were with a tour we went through a special (and much shorter)
line to get into the Colosseum, rather than having to wait in a huge line
like so many other visitors. Barbara told us a little bit about it, and
then gave us about 20 minutes of free time – though most of us spent the
first 5-10 minutes of that in line for the Toilettes. So we did not have
nearly enough time – really only enough to climb up to the observation
level and take some photos looking down and across. It's amazing what a
massive structure this is, and all built of travertine with no mortar to
hold it together. Also amazing that they still use this for concerts and
shows.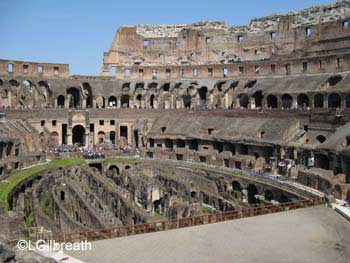 It looked like we had lost some people but Giovanna eventually rounded them
up – but that delayed us, of course. Back on the bus we drove to a point
somewhere near the Trevi Fountain, and then walked several blocks,
risking life and limb at some point at street crossings, to the fountain.
Tons of people there, though actually not as crowded as it can be. Wow…I
had no idea that this was so huge! It was really great to see it.
While we were waiting for our group to gather together again, an Italian
man came up to our group (Giovanna obviously knew him), and took a black
rectangular piece of paper and some scissors out of his bag and asked me to
face sideways. Then, in about a minute, he produced a very nice silhouette
of my head and handed it to me – absolutely free, and in fact he turned
down a tip! He then did most of the rest of the members of our group –
even continuing to do them as we walked along the sidewalks towards the
Pantheon, which is how he did Lee's. We called him the Michelangelo of
scissors. 🙂 He never asked for anything, never tried to give us a card to
come see his art or anything like that. I should've asked Giovanna about
him – "Who was that smiling scissors man?"
Next was The Pantheon. Which was originally a monument to all of
the Roman gods, but is now a church. Unfortunately half of the front of
the building was covered with scaffolding – for renovation and cleaning, I
guess. We did not have very much time in here – maybe 5 minutes as Barbra
pointed out some of the features and talked about the sculptors (Rafael, I
think, and maybe Bernini).
The most striking feature of the Pantheon is the huge dome – it's the
largest unsupported dome in the world, or something like that. And it has
this huge hole, called the Occulus in the middle.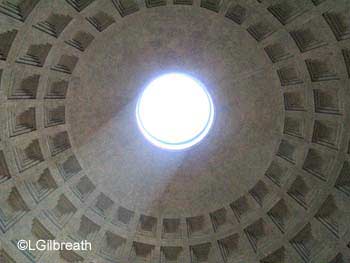 We walked to the Piazza Navona where there's another large church
(St. Agnes?) which has three Caravaggios in it. We didn't go in, though.
Somewhere in between those two stops we ran into Hilda, who had been our
Port Adventure guide the day before – she was touring Rome on her own.
(And we saw her as we boarded the ship tonight – she was one of those who
was welcoming guests back.)
We walked another 5 minutes or so to our bus (we could see St. Peter's not
that far away), and then we drove to the restaurant where we were having
lunch, which mostly involved sitting in traffic for about 30 minutes. It
wasn't that far – even as a group we could've walked it in a lot less time!
That was very frustrating to me.
It was about 2:00 by then, and we had lunch at the Opera Restaurant. We
received bread, an antipasti plate with bruschetta (yummy!), pancetta and
salami, and lasagna. The lasagna had meat sauce, so I got penne pasta with
tomato sauce instead. There were both white and red house wines on the
table (both excellent) and we had pieces of tiramisu for dessert. It was
really a very good lunch.
After lunch, even though St. Peter's was in sight of the restaurant, we
walked BACK to the bus again.
Though at least we got to walk along the Tiber River and see the Castel d'San Angelo (made famous by Dan Brown in a couple of his books).
It was a fairly short bus ride to St. Peter's Square, but we were getting
short on time – we were supposed to be leaving there by 4:30 and it was
already about 3:45. The square is HUGE, with buildings and marble columns
around about 2/3 of it. We got in line to go into the Basilica – we had to
pass through a security check for that. While we were in line some rain
drops fell on us – Lee says we had been sprinkled with holy water. 🙂
It was about 4:00 by the time we finally got into the Basilica, so Barbara
had to give us "The Tour of the Basilica in Fifteen Minutes or Less". Sigh.
It was really incredible…so enormous, so many beautiful sculptures.
After St. John's in Malta I was sort of expecting more of the same – gaudy
and overdone – but this was nothing like that at all. I'm not even sure I
can put it into words. Just the scale of it was incredible – I had no idea
it was so large. But I really wish we'd had a lot more time here – 15 minutes
was FAR too short a time to do anything more than quickly wander around and
take a bunch of pictures without really knowing what I was taking pictures of.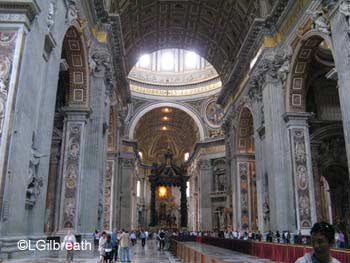 There was the Pieta, of course, and the statue of St. Peter, and the dome
of the basilica and lots and lots of paintings and sculptures and mosaics.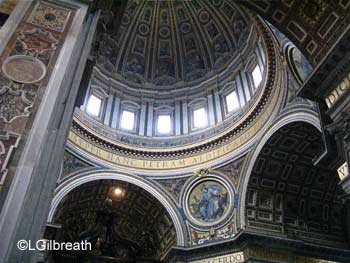 All too soon Barbara and Giovanna rounded us up and herded us outside
again. We had about 15 minutes to hit the "official" Vatican gift shop
(which, more importantly, had toilettes) before it was time to walk back to
the bus again.
Oh, our Port Adventures guide today was Ben – we'd been telling him that he
was very visible all day because of the color shirts they wear, but we
noticed that a lot of the walls around St. Peter's Square were painted the
color of his short, and he blended right in – camouflage. So here's a wall
holding a Mickey sign. 🙂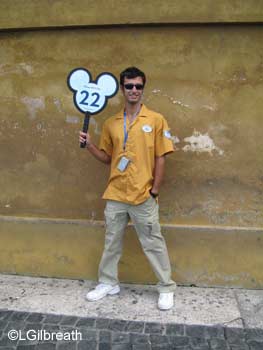 We were supposed to catch the train at 5:00 and it was getting REALLY close
to that – Barbara told us to run once we got to the train station, and our
bus driver made a left turn on a red light right in front of another bus.
Yikes. But we made the train, which actually didn't leave for another 5-10
minutes after we boarded, as more Disney tours got on board. It was packed –
they were having to search around for seats for some people.
Another 50 or so minute train trip and we were back in Civitavecchia, and
then another 10 minutes by bus to the ship. It was 6:30 by then and we
left at 8:15, so it had been a long day. Lots of tired people returning to
the ship.
Goofy and Donald were greeting guests as we boarded, though.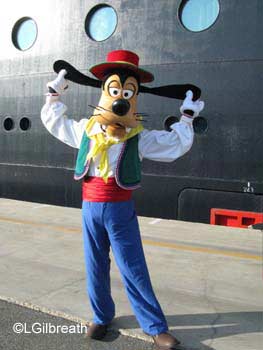 Geronimo had taken advantage of our being gone so long and had already
performed the evening turndown service in our stateroom, so Dino greeted us
when we returned.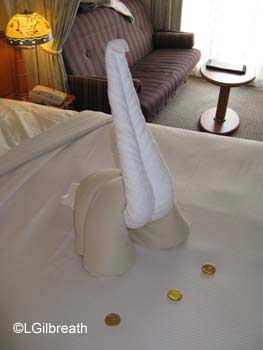 We actually got to see a nice sunset tonight!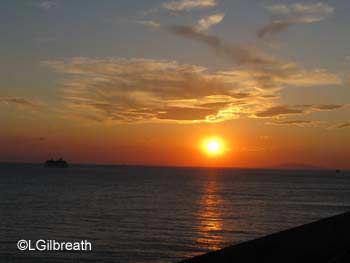 Dinner was at Lumiere's. Considering the very long port day I was
expecting the dining room to be fairly empty, but it was pretty full, and
our table was fully occupied. The menu was Master Chef, which
I believe was relatively new, and it incorporated specialties from various
Disney restaurants, like Citricos, Yachtsman Steakhouse, and Flying Fish.
It was pretty good. (One of our tablemates noted that the steak was
advertised as USDA, which, considering the current beef supplier is in
Europe, doesn't seem like it can possibly be correct.) My dessert of the day
was the Triple Chocolate Terrine. I enjoyed it – not the best I've
had on this cruise, but it's in the top 3.
It's a day at sea tomorrow – thank goodness, because I think an awful lot
of us are tired after four port days (two of them quite long) in a row. I
know I'm tired, and am very much looking forward to sleeping in tomorrow,
now that it seems I can finally sleep normally again. It's not that far to
La Spezie, so I guess we'll just float around, or go very slowly.
A few thoughts about today's tour…it was very frustrating to me because
we spent so much time in the bus when we could have been walking from place
to place and seeing more things. I think that in total we spent more time
on the bus than we did at the sights we visited. But Disney didn't offer any
kind of walking tour, and I didn't know enough about any of this to try to
book something of my own – I'd definitely do things differently on a return
visit.
(I was able to include a lot more photos in this blog than I expected – our internet connectivity has been generally not too bad on this cruise – I probably just jinxed it by saying that, though!)