Tuesday, May 18 – Tunis, Tunisia
I still had a hard time getting to sleep – I think it's still jet lag.
No matter what time I get up and what time I go to bed, my body still
thinks that midnight is still just late afternoon, and much too early
for sleeping. It's getting a little better every day, though – so last
night I really fell asleep about 3:00, instead of 4:00.
Of course that meant 6:45 came really early this morning. Even though
we weren't supposed to dock at Tunis until 8:30, we were still supposed
to meet for our tour at 7:45.
One thing to be aware of with Tunis – it's the only port on this cruise
where you must have your passport to enter the country. We also had to
fill out a landing card – half of this they took when they stamped our
passports, and then we gave the other half to an agent before we boarded
the ship at the end of the day.
We beat the crowd to Topsider's for breakfast, and it was pretty good,
though we both wish we'd known BEFORE we went through the buffet line
that they will make eggs and omelets to order. Oh well – we'll know for
next time. We pulled into the harbor about 7:20, and we were docked by
7:35. The approach into Tunis wasn't nearly as scenic as the arrival in
Malta yesterday, however, we had quite a reception committee to welome
us to Tunis – both camels AND Carthaginian warriors! It was kind of
exciting to be on a second new (to me) continent this trip, since we
were in North Africa.
For our day in Tunis we had chosen to do a Disney port adventure –
figuring that in a place that's VERY foreign to us, they will take care
of us and make sure we get back to the port on time! It was a pretty
ambitious tour, though – Carthage, Medina, the Bardo Museum, and Sidi
Bou Said. There were at least six buses full of Disney guests doing
that particular, tour, though. We were bus #5, but our guide Yussef must have
taken a back road or something because we ended up getting to all of the
major stops first, which was nice.
(Speaking of bus #5, throughout the tour Yussef would call out things
like: "#5, come to me, please", "#5, #5, this way", and we had to keep
resisting the urge to say "Number 5 is alive!" 🙂 )
Our first stop was Carthage. This is a residential area now, but
it was originally settled by the Phoenicians. There were three Punic
Wars between the Romans and the Phoenicians which the Romans eventually
won, and they leveled Carthage and built their own city there. Not
being satisfied with native stone they brought in marble from Italy and
two other kinds of stone – one from Egypt and the other from some place
I don't remember. I don't know how they transported tons of stone around
like that – they didn't exactly have huge cargo freighters back then!
Over the years much of the stone and marble columns has been hauled
away and used to build OTHER buidlings, but there was one fairly
extensive section of Roman ruins that has been preserved which includes
the Tophet (a cemetery for children) and the Roman baths. The most
extensive part is the baths, and we had about 30 minutes of free time to
wander around there.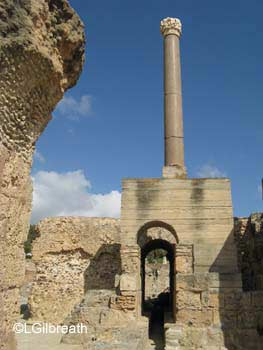 It was another beautiful day, though quite windy which made it a little
chilly if you were in the shade.
Carthage was pretty close to the ship, but our next two stops were in
the city of Tunis, and we had about a 30 minute drive to get to
the first one, the Medina. The Medina is the old city, built by
the Arabs, which is walled with some arched entrances into it. Lots of
narrow streets. Our guide pointed out the doors on some of the house
entrances, and told us how the decorations on the door can reveal
something about the residents – whether they are Muslim, Christian,
Jewish, Berbers, etc.
The purpose of this stop was to allow people to go shopping in the souk,
the covered market, which held absolutely no appeal to Lee and me at
all. We made one quick pass down one street, with shop keepers urging
us to come into their shops (though fortunately they all took a simple
"no" for an answer – we'd heard that sometimes they will physically try
to drag people in), and that was enough for us – we found a way outside
into a much more modern area next to the Ministry of Finance, and waited
there until it was time to go back to the designated meeting place in
the souk. A couple of the people in our group were a little late in
coming back but Yussef was able to round them up.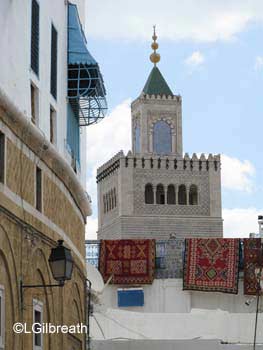 Back on the bus for a trip to the Bardo Museum. This was the
king's palace before Tunisia became a republic in 1957. Now the museum
houses a huge collection of mosaics and other artifacts (mostly Roman) that
have been excaated in the area. There were lots of other tour groups in
there and it was kind of chaotic, and we went through it pretty quickly.
Though that was ok – on our own we probably wouldn't have spent much
more time than that. All of the mosaics and headless and armless
statues started to look the same after a while.
This was in the floor on the ground floor near the entrance – it's
actually a baptistry (for full-immersion water baptisms), but I agreed
with the woman on our tour who suggested it was an early Roman jacuzzi. 🙂
I'm not sure why they arranged the tour this way, but after that we went
BACK over to Carthage, which was about 25 minutes away. Though it gave
us a chance to take a short nap, which was nice! We stopped at a
restaurant where they served us a snack – we were the first group to
arrive, so didn't have to wait for another group to get through first.
They had a couple of kinds of sandwiches, phyllo pastries, and fresh
fruit along with bottled water and cans of soda. It wasn't lunch, but
it was enough to get us through the next couple of hours – it was about
1:15 by then and the bus had left port at 8:30.
Right next to the restaurant were some fairly extensive ruins of the
Roman aqueduct that had brought water to Carthage from the Atlas
Mountains about 50 miles away. That was a pretty impressive
construction project considering they had no heavy equipment to do any
of it – those Romans were highly skilled engineers.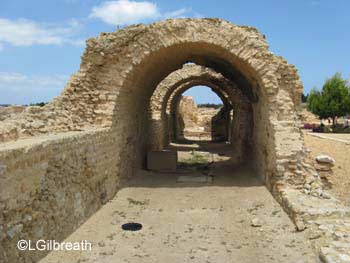 Our last scheduled stop was Sidi Bou Said (or Sidi Bibbidy Bobbidy
Boo as Lee keeps calling it). This is on a hill near Carthage, and is a
very picturesque Moorish village known for its white and blue houses.
You can paint your house any color you want as long as it's white with
blue trim. (First the requirement for native stone facades on the buildings
in Malta, today the white and blue houses in Sidi Bou Said – who knew that
Homeowner's Associations originated in the Mediterranean?)
It really was quite beautiful, though. Yussef showed us the mosque and
the street with most of the tourist-type shops on it and then let us do
our own thing for close to an hour. Lee and I wandered all the way up
the hill past the shops and into some of the residential areas. Some of
those places have beautiful views of the Med looking towards the Atlas
Mountains. There's lots of colorful bouganvellia growing on the walls
and around many of the doors. It was very pretty and we enjoyed the
chance to walk around. I bought a few postcards but that was all I got
in the market. We were meeting back at a shop that sold dates, so we
got some dark-chocolate covered dates to snack on. Those are actually
very good – in addition to the dates they have some pistachios and
almonds, too.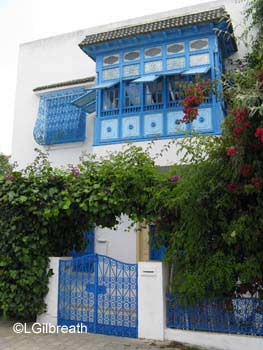 We made one last unscheduled (but very brief) stop at the North Africa
American Cemetery, where about 2,800 American soldiers from World War
II are buried. It was really quite beautiful, and very well cared for,
but a sad memorial to a very tragic period of history.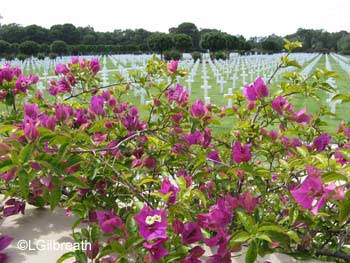 The Magic was supposed to leave at 4:00, but a lot of the buses were
running late. We didn't get back until about 4:10, and the ship finally
left port just before 4:30.
For what it's worth, my review of the tour. It was a pretty long day –
we left the ship about 8:10 and didn't get back until 4:10. There was a
fair bit of walking – but in the places we had free time you could choose
how much or how little you wanted to do. Our guide was pretty good,
though I think he could have told us a little more about the history of
some things like Sidi Bou Said – like WHY is there a Moorish village
there? But he spoke excellent English and was knowledgeable and
personable. I really did not enjoy the stop in the Medina at all – I was
very uncomfortable there. But I hate shopping, and even more so when
someone is trying to get me to buy things. The Bardo Museum was ok, but
I wouldn't go out of my way to do it. I really enjoyed walking
around Carthage, and wish we'd had more time there, and the time at the
aqueduct was just about perfect. I enjoyed seeing Sidi Bou Said and
walking around there taking pictures. If I had to do it again I would
choose just to see Carthage and Sidi Bou Said, and skip the other two.
One thing I wish they had provided was some tourist guides – I think
most of these places probably had some kind of guide or map that guests
who weren't on tours would have received, and that would have been
informative – especially since I'm trying to write this report without
the benefit of being able to look everything up on the Internet!
Dinner tonight was at Animator's Palate, and was the "Show"
dinner where the walls change color. There were again only four of us
at dinner, though tonight the couple who went to Palo last night joined
us. And our servers had a second table of four also – but they still
only had 8 people instead of 12 or 14, so dinner went pretty fast.
Tonight's dinner was pretty good – not the best menu we've had on this
trip, though. The Double Chocolate Fudge Chocolate Cake was good, so I
still have yet to be disappointed in a chocolate dessert on this cruise,
but it was my least favorite.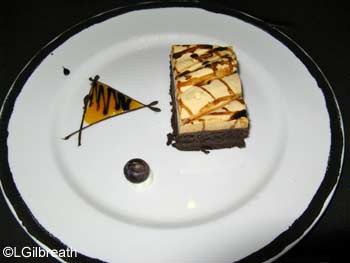 On our way back to our stateroom we saw Mickey greeting guests in the
Atrium, and for a change there was NO line so we had our picture taken
with him.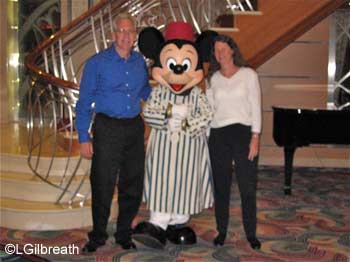 A new towel critter tonight – I really liked this one. I wonder what
Geronimo would do if I didn't leave my sunglasses out, though. 🙂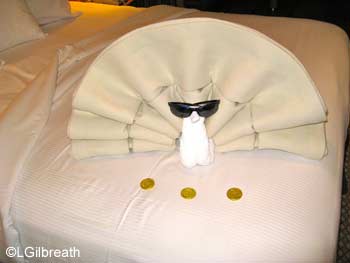 The seas were pretty choppy after we left Tunis, but they calmed down
significantly during dinner, so hopefully we'll have a restful night.
Tomorrow is our stop in Naples, and that will be another looooong port
day, though at least we don't start until 9:00. But I expect we won't
be back to the ship until at least 6:00. Still, I'm looking forward to
climbing Mt. Vesuvius and visiting Pompeii – I hope it won't be too cold
on Vesuvius – I've been warned to dress warmly!