Monday, May 17, Valletta, Malta
Finally a good night's sleep – no banging on the hull or body clock
issues other than not getting to bed until midnight because of yet
another late dinner (a bit after 10:30 last night).
It's a good thing I set the alarm for 7:30, because I was asleep – dreaming
of taking a photo of a beautiful purple flower for Lisa, one of the
AllEars photo bloggers. (Why I would be taking a photo for her I have
no idea!)
Anyway…the people who told us to make sure we saw our arrival in Malta
were right – it was absolutely beautiful in the morning light. And we
could see it right from our veranda – good thing, because we were
just at the mouth of the harbor when the alarm went off, and hadn't had a
chance to get dressed. This photo does not do it justice at all.
They spun the boat in a 180 degree turn before docking, which gave us
time to dress quickly and go up to deck 10 while we docked, since after
the turn our room was no longer facing the city.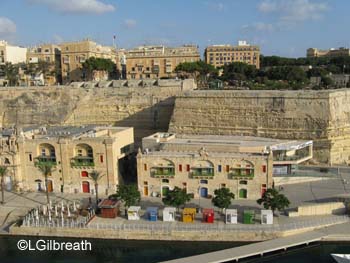 We didn't have a tour scheduled, and just planned to wander around the
city on our own, so weren't in a hurry to go anywhere. We had breakfast
at Lumiere's again – a different and more extensive menu than they had
the day before. They sat us at a window table with another couple, and
we enjoyed visiting with them as we ate. I had a made-to-order omelet
and Lee had the Beast's Secret Tower, which was stacked french
toast with grilled pineapple and strawberry coulis. He must have liked
it since he never even offered me a bite 🙂 We really had an
excellent server (Genesis) and assistant server (Slobodan) – we
connected with them much better than with the two that are assigned to
us in our dining rotation. Oh well.
At about 10:15 we got off the ship and headed into Valletta. At the
information station in the terminal they gave us a better map than we
had gotten on the ship, and since this one actually had the scale of the
map on it (unlike the maps we got in Barcelona), we could see that
nothing was really that far away. It was an easy walk (though uphill)
to the City Gate, though we had to pass the gauntlet of taxi drivers,
tour bus organizers, and horse-drawn carriage drivers who were all
trying to get us to use their transportation instead.
I've never seen so many tour buses in one place as we saw in the area
next to Triton Fountain just outside the City Gate. Apparently the
buses are rather famous, since we saw lots of postcards that featured
the buses!
It was an absolutely beautiful day today – mostly blue sky and a high of
about 75, though there was a cool breeze off the ocean all day, so I got
chilled if I was in the shade too long.
I'm sorry there aren't more photos in this report – I took LOTS of
pictures, but it takes a long time to upload them to the blog, so I'm
not going to include too many of them.
We wandered down Republic Street, which is pretty much the main
drag. Apparently in Malta all of the buildings are required to have
limestone on the outside, even if it's just a facade. It sure looks
pretty, though seeing a Burger King in a building like that seems just a
bit out of place! One of the most famous sights in Malta is St.
John's Co-Cathedral, so that was our first real stop.
From the guide brochure: "St John's Co-Cathedral is a unique monument of
international importance. It owes its rich history and artistic
heritage to the fact that for over 200 years it was the conventual
church of the Order of the Knights of St. John."
Entrance was 6 Euros, which wasn't too bad, since it included a
self-guided audio tour as well. Since it is a church, visitors were
asked to respect that, and dress appropriately (shoulders and knees
covered, though shawls were available), and no stiletto or narrow-heeled
shoes (to protect the marble floors). And absolutely NO flash
photography – and in several places photography of any kind was
prohibited. One of the Custodians chastised Lee for using a flash, when
it was actually the guy standing behind him. Also, they asked that all
backpacks and handbags be carried either in front of you or in your
hand, so that you didn't inadvertantly bang them into the delicate
walls.
The whole thing was decorated in the ornate High Baroque (which they
pronounced Barack) style, which is just too ornate and gaudy for my
taste. Lots of beautiful paintings and sculpture, if you like that kind
of thing.
I don't know what this is supposed to be, but it reminded me of the flying
carpet in Aladdin…
On the floor were these elaborate inlaid marble tombstones, dedicated to
various knights. I don't think they are actually buried there, but they
didn't really say.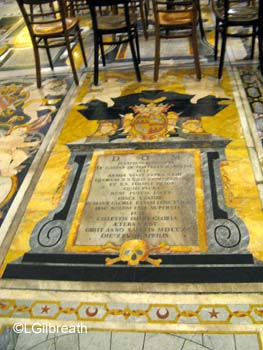 The audio guide was very informative, but a little too long-winded at
times – some of the accounts just went on and on and I stopped listening
to several of them.
Apparently the main attraction at the church is a painting by Caravaggio:
The Beheading of Saint John. Not surprisingly that was in an
area we where we were not allowed to take photos. Caravaggio was a
Knight of St. John's, but he was somewhat of a bad boy and was
eventually expelled from the order – but obviously they kept the
painting!
Our next stop was the Grand Master's Palace and Armoury. This
was 10 Euros each to get in – and not nearly as good a value as the
Cathedral. It was a very nice collection – but armor and shields and
helmets and weapons all start to look pretty much the same after a
while.
The second part of this tour (also included in the admission) was the
State Rooms, now home to the Maltese Parliament. The hallway is
quite magnificient – beautiful marble inlay on the floor, and colorful
frescoes overhead. We had to climb up a narrow winding staircase to get
there – it reminded us of climbing up a lighthouse tower.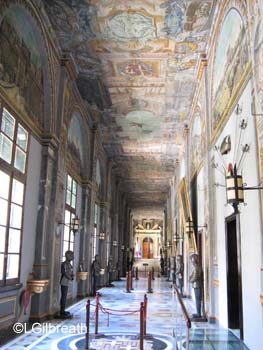 After the Palace we walked all the way to the end of Republic Street,
which brought us to Fort St. Elmo, which is now the Police
Academy. There was a warning outside that there was shooting going on –
and we heard some of it. We found some stairs that went down towards
the water, and ended up staying on that "low road" all the way around
the fort, passing by various bastions (gun/cannon batteries, I assume,
though of course none are there now).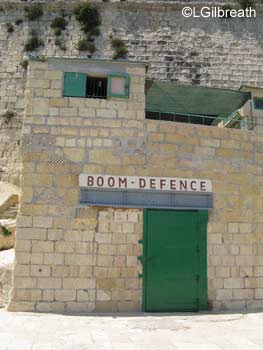 I mean, why else would they call it "BOOM"? 🙂
It was really quite pretty down there, and we saw very few other
tourists – though there was one guy sitting out on a point with his
laptop!!! They put wireless access points in the strangest places these
days! 🙂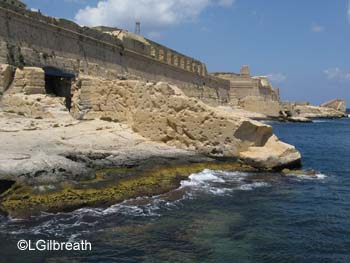 Once we back in the main streets again we went over to the Siege
Bell – this is actually a monument to the Siege of Malta during
World War II, from 1940-1943.
Up the hill was the Lower Barraka Gardens. Really a pretty area
with lots of benches – and lots of tired tourists taking the opportunity
to sit for a while.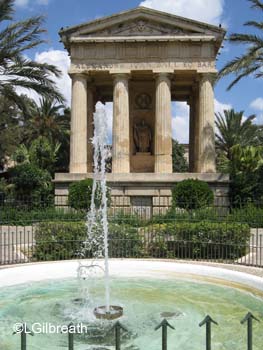 Further up the hill was the Upper Barraka Gardens – apparently
this was originally the private garden for the Italian knights, who
trained there. On our way there we ran into three of the Disney
Vacation Club guides that we met yesterday – they were out enjoying the
sights in the city, too! We later saw Ignatius, our server, and he was
headed into the city as well. It's really nice to see that the crew
enjoys the ports, too – I think just about everyone we have talked to
has told us about something they want to see in at least one of the
ports.
We made our way back to Republic Street and out the City Gate again,
then back down toward the ship. On the way down the hill we saw a
familiar face – Jeff Spencer, a friend from the old rec.arts.disney.parks
newsgroup days. He and his wife and kids are also on the Disney Magic!
(Yes, you can all start singing That Song now). It's amazing who you'll
run into halfway around the world…
Back on the ship we headed up to deck 9 for a (very) late lunch, since we
hadn't eaten since breakfast. Had some pizza from Pinocchio's, and I
made a salad out of the fixing's bar at Pluto's – Lee just went ahead
and got a salad from Goofy's Galley, where Slobodan, our assistant
server from this morning, was working.
It was a great port day – we really enjoyed just wandering around part
of the city on our own and being able to get out and walk.
We pulled away from the dock just a few minutes after our scheduled 6:00
departure time. The evening light on the other side of the island was
almost as beautiful as the morning light.
Lee went to the gym and ran on the treadmill (the bow of the track on the
promenade deck was closed because we were leaving port and they were at
work up there!) – he said that once we actually got out in the open ocean
that staying on the treadmill became a challenge. 🙂 We have "rough" seas
again, though I don't think the motion is as bad as it was on Saturday
night, and I haven't heard any "banging" yet. Things are starting to creak
in the cabin again, though.
Tonight's dinner was at Lumiere's, with their usual restaurant menu. Our
servers had it pretty easy tonight – their other two tables didn't show at
all, and there were only four at our table since one couple went to Palo
for dinner.
I like Lumiere's, and we had a very nice dinner. The food came out a little
quicker, too, so we were done by 10:15 for a change. I had another good
chocolate dessert – I actually ordered Lumiere's Sweet Temptations,
which includes three small desserts, and the chocolate mousse was quite
good (as was the creme brulee), though last night's cold chocolate souffle
has been my favorite so far.
Tonight's towel animal is an elephant – again wearing my sunglasses. I think
we need to leave some other props out for Geronimo to use. 🙂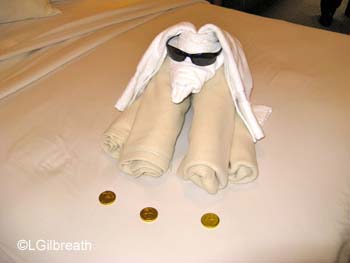 Tomorrow we'll be in Tunis, Tunisia. We don't arrive at the dock until about
8:30, yet we are supposed to meet at 7:45 for our shore excursion. That's
not very long from now, and we need to have time for breakfast somewhere in
there!