Sunday, May 16 – Day At Sea
We both did not sleep well again. Part of the reason is because at about
2:30 a.m. we started hearing this loud, booming noise, which sounded
like something big and heavy was crashing into the hull of the ship. It
was intermittent – sometimes we'd get three in a row, and then nothing
for 10-15 minutes. But it was very loud. I think I finally really got
to sleep about 5:00, and even then the noise hadn't stopped.
We finally got up around 7:30 to a sunny day but rough seas (8-12′
swells). We decided to go out and run on the promenade deck.
Running in rough seas – that was kind of entertaining! Especially
when we were either in the bow or stern of the ship where there was
more motion. It was a nice morning for running, though – only about
62 degrees and a cool breeze.
After our run we grabbed a quick (but healthy) breakfast at Goofy's
Galley – yogurt and fruit parfaits and fruit – though I had a small cinnamon
danish, too. 🙂
Our character breakfast was this morning but it was at 9:45 and we
wanted to attend the DVC Member session at 10:00, and couldn't do both.
We had a great time at the DVC Member thing, though. They served us
(free) mimosas – yummy. We sat at a table with another couple, Jane and
Guy, and had fun talking to them. In addition to presentations and
videos of the new things, there were also prizes for trivia questions
and such. They divided us into teams of about 12 people each –
each team named after one of the 7 dwarfs. Lee was chosen as our
Team Leader, and got to wear the "Doc" lanyard (because he looked
smart!). We got points (alas, not DVC points!) for doing challenges –
sometimes it meant answering questions, and sometimes it was showing a
DVC member card, a Disney Visa card, or trying to name all 10 DVC resorts
in order (no one got that right!). At the end it was down to us and one
other team, so they asked us a trivia question: name the geyser at
Wilderness Lodge. I'd done my homework and had read the AllEars FAQ
on Wilderness Lodge, so I knew that it was Firerock Geyser, and so we
won. (The DVC people were surprised that I knew that. 🙂 )
Afterwards we had brunch at Lumiere's. We had both forgotten that the
portions at Lumiere's aren't really that big, of course that meant that
the serving sizes of the Denver Omelet and French Toast were fairly
reasonable, though I could have used a little more to eat. But I'm sure
I'll make up for it later – like at dinner tonight!
We asked at Guest Services about the noise in our cabin (which was still
on), and also asked our cabin steward, who told us that the noise was
from waves hitting the ship broadside. It sure sounds like metal on
metal, though!!! (But as I write this later in the day, now that the seas
have calmed a little bit, I haven't heard it at all in the last hour or
so I've been in the cabin.)
Back in the room we took a short nap, then went to Dr. Glen Dolberg's
(the guest lecturer on board) presentation on Naples, Pompeii, and
Herculaneum. That was fairly interesting – he talked about the history
of all three, and of course the burying of Pompeii and Herculaneum by
Mt. Vesuvius, and had some suggestions on sights to see in Naples.
Prior to his presentation the guy in charge of Port Excusions talked to
us about what will be coming up in Tunis, Tunisia, and some of the
things we will be seeing there.
Dr. Dolberg had a lecture on Malta earlier in the day that we missed,
but it's showing on one of the TV channels, so I watched it later. Kind
of interesting – all about the Knights Templar, the Knights Hospitaller,
the history of Malta, and even a bit on the Maltese Falcon.
We had a relaxing afternoon – I went to the spa to get my nails done
since it's formal night tonight, and Lee went up on deck to sit on the
sun (he said it was warm in the sun) and read.
Lee went to the Twice Charmed show, and I was dressed in my long formal
dress and ready by the time he got back. We went down to the atrium and
got some professional photos taken, and took a couple of the free drinks
the waiters were circulating about with. We saw three of the senior
crew members standing and talked to them for a while, and that was
interesting. We asked why our departure from Barcelona had been
scheduled for so late (9:30) – it's to give the passengers who only
arrive in Barcelona that day more time to get to the ship and hopefully
make sure their luggage arrives, too. Apparently there were two
passengers that had flight delays and were walked onto the ship at 9:20!
Dinner was the Prince and Princess menu, and it was pretty
awesome – much better than last night. It was in Parrot Cay, which
isn't really my choice of setting for a formal dinner, but it was fine.
They are two for two on chocolate desserts for me so far this cruise –
I had the Prince Charming Chilled Chocolate Souffle tonight and it
was really good – even better than the truffle cake last night. Yum.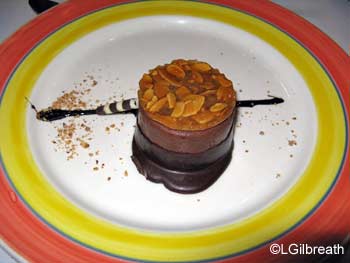 Back in our room Lee was wondering why there was no longer an empty
hanger for his dinner jacket in our closet – and this would be why. 🙂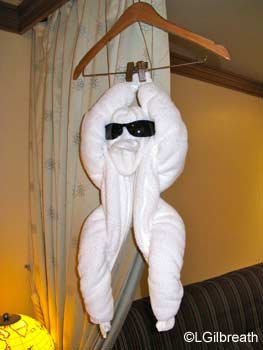 Geronimo found a good use for my sunglasses, too.
We've been told by two different crew members that we should not miss
our arrival into Malta tomorrow morning – that the morning light on the
rocks and water is just beautiful. I hope we sleep a lot better tonight –
at least the seas are calmer and we aren't hearing that banging noise so
far tonight. But I still think I'll set an alarm just to make sure we
are up by 7:30.
So tomorrow is Malta – our first port day on this cruise!