Saturday, May 15 – Embarkation Day!
Neither of us slept well – jet lag, I guess – I tossed and turned and
occasionally dozed until I finally fell asleep about 4:30, which would
be about 7:30 p.m. at home – and that's a little early, even for me.
Our bags that were going to the ship had to be packed and ready to go by
8:00, but we made that with no problem. There was a big medical
convention going on in the hotel, so when we got down to the dining room
about 7:45 it was *packed* – a far cry from the relaxed, quiet breakfast we
had yesterday. A nice conference atendee invited us to share her table –
there were no empty tables at all. And the food was pretty picked over,
too – especially the pastries. It cleared out at 8:00 when the
conference started, at least, though that didn't help the food supply.
It was a beautiful day with blue sky and sunshine, but it wasn't very
warm. Lee and I decided to take a walk up the "diagonal" towards the
main part of town. it's kind of a cool idea – huge walkway/bikeway
in the middle, lined with trees, with streetcar tracks and car lanes
on both sides.
We thought this was interesting – we'd never seen a gas station just on
the side of the road in the middle of the city like this!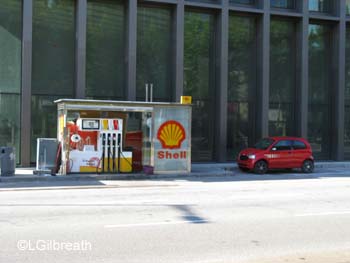 We walked all the way up the diagonal to this interesting-looking
buiding – the Agbar Tower. It was a couple of miles to the
hotel.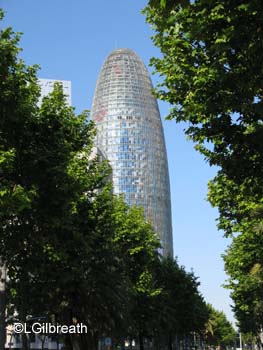 On the way back we went into Parc del Centre del Poblenou, which had a
bunch of sculptures in it. It was a nice walk, but it was interesting
to contrast walking around this new part of Barcelona with walking
around the old part yesterday.
At about 11:00 we went downstairs – we were supposed to be down there by
11:15 and our bus was leaving at 11:30. They gave us a "fastpass" that
we could show at the port, so that upon going through the Security check
we could go straight to the ship, since we were already check in, had
our Keys to the World cards, and had signed our lives away. 🙂
The bus left promptly at 11:30, and then turned around and came back to
the hotel and sat on the other side of the street for about 10 minutes –
apparently someone had missed the bus. They got on and we were on our
way – the drive to the port was fairly short – 15-20 minutes. From the
bridge we caught our first view of the Magic – she looks kind of small
next to those other ships, though.
There was a 5-10 minute line to get through Security, and we had to show
both our passports and Keys to the World at various times, but it was
definitely shorter for us than for the people who had not already
checked in. We had our photos taken and then walked on-board the ship –
yay!!! The trip is really about to begin now!
We went to have lunch at Parrot Cay, but it was full and there would be
a 10-15 minute wait so they sent us to Topsider's instead. That's where
we ate on embarkation day during our first cruise. It was not too
crowded, though it filled up as we sat there. They had a nice buffet of
salad fixings, peel-and-eat shrimp, some yummy potato leek soup and hot
entrees like fish, steamed vegetables, rice, potatoes, etc.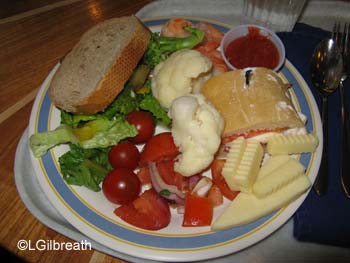 They let us into our stateroom areas at 1:30 – it was a relief to get in the
stateroom and drop the stuff we'd been carrying around for the last
couple of hours. We're on deck 7, starboard side, just about midship.
We will be celebrating Lee's 50th birthday on this cruise (even though
it's not until next month), and our travel agent, Coleen from Mousefan
Travel, had arranged birthday decorations and a cake for him.
This stateroom is a Category 5, so in addition to having a veranda it's
also a little bigger than the Category 9 we had on our previous cruise.
We have an extra storage "chest" that we didn't have before.
I know one thing that we couldn't get good information on before the
cruise was the dining attire and dinner themes, so here they are:
Saturday, Barcelona, Spain
Menu: Let the Magic Begin, Attire: Cruise Casual
Sunday, Day at Sea
Menu: Prince and Princess, Attire: Formal
Monday, La Valletta, Malta
Menu: Restaurant theme: Animator's Palate: Show Dinner
Parrot Cay: Island Dinner
Lumiere's: French Dinner
Attire: Cruise Casual
Tuesday, Tunis Tunisia
Menu: Restaurant theme, Attire: Cruise Casual
Wednesday, Naples, Italy
Menu: Restaurant theme, Attire: Cruise Casual
Thursday, Civitavecchia, Italy
Menu: Master Chef, Attire: Cruise Casual
Friday, Day at Sea
Menu: Villains, Attire: Semi-formal
Saturday, La Spezia, Italy
Menu: Pirates IN the Caribbean, Attire: Cruise Casual,
Pirate
(Shouldn't that be Pirates in the Mediterranean???)
Sunday, Ajaccio, Corsica
Menu: Flavors of the Mediterranean, Attire: Cruise Casual
Monday, Villefranche, France
Menu: Captain's Gala, Attire: Cruise Casual
Tuesday, Day at Sea
Menu: Till We Meet Again, Attire: Cruise Casual
We thought there were two semi-formal nights and not just one, so we'll
probably get more dressed up for one of our dinners at Lumiere's or for
the Captain's Gala.
Where was I…
We of course did the mandatory life boat drill at 4:00. The Sailaway
Party was delayed about 15 minutes because another afternoon shower came
through Barcelona (I thought the rain in Spain stayed mainly in the
plain!). And our luggage finally showed up after that – it was a bit
damp on the outside, so it was obviously outside during the rain.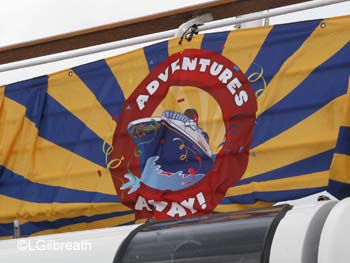 The Sailaway Party was at 4:45, but our actual port departure isn't
until 9:30 – not sure why it's so late! We'll miss it since we'll be at
dinner, which starts at 8:30. Hopefully this cruise won't be like our
first cruise, where we were almost always some of the last people out of
the dining room every night. I don't like eating that late, but because
we have so many long port days on this cruise we chose the late seating
(fewer kids that way, too.)
It's kind of chilly out on deck tonight – breezy, too. And we're not
even underway yet!
We just got back from the show in the Walt Disney Theatre: Welcome
Aboard: Let the Magic Begin!. Brent is our Cruise Director again
this time. We didn't really learn anything that we didn't know, but
figured we'd check it out.
Oh, speaking of things we didn't know…Disney has provided a very nice
Mediterranean Cruise Guide in each stateroom. It has information
on each of the ports, including language, tipping customs, local
beverages, social conventions and area cuisine. Also information on
some of the recommended sights. I wish I'd had this BEFORE the cruise.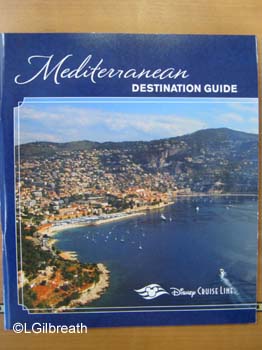 So now we're back from dinner. It was the Let the Magic Begin
dinner, which for us was in Animator's Palate. We are at a table with
two other couples – one from the UK and the other from Texas. We had a
good time getting to know each other. But, guess what, we were the
next-to-last table to leave the restaurant. Sigh.
Dinner was pretty good – I'll probably wait and do an entire cruise food
blog after I get back. One of our dining companions was having bad
luck, though – first the server brought her pinot grigio when she'd
ordered chardonnay, and then her risotto wasn't completely cooked and
was crunchy and not creamy.
For me the standout was dessert – I had the no sugar added Chocolate
Truffle Cake, and it was really good. Lots of dark chocolate but fairly
light, and whatever non-sugar sweetener they used they were not
heavy-handed with, so it was not too sweet.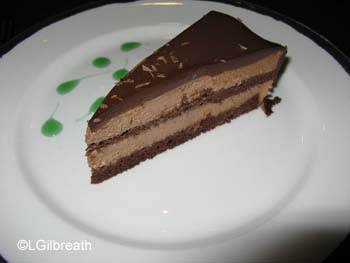 Our cabin steward, Geronimo from the Philippines, introduced himself to
us before dinner – when we got back we had our first towel animal!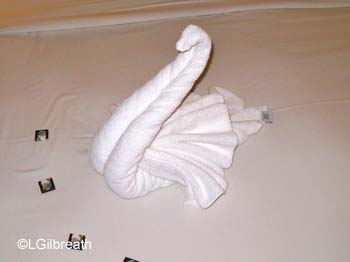 At Sea day tomorrow.