(Sorry for the delay in posting this — we didn't have free internet access at our hotel, and I was too cheap to pay 12 Euros for it. But now we're on the ship — internet isn't free here, either, but we'd already planned to pay for it.)
We made it to Barcelona! We were fortunate and the Barcelona flight went on as scheduled on Wednesday. Long flight (about 9 hours), but fairly smooth. This was the longest flight I'd ever been on, and the biggest time change (nine hours — the most I'd done was three!), so I wasn't sure how that would go, but it was OK. Neither Lee nor I slept much on the flight, and maybe that's a good thing — since it was daylight when we arrived in Barcelona we've been up all day (just a short nap), so I hope that means we'll sleep tonight.
Getting through Customs in the airport was easy – we'd completed the "Embarkation" form on the plane, so all we had to do was turn that in and get our passports stamped. The bags didn't show up very quickly so baggage claim took a LONG time, but of course the good news is that our bags DID show up, so we have everything we need now for our cruise — we're here in Barcelona AND we have our luggage!
The Disney representatives were waiting for us when we exited Baggage Claim and soon we were on our way to the hotel. I'm glad I wasn't driving… narrow lanes and lots of cars and motor scooters – and if you're a pedestrian, watch out for the cars because they aren't going to watch out for you!
We are staying at the Hilton Diagonal Mar, and fortunately our room was ready when we arrived at about 10:30. We have a king-size bed and sort of an ocean view — partly blocked by a couple of buildings.
There's a big mall across the street, and we were told they had lots of
restaurants so we went over there about 11:00 to find something to
eat. Ended up eating outside at a place that was still serving
breakfast. Lee got one of their skillets – broken eggs, Iberian
ham, and potatoes. "Broken eggs" are not the same as scrambled
eggs – these appeared to be more like hard fried eggs that had
been cut into 1/2″ pieces. And the potatoes were actually french
fries! It was really a huge serving, though. I had the cheese and
Iberian ham plate, which came with two kinds of Iberian ham plus
pork loin. Several people before this trip told me the ham was
really good, but I wasn't all that impressed –it was mostly like
pancetta. I'll take a Honey-Baked Ham any day. 🙂
Lee went back to the room to take a nap but I decided to wander around for a while. In addition to the mall I found a big park the next block over from our hotel. It had this huge "sculpture" that looked like a roller coaster track to me. But there were also lots of water, plants, and even some kids play areas — it was very nice.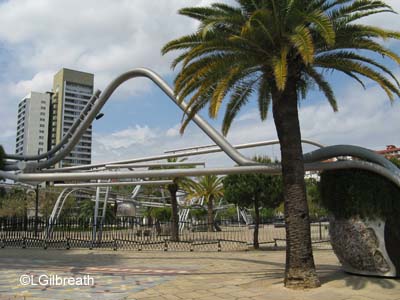 I took a short nap myself when I got back, and then we got ready to head out for some sightseeing. Just a couple of minutes before we were going to leave it started pouring rain – up until then it had been a pretty nice day – just some patchy clouds. So we decided to bring our umbrellas with us, though by the time we left the hotel the weather had cleared up again.
Our hotel is in the "newer" part of the city and not so convenient to most of the tourist areas, but there's a Metro station about 1/4 mile away. And we've been very pleased with the Metro so far – plenty of maps and easy to figure out how to get to the station you want to go to.
Our first stop was La Sagrada Familia, a church designed mostly by Antoni Gaudi, a famous architect known for his lack of square corners, among other things. Gaudi died in 1926, and the church still isn't finished — it's not scheduled to be finished for another 30 years or so! Other architects and sculptors have picked up where he left off. It's pretty interesting-looking. You can go inside, but there was a long line for that (and a charge) so we didn't do it.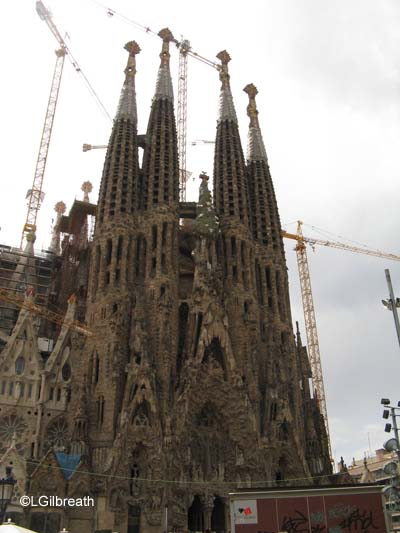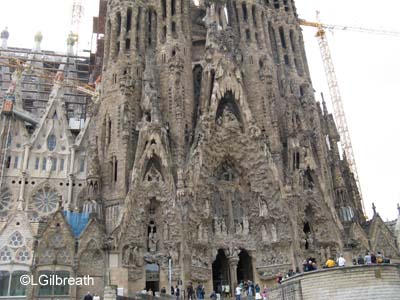 Next we tried to go to Parc Guell, but the directions we had in our free tour guide were totally wrong (had us get off at the wrong
Metro stop!) and we ended up backtracking a ways before finally figuring out how to get there. It's a fair distance from the Metro Station, too – ~1.2 km. But it was interesting to walk around – lots more Gaudi stuff here, including a house that he lived in and the two "Hansel and Gretel" pavilions.
Unfortunately we didn't get to see these from the front because it
started to pour down rain, and even with our umbrellas we were getting pretty wet by the time we got around to the front of the park.
Here's the view from the front of the park in the rain, though.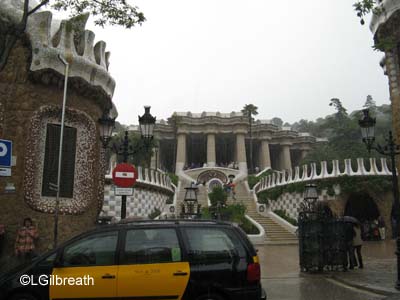 Of course by the time we trekked the 1.2 miles to the Metro Station the
rain had almost stopped, and by the time we rode the Metro back to our hotel the pavement was dry and you couldn't even tell that it had
rained! We were getting pretty tired by then, though – in addition to
getting almost no sleep we had done a lot of walking. We enjoyed what we saw, though.
For dinner we went back over to the Mall again and just picked up a
couple of sandwiches – we were too tired to want to make much of a big deal about dinner, and besides, we'll have 11 nights of good eating on the ship! We had some nutella gelato (me) and a waffle with bananas and chocolate sauce (Lee) for dessert, but unfortunately by the time we went to head back to the hotel it was POURING rain again – thunder and lightning, too. And we hadn't brought the umbrellas this time. After about 20 minutes it finally slowed enough that we could walk back to the hotel without getting too wet.
Not sure what we'll do tomorrow – kind of depends on the weather. It's supposed to be showery again. I'm really hoping to get a good night's sleep tonight.
Barcelona – Day 2
We slept well, but it started off as a rainy overcast day. Breakfast
was included in our hotel stay, so we went down there about 8:00. Nice breakfast buffet – in addition to more European dishes like cold cuts, pastries and grilled tomatoes they also had eggs, waffles, and sausage. Nice selection of fruit. I was amused that the information on the back of my cereal box was in 8 different languages! That meant they had to use REALLY small print, though.
It was still raining after breakfast so we lazed around the room,
reading and napping. It was actually quite relaxing, and we still had
some sleep to catch up on. By about 2:00 the rain had stopped and
we had woken up enough to venture out, though our first stop was
the Disney Cruise Line desk in the Lobby, where we were able to
check-in for the cruise – we have our Keys to the World cards now, so we can skip all of that at the terminal and only have to
go through Security. Nice.
We took the Metro downtown to Plaza Catalunya – aka Tourist Central. Wow. LOTS of people. It had turned into a nice day, though, so there were some good photo opportunities. This is the Font de Canaletas.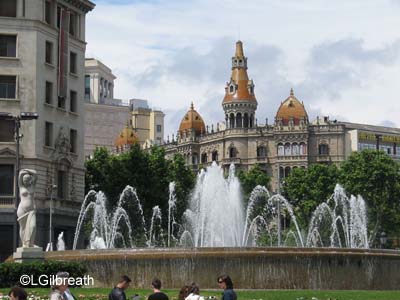 We walked all the way around the Plaza before figuring out which way was Las Ramblas (we should have just followed the crowd of people). Las Ramblas is known for its bird sellers, artists, flower shops, restaurants, and performers, and we saw all of those.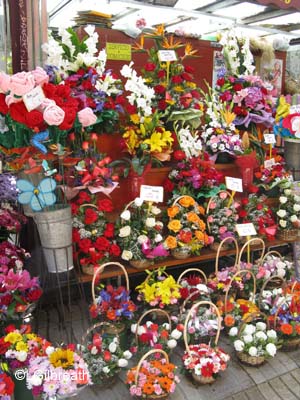 It was very crowded, and there were lots of people smoking – I'm just
not used to that in America. Yuck. We walked down to the Columbus Monument – the light was such that the backside of Columbus was lit, so this is a photo from lower down on the back side – I guess that's Queen Isabella?
We decided to try to find the Barcelona Cathedral after that. We took a narrow side street and we did end up getting there pretty efficently – Lee navigated us very well considering there were no street signs and no good directions! If you're a new resident in Barcelona I'm not sure how you would find *anything*, especially in the old part of town. And I would never want to drive here – we would be on what we thought were walkways that were actually roads!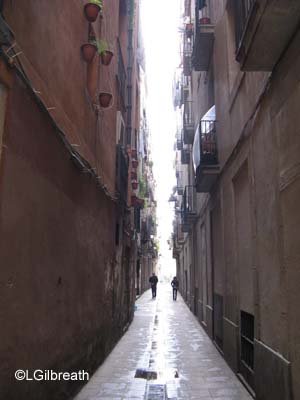 Unfortunately the Cathedral is undergoing renovations, so a lot of the
front is covered in scaffolding, here's part that isn't, though.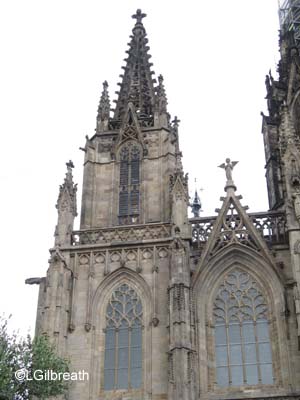 We weren't late enough for entrance to be free (from 1:00-5:00 it's 5
Euros, and we were too cheap for that), but here's a picture of all of
the ornate carvings that are just over the entrance.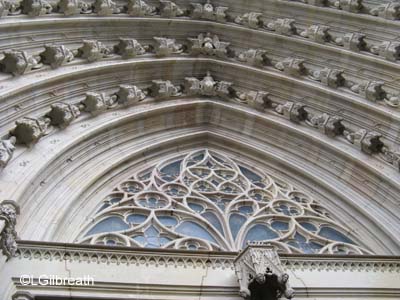 That was really all we had planned to do, so we kind of wandered after that. Found a couple of pieces of the Roman Wall, which surrounded the entire city back in the days when it was first colonized by Rome.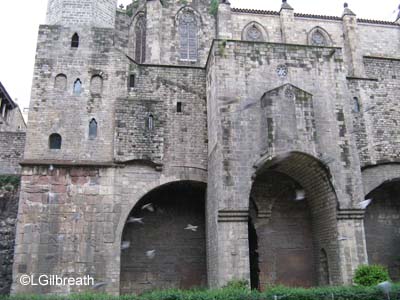 Then we wandered back down to the waterfront, and pretty much went all along the shoreline all the way back to our hotel, which was three miles or so, we think – none of our maps have any scale on them! Found this sculpture near Parc del Port Olimpic.
And Lee found this structure to climb in one of the many park areas
along the beach. The beaches looked really nice – lots of parking,
restaurants, restrooms, etc. We even walked by a skateboard park! For a city this size Barcelona seems to have a lot of open spaces and parks, but with pretty much all of its residents living in high rises I guess that's essential. Even though the day had turned cloudy and cool we saw a lot of moms in the parks watching their kids play.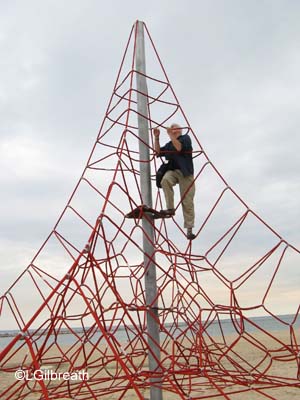 We went over to the Mall again for dinner at a Tapas-type place – this
one had pre-made tapas on toothpicks. You served yourself, and then you were charged by how many toothpicks you had on your plate at the end. We also had a pitcher of really excellent sangria – it was made fresh with lots of oranges and even chopped apples in it. I enjoyed the fruit almost as much as the wine. 🙂
I don't think we'll have time for much of anything tomorrow – we are
supposed to be in the lobby at 11:15 to catch the bus, and our luggage has to be ready by 8:00. But we should have time for a walk around the nearby park, if nothing else.