My wife Vickie and I were lucky to spend a recent week at the Tokyo Disney Resort. Jack Spence of fame helped prepare us for our stay; he's visited this resort a number of times.
The two theme parks, Tokyo Disneyland and Tokyo DisneySea, are kept clean and well-maintained. Tokyo DisneySea is a unique park, unlike any theme park anywhere, with lands such as "Mysterious Island" and "Arabian Coast." Tokyo Disneyland is similar to Disneyland, California and Florida's Magic Kingdom, but there are some obvious differences. For example, Main Street here is called "World Bazaar," which is larger with more shops and restaurants than the Main Streets in American parks. Furthermore, World Bazaar is completely covered to protect guests from the rain!
As I entered World Bazaar, I was greeted with a familiar image: Roy Disney and Minnie Mouse sitting on a bench!
Pooh's Hunny Hunt ride in Fantasyland is different from other similar dark ride attractions: each vehicle takes a unique "trackless" route through the various rooms and scenes. A master computer uses a local positioning system to guide your "honey pot" vehicle, and each trip through the attraction is unique. Very cool experience! I saw an imaginative classic Hidden Mickey made of roses along the right side of the exit walk from the ride.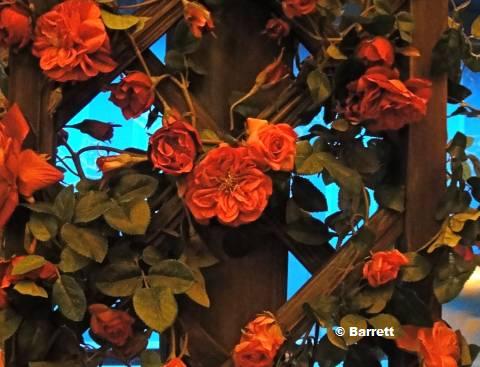 The Tower of Terror attraction in the American Waterfront section of Tokyo DisneySea has a different theme (since the Japanese evidently don't know The Twilight Zone theme very well): Harrison Hightower III was a wealthy explorer and collector. He brought back a strange, evil statue named Shiriki Utundu, recovered on an expedition to a remote region of Africa. As Mr. Hightower was taking his statue to the hotel's penthouse apartment, the elevator inexplicably came crashing down to the ground! The statue was the only thing found in the elevator; Mr. Hightower mysteriously disappeared without a trace. A Cast Member showed me a Hidden Mickey on a wall outside the exit from the Tower of Terror.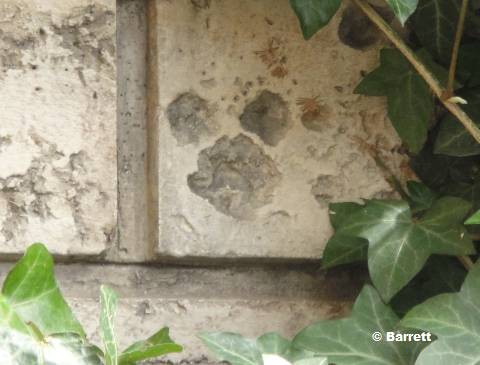 Another friendly Cast Member pointed out possibly the smallest Hidden Mickey at Tokyo Disney Resort. On a wall near the DisneySea Electric Railway station in the Port Discovery section is an "Aquatopia" poster with a tiny classic Mickey atop a water spout.
One of my many pleasant discoveries here was the plethora of food and snack opportunities throughout the Tokyo parks. For example, the Japanese love popcorn, but not always plain popcorn. Their popcorn is flavored, like strawberry and curry popcorn and many other interesting flavors. You'll encounter a popcorn wagon every time you turn a corner it seems!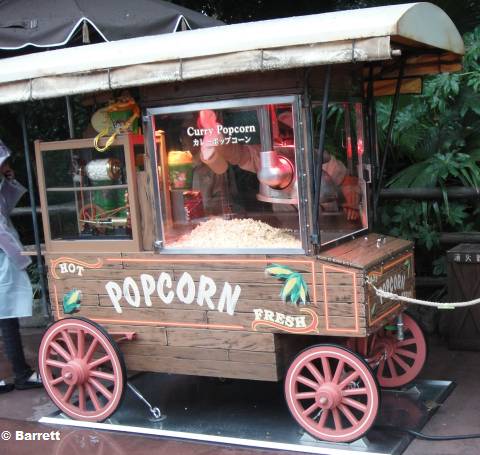 I was elated to discover that the Japanese enjoy Disney as much as I do. I hope to return someday to this magical place on the other side of our earth. However, the jet lag on the return to Florida is painful and not soon forgotten!

Read more about Steve's Hidden Mickey finds on AllEars.net
Steve maintains a Catalog of Hidden Mickeys on the Hidden Mickeys Guide.