Like everything that Disney does, theming is paramount. In this multi-part blog I'll be touring all four parks and pointing out benches, chairs, and other seating options that have been themed specifically for a land or area. For the most part, I'll be concentrating on non-restaurant seating.
Yesterday we covered the Magic Kingdom.
Our next stop on this seating tour is Epcot.
There are very few benches between the turnstiles and Spaceship Earth, yet plenty of seating can be found here. All of the planters in this area have a wide projection that acts as a seat and the fountain's ledge provides a perfect photo opportunity for groups to sit on.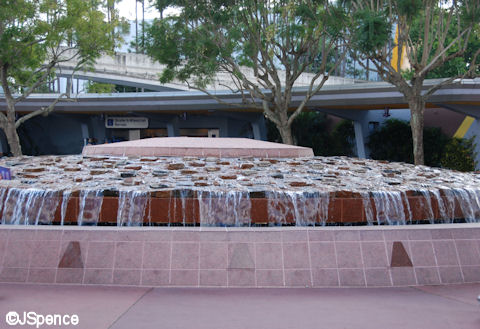 The following two benches are located in Future world. The first picture illustrates the seating found within the Innoventions Courtyard and on the walkway leading to World Showcase. Although it can be seen in various colors, its simplistic, modern design remains constant in these areas. The second bench is positioned throughout Future World East and West.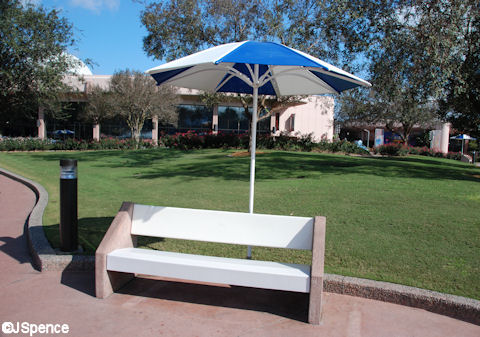 Let's start with Mexico on our tour around World Showcase. The benches here are somewhat simple, being made up of wrought iron ends and wooden slats.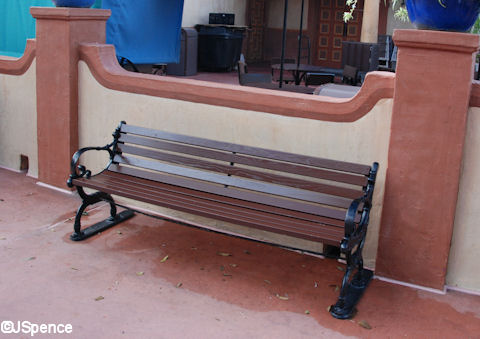 The benches in Norway are slightly more detailed than those in Mexico. If you notice, the bench's back is more elaborate than its Latin American neighbor.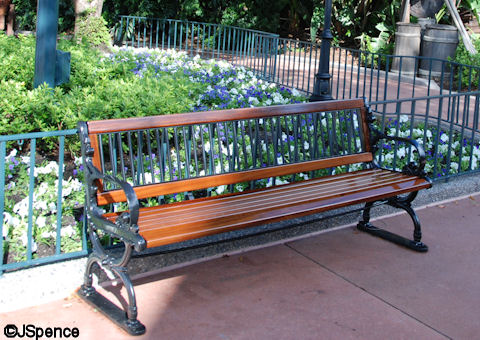 In China we find a traditional Asian design. Pleasant to the eye. Hard on the butt.
African Outpost offers a number of tables and chairs. This is a good spot if you need to relax for more than just a couple of minutes.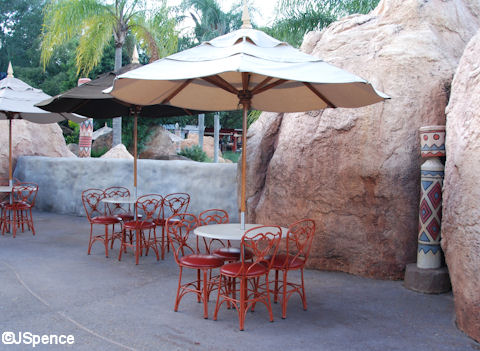 In between many of the pavilions you'll find a very generic bench. It was chosen as it would blend into any surrounding without detracting from the distinct national architectures found around World Showcase.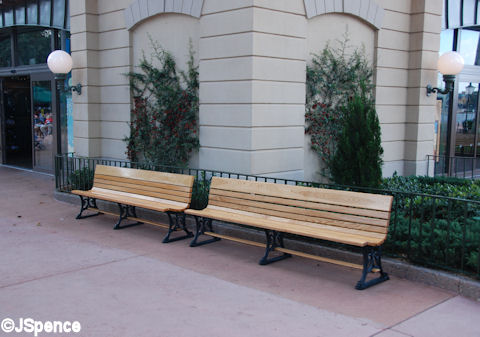 In Germany you'll find another simple slat bench. But you'll also find a number of tables and chairs situated around the Saint George fountain. This is another good spot to while away some time.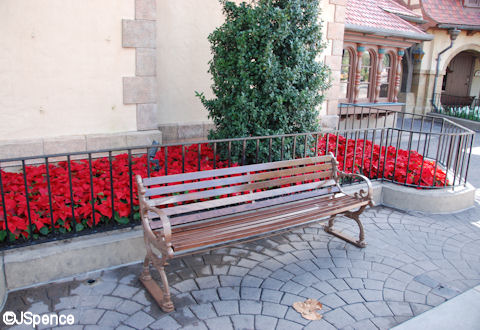 Like China, Italy offers some rather hard seating options. Carved marble might be lovely to look at, but after a couple of minutes sitting on one of these beauties and you'll be back on your feet in no time. For a slightly more relaxing choice, pick one of the nearby metal-work tables and chairs.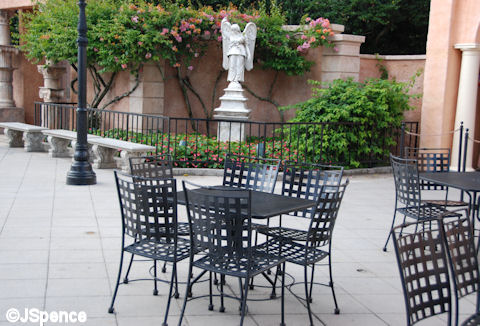 The only benches I could find outside of the American Adventure were in the American Gardens Theater — and these are only available during performances. The seating options here are either on the brick planters or the cushioned tables and chairs adjoining the Liberty Inn Restaurant.
Like China and Italy, the seating options in Japan are rock hard.
In Morocco we find yet another stone bench. But the nearby fountain is beautiful enough to make you forget for a moment that you're sitting on a hard surface.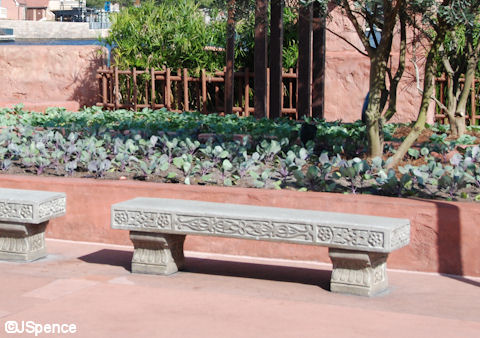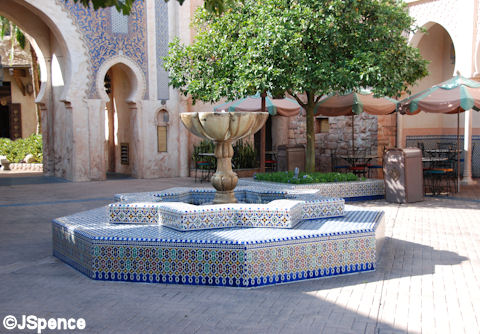 France offers a wooden bench, but don't plan on leaning back. The support is somewhat lacking. However, sidewalk-café styled tables and chairs are available on the water's edge for a more leisurely moment.
One of the most lovely spots in World Showcase can be found in the United Kingdom and there are plenty of benches in this area to sit on and enjoy the atmosphere.
And of course, one of the most famous seating areas in World Showcase is found on the UK's waterfront. This is a great place to watch Illuminations (and have a beer), but you must stake out your table an hour in advance — sometimes more — if you want to watch this nightly spectacular.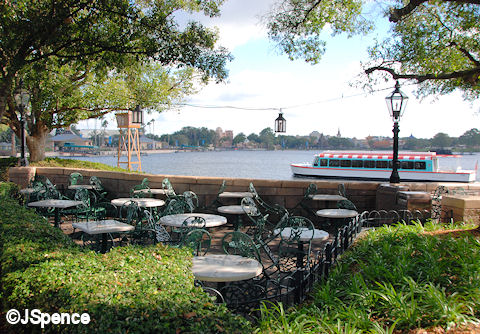 With a view of the Rockies, these simple but stylish benches in the Canada Pavilion are a great place to escape and catch your breath.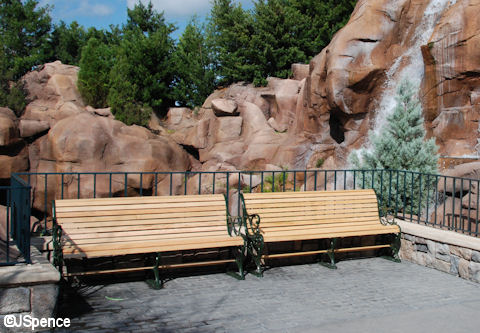 Near the Le Cellier Restaurant we find a more rustic bench, appropriate to the great outdoors.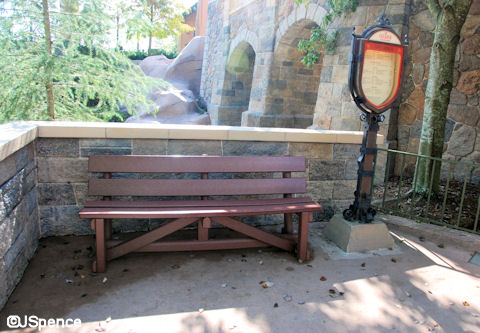 With Epcot complete, tomorrow we'll look at Animal Kingdom