Anyone who has ever visited a theme park knows that it doesn't take very long before your feet begin to hurt and your back begins to ache. Most of us just don't spend that much time walking — and standing — anymore. We often tucker out quickly. So it's no surprise that Disney has placed seating options just about everywhere. It doesn't take a genius to know that sore bodies make grumpy guests.
But like everything that Disney does, theming is paramount. In this multi-part blog I'll be touring all four parks and pointing out benches, chairs, and other seating options that have been themed specifically for a land or area. For the most part, I'll be concentrating on non-restaurant seating.
Let's start in the Magic Kingdom.
Main Street doesn't have much general seating. This is because this thoroughfare is primarily used to enter and exit the park. Most guests have little need to sit down here as they're too busy getting to where they're going. However, if you do decide you need to rest your weary bones, the porch outside of Exhibition Hall has a number of nifty rocking chairs to relax on.
Also in front of Exhibition Hall you can find Goofy taking a rest from the park. Although folks should remember, this bench is more of a photo-op than a place to spend any significant amount of time.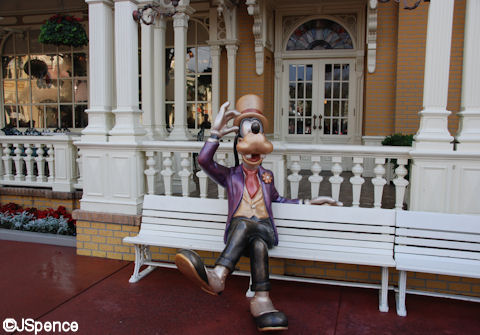 Across the Plaza near Package Pick-up is a beautiful turn-of-the-century wrought iron bench.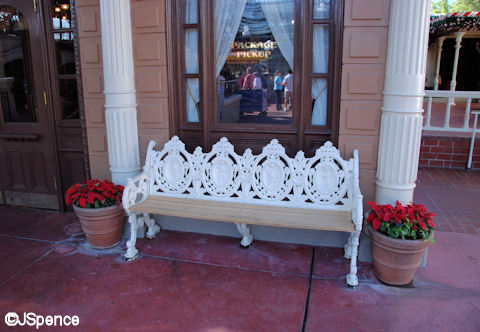 Halfway down Main Street, toward the back of Center Street you can find a number of tables and chairs. If you want to escape the crowds, this is one of the best spots in the Magic Kingdom as this area is seldom busy. The furniture here has an old-time, ice cream parlor design.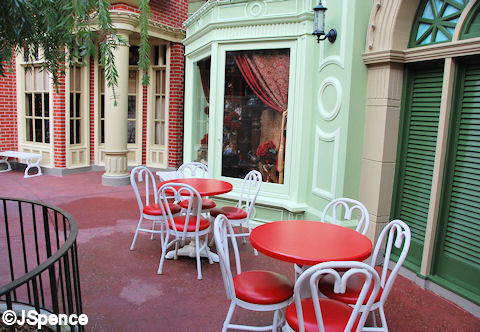 In The Hub we find what I call the "basic-green-Disney-bench." This design and color has been around since the early Disneyland days and can be found in all five Magic Kingdoms around the world.
The old Swan Boat landing offers another tranquil spot to spend some time away from the hordes. Once again, a turn-of-the-nineteenth-century theme is used for the tables and chairs.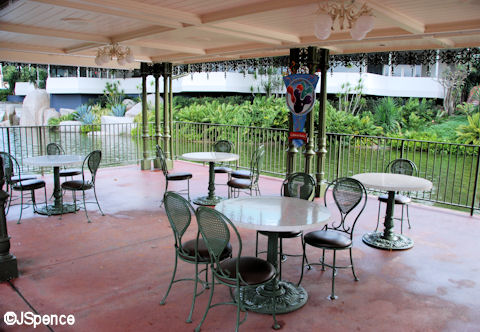 And for you smokers, Disney has set aside one of the most beautiful spots in the park to relax and unwind.
In Tomorrowland we find a trick that Disney uses time and time again — turn a retaining wall into additional seating. Here we see a planter, designed with a ledge at the perfect height to accommodate our bottoms.
Around many of the PeopleMover (TTA) pylons, the Imagineers have created sculpture-like benches. Artistic? Yes. Comfortable? No. But when you need to rest, "hard" is better than nothing.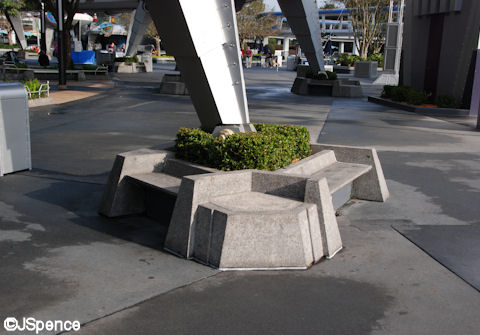 In keeping with the futuristic theme of Tomorrowland, this next bench has a streamlined appearance.
Near the Indy Speedway are a number of sleek and modern tables and chairs.
In Fantasyland we find more ornate benches, befitting of the old-world charm of the area.
Near Ariel's Grotto the tables and chairs are painted in festive colors. Also notice, another planter has been used to create additional seating.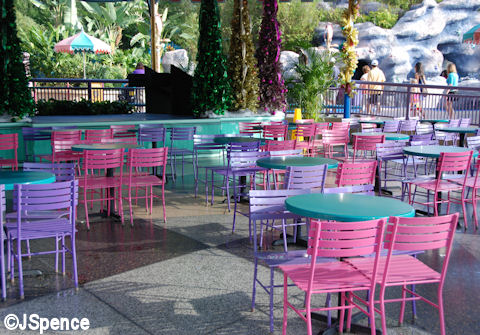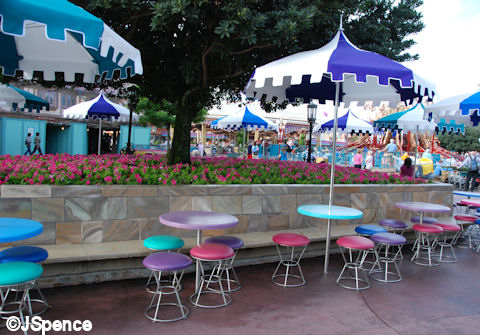 Since Winnie the Pooh lives in the Hundred Acre Wood, it makes sense that the benches and chairs located here take on a more outdoorsy look.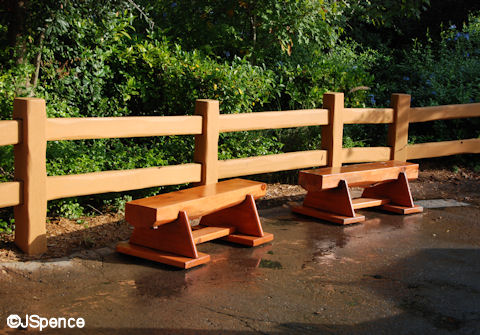 The seating in Liberty Square reflects its colonial roots. The second bench is rather austere.
Liberty Square also offers two places in which you can find rocking chairs. One is on the porch to the right side of Hall of Presidents and the other is just outside the Yankee Trader Shop. Both of these spots are popular with guests and it's often difficult to secure a seat here.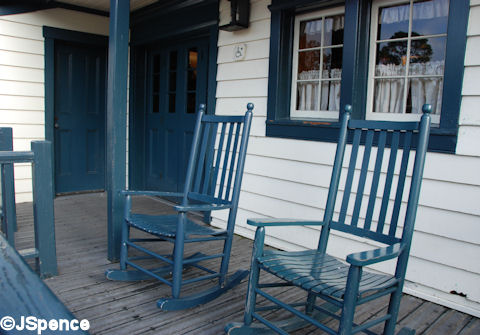 As you would expect, Frontierland offers rustic seating. The support for this next bench was fashioned out of wagon wheels.
A log cabin design can be found on this next resting spot.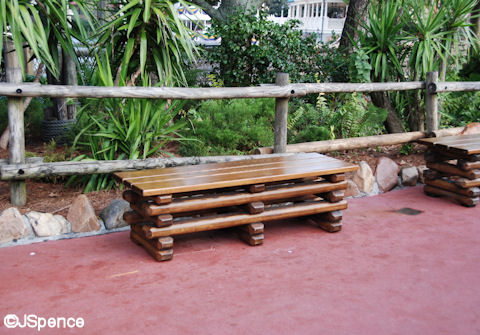 In the mood for a game of checkers? This table and chairs is located out front of the Shootin' Arcade.
And finally in Frontierland, more rocking chairs are on hand along the boardwalk. If you look closely, you'll notice these are the exact same chairs as on Main Street and in Liberty Square, only with a different finish.
Our final stop in the Magic Kingdom is Adventureland. Near the entrance to this exotic land is a large planter made of volcanic rocks. Once again, seating has been designed into the structure.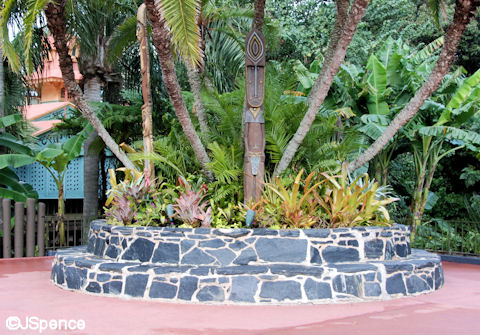 Another planter/bench can be found near the Swiss Family Treehouse. If you look closely, you'll see some of the wrecked ship's flotsam incorporated into the design.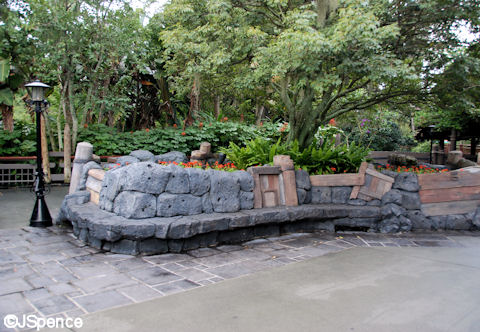 Across from the Treehouse is a covered porch. Here, a number of tables and chairs provide the perfect escape from the sun. Their color and design suggest a tropical feel.
Near the Enchanted Tiki Room simple slat benches can be found. This open-air design is perfect for a hot and humid climate.
Our next stop on this seating tour is Epcot. Come back tomorrow for Part 2!