While ALL of the holiday decorations around Walt Disney World are beautiful, there is something special about seeing a beautifully decorated (and often GIANT) Christmas tree at Disney World!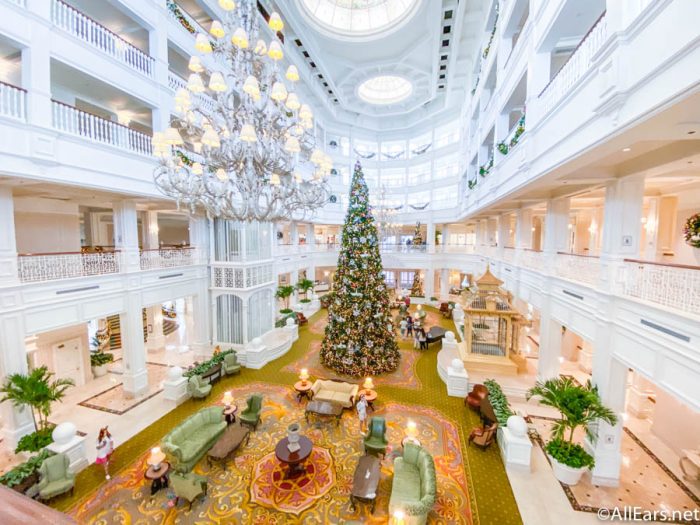 We've spotted Christmas trees in the theme parks, Disney Springs, and some of the Resort hotels, and now we're bringing them all to you! Join us now for a virtual tour of ALL the Christmas trees around Disney World.
Got your Christmas music playlist on? And some hot chocolate with LOTS of marshmallows? Okay, then let's begin!
Disney World Theme Parks
Magic Kingdom
Main Street, U.S.A.
We start our tour in Walt Disney World's first park — Magic Kingdom. The main Christmas tree we've seen here is the extremely large one (you really can't miss it) right on Main Street, U.S.A., in Town Square.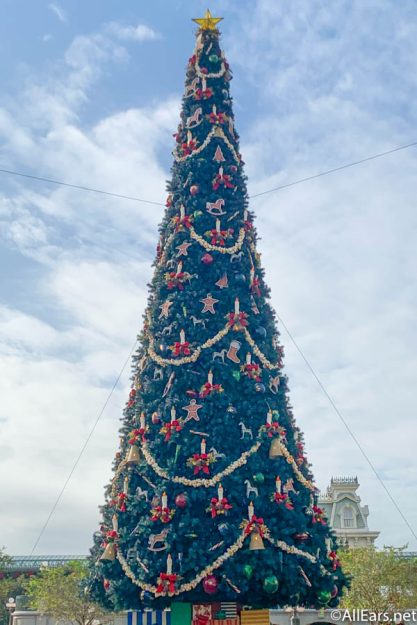 This tree has all kinds of beautiful details on it including green, blue, and red Christmas ornaments; candles; peppermint sticks; little tree ornaments; and more!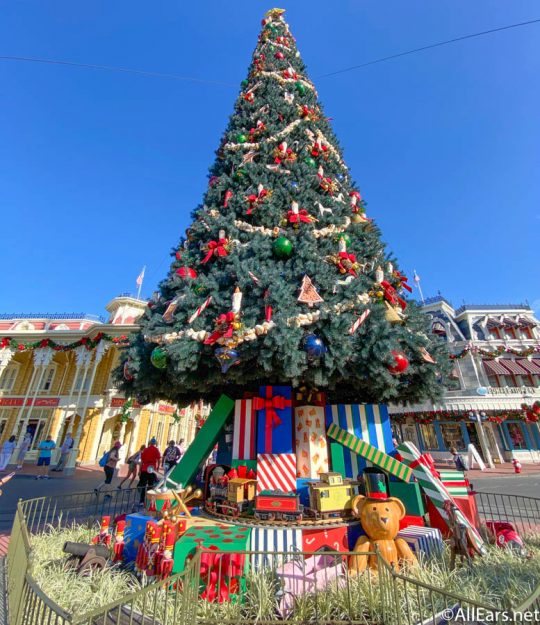 Around the tree there are a number of presents, toys, and a toy train named the Liberty Belle. That name sound familiar?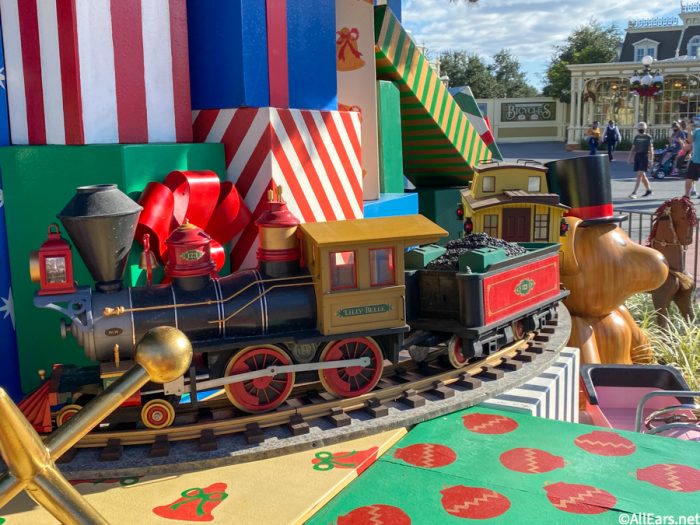 It's truly beautiful to walk down Main Street, U.S.A., and then turn back around once you get to the end to see the tree along with all of the other holiday decorations.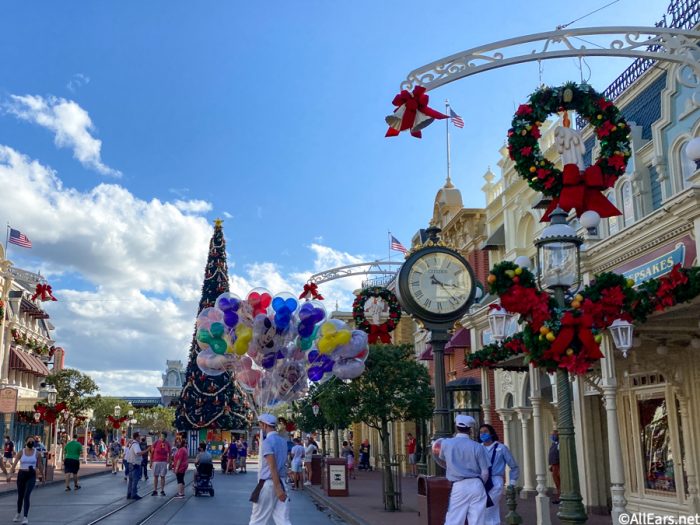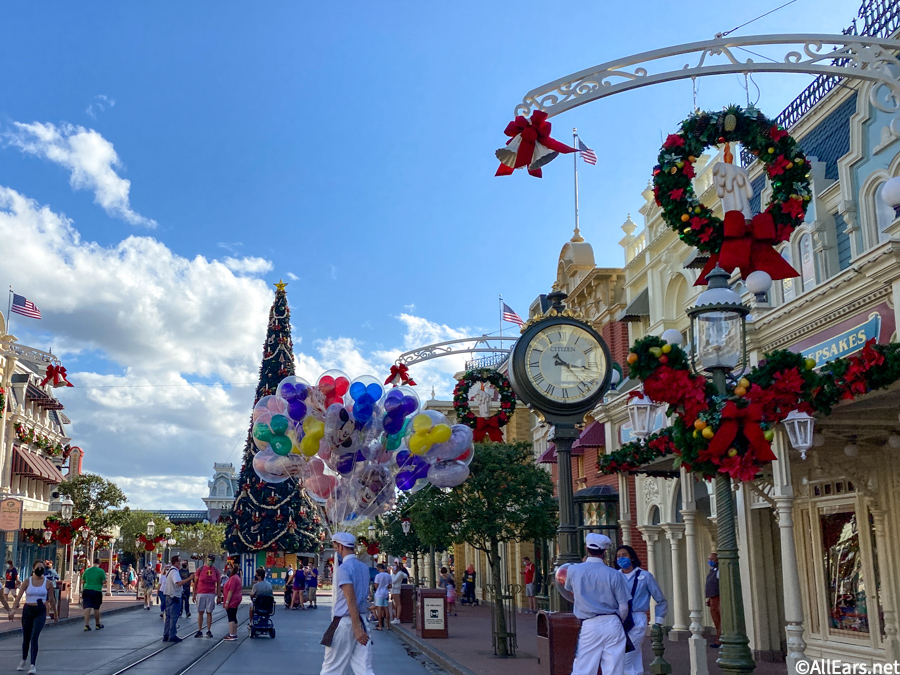 And it's particularly gorgeous at night, when its lights glitter and glow, adding an extra touch of magic.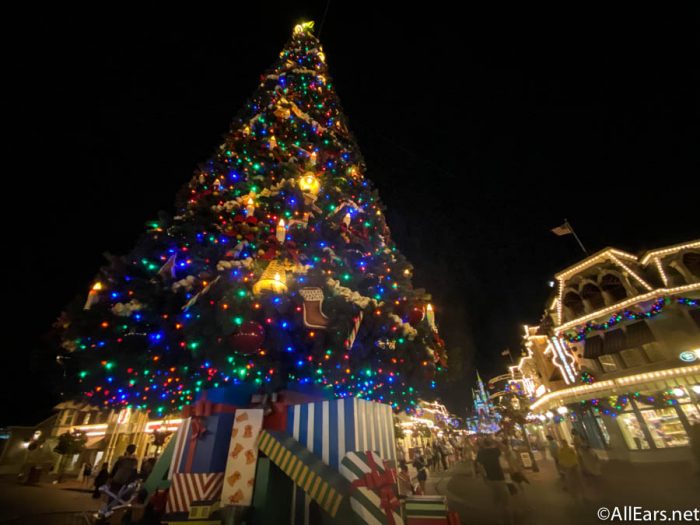 This tree is definitely one of our favorites.
Jingle Cruise
Over at the Jingle Cruise (the holiday overlay of the Jungle Cruise), you'll also find a Christmas tree (although it's notably smaller than the one on Main Street) in the queue area. It seems the skippers made do with what they had around the dock to decorate their tree, but make no mistake — their lack of ornaments doesn't mean they don't want presents. A sign in the back specifically asks (maybe even begs?) Santa to stop by their humble tree.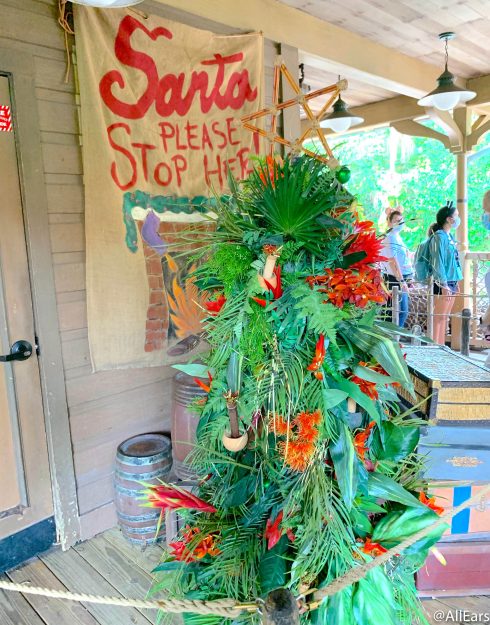 Maybe they'll get food as a present — hopefully it's something other than chicken or things that "taste like chicken."
Popcorn Bucket
While it's not exactly the type of Christmas tree you may have expected to see on this list, we HAD to include a quick shout-out to the Snowy White Christmas Tree Popcorn Bucket that we've found in Magic Kingdom and other parks in Disney World this year.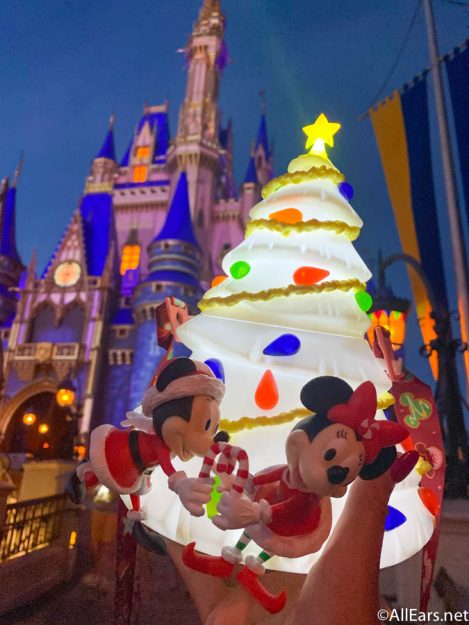 We've seen a green Christmas tree popcorn bucket before, but we love the makeover its received this year!
EPCOT
Over at EPCOT, the International Festival of the Holidays has taken over with all kinds of holiday fun! And while we were waiting for more holiday decorations to arrive ahead of the Festival's start, we saw the Green Christmas Tree Popcorn Buckets available in EPCOT (a returning classic).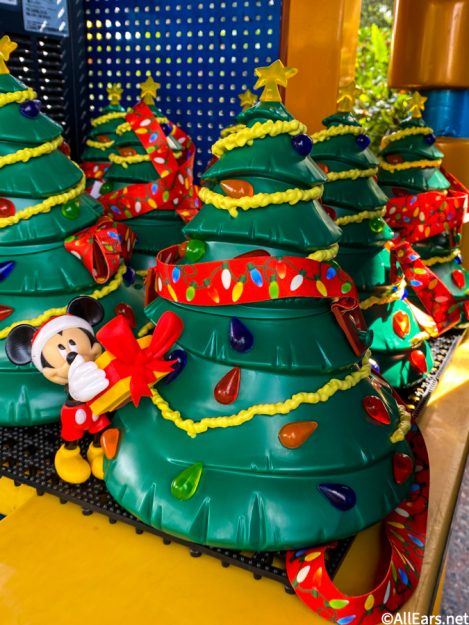 There are also some holiday decorations on Living with the Land, and the Park's character cavalcades have had a holiday makeover, too! 
Disney's Hollywood Studios
Echo Lake
Unlike some of the other theme parks, the GIANT Christmas tree at Disney's Hollywood Studios is not one you can walk right up to. Instead, it's in the middle of Echo Lake!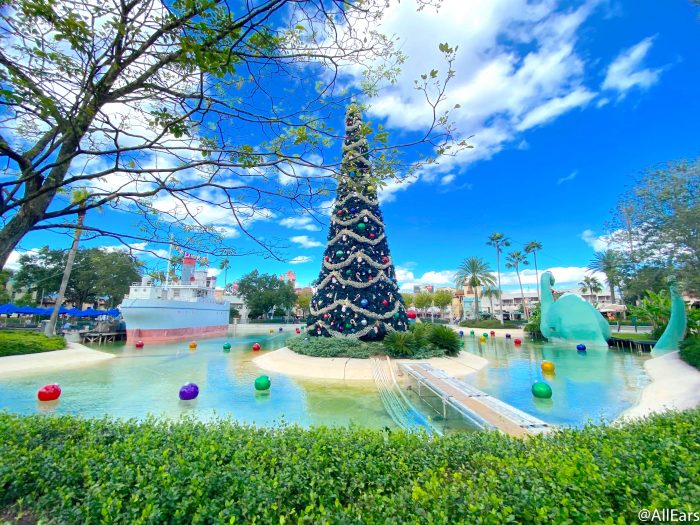 But, this tree is beautiful to admire even from afar. You can see the shimmery garland, giant Christmas ornaments, and other cute details on this tree. We also love the vintage-style decorations around the lake and all of those floating ornaments within.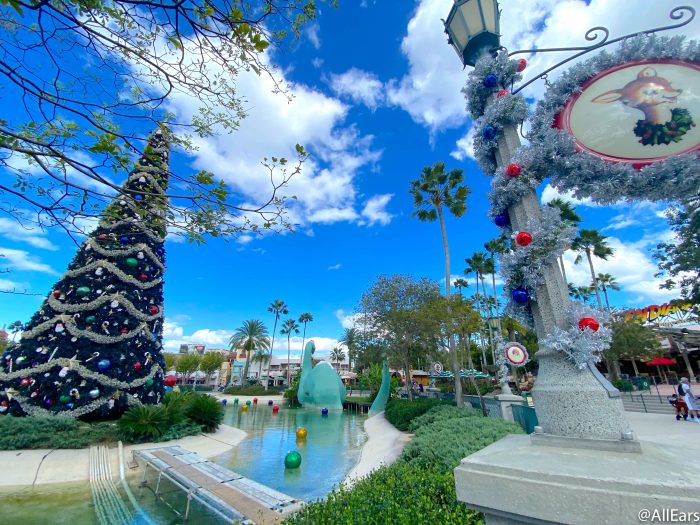 Hollywood & Vine
If you stop by Hollywood & Vine for Minnie's Holiday Dine, not only will you get to say hello to Santa Goofy and Mickey, Minnie, and Pluto (all dressed in their holiday best), you'll also get the chance to see this cute little sparkly Christmas tree that is part of the decor there. The tree itself is rather simple but we love the combination of silver, pink, and red with those little pops of green.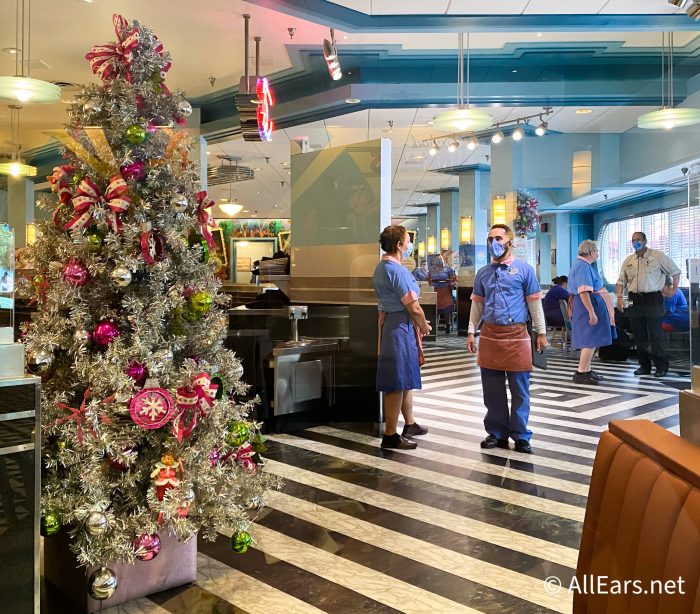 It definitely makes this tree a bit more unique!
We've also spotted a Christmas tree inside of Tune-In Lounge outside of 50's Prime Time Cafe, and some mini trees on some of the lampposts on Hollywood Boulevard. All in all, if you ask us, Hollywood Studios is definitely a merry place to be during the holiday season.
Disney's Animal Kingdom
Entrance
Right in front of Disney's Animal Kingdom, before you actually step into the park, you can look up and admire this incredibly tall Christmas Tree!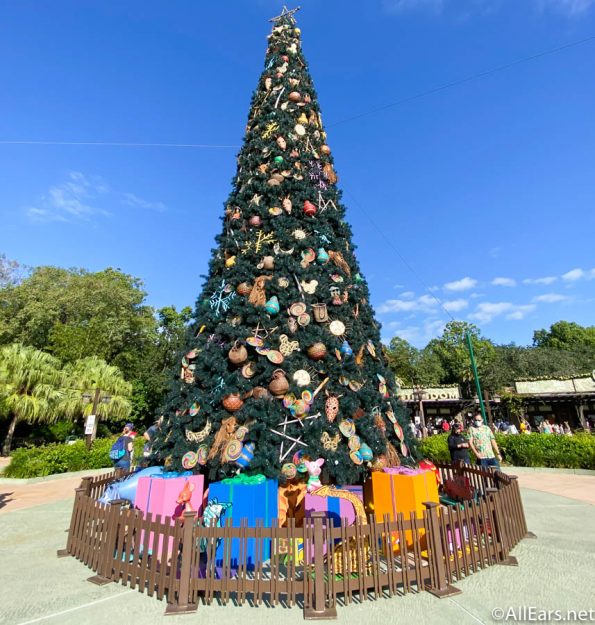 There are so many things to love about this tree! First, the ornaments all have a very earthy and hand-made look to them. It definitely fits the feel of the park overall.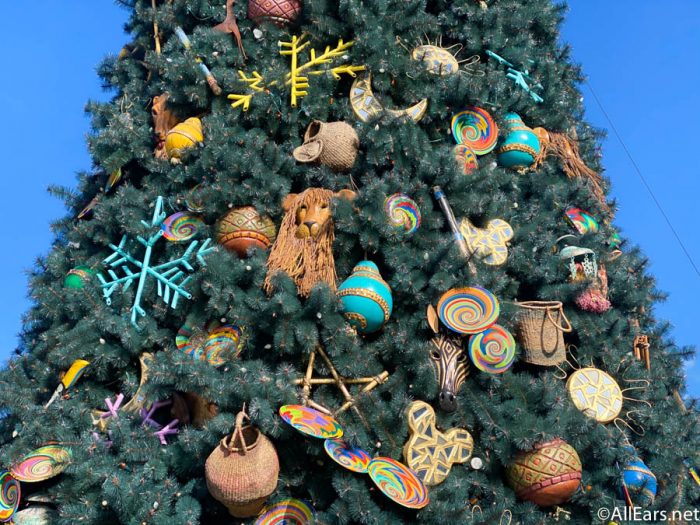 The tree is also surrounded by a number of presents and toys, but ALSO a ton of Disney characters including Piglet, Eeyore, Kanga…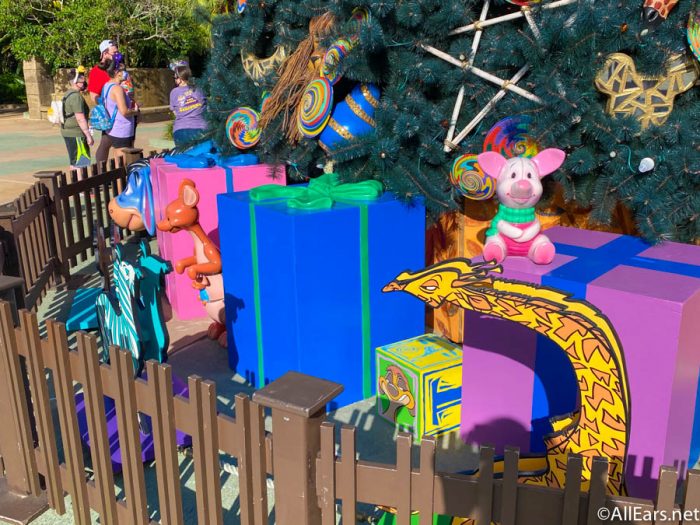 …Chip 'n' Dale, Jiminy Cricket, and more!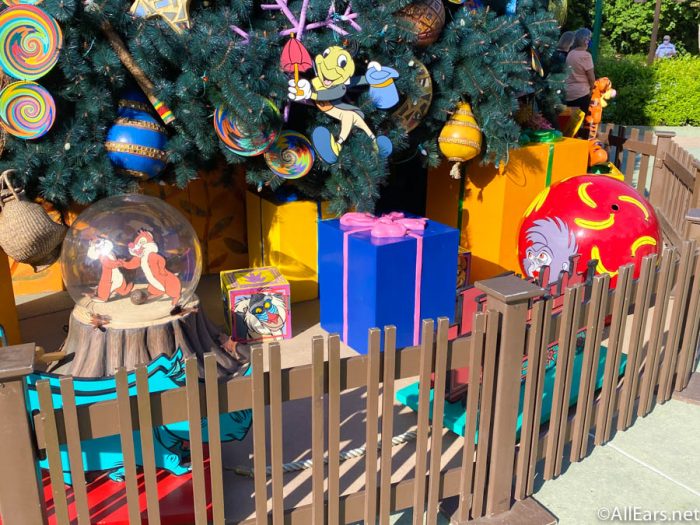 We just love how unique this tree is.
Tree of Life
Although it's not a traditional "Christmas Tree" we're including the Tree of Life on this list as it is being lit up with special holiday projections.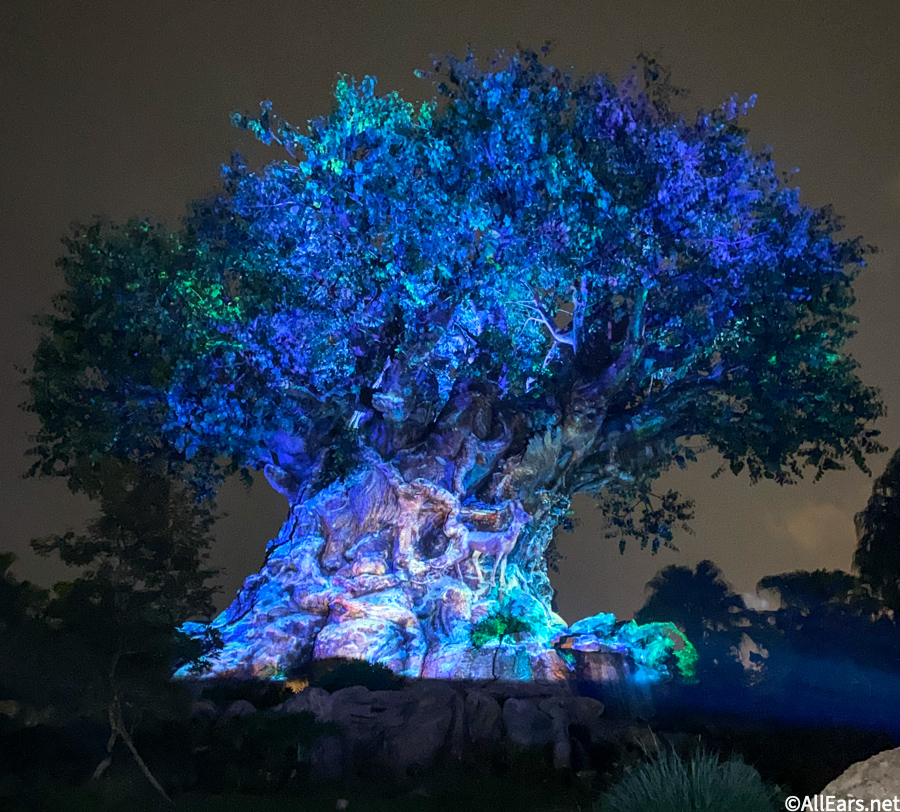 Animal Kingdom started these Tree of Life "Awakenings" last year, including the special holiday edition, but we were happy to see it return.
Africa
In the Africa section of the park, you can find this unique Christmas tree made out of a whole bunch of random items. It may just look interesting during the day, but at night…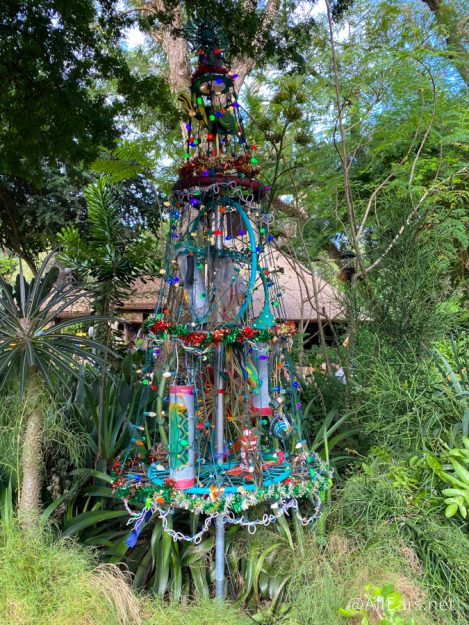 …it's truly beautiful. Glowing Christmas lights just always add a bit of magic, don't they?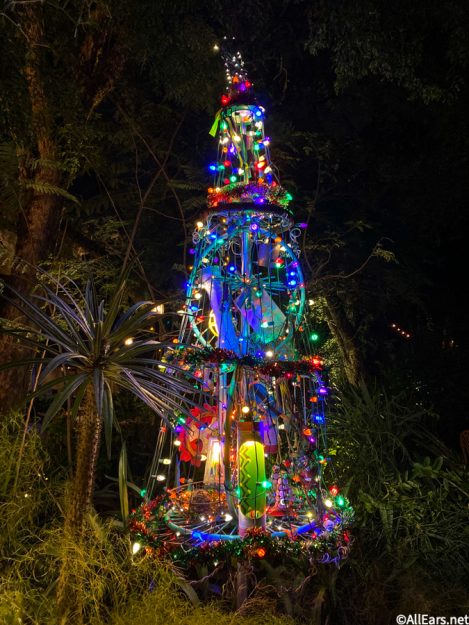 DinoLand U.S.A.
Over at DinoLand, there's a little tree by TriceraTop Spin that almost looks like it's been made out of giant pipe cleaners! This simple but fun tree fits perfectly in this area!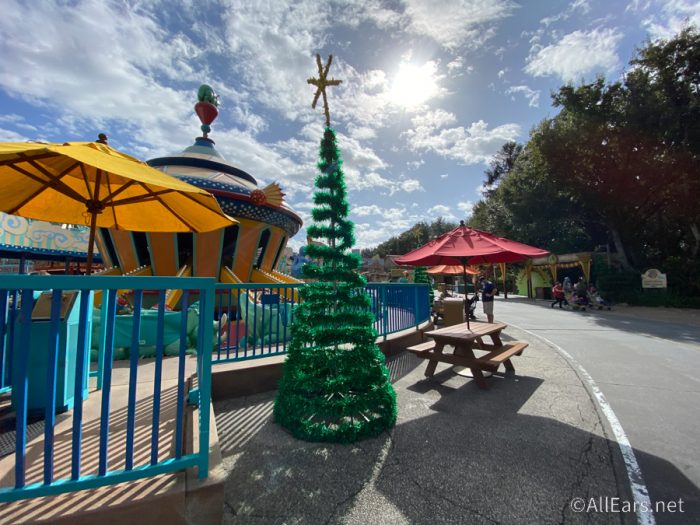 Walt Disney World Resort Hotels
The Christmas trees at the Disney theme parks are majestic, but sometimes there's nothing better than grabbing something to eat and sitting down to admire the beautiful trees in some of the Walt Disney World Resort hotels. There may not be gingerbread houses this year, but that can't mean these hotel lobbies can't look spectacularly festive!
Bay Lake Tower at Disney's Contemporary Resort
Inside of Bay Lake Tower at Disney's Contemporary Resort you'll find two simple but classy looking Christmas trees in the lobby with some beautiful ornaments and wintry touches.
They add a sophisticated but festive look to the resort.
Disney's Grand Floridian Resort and Spa
One of the most impressive trees anywhere in Disney World, however, is the one over at Disney's Grand Floridian Resort and Spa. This tree is GIANT, we're talking several STORIES tall, and is covered in all kinds of unique ornaments.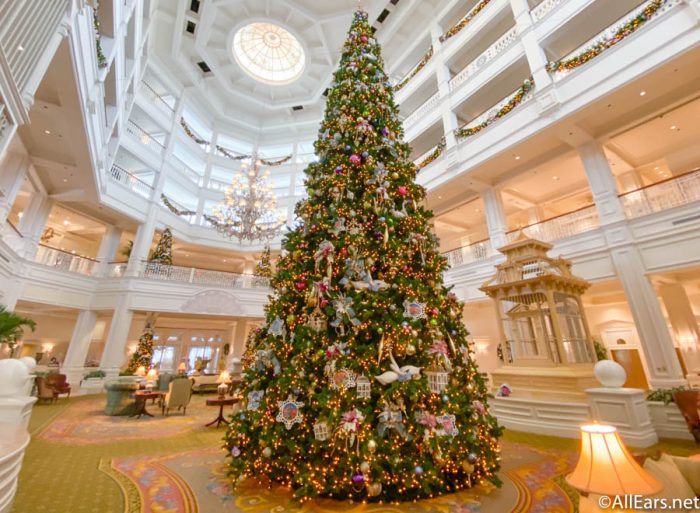 Just check out some of these beauties…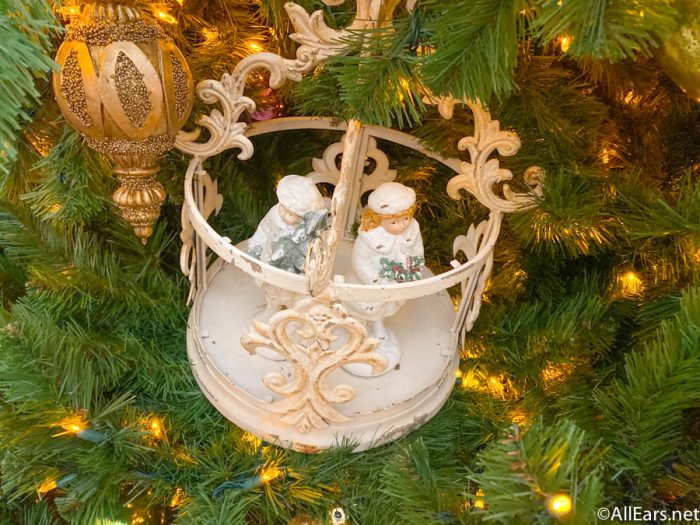 …they fit the resort perfectly…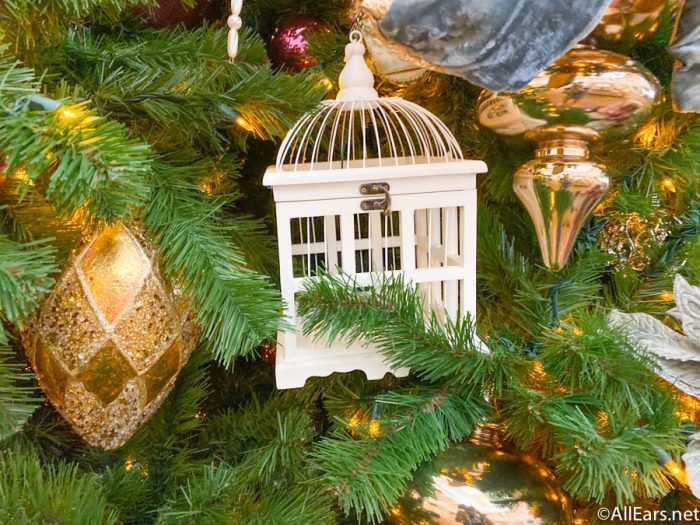 …and have a classic look to them.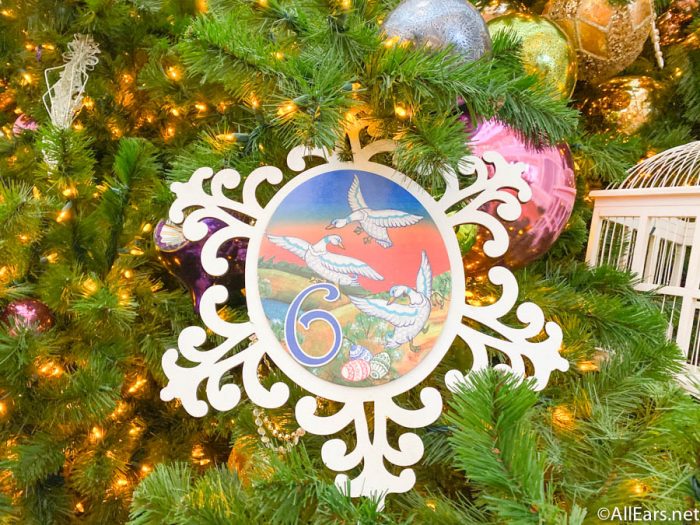 There's just no denying it — this tree is simply grand.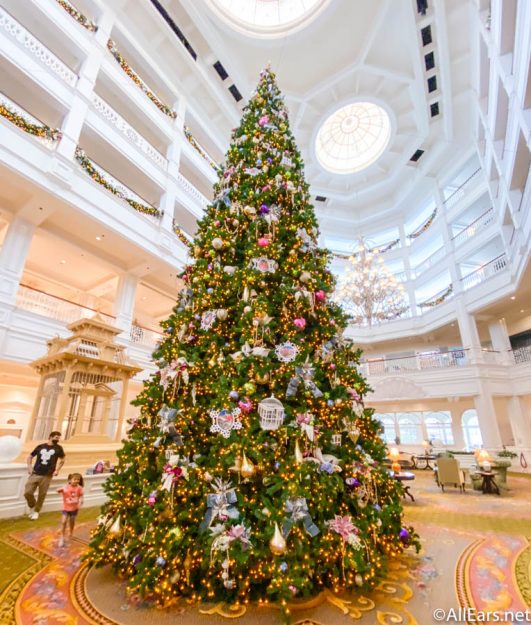 There are also a few smaller trees in the lobby, so you can make sure you feel that holiday spirit no matter where you are.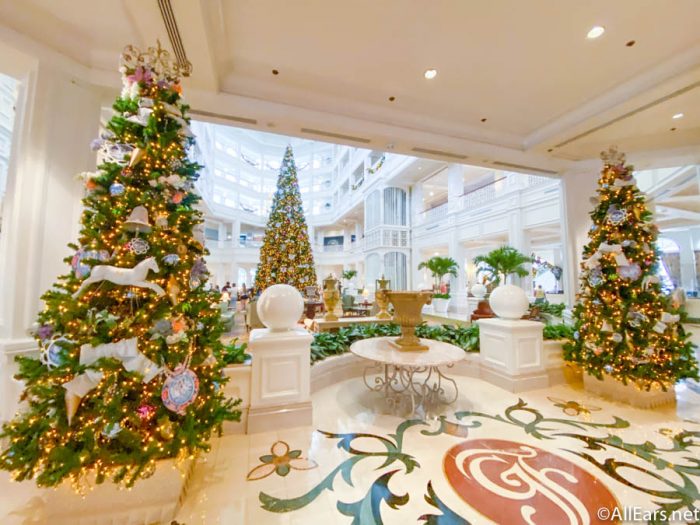 Disney's Wilderness Lodge
But the Grand Floridian isn't the only hotel with a tree that seems larger than life. Disney's Wilderness Lodge has a tree that definitely gives the Grand a run for its money.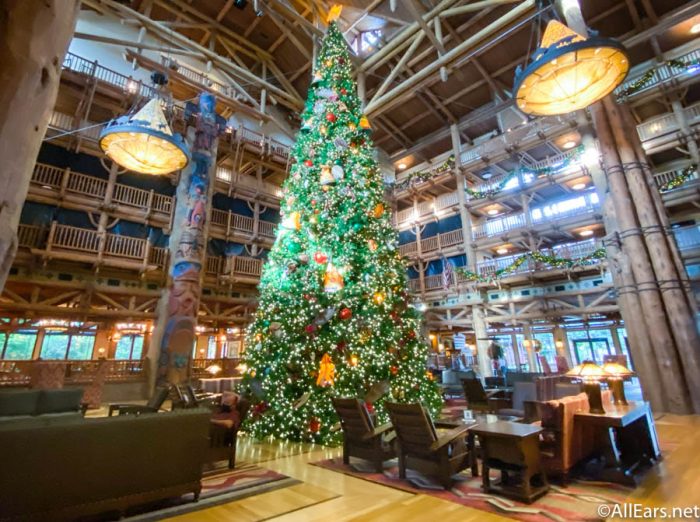 The tree is magnificent whether you're looking at it from the ground floor or up above, on one of the higher levels. The green really stands out against the browner tones of the inside of the lobby, making it seem ever brighter and more beautiful.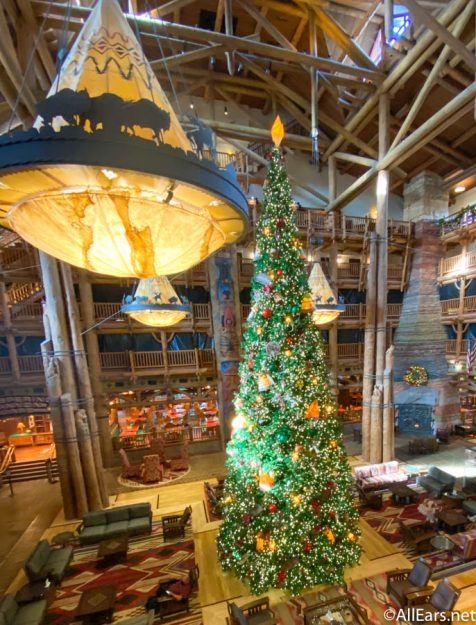 Grab yourself a reservation at Whispering Canyon Cafe, and head over to truly enjoy some holiday magic at this resort.
Disney's Contemporary Resort
At Disney's Contemporary Resort we found a few Christmas trees throughout, with LOTS of gold details on them.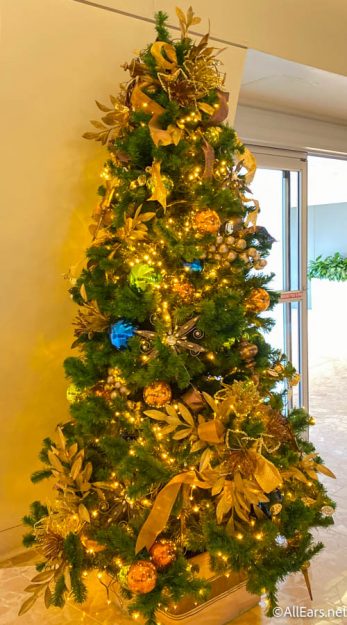 Pair these with all the beautiful garland and other decor around the hotel and you've got quite the festive look.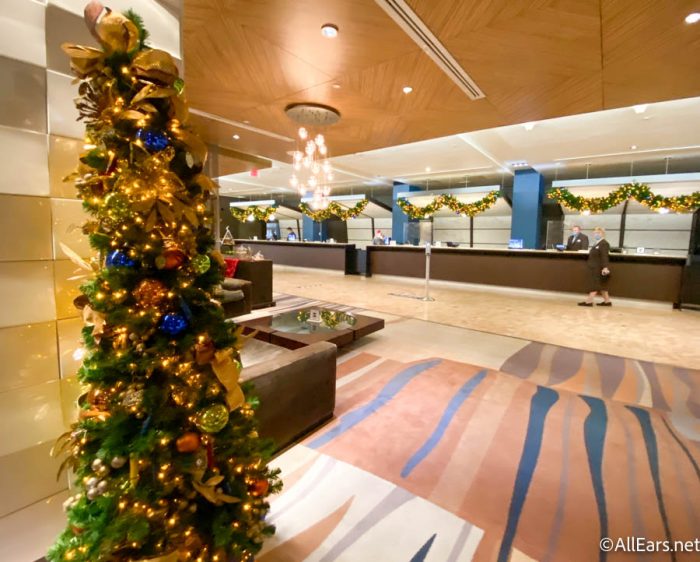 Disney's Caribbean Beach Resort
While they're certainly not as large and majestic as some of the other hotel trees, these two, cute little Christmas trees at Disney's Caribbean Beach Resort are definitely giving us some funtrop, ical holiday vibes, especially with all those colorful flowers in them!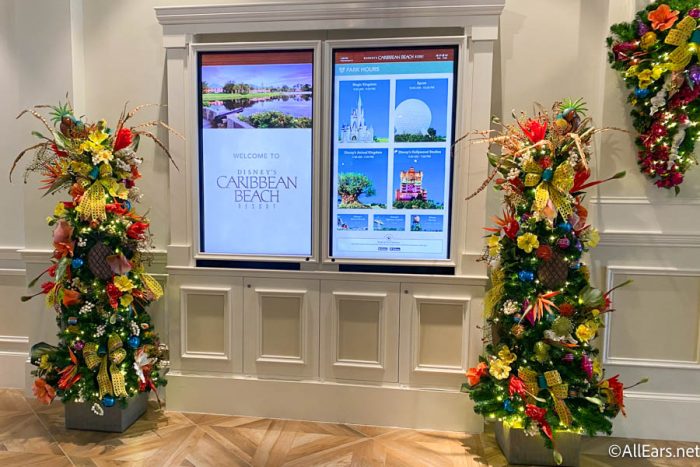 Disney's Animal Kingdom Lodge
At Disney's Animal Kingdom Lodge, we found some wildly festive decorations including this small Christmas tree near the Zawadi Marketplace.
But it's the BIG tree in the main lobby that's the real star here!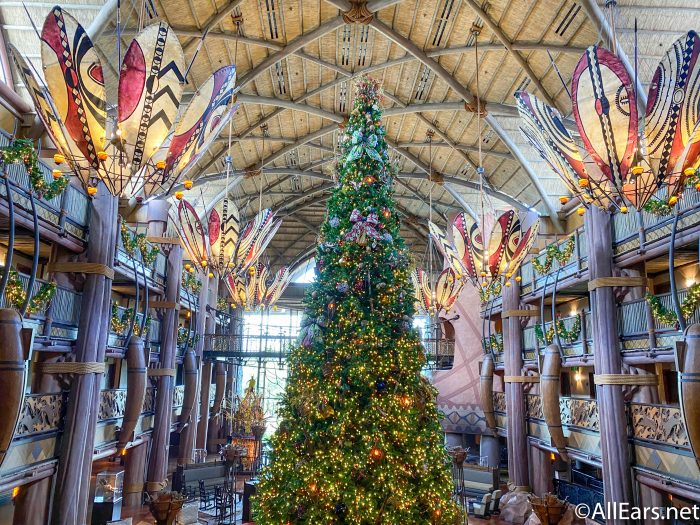 Again, the sheer size of this tree is one of its most incredible features.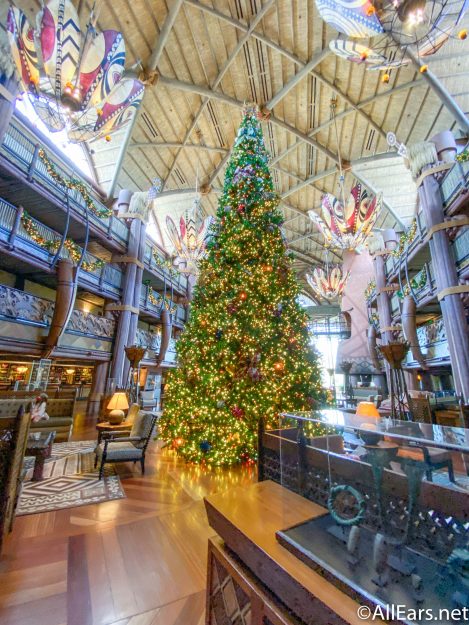 The level of detail when it comes to its ornaments is also amazing. Here, you see an ornament with some of the animals you can actually spot while on safari in Disney's Animal Kingdom or even while overlooking the land there at the Lodge.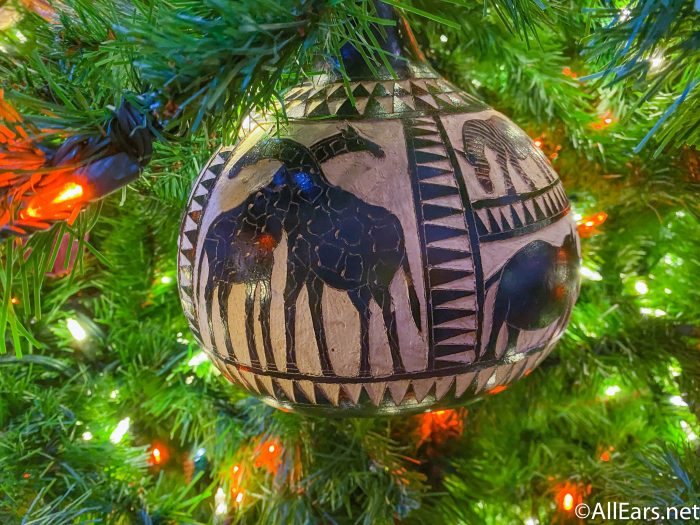 We love how unique…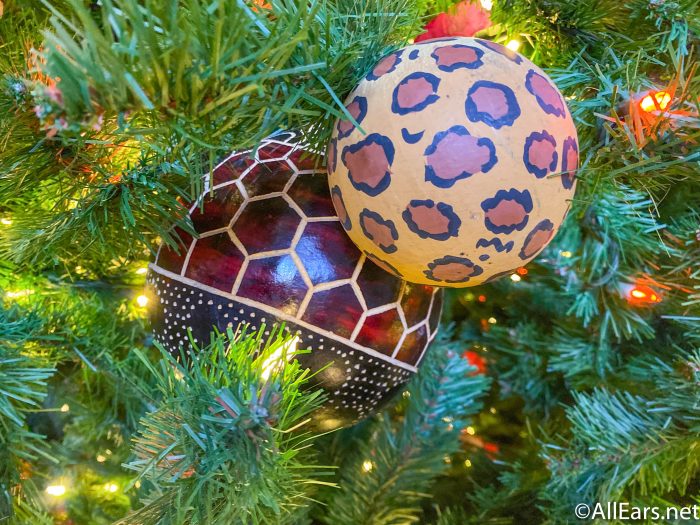 …and beautiful these ornaments are. They truly feel "at home" in this resort.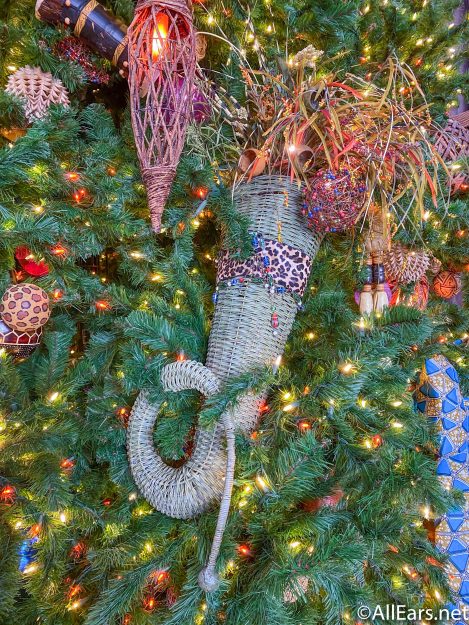 But the main lobby tree has a bit of competition nearby! Over at Kidani Village at Animal Kingdom Lodge (a Disney Vacation Club resort), you'll find a beautiful tree toward the end of the lobby with some bows on it…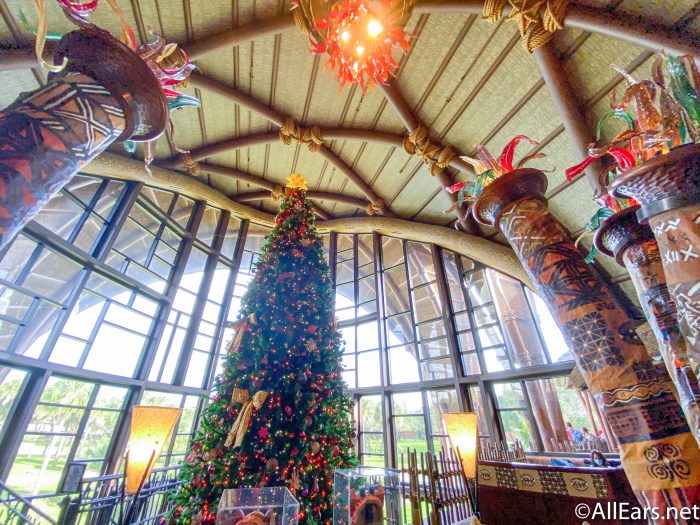 …and, of course, more unique decorations.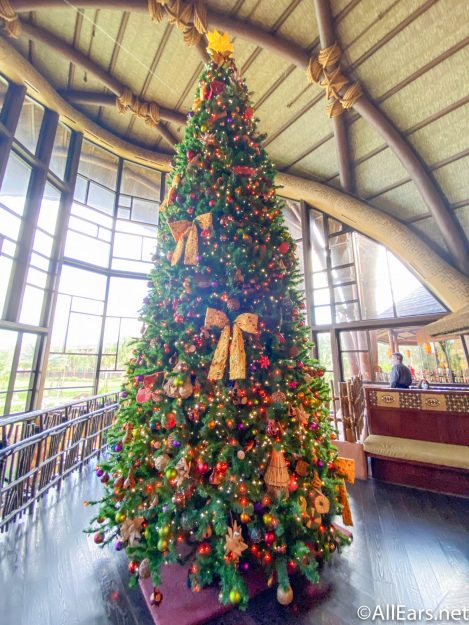 Disney's Saratoga Springs Resort and Spa
Saratoga Springs isn't being left out of all the fun, though! This hotel is racing toward Christmas at full speed with its series of small but adorable Christmas trees.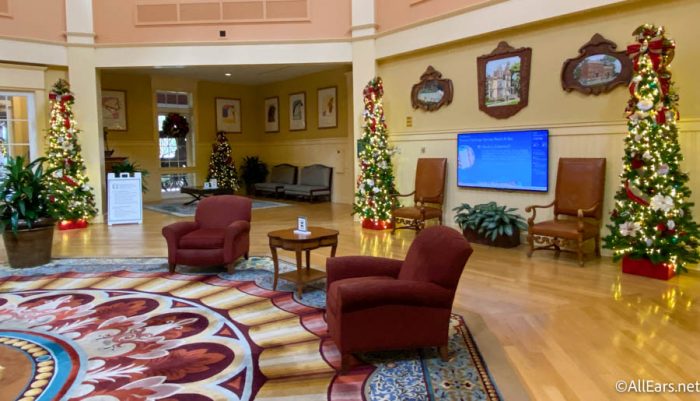 The decorations on these trees are really great. It's such a fantastic reminder that no detail at Disney is overlooked, down to the smallest ornaments.
Disney Springs
Finally, we're making our way over to Disney Springs for more holiday fun. This year, Disney Springs has brought back its Disney-themed trees with the Christmas Tree Stroll.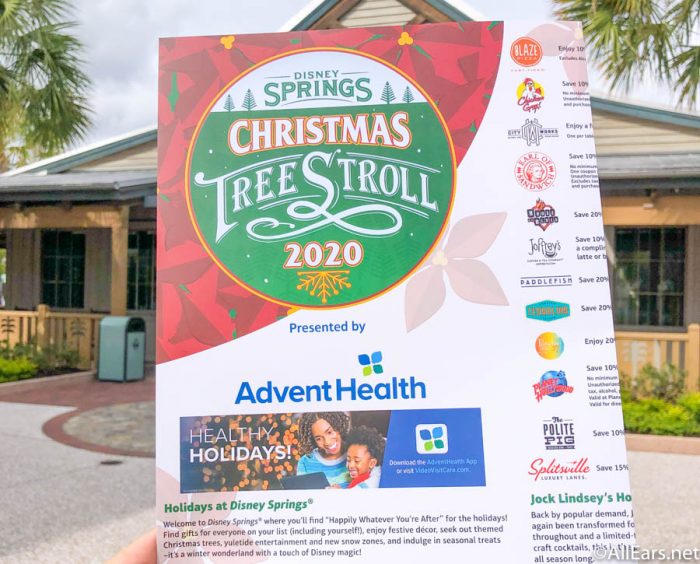 You'll definitely want to get a map so you can make sure you don't miss single tree. If you place the right stickers near each of the trees (indicating where you found them), you can actually get a FREE prize as well!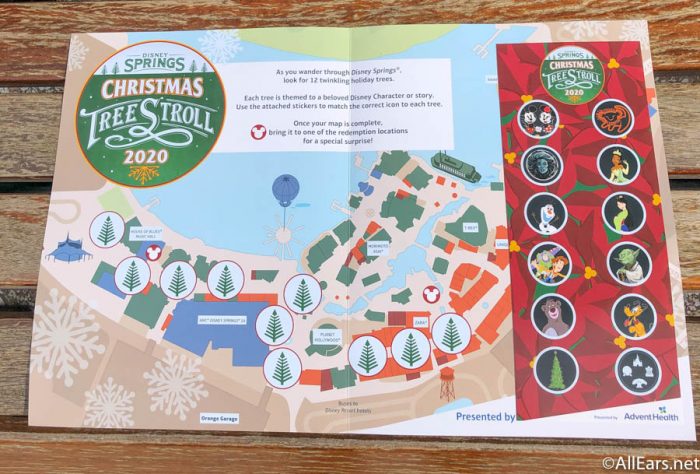 We won't reveal where each of the trees are so you can do the scavenger hunt on your own, but we are going to go through most of the trees one-by-one now so if you don't want to spoil any of the surprise, then be sure to scroll down to the end of the article!
Ready to see these gorgeous trees? Let's go! There are 12 trees in total as part of the "Stroll," including the Mickey & Minnie Tree…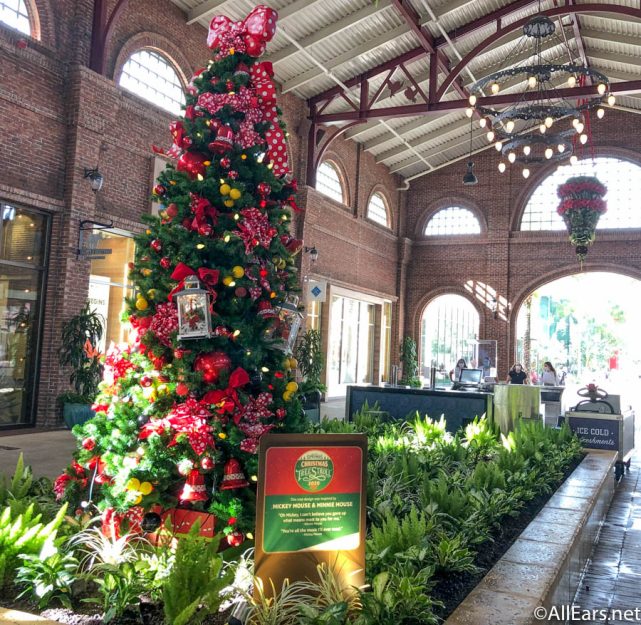 …The Lion King tree…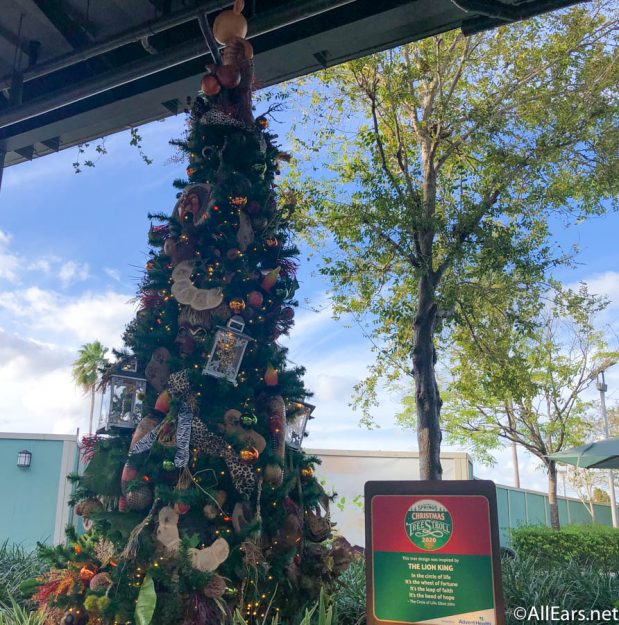 …the Haunted Mansion tree (with a GIANT bride on it!)…
…a Frozen tree…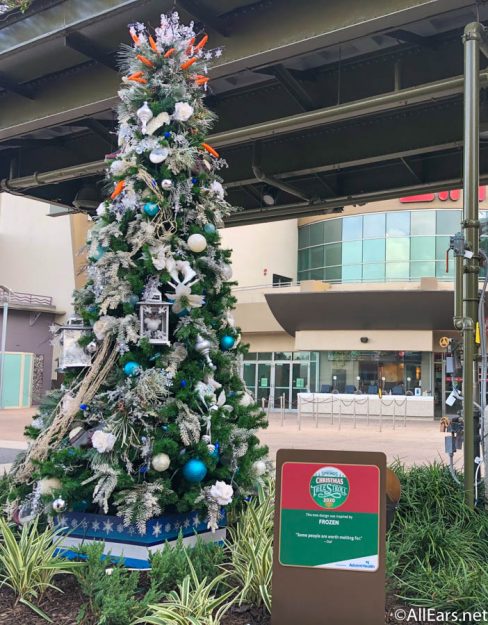 …the Mulan tree…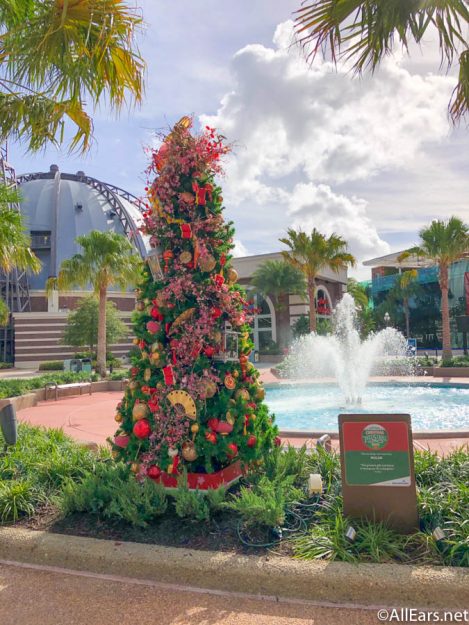 …a Star Wars tree…
…a Fantasia tree…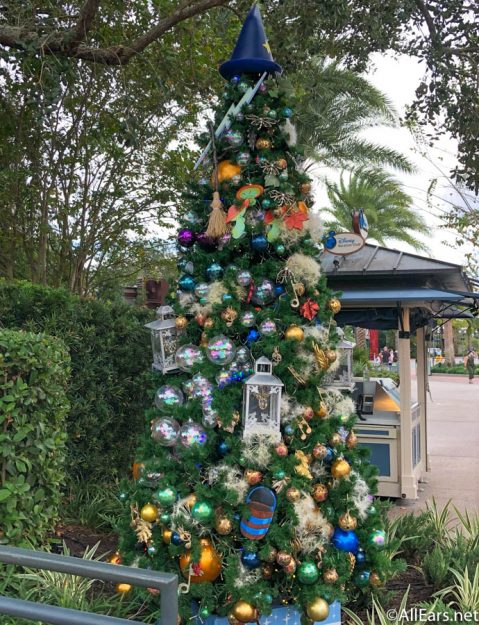 …a Disney Parks tree with all kinds of park icons…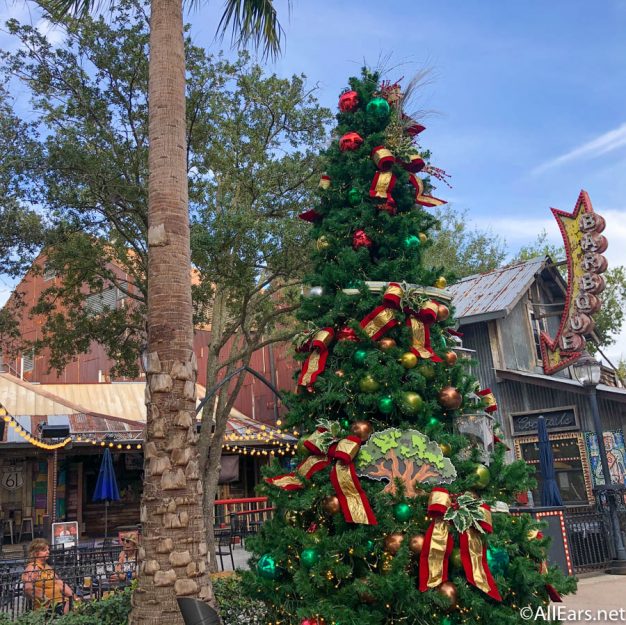 …a Pluto tree, a Toy Story tree, a The Princess and the Frog tree, and, finally, the Main Christmas Tree.
But, those aren't the only trees around Disney Springs! You'll also find one large one in Town Center. You can watch a video of the team putting up this tree overnight here!
There are also some smaller trees in some of the stores, like Marketplace Co-op. But perhaps most importantly (although not a tree) there is SNOAP in Disney Springs!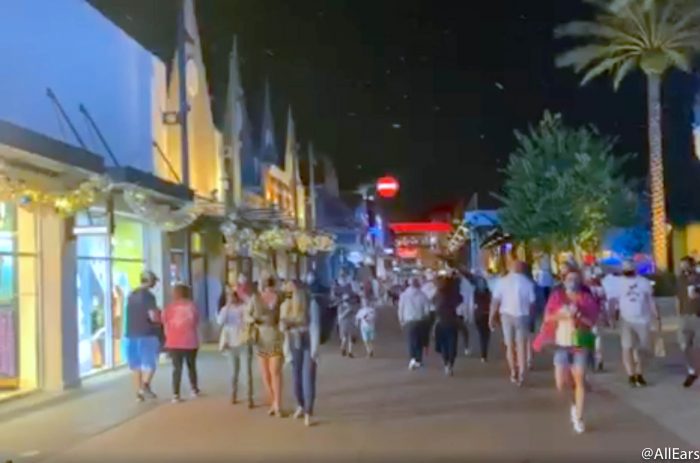 Is it the holidays in Disney World if you don't catch some snoap in your hand and dance around like you're walking in a winter wonderland?!
Lots of holiday decorations are still going up all around Walt Disney World, so be sure to come back for more updates! We'll continue to add to this post as we spot more Christmas trees in the parks, resorts, Disney Springs, and more.
Which Christmas tree in Disney World is your favorite? Let us know in the comments!
Join the AllEars.net Newsletter to stay on top of ALL the breaking Disney News! You'll also get access to AllEars tips, reviews, trivia, and MORE! Click here to Subscribe!