I've never been a fan of heights. Put me anywhere that's 20 feet or more above terra firma and little beads of sweat start forming on my forehead.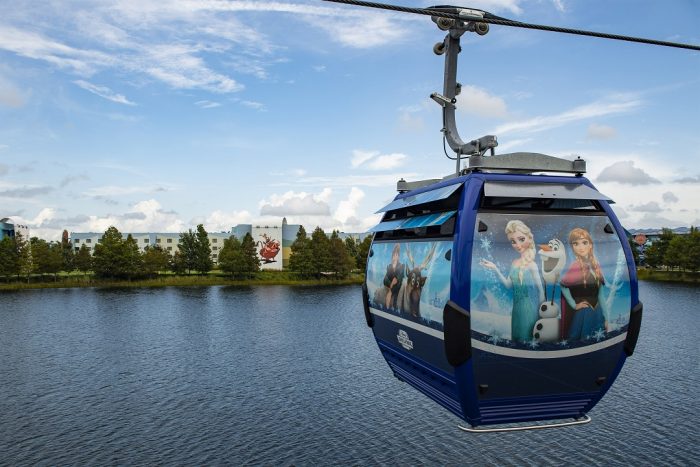 Unfortunately for me, fear of heights has come into play over the years on a number of popular attractions at Walt Disney World.
For example, on Soarin', the popular virtual hang-gliding experience in The Land pavilion at Epcot, I have an issue with the fact that your feet are dangling from a cramped bench up to 60 feet above ground, with nothing more than a seat belt holding you in place.
The last time I worked up enough nerve to go on Soarin', maybe seven years ago, I insisted on sitting in the bottom set of benches [which rise "only" about 45 feet up] and at the end of the row, where I thought I would feel more comfortable by being able to stretch my arm out over the side.
It didn't work. I ended up alternating between closing my eyes and staring up at the feet swaying above me before the ride came to a merciful end.
Never again, I promised myself. After all, I reasoned, these rides are supposed to be fun, not semi-terrifying.
Curiously, I don't have the same issues with Flight of Passage in Animal Kingdom, even though it employs a similar ride philosophy – elevated guests eased out into a giant domed screen.
For me, the big difference between Soarin' and Flight of Passage is that, rather than having your seat rise from ground-level up into the dome, you walk up subtle inclines in the queue before climbing stairs and finding your ride vehicle, which in this case, is a "link chair."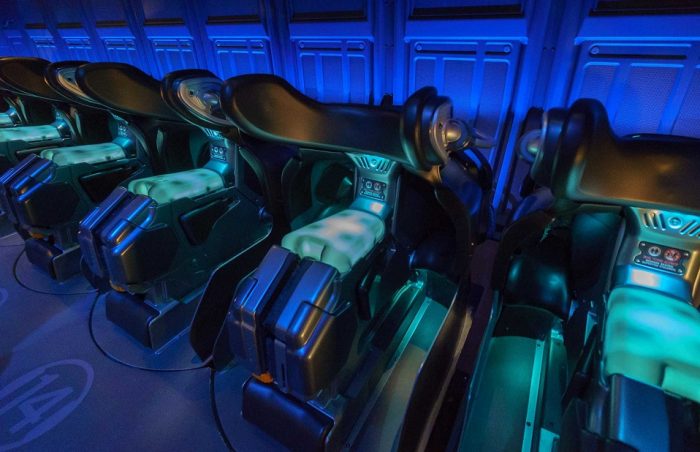 Your link chair comes with nice, sturdy handgrips as you lean forward as if riding on a motorcycle. There's even a soft cushion to rest your stomach and ribs.
And your feet don't dangle – your legs fit securely into an enclosure. The restraints that close in on your back and sides somehow make me feel even more secure.
Magic Kingdom Skyway started it all
My fear of "Disney heights" goes all the way back to the Magic Kingdom Skyway.
That attraction gave guests panoramic views of Tomorrowland and Fantasyland while they were seated in tiny gondolas hanging from cable wires suspended 30 to 40 feet in the air.
The Skyway was up and running on opening day in 1971 and lasted until 1999.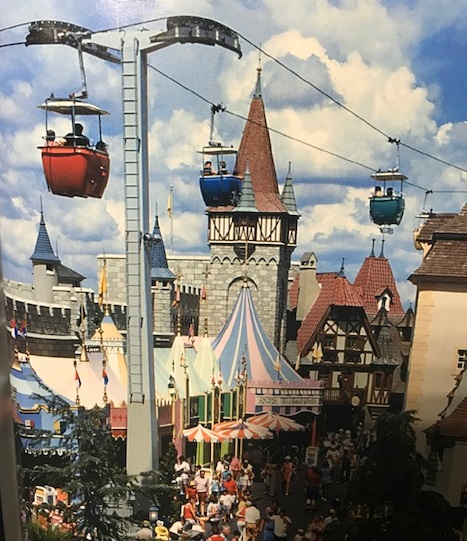 There were two boarding stations, one designed to fit the futuristic stylings in Tomorrowland, while the other, in Fantasyland, was modeled after a Swiss chalet.
I grew to truly dislike the Skyway, to the point where I simply referred to them as The Devil Buckets. Like Soarin', I refused to ride them, despite pleas from my wife.
Yes, you did get to see the Tomorrowland Speedway, Space Mountain and 20,000 Leagues Under the Sea's lagoon, as well as the folks milling around "it's a small world" and Peter Pan's Flight, from above.
But to me, the gondolas were too small and seemed awfully unsteady, especially when certain members of your party would attempt to sway them from side to side.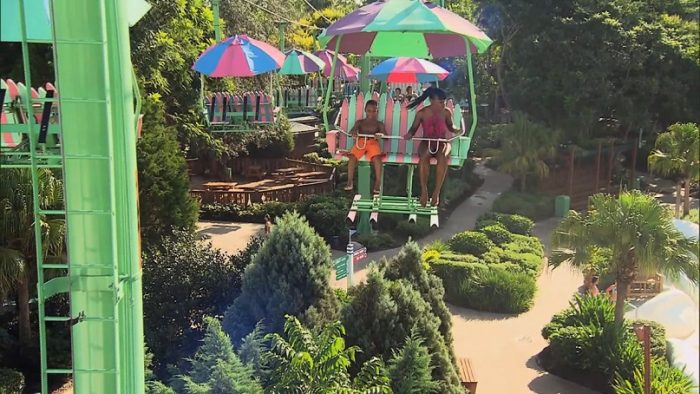 There's a ski lift located in Blizzard Beach that does little to allay my fear of Disney heights. I've ridden it once to the summit … and suffice it to say, I prefer using the long and winding stairs to reach the top, even in 90-degree heat.
Imagine how "thrilled" I was when it was announced a few years ago that a new gondola system, the Disney Skyliner, was in the works on WDW property.
I called them The Devil Buckets 2.0 and waited with indifference during their construction.
Skyliner route covers large areas of WDW property
Unlike the Skyway, which was confined to the Magic Kingdom, the Skyliner route covers a large swath of WDW property, from Epcot to Hollywood Studios, with stops at Disney's Art of Animation, Pop Century, Caribbean Beach resorts and the new Riviera Resort.
The Skyliner opened to much fanfare in late September and wouldn't you know it – there was a malfunction a few days after it started operating!
I now had the perfect excuse why I shouldn't ride them. Who, in their right mind, wants to get stuck dangling from an elevated wire for any length of time?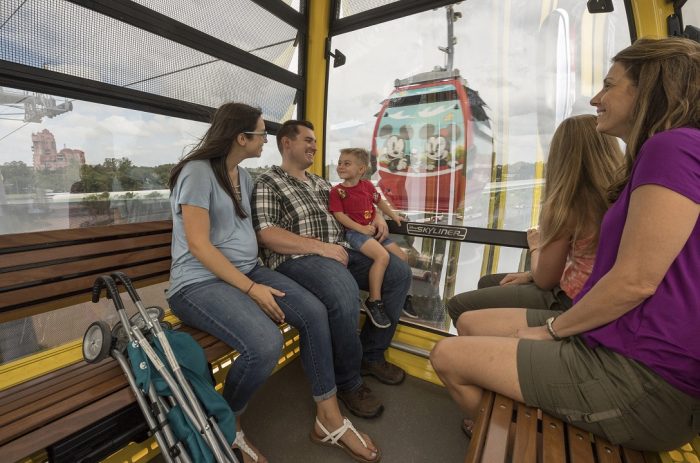 So there we were, back in mid-November, enjoying a cup of coffee in the Disney Vacation Club lounge in the Imagination pavilion with our friends Gail and Julian, when one of us [not me] suggested that maybe we should walk over to the Skyliner station at Epcot's World Showcase entrance and give the gondolas a try.
I have to admit, I found the idea of enjoying panoramic, behind-the-scenes views of vast swaths of Disney property quite intriguing.
I agreed to give the Skyliner a try
Maybe it was the caffeine, but I was uncharacteristically agreeable to give the Skyliner a try.
We walked over to World Showcase, exited the park near England and made a quick right to the new station. We waited a few short minutes before boarding our slowly moving gondola. The bench seats were comfortable, with plenty of leg room.
The gondola exited the station and began the long, steady climb upward.
By the time we reached our "cruising altitude," I was enthralled by the view of the construction site behind the France pavilion. That's where the much-anticipated Ratatouille attraction is taking shape [it's scheduled to open during the summer of 2020].
Great views of WDW backstage areas
There also were heretofore unseen views of Epcot's backstage area, the new Guardians of the Galaxy: Cosmic Rewind show building, lakes, canals and plenty of treetops.
The ride itself was smooth and, I have to admit, quite relaxing. The air flaps were open and plenty of fresh air streamed into the cabin.
After about 10 minutes, we passed through the Riviera Resort station and then on to the massive Caribbean Beach Resort station, where we had to disembark and board another gondola headed to Hollywood Studios.
Had we chosen, we could have boarded a gondola bound for the Art of Animation and Pop Century resorts.
The Caribbean Beach station reminded me of a major transportation hub, it was that large and bustling.
We quickly boarded a waiting gondola and made our way over to Hollywood Studios, where we got off and headed over to the new and vastly improved Studios bus depot.
Disney Skyliner gets high marks
All in all, I give the new Disney Skyliner high marks, which is high praise from someone who has a tendency to shy away from anything that's … well, high up there.
The one question I have is whether it will be cool enough inside the gondolas during summer's heat and humidity. The powers that be at Disney insist they will be.
I guess we won't know for sure for another few months.
But for now, the sky's the limit on Disney's Skyliner.
Join the AllEars.net Newsletter to stay on top of ALL the breaking Disney News! You'll also get access to AllEars tips, reviews, trivia, and MORE! Click here to Subscribe!

Are you not a fan of heights as well? How does the Skyliner fit into your Disney plans?