He arrives for work at Disney's Hollywood Studios at the crack of dawn, hours before any guests pass through the park's main gate.
He puts in crazy-long hours under intense pressure, supervising dozens of craftsmen and technicians, media and show teams, guiding them through the painstaking process of bringing his years-long vision to life.
He's pretty much confined to the work site – the Chinese Theater, which once housed The Great Movie Ride attraction – meaning his food consumption would make a dietician cringe … with snacks, junk food and coffee usually topping his list of daily "staples."
He often heads back to his room hours after guests have left for the night and the park is closed.
It's a typical day in Kevin Rafferty's life and has been for months.
But he wouldn't have it any other way.
Walt Disney Imagineering's creative executive is in the home stretch of delivering on his latest, much-anticipated Disney theme park attraction: Mickey and Minnie's Runaway Railway, due to open March 4.
Kevin Rafferty's Impressive Resume
For anyone not familiar with Kevin Rafferty's resume, here's a partial list of the attractions he helped bring to life:
It's Tough to be a Bug, The Twilight Zone Tower of Terror, Test Track, Toy Story Midway Mania, MuppetVision 3D, Typhoon Lagoon, Blizzard Beach, Radiator Springs Racers and all of Carsland.
So when the affable Rafferty tells you that the new attraction — the first-ever Disney park attraction to feature Mickey Mouse in a starring role — is his hands-down favorite, it means something. Actually, it means a lot.
"Mickey and Minnie's Runaway Railway checks every box," Rafferty told me a few weeks ago during a rare break over coffee in the shadows of the Trolley Car Cafe.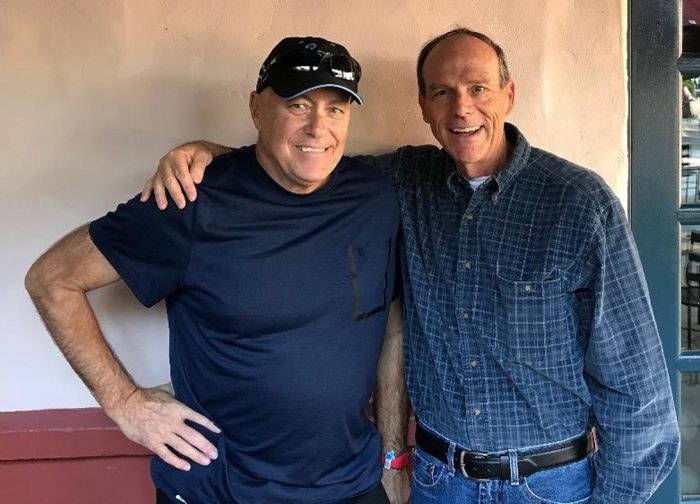 "It's just so much fun. What a great capper to my career as an Imagineer to be the one to be responsible to deliver the first Mickey-themed ride-through attraction ever. And we're using a lot of new technologies and a lot of new things.
"It's got a great theme song and it's just been a blast. I know we have something very special here. So, it's my favorite attraction and it's not even open yet."
Yes, we know, Mickey and Minnie's Runaway Railway is replacing Hollywood Studios' beloved Great Movie Ride.
The Need for New and Exciting Adventures
"We know that a lot of guests took ownership of The Great Movie Ride," Rafferty said of the cinema-attraction that had entertained guests since the park opened as the Disney-MGM Studios in 1989.
But as the late Marty Sklar, Imagineering's former leader, often said: "We aren't a museum. We have to keep coming up with new and exciting adventures for our guests."
If Rafferty has one regret as the new Mickey attraction speeds toward its early 2020 opening, it's that Marty Sklar, who died in 2017, won't be around to see it.
"I promised Marty – and myself – years ago that I was going to come up with an attraction with an original story and a memorable theme song," Rafferty said. "And every time I'd see Marty, he'd ask me, 'How that's attraction coming?' It breaks my heart that Marty won't be here to experience it."
While Mickey and Minnie's Runaway Railway will feature an original story and theme song, it also will lean on Disney history.
Jimmy Macdonald, the voice of Mickey Mouse for more than three decades [after Walt Disney himself passed the vocal baton] also was a sound effects wizard whose work appeared on decades of Disney's films, from the early cartoon shorts to animated full-length classics, spanning the 1930s into the 1970s.
Macdonald was not only proficient at sound effects, but more often than not, he created his own gadgets and gizmos to recreate just the right effect that was needed. His collection included more than 500 hand-made contraptions/
[Rafferty tells a great story in his Disney Editions book, Magic Journeys, about how he and fellow Imagineer Joe Herrington conducted a covert operation to rescue Jimmy's collection, which at the time was bound for the scrap heap].
Some of the original sound effects props created by Macdonald will be used in Mickey and Minnie's Runaway Railway, "including the shrieking whistle used in Steamboat Willie," Rafferty said proudly.
Chris Diamantopoulos supplies the voice of Mickey in the new attraction ["Chris was a great pick for Mickey because he needed to be able to sing, as well," Rafferty said], while the late Russi Taylor voiced Minnie in what turned out to be her final role ["Russi saved her best Minnie performance for last," Rafferty added].
Rafferty introduced the world to Mickey and Minnie's Runaway Railway at the D23 Expo in 2017. Nearly 7,000 Disney fans were in attendance at the event. Among them, seated front and center in the auditorium, was Marty Sklar.
The new attraction can be seen as an outgrowth of the re-imagining of Disney's California Adventure in Anaheim a few years ago. The idea for that project was to show California as it looked to Walt Disney when he first stepped off the train in the summer of 1923 in pursuit of his cinematic dreams.
The Realization of Walt's Dream
Once California Adventure's transformation was complete, Disney's creative team decided to take a hard look at Disney's Hollywood Studios in Florida. It was decided that Hollywood Studios would showcase the realization of Walt's dreams.
One of the early concepts explored by the Imagineers was an area of the park to be known as Mickeytown USA. It was to be placed near the Fantasmic! amphitheater and would feature an attraction showing the latest Mickey Mouse short cartoon. It would be set in a movie theater.
"We envisioned some kind of a water-themed ride with seats that felt as if they were buoyant," Rafferty said. "You'd be speeding along in rapids and then you'd reach a waterfall."
That concept didn't hold any water, and the higher-ups were about to pull the plug on a Mickey-themed attraction when Rafferty asked for a 30-day stay of execution. " 'Give us 30 days and we'll come up something,' I told them. I was not going to let this go."
After 30 days, Rafferty and his team had come up with Mickey and Minnie's Runaway Railway. "They loved it!" he said. They also loved the idea of setting the attraction in the Chinese Theater.
It's been pedal-to-the-metal ever since for Rafferty.
In the Final Stages of Construction
As he enters the final phase of the attraction's construction, "I'm working just about every day, 10- to 15-hour days minimum. We're in that phase of the project where the clock is ticking with so much left to be done. Suffice it to say I have not had much sleep lately, but it's all good! I love it!"
When work wraps up at Hollywood Studios on Mickey and Minnie's Runaway Railway, attention will shift to Disneyland, where a new building will be constructed in Toontown to house the California version of the attraction, where Rafferty will serve as a consultant on that project.
Rafferty, of course, isn't alone in the pursuit to bring a top-flight attraction to Hollywood Studios guests.
Giving Credit Where Credit is Due
"Every single Imagineer on my team here is a superstar," he said. "Truly, one of the best teams I've ever had the pleasure to part of and to lead.
"Our producer, Charita Carter, has done an outstanding job, as well as has our exceptional show manager, Thomas Niederhiser.
"Our technical director/mechanical engineer/inventor Ryan Adams has taken a lot of risks, and in doing so, has made a lot of new magic.
"But it is difficult to single anyone out because everyone one this team has risen to the occasion and then some. We all know we have something special here and we are all putting a lot of love into every bit of it."
In summing up what's going on under the roof of the Chinese Theater, Rafferty adds:
"Imagineering dreams come true because Imagineering teams come through!"
Join the AllEars.net Newsletter to stay on top of ALL the breaking Disney News! You'll also get access to AllEars tips, reviews, trivia, and MORE! Click here to Subscribe!

Are you looking forward to Mickey and Minnie's Runaway Railway? Let us know in the comments below.