Since its opening in 1971, Walt Disney World has seen a lot of changes. From new lands to exciting attractions to an entire park transformation, the "Most Magical Place on Earth" has only given its guests more reasons to feel the thrill of being a kid again.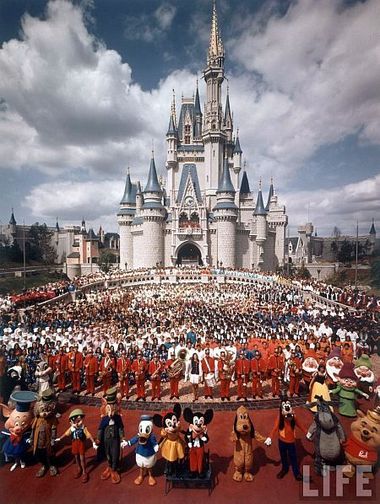 But with all the brand new attractions and features in the parks, what became of the rides that started it all? (Spoiler alert: some of them have disappeared!)
When Disney World opened, it had 19 attractions for guests to experience. Now there are over 60 rides, shows, and more for visitors to enjoy! And, some of those include the original opening attractions from the park (we're pretty grim grinning happy about it!).
Cinderella's Golden Carousel
Now called the Prince Charming Regal Carrousel, the elegant merry-go-round guests encounter in Fantasyland, has been around since the start. And, honestly, I think this is still one of the most magical experiences in all of Magic Kingdom (I can't help but smile as the music plays and the  horses gallop!).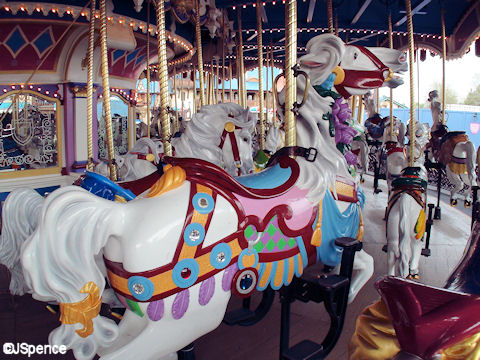 Yeehaw!! The Country Bears continue to hoot and holler in their Jamboree today in the parks… and they're kinda showing their age. Although they've been strumming and singing for almost fifty years, it might be time for this band to take a break and make way for something new. Not gonna lie: the Country Bears kinda make me feel a li'l uneasy. (Am I the only one who goes the opposite direction when they're out walking in Frontierland??)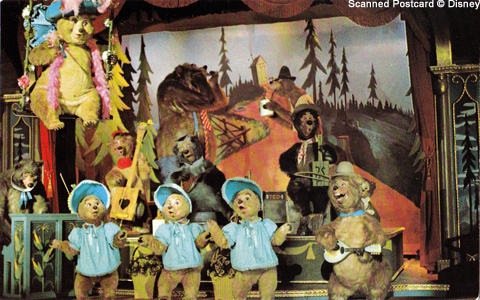 Diamond Horseshoe Revue
Back in the day, guests were able to watch Western shows complete with plenty of music and laughs at the Diamond Horseshoe Revue. In 2016, however, the show was closed, and the Diamond Horseshoe was revamped into a table service restaurant. I think that it could benefit from a little entertainment, though, because there are better places to eat around Magic Kingdom, and it needs that added draw.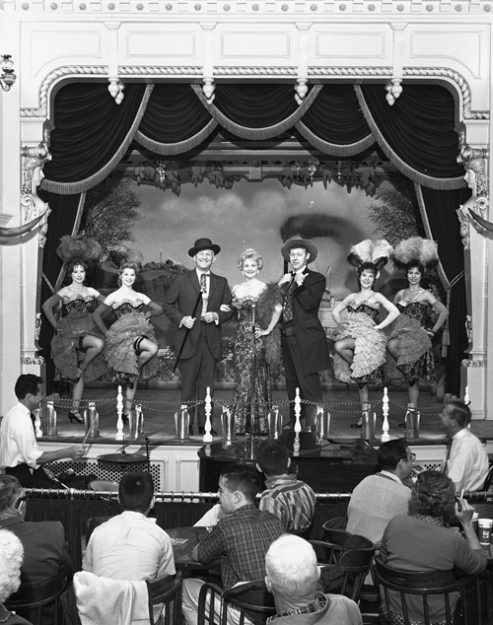 We're soarin,' flyin!' Dumbo has been letting guests take a high-flying ride around Magic Kingdom since the park opened. Now located in Storybook Circus, Dumbo still has one of the best views of the entire park; you can spot attractions and lands all over the Kingdom.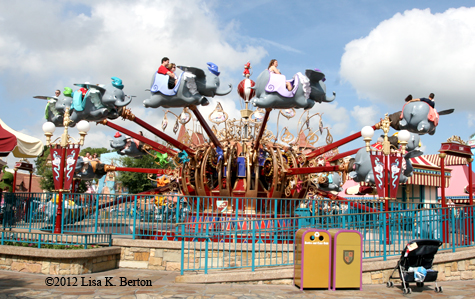 You can spot shooting galleries at basically every fair and theme park in the U.S.A., and the Frontierland Shootin' Arcade is no different! Even though this has been around for a while, I'll be honest: I don't think I've ever seen anybody play a game here in all the years I've been going to Disney World. Do any of you play at the Frontierland Shootin' Arcade while you're in the park? It's kind of amazing that it still exists, tbh.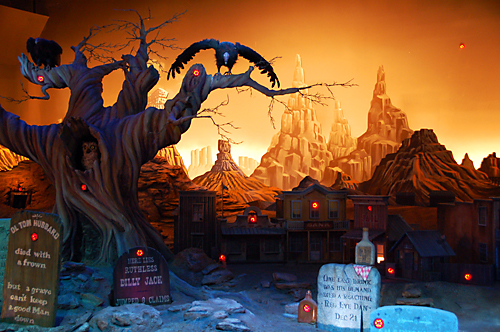 Grand Prix Raceway
After a few little tweaks, the Grand Prix Raceway became known as the Tomorrowland Speedway in 2008, but it's been racing around Tomorrowland since 1971. I can't help but love this ride, especially since it's actually more fun to let the car drive itself while you put the pedal to the metal. Tomorrowland Speedway's track was adjusted earlier this year to make way for the TRON Coaster coming in 2021, but it's still racing through our hearts.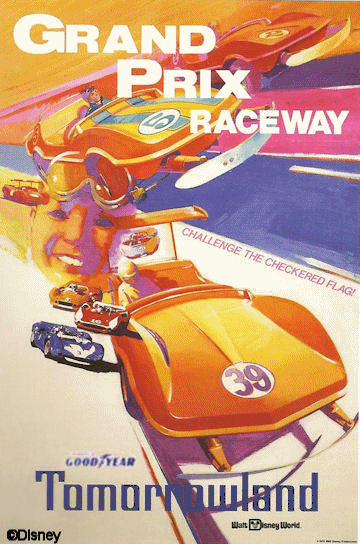 Since we are definitely up a few Presidents since 1971, the Hall of Presidents has changed a bit over the years to reflect the changing leadership in our country. Regardless of this being an important historical addition to Magic Kingdom, it's one of the attractions that many guests use to cool off in during the Florida heat. (I've even spotted a few tired visitors taking a nap during the show's roughly 23 minute span.)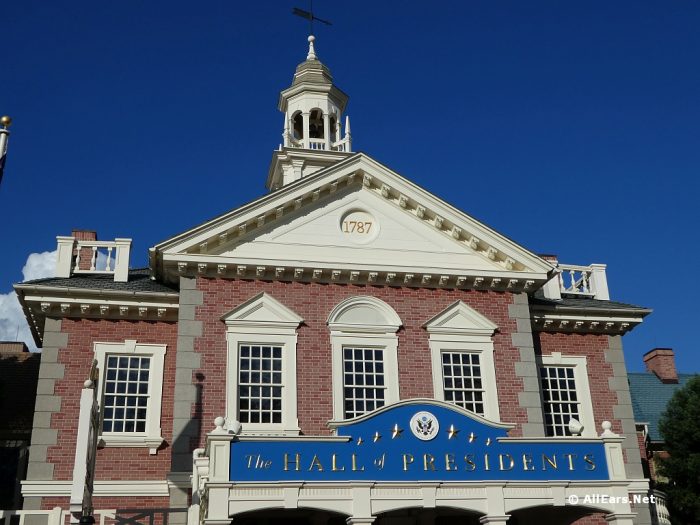 Located in Liberty Square, the Haunted Mansion is one of the most iconic attractions in Disney history. Guests are sure to have hot-and-cold running chills on this ride as they travel through the Mansion to catch the happy haunts in their swingin' wake or the Hitchhiking Ghosts trying to follow you home from your Doom Buggy. This attraction is the spookiest spot in all of Magic Kingdom (and I can't get enough of it!).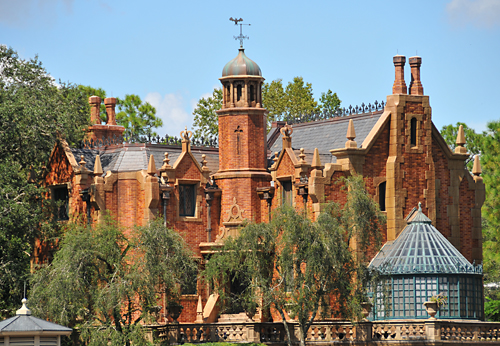 "Tiny, but mighty" doesn't even fit the power of song and cheer in it's a small world. The sweet animatronics from countries around the world have become a staple in American culture. From the atmosphere to the bright colors, I am pretty sure that this ride can help put anybody in a good mood! Plus, who doesn't love singing along with the title song??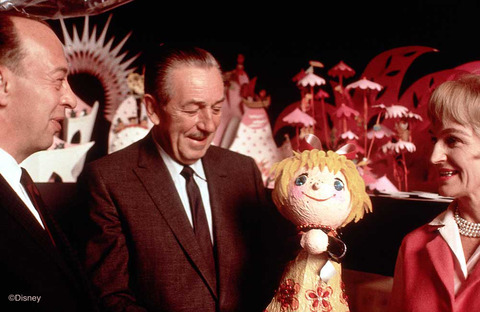 As you travel next to the backside of water, your tour guide on your Jungle Cruise expedition will fill your voyage with lots of laughs. Although sometimes the scenery can be a little bit corny, I think the best part of this attraction is how every skipper adds a little bit of his or her own flavor to the ride. I've had vastly different cast members during my voyages on the Jungle Cruise, some of which had me hysterical with laughter and some of whom… not so much. Think about it — if the park opened in 1971, how many skippers have there been?! Fun fact: Walt Disney was the very first skipper himself (at Disneyland, of course!)!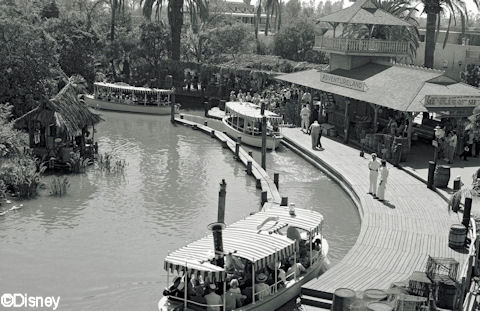 This ride has seen a few changes in the last 50 years, but it's still just as much of a blast! Whether you sit back and enjoy the ride or spin it as fast as you possibly can, the Tea Cups are one of the most memorable attractions in Disney World. (Plus you can snap some really cute pics if you time them right!!)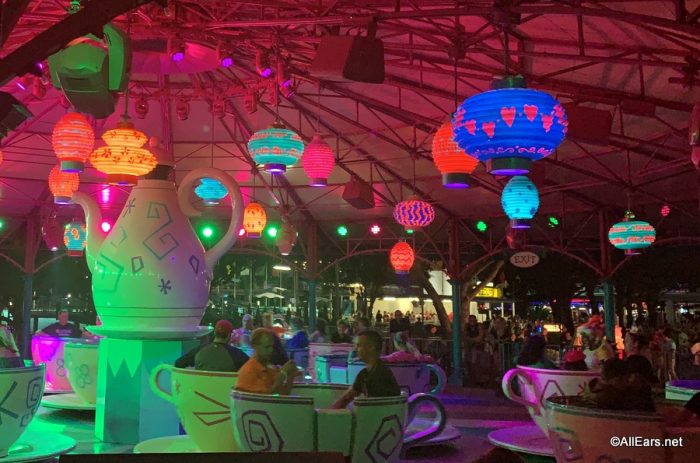 Similar to the storyline of PhilharMagic, the Mickey Mouse Revue was an audio-animatronic show that featured Maestro Mickey conducting an orchestra made up of characters from other Disney films. While the show ended in 1980 in Disney World, it was relocated to Tokyo Disneyland for the park's opening in 1983.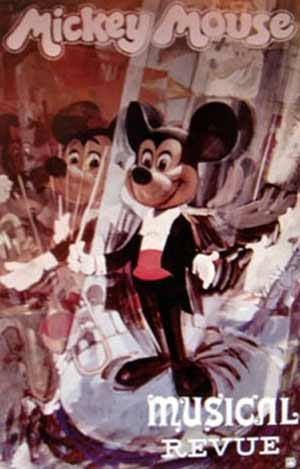 The Keel Boats were boats you could sit inside of or on top of as you traveled the Rivers of America. They were based on the Disney shows featuring Davy Crockett, and they officially closed in 2001. However you can still spot the dock today as a little piece of history from the early Magic Kingdom park. It was even used as a FastPass+ kiosk at one point!
Racing around corners, across a dock, and even traveling to the afterlife to visit the hot depths of — well, let's just say that Mr. Toad wasn't exactly an angel — Mr. Toad's Wild Ride was a crazy time. While guests can still ride it in Disneyland, the Disney World counterpart has since been redone as The Many Adventures of Winnie the Pooh. (RIP to Mr. Toad… literally.)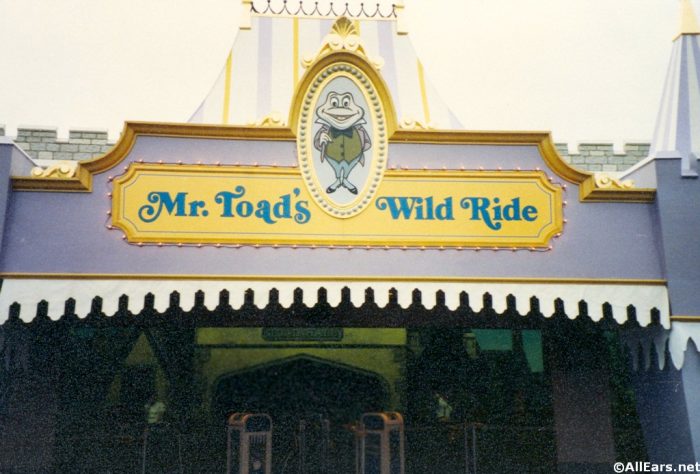 From 1971 until 1999, the Skyway was a gondola attraction that had its stations in Tomorrowland and Fantasyland. You can still spot the stations in Magic Kingdom as the Tomorrowland Station is used as a restroom location and the Fantasyland Station has now been transformed into the Tangled bathrooms. If this Skyway sounds just a bit similar to a new Disney World transportation system, you're completely right! The Skyliner Gondola System opened September 29th (!!!) at Hollywood Studios, Epcot, and multiple Disney World resorts is basically an updated version of the park's original attraction. We're on to ya, Disney!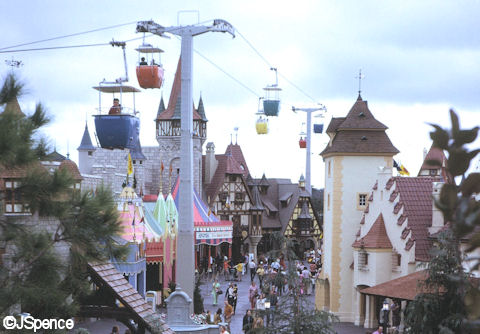 Looks like Disney World foiled the Evil Queen's plans to hand out some poison apples 'cause Snow White's Scary Adventures isn't taking guests on its spooky journey anymore. Princess Fairytale Hall now stands where the ride once did. So instead of seeing animatronic Snow White, you can meet other Disney Princesses like Rapunzel and Tiana!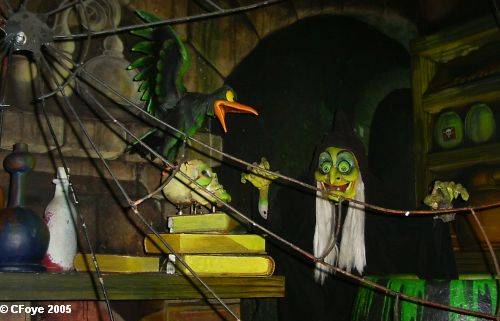 Buuut if you're really missing Snow White's Scary Adventures, hop on Seven Dwarfs Mine Train and keep a look out at the end. There's a certain party scene and witch that look very familiar. (;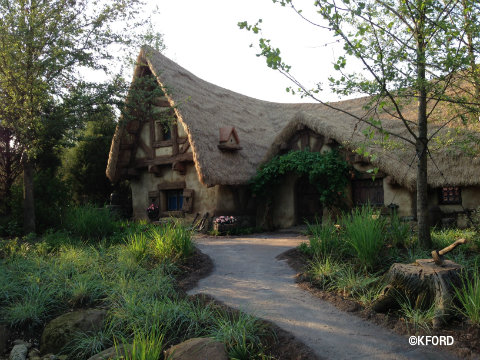 Based off the Swiss Family Robinson film, the Swiss Family Treehouse is a 60 foot tall and 90 foot wide tree that looks like the treehouse of every kid's dreams. While the theme in Disneyland was changed to Tarzan's Treehouse to fit the Adventureland atmosphere, the Treehouse in Disney World might be getting a little outdated once again with the incredible technology being implemented in the parks. Some extra pixie dust could definitely spruce this attraction right up, don't you think?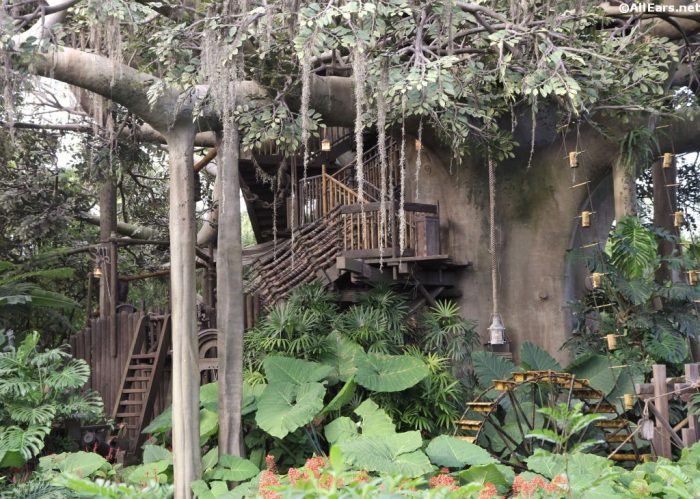 Better known as Walt Disney's Enchanted Tiki Room, the Tropical Serenade was a place where birds sang words and the flowers crooned. The attraction was temporarily changed to incorporate Iago from Aladdin and Zazu from The Lion King. When that variation tanked, they got back to basics. Let's get real here — the characters' iconic voices make the attraction a perennial favorite. Plus grabbing a Dole Whip on the way out (or on the way IN!) makes visiting the Tiki Room a definite must-do.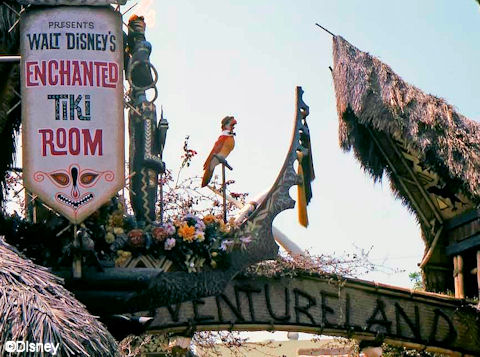 This is arguably the most classic attraction at Disney World. Traveling around the park, guests can view all the sights Magic Kingdom has to offer as they chug along on the red train named after different contributors who helped create Disney World. At the moment, visitors will have to wait to see Walt Disney World Railroad's steam billowing again as it is closed for TRON construction. Missing the sound of your whistle, old friend!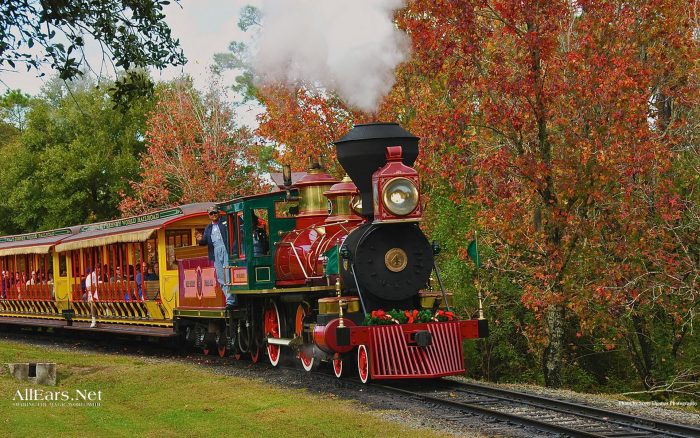 What is your current favorite attraction in Disney World? If you could bring any attraction back from the past, what would it be? Share with us in the comments!
Interested in Disney history and Imagineering details? Take a look at these recent posts: