Prince Charming Regal Carrousel Fantasyland Magic Kingdom
INTRODUCTION
An original Fantasyland attraction, Prince Charming Regal Carrousel (formerly Cinderella's Golden Carrousel) was built in 1917.
ATTRACTION
Approaching Fantasyland from Cinderella Castle, you will immediately see the Carrousel. Brightly colored horses — 90 of them! — and delightful Disney music will keep you smiling as you enjoy this gentle merry-go-round ride. The line circles around the carrousel, and your group can watch the riders enjoying themselves while they are waiting.
TOURING TIPS
The line moves at a steady pace as this ride is only two minutes in duration.
The Carrousel is open as one of the Magic Kingdom's Extra Magic Hour attractions.
This is a great place to relax in the shade for a few minutes.
Sit on the outside ring of horses for better photo opportunities.
Guests in wheelchairs/ECVs must transfer out to ride the Carrousel.
KIDS AND CHARACTERS
Most kids love this ride; there is nothing scary and the ride is very gentle.
Anatasia, Drizella and the Fairy Godmother can usually be found around the castle wall arches leading to New Fantsyland. Check the times guide.
Magic Kingdom Characters at a Glance
Character Meet and Greet FAQ!
DINING
Just across the way is the Pinocchio Village Haus counter service restaurant.
Magic Kingdom Restaurants at a Glance
Menus from around the World
Vegetarian and Other Special Diets
SHOPPING
There are no specialty shops associated with the Carrousel, but there is plenty of shopping in Fantasyland.
INTERESTING FACTS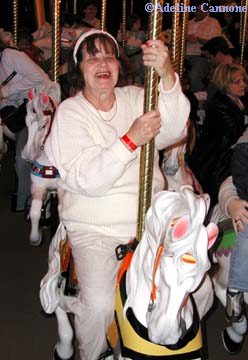 Prince Charming Regal Carrousel was originally known as Cinderella's Golden Carrousel. The name was changed as of June 1, 2010.
The Carrousel was built by the Philadelphia Toboggan Company in 1917 for the Detroit Palace Garden Park. At that time, it was red, white and blue, symbolizing the patriotism of the era, with figures of Miss Liberty. In 1928, the carrousel was brought back to Philadelphia for rehab. After rehab, its home for the next 39 years was Olympic Park in Maplewood, New Jersey.
It was discovered there by Disney when Maplewood closed in 1967. It was fully restored, with a new look celebrating the story of Cinderella in 18 hand-painted scenes on the canopy. The hard-maple horses are in five sizes — arranged from the largest on the outside to the smallest on the inside — 18 rows of five horses each. The band organ that adds music to the ride is part of the antique masterpiece. The carrousel restoration was completed in time for the opening of Magic Kingdom on October 1, 1971.
Each horse is completely unique, with its own pattern and color scheme and a number on the bridle.
There are 2,325 lights on the Carrousel!
Legend has it that the horse with the golden bow tied to its tail belongs to Cinderella!
If you have comments or tips to share with others about touring the Magic Kingdom, please send them to us. Thank you.