Hello there! Allow me to quickly introduce myself.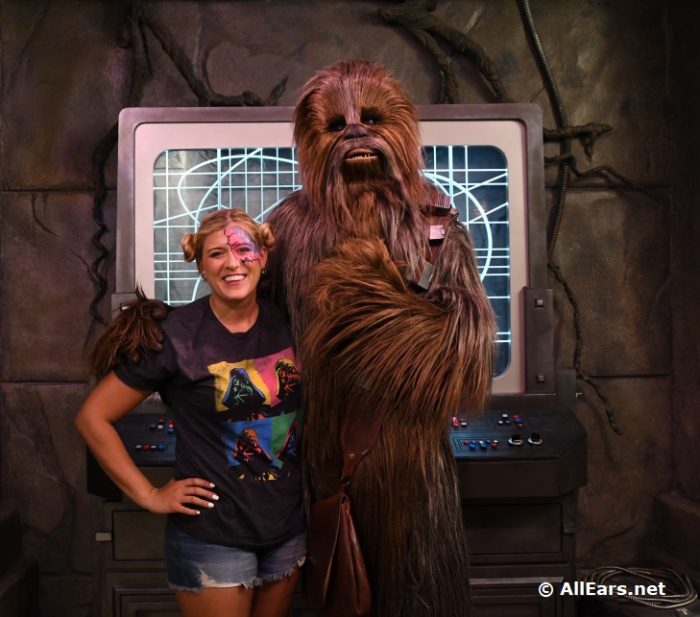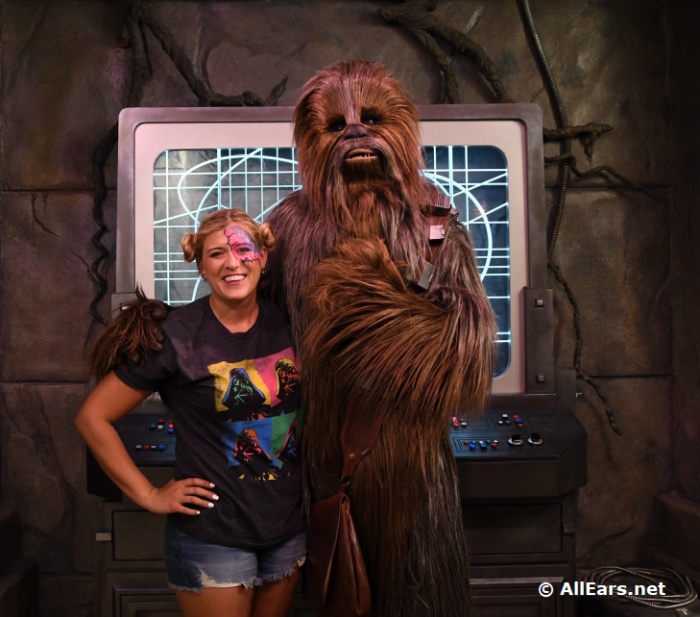 My name is Molly. I am a writer here at AllEars.net — and some of you may have seen me on AllEars TV. I am a lover of all things Disney, but there's something I must admit… I am not a lifelong Star Wars fan.
I grew up as more of a wizard (if you know what I mean), and I didn't actually see all of the Star Wars films until I started dating my husband, who was horrified that I didn't know what a tauntaun was!
However, after watching the original trilogy and the prequels I had to admit — these are some pretty darn good films (minus Episode 2, which was very pointless IMO)! Sure, I had to make up my own names for a few characters to keep everyone straight — Indiana Jones (AKA Han Solo), Big Furry Bear (Chewbacca), Princess Cinnabun (Leia), Space Mufasa (Darth Vader), Gold Robot (C-3PO) — but, overall, I got why Star Wars is such a HUGE craze. I fell in love with (some of) the characters, and I knew I'd be forever invested as to the fate of the galaxy.
Since then, I have seen the new films in the theaters on opening weekend, and found myself getting increasingly excited for Star Wars: Galaxy's Edge.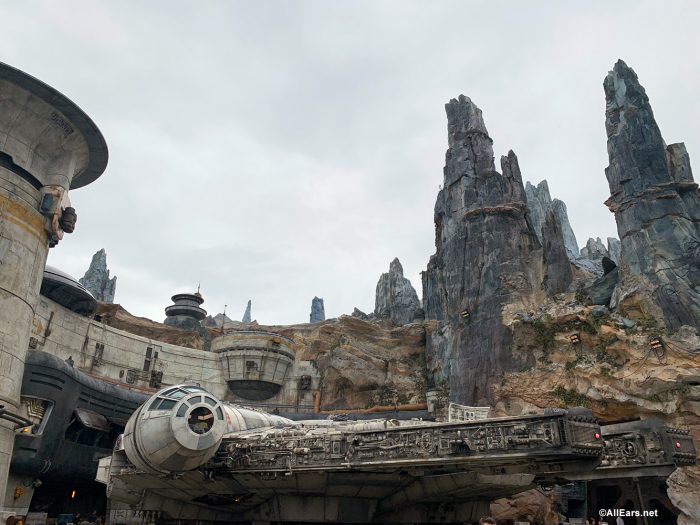 But I have to admit — I was also a little nervous. Sure, I've seen all of the movies and understand a fair amount about the galaxy far, far away. But would I really get it? Would I enjoy a trip to Batuu as much as someone who's been a lifelong, die-hard Star Wars fan? Or would the new land be totally lost on me — and thus, likely totally lost on a non-Star Wars fan?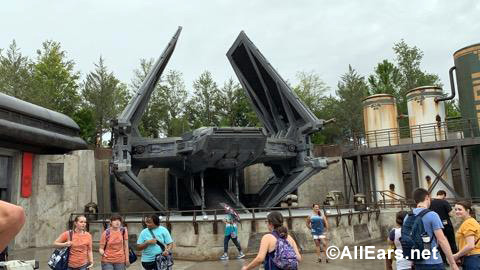 When I walked into the new land the other day, I had my answers. Or — at least my eyes did. As soon as I found myself fully into Galaxy's Edge, I immediately teared up. It was so overwhelming.  I completely forgot that I just passed by Muppet-Vision 3-D — I was ON ANOTHER PLANET.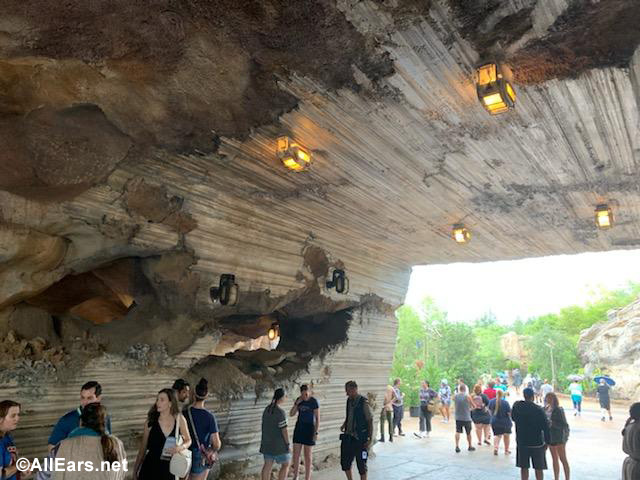 We immediately took to exploring, with Oga's Cantina first on the docket. The galaxy watering hole was amazing, with its music-spinning droid, other-worldly concoctions, and laid-back yet fun atmosphere. If I hadn't already forgotten I was in a Disney park, stepping into Oga's would CERTAINLY have taken care of that.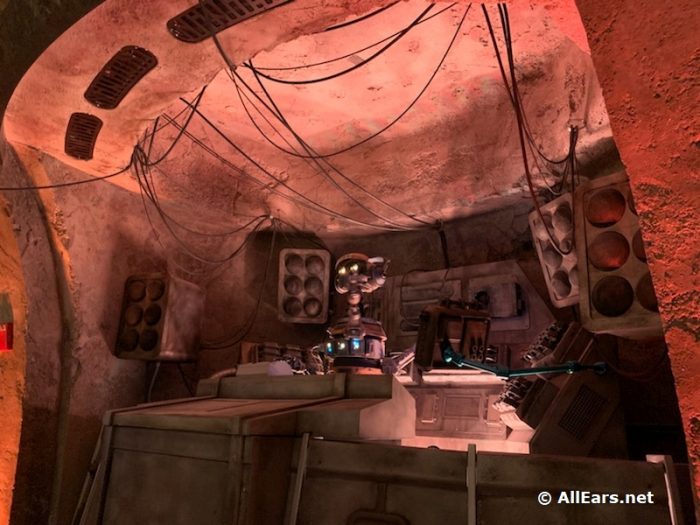 This is one of the places in Galaxy's Edge that I firmly believe EVERYONE will enjoy — especially those 21 and up. (There are really cool non-alcoholic drinks on the menu though, don't worry.)
This is a place for anyone who enjoys kicking back with a fun drink in a fun atmosphere. You absolutely do not have to know anything about Star Wars to enjoy Oga's Cantina. (Though if you do, you'll especially enjoy a few of DJ Rex's songs and the drink names.) All you have to appreciate is the fact that you're on another planet and having a good time.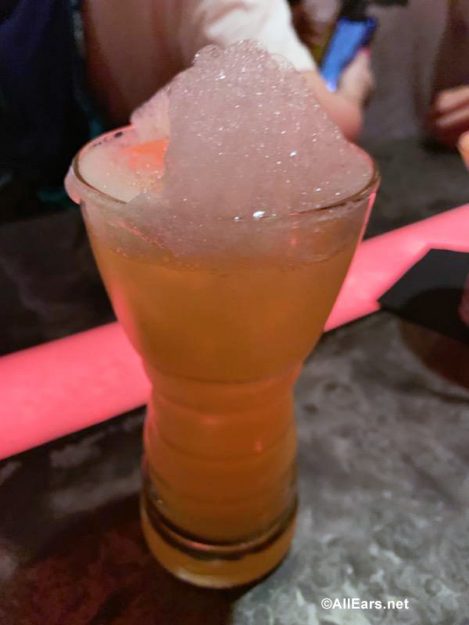 A few space cocktails in our bellies, it was time to head to the Millennium Falcon.
Millennium Falcon: Smuggler's Run is an all-new attraction for the land, and is currently the only ride in Galaxy's Edge. (Rise of the Resistance opens in December.) Smuggler's Run puts you inside the cockpit of "the fastest hunk of junk in the galaxy" and assigns you one of three roles: gunner, engineer, or pilot. The point of the attraction is to help Space Pirate Hondo Ohnaka smuggle an illegal but valuable substance. How well you perform actually affects the outcome of the attraction.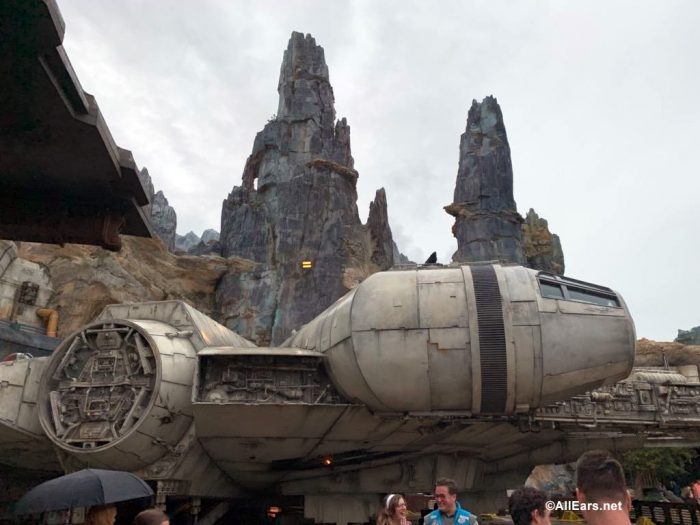 To me, Millennium Falcon: Smuggler's Run is a combination of Animal Kingdom's Avatar Flight of Passage and Epcot's Mission: Space. The technology is really cool, similar to Flight of Passage, but you take an active role during the flight a la Mission: Space (but kicked up a notch).
I was able to ride the attraction twice, once as Engineer and once as Pilot. As Engineer, the role is VERY similar to Mission: Space, as you're mainly responsible for pushing buttons when they light up. However, as the pilot, you're responsible for FLYING THE SHIP, therefore you're actively participating the entire time. Obviously, being the pilot is much more fun — and as a note, I was also less motion sick as the pilot. Perhaps because I was in the front of the ship, or perhaps because I was busy the whole time.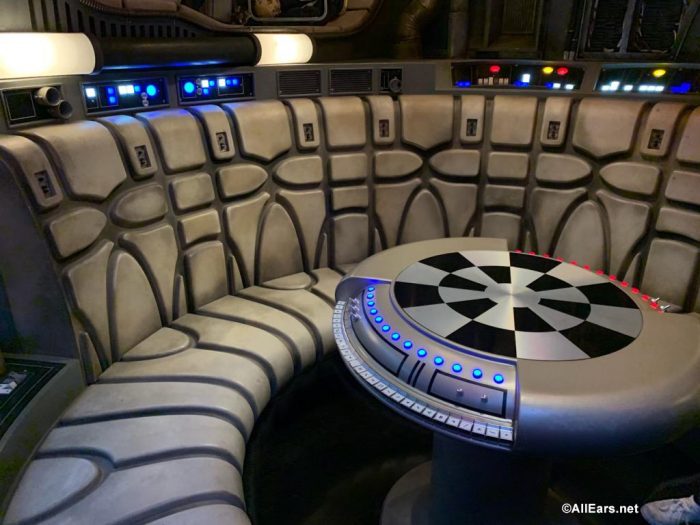 Overall, the attraction is VERY cool. But I do think people with at least a basic Star Wars knowledge will appreciate it more than people who have never even heard of the Millennium Falcon. And of course, the die-hard fans will likely be very busy geeking out over the chess room, the Han & Leia wall, and simply being on the ship that made the Kessel Run in less than 12 parsecs.
If you've never seen Star Wars, I think you will enjoy the attraction, but not as much as people who are slightly knowledgeable about the films. To me, this is a big difference from Flight of Passage, which seems almost equally enjoyable no matter if you've never seen Avatar or have seen it 100 times.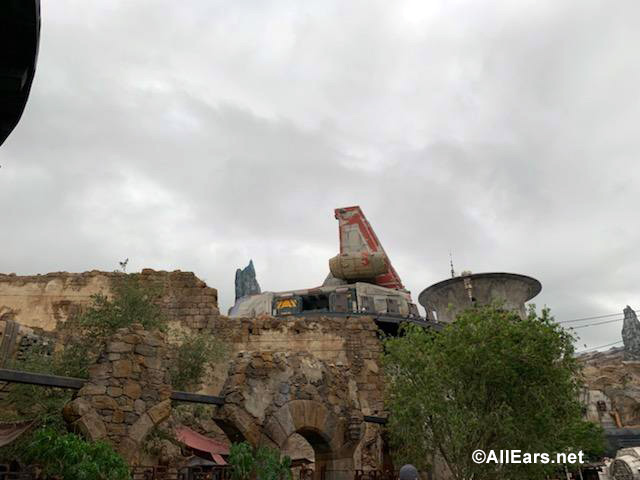 Next up — Galactic Eats. The main place to get a nosh on Batuu is Docking Bay 7 Food and Cargo. This is a quick-service restaurant that serves up dishes such as Tip Yip (chicken), Braised Shaak (pot roast), and Batuu Bons (a chocolate-coffee dessert).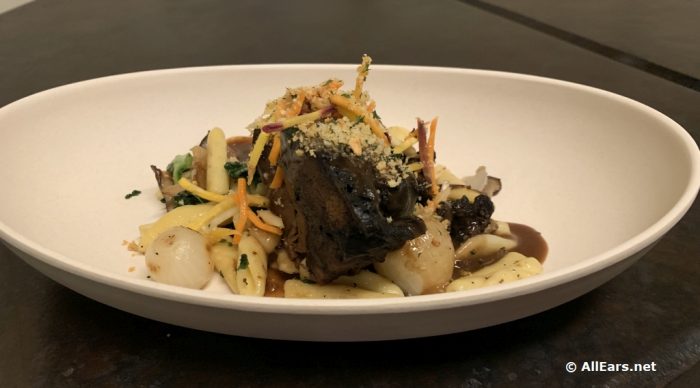 The food was good, not great. The Braised Shaak was definitely our favorite of the entrees we tried, but nothing was out-of-this-world (pun intended). The menu is certainly different from your standard theme park fare, and there are quite a few "lighter options." But if you're hoping for a hamburger or a pizza, you're going to want to eat before or after you land on Batuu.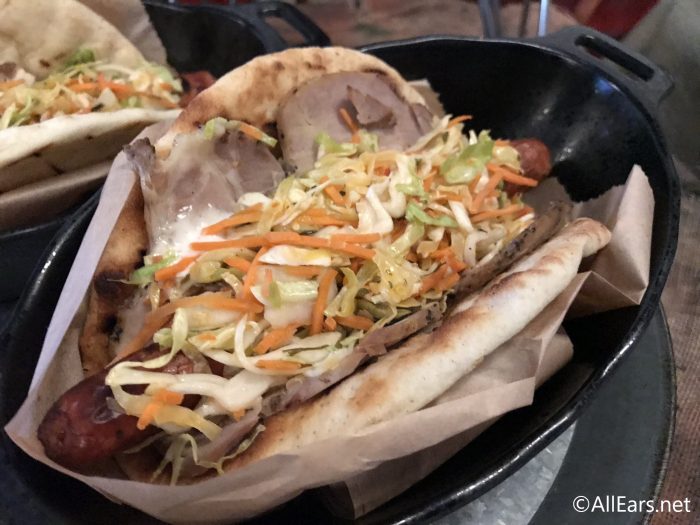 Honestly, my favorite food item in the land was the Ronto Wrap from Ronto Roasters. This is a kiosk with a very limited menu. But the Ronto Wrap, which is essentially a grilled sausage on warm pita with a few toppings was the best thing I ate. Even non-Star Wars fans will likely enjoy this one, if they're willing to pony up the $13.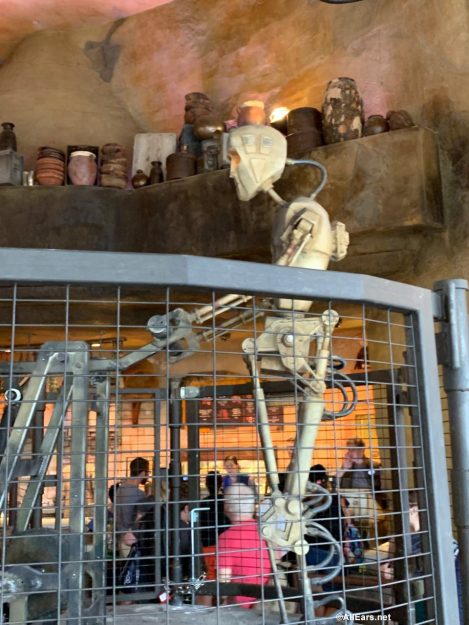 I also tried Blue and Green Milk. These iconic drinks were some of the most hyped up items in Galaxy's Edge. For non-fans, these are the real life versions of beverages drunk by Luke Skywalker in A New Hope and The Last Jedi. 
Honestly, this is one area that I think is best left to the Star Wars fans. The milk itself is… odd. And expensive! It's $8 as is, or $14 for the boozy version.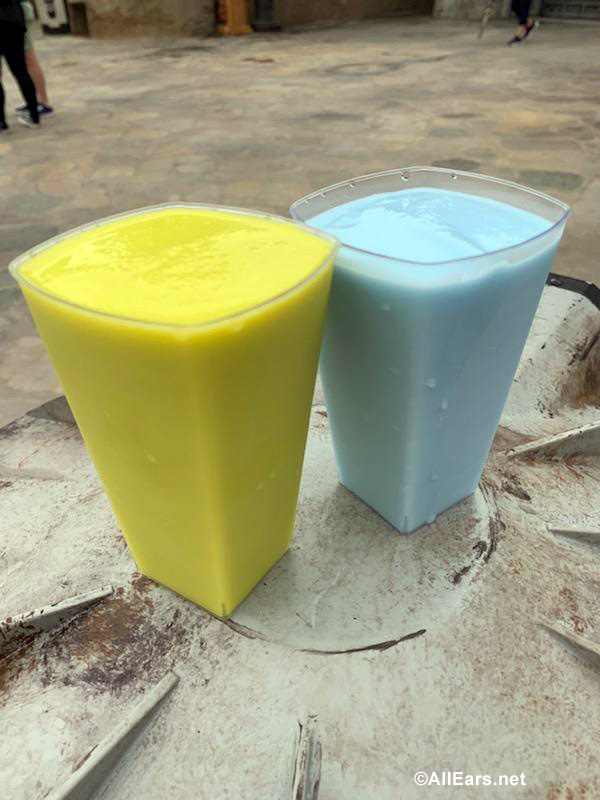 It was fine, and fun to try, but my suggestion is unless you've dreamed of drinking it for more than 40 years, skip it. Save your money for the Cantina beverages. Or get one for your whole party to try for fun, and take pictures with. (You know you want to Instagram it.)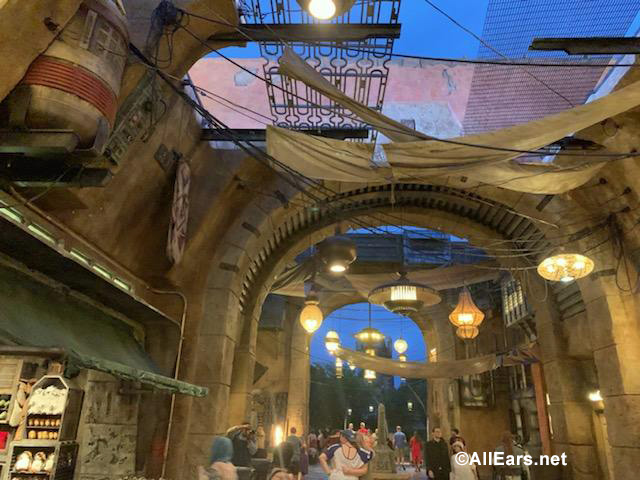 The other main component of Galaxy's Edge is the shopping. There are a few high-end items that die-hard fans will be gunning to get, as well as several shops in the Black Spire Market area.
The shops are neat to stroll through, and it does feel like you're in an open-air market. But I didn't spot anything a non-fan would feel overly compelled to buy. A lightweight fan like myself might be pretty tempted by a few items, like I was in Toydarian Toymakers and the Creature Stall. And, of course, a die-hard fan is likely going to be taking home a customized lightsaber or droid.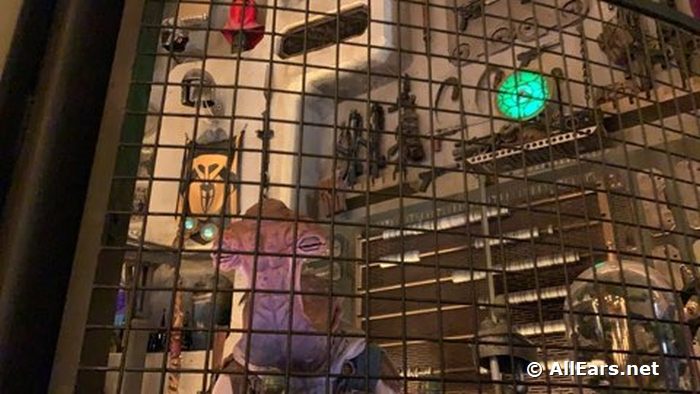 I personally enjoyed Dok-Ondar's Den of Antiquities the most. I love finding Imagineering secrets and Easter eggs, no matter the theme, and Dok's is full of them. Just ask a cast member, er – Citizen of Batuu – to point out a few! That said, if you don't know what a Wampa is, this may make little to no sense.
If you're not a Star Wars fan, I wouldn't completely discount the shopping on Batuu. It's a fun part of the experience to stroll through the shops, but I would wager you won't need near the amount of time as a lifelong fan to do so.
That said, a big part of the appeal of Galaxy's Edge is the merchandise EXPERIENCES, which will likely be lost on the non-Star Wars fan. Especially Savi's Workshop, where you build your own lightsaber — you can't even enter the building if you don't purchase one (or are the guest of someone purchasing). At $199 per lightsaber, it's not something you'll do on a whim.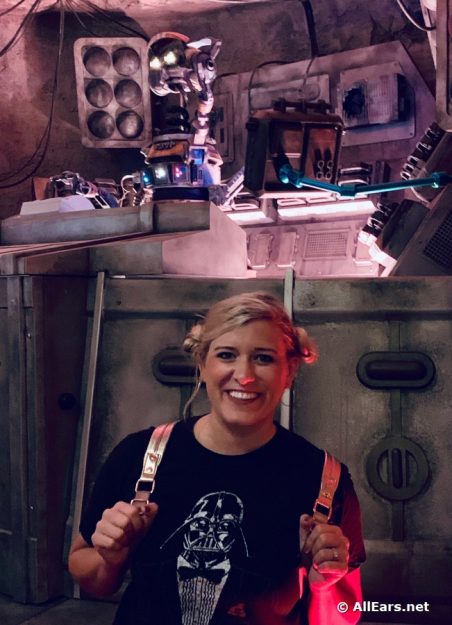 Overall, I found myself completely very much in awe of Star Wars: Galaxy's Edge. It is a feat of storytelling, of ingenuity, of Imagineering. I have never been in a more immersive land — when walking around it truly feels like you're in a far, far away place.
If you're expecting a traditional theme park land, you will not get it. A lot of the beauty of Batuu is found just wandering around, popping into stores, and exploring new corners. The magic is embracing being on another planet, posting up in the Cantina, and bumping into Chewbacca or a Stormtrooper as they pass by.
But for this "lightweight" Star Wars fan, I thoroughly enjoyed my first trip to Batuu. If for nothing else, the Disney geek inside was completely in awe and mesmerized by the detail, the immersiveness, and the Imagineering of the Galaxy Far, Far Away. I would say it's a must-do for any Star Wars fan (duh), but also any Disney fan. Just maybe wait until the crowds die down if if you're not a die-hard SW fan.
Want to prepare for your visit to Star Wars: Galaxy's Edge in Disney's Hollywood Studios? Check out Molly's day in the park, doing all the Star Wars stuff pre-Galaxy's Edge opening!
Are you excited to see Star Wars: Galaxy's Edge in Walt Disney World? Let us know in the comments!
Be sure to follow @allearsnet on Instagram and Twitter!
Check out our YouTube Channel for reviews, news, information and more!
Click below to subscribe to the AllEars® newsletter so you don't miss any of the latest Disney news!