Your Disney vacation has finally arrived and you're so eager to hit the parks! But it seems like there are several hurdles that will slow you down before you can actually start having fun.
How can you streamline the park entry process so that you can get into the parks with as few delays as possible? Follow our tips and you'll find yourself at that first ride or show of the day in no time!
Transportation
As you drive around Walt Disney World you realize: There are buses, trams, monorails and boats. There are Minnie Vans, taxis, other ride-share vehicles and coming soon, in 2019, the new Disney Skyliner. Yes, there are lots of ways to get around the World.
Once you decide which park you want to go to, look over your transportation options to determine the fastest way to get there. If you're a Disney resort guest, you may want to take Disney transportation, rather than driving yourself, but there are many different alternatives. At the Epcot area resorts that means taking a boat to Epcot or Disney's Hollywood Studios, or a bus elsewhere. If you're at the Contemporary Resort headed toward the Magic Kingdom, it will probably be faster to walk than ride the monorail — the resort monorail travels clockwise,  away from the Magic Kingdom at that point. Make sure you know the best, quickest way to reach your destination.
Of course, you might decide to drive, especially if you're not staying at a Disney resort hotel. But you'll also have to deal with parking, which may slow you down. But we have a few tips for that, too.
Parking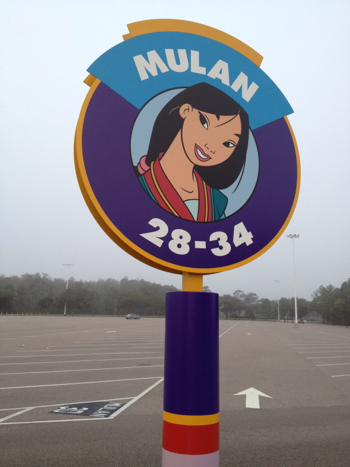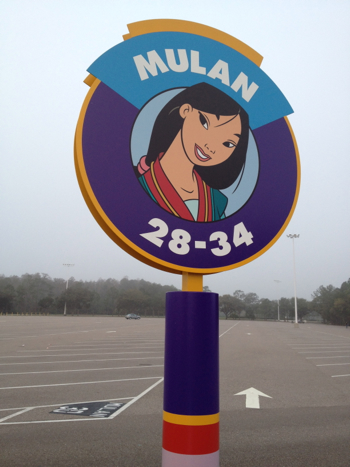 If you're driving, make sure you are prepared for parking at the Disney theme parks.
When you approach the parking plaza, be sure to have your payment method ready. If you're not staying at a Disney resort, you'll have to pay, so be sure to have your wallet with credit card or cash ready.
Of course, if you're an Annual Passholder, you get complimentary parking. In that case, be prepared to scan your MagicBand or RF Annual Passholder card, so you're not caught off-guard when you pull up to the parking gate windows.
Once you park, be sure to take note of your row and section. A lot of people take a mobile phone photo of where they parked, just to be sure they don't forget. You don't want to drag the whole family around forever searching for your car when everyone is tired and cranky and ready for bed!
Animal Kingdom, Epcot, and Hollywood Studios have parking lots outside the park's main entry gate, so you'll need to take a tram or hoof it from there.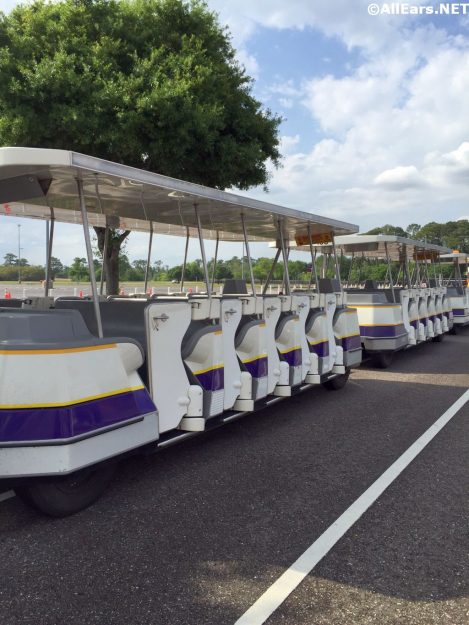 Magic Kingdom has a parking area a couple of miles away at the Ticket and Transportation Center. There you'll hop on a monorail or ferryboat to get to the park entrance. Then you encounter your next hurdle to park entry — security!
Security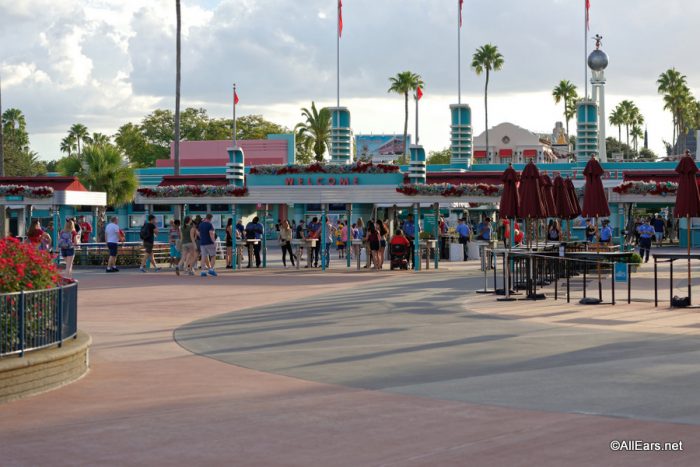 Did you bring a bag? You'll have to wait in line to have it searched by a Disney security officer. To speed the process up, undo all your zippers and compartments for inspection BEFORE you get to the tables. You may even want to consider a drawstring bag that has no extra zippers or pockets, or perhaps a clear plastic backpack or pouch. Many readers write to report that security officers said how much they appreciate the ease of checking these types of bags. Of course, if you can make do without a bag at all — cargo pants have lots of pockets! — you can skip the search and head directly through the line for those with no bags.
By the way, each table at the security checkpoint usually has a line on each side, so aim for one where the people ahead of you have smaller or fewer bags so you can get through even faster.
After the bag search, you may be asked to go through a standard metal detector. Disney security usually picks people at random, though there are times when everyone must complete this step.
Check out other tips our readers have shared for speeding through the security line. We also have tips for packing for a day at Disney World to help you decide what you really need to bring with you, and what you may be able to do without.
Tickets
Did you buy your tickets or passes in advance? We recommend that you do, because that eliminates one more stop that will slow you down at the front of the park. (You might even be able to get a discount on tickets by using a third-party provider like AllEars.Net's recommended ticket reseller, MapleLeafTickets.com.)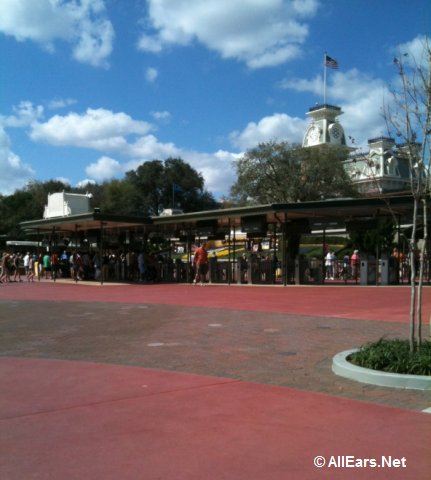 If you bought your tickets in advance, each person should have his or her MagicBand, or ticket media, in hand, ready for scanning and the next step.
If you haven't bought your tickets, though, that's OK. Helpful cast members will be waiting at numerous ticket windows just past the security checkpoint, ready to help you make the best decision for your trip.
Time to Open Up the Gates!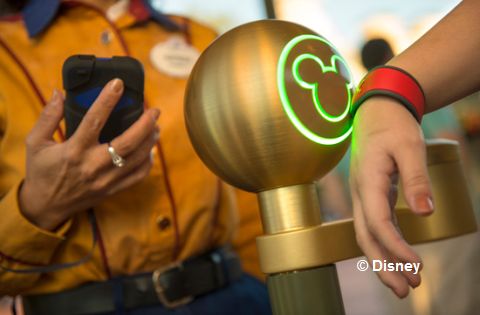 This is the moment you've been waiting for: time to scan your band or ticket and head inside. But not so fast! You have to scan your fingerprint, too. This can be tricky for younger travelers, so we recommend that the adult that is going to always be with the child during park entry use their own fingerprint to speed things up. Simply tap your band or card to the Mickey head. A white light will appear. Then, place your finger over the scanner (don't forget which one you used for your next entry). The light will change green to show that you were successful. If the light flashes blue, just let the cast members attend to you. You'll be inside in no time. Figure out whether you should use the traditional Magic Band 2 style or go with the "puck" style instead by reading our pros and cons blog.
Enjoy Your Day
You're in! Walk briskly (never run!) to your first attraction or show, or perhaps character meal, and enjoy your day!
A few other things to note:
If you need to rent a stroller, or wheelchair/ECV , you'll find locations for both at the front of each park. You could save further time by renting from a third-party provider (like AllEars.Net's preferred provider Buena Vista Scooters) beforehand. That way, you'll have the equipment before your day even starts and you can skip this stop at the park.
Also, if someone in your party requires Disability Access Service (DAS)  for any special needs, this is the time to head over to Guest Relations to arrange it.
Do YOU have any tips that will streamline your park entry and start your day of fun faster? Be sure to leave your ideas and experiences in the comments below. And let us know if our info makes the beginning of your day run smoother.
Heard about our FREE weekly newsletter? It's full of tips, news, features and fun! Subscribe by clicking the link below, and you'll get our FREE download of 109 Tips for the Perfect Disney World Vacation!