Ugh! Not another long line!
How many times have you heard THAT at Disney World? Well, the Imagineers have heard it, too. While they probably won't ever get rid of wait times altogether, in recent years they've at least been trying to make the waiting more bearable.
When it debuted in late 2010, the queue for The Many Adventures of Winnie the Pooh  in the Magic Kingdom's Fantasyland was one of the first that incorporated hands-on activities designed to prevent boredom during long waits for popular attractions.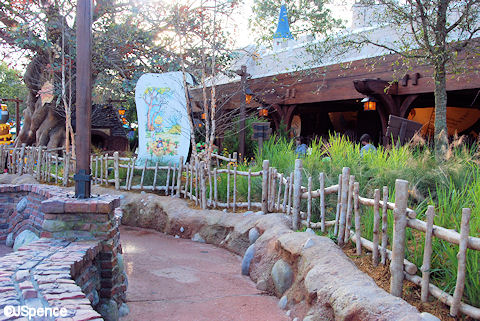 This queue now has so many small details and fun activities to keep your little ones (and you!) entertained while waiting — and make no mistake, the waits for this charming dark ride can be quite lengthy. But you will feel like you've stepped inside the Hundred Acre Wood as you wind your way around, and maybe you won't mind the wait quite so much once you see everything that's in store. Take a look!
Houses of Our Favorite Fuzzy Friends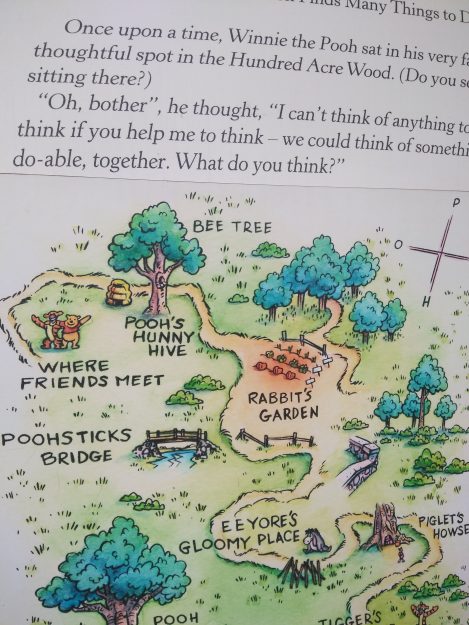 When entering the area, you'll find a story page that depicts the things you'll see while heading through the que. Don't forget to take a peak inside of Pooh Bear's house before you head in.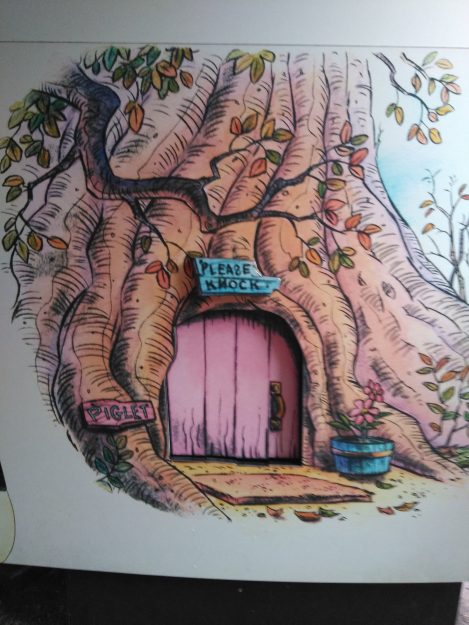 The back side of the map features another story page with an illustration of Piglet's house. Knock (or push gently) on the door to hear him stammer through a few cute phrases.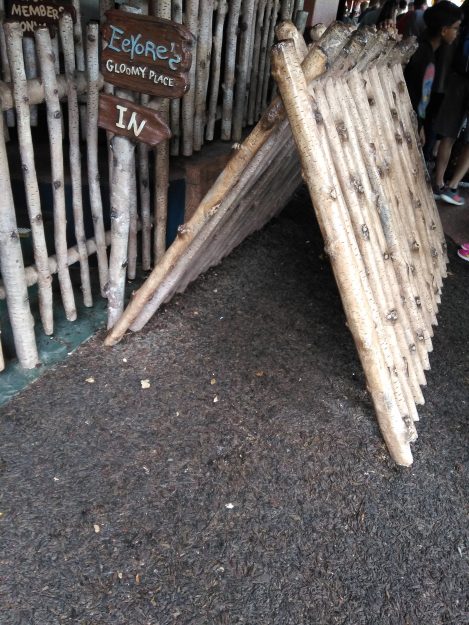 Next, your kiddos can clamber through Eeyore's house made of sticks. Limber grown-ups might make it through too!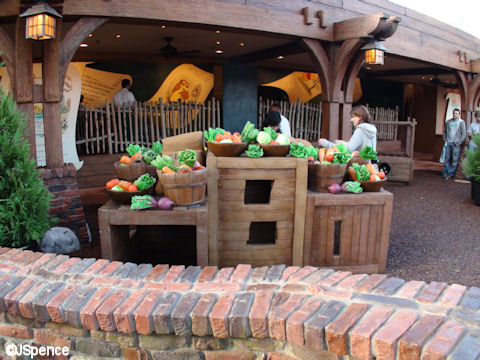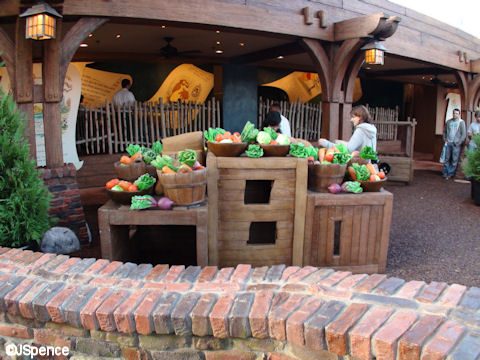 Time for a Small Smackerel?
The rest of the line includes activities perfect for keeping young ones entertained.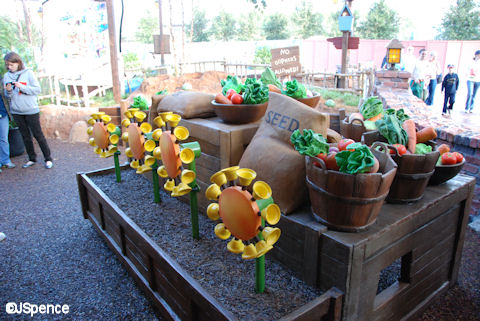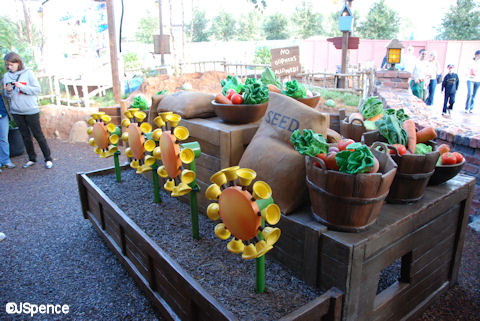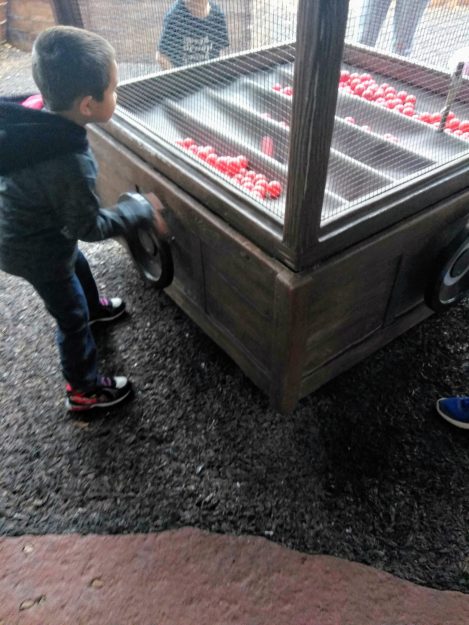 You can check out some gophers and carrots popping up in Rabbit's garden, beat on some melon and pumpkin drums, and whirl some flower pinwheels. Take a turn at the wheel to make the red balls pop up.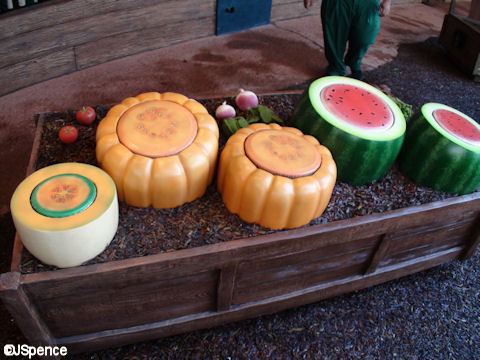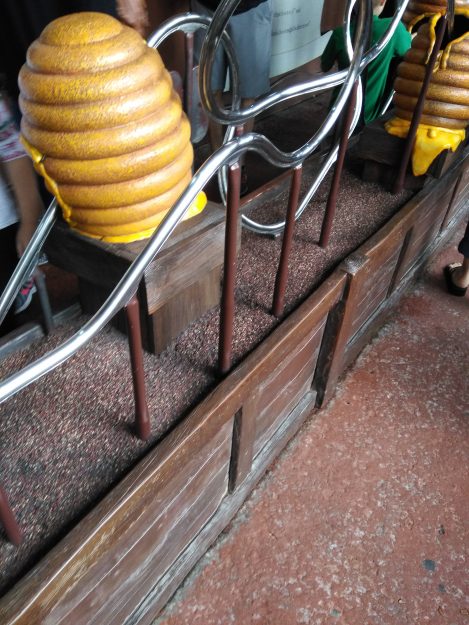 Or kids can grab a bee to buzz along the metal track from hive to hive. You can even hear the bees buzzing busily at work making honey. This activity is great for keeping your kids close by and for keeping them moving in line. You might have to help them reach the tops of a few of the hills.
The last of the interactive portion of the line for The Many Adventures of Winnie the Pooh features walls dripping with digital honey. You can try writing out your name or wiping clean areas to reveal Pooh and all his friends. Judging by all the sticky handprints, no one can make it past this area without giving it a go, so don't forget your hand sanitizer.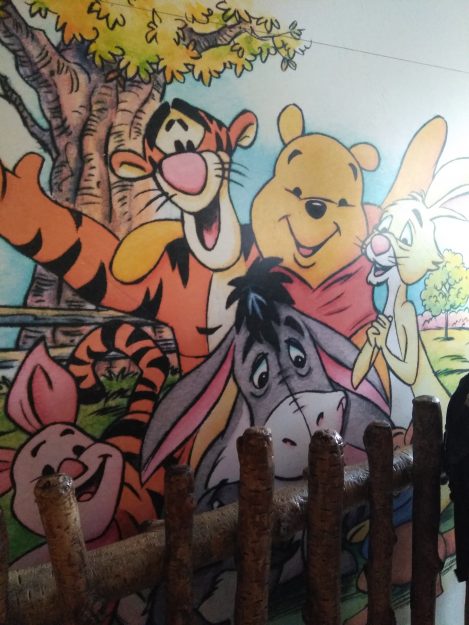 Finally, a picture of Pooh and all his friends wave you off to round the corner where you merge with the FastPass line. Everyone then gets a chance to walk over Poohsticks Bridge. A cast member will show you to your hunny pot for the ride.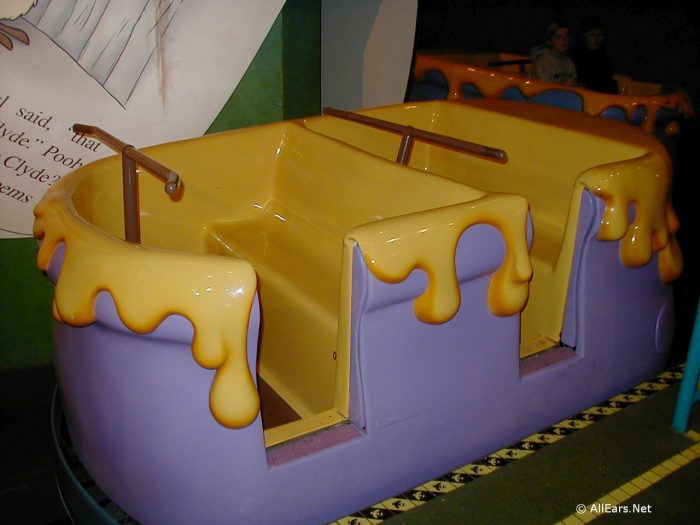 What was your child's favorite activity from the interactive line at The Many Adventures of Winnie the Pooh? What was yours?
Want to skip the line? Visit our guide to the FastPass + system to find out how. And to meet Pooh, Piglet and Tigger in person check out our blog on How to Meet the Character of Your Dreams.