Walt Disney World has a lot to offer — from the world's best  theme parks to the recently re-imagined Disney Springs, there is a lot to see and do on your vacation! Often overlooked, though, are Disney's incredible, meticulously themed resorts. And one of the best ways to see some of these resorts is by taking a Monorail Pub Crawl!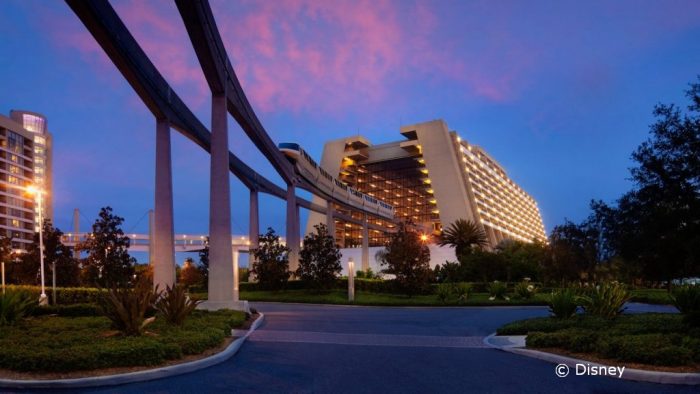 What, you may ask, is a Monorail Pub Crawl? It's when you take Disney's impressive "Highway in the Sky" to visit the three Magic Kingdom resorts that it connects — Disney's Contemporary Resort, Disney's Polynesian Village Resort, and Disney's Grand Floridian Resort and Spa.   Stopping at each resort, you head to one of the lounges and enjoy a cocktail or appetizer, or both. This is a great way slow down from your hectic vacation schedule and explore resorts you might not see otherwise. We especially love a Monorail Crawl at Christmas time when all of the resorts are decked out for the holidays. This is also a fun idea for a perfect "Disney Date Night!"
We recently made a Monorail Pub Crawl ourselves, all in the name of research of course. Here's a look at what we found.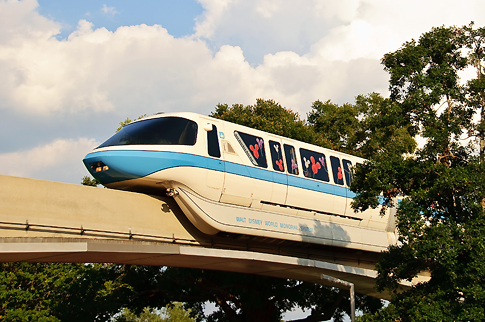 Our Monorail Crawl Recap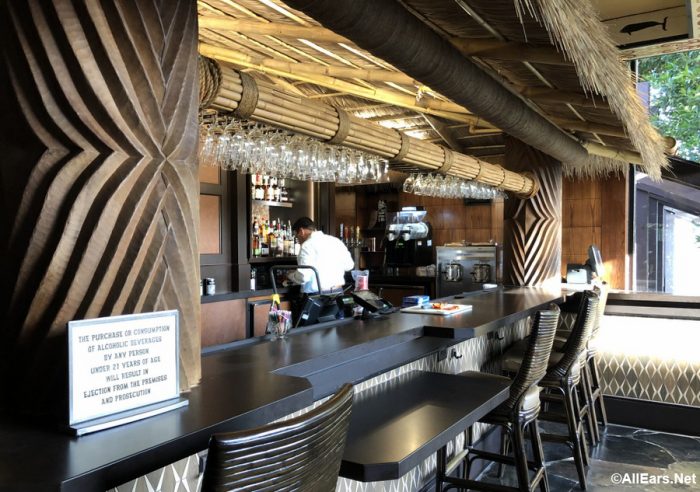 First stop — Disney's Polynesian Village Resort. We headed to one of our favorite cocktail spots, the Tambu Lounge.  This lounge is located on the second floor of the Great Ceremonial House, adjacent to 'Ohana.  Most Disney lounges feature a standard drink menu, which includes beer, wine, and cocktails. However, many lounges also have specialty drinks exclusive to their location. It's no surprise that the Polynesian specialty cocktails menu consists of many tropical flavors and juices.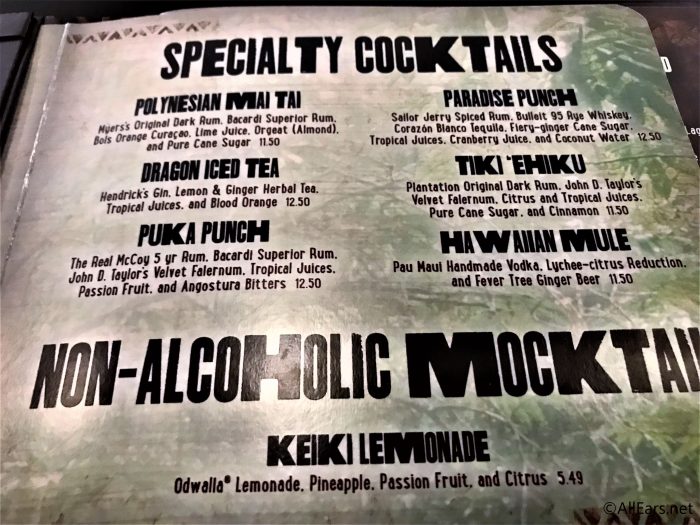 I opted for the Paradise Punch which contains Sailor Jerry spiced rum, Bulleit 95 rye whiskey, Corazon Blanco tequila, fiery-ginger cane sugar, tropical juices, cranberry juice, and coconut water. I personally am not a big fan of super-sweet drinks, so this was a great choice for me. It had the tropical flavors that fit with the resort atmosphere, but the tequila and whiskey balanced out the sweet juices.
Another person in our group ordered the Hawaiian Mule, made from Pau Maui handmade vodka, lychee-citrus reduction, and Fever Tree ginger beer. This is a twist on the very-popular Moscow Mule, swapping out the lime juice for the tropical lychee-citrus reduction and using Pau Maui vodka, which is made in Maui and distilled from pineapples. This drink was even better than mine! I highly recommend it and will certainly get this next time I go.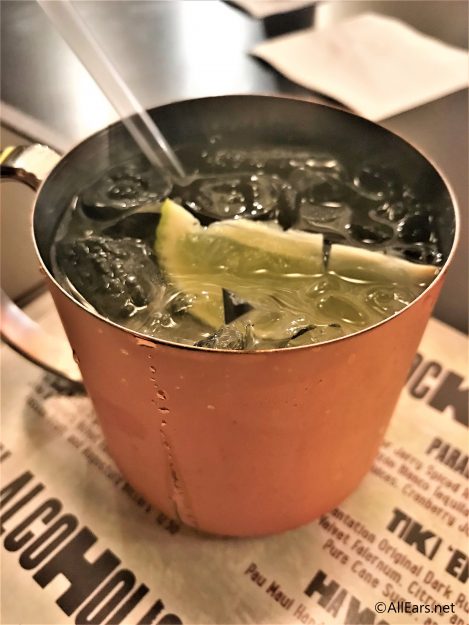 We also decided we wanted an appetizer to share. The menu at Tambu Lounge features fresh seafood and the infamous 'Ohana Bread Pudding. Just as we were about to order, the bartender let us know about a "secret menu" and that he could get us the wings or potstickers from 'Ohana. Well that was a game-changer! We had to order the potstickers as those are my favorite part of 'Ohana. And of course, they did not disappoint! This large serving came with eight pork dumplings, with a garlic-ginger sauce drizzled on top. Trust me when I tell you that these are a "must-eat."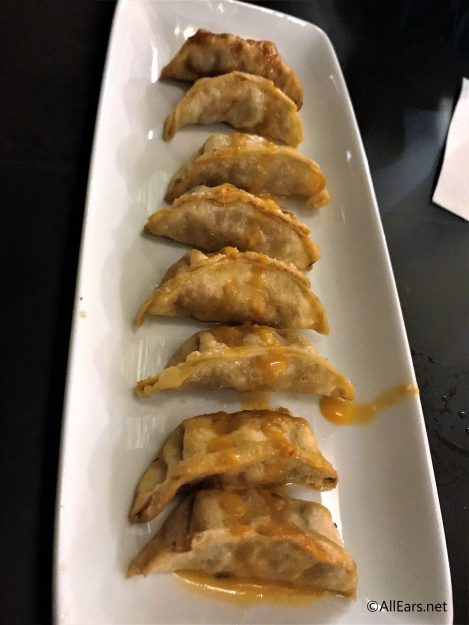 We then said "Aloha!" to the Polynesian and headed back to the Monorail. Next stop: The Grand Floridian. While every resort goes all out for Christmas, the life-size Gingerbread house at the Grand is a must-see. It's located on the first level of the lobby, and makes the entire building smell like Christmas!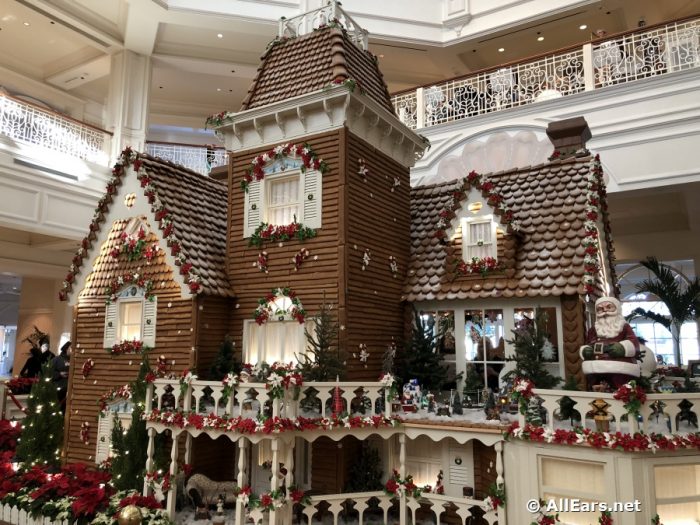 After we stared in wonder at this elaborate house, we headed back upstairs to Mizner's Lounge which is located next to Citrico's. This is my favorite cocktail lounge on property, as you can hear the resort's jazz band play throughout the evening. On this night, they were playing a mix of holiday hits and Disney classics. Talk about a perfect atmosphere!
Mizner's has a long adult beverage list that includes a wide selection of ports, bourbons, and cognacs available. Like the Polynesian, they also have a signature cocktail list that features drinks specific to the Grand Floridian.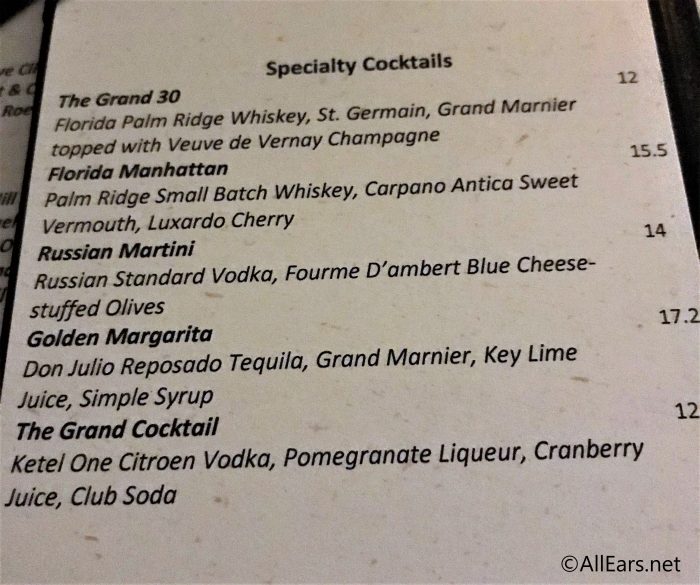 I ordered the Florida Manhattan, which is made with Palm Ridge Small Batch Whiskey, Carpano Antica Sweet Vermouth, and a Luxardo Cherry. It tastes like a classic Manhattan, and the Palm Ridge Whiskey is a small-batch whiskey distilled locally in Florida. If you are a fan of Manhattans, this one is certainly worth a try. 
For food this round, we decided to give the Seasonal Flatbread a try.  It was topped with sopresatta, picked mushrooms, confit tomatoes, Parmesan cheese, arugula, and balsamic. This was exceptional, and big enough to easily share between two people. The salty meat was balanced nicely by the sweet balsamic. This is a seasonal offering, so next time I come back there will be a new gourmet flatbread to try.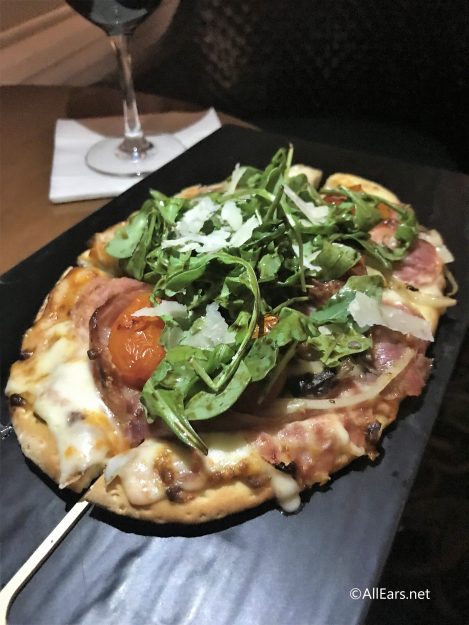 My other favorite thing about Mizner's is its snack mix. This is complimentary and a perfect blend of sweet and salty — thanks to the honey-roasted peanuts and wasabi peas. Make sure to ask for some during your stop at the Grand.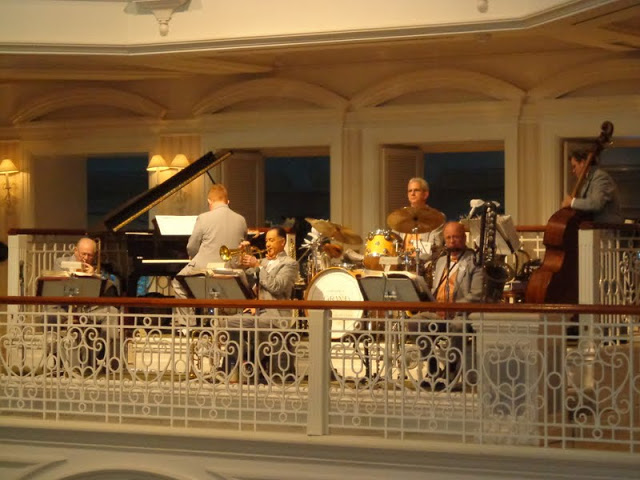 Back on the monorail for our final stop — the Contemporary! There are several cocktail lounges to choose from: The Wave Lounge, Outer Rim, and the Califonia Grill Lounge. While all three are great choices, we headed to The Wave. Outer Rim does not have a food menu (although you could always run over to the Contempo Cafe across the hall), and the California Grill Lounge can have a long wait for a table thanks to its incredible view of Magic Kingdom. The Wave Lounge is a hidden gem on the first floor of the resort. Not many people realize it's there or that you can visit the lounge without dining in the restaurant. Just like The Wave, the lounge features seasonal, sustainable food, as well as a long list of screw-top wines and local craft beers.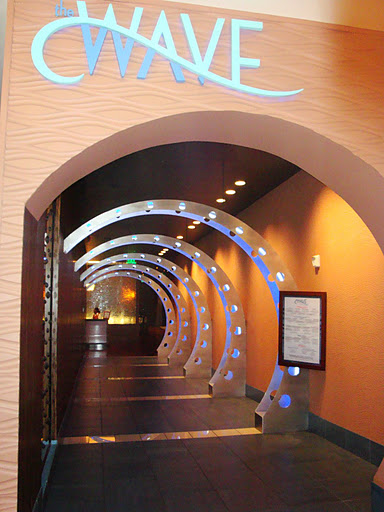 Our server was fantastic and recommended I try the Smoked Turkey — a cocktail make with Wild Turkey 101 Bourbon, Red Stag Black Cherry Bourbon, Grenadine, and Odwalla Lemonade with a hint of Hickory Smoke, and garnished with Luxardo cherries. This ended up being my favorite drink of the night. I loved the hint of smoke along with the cherry-flavored bourbon.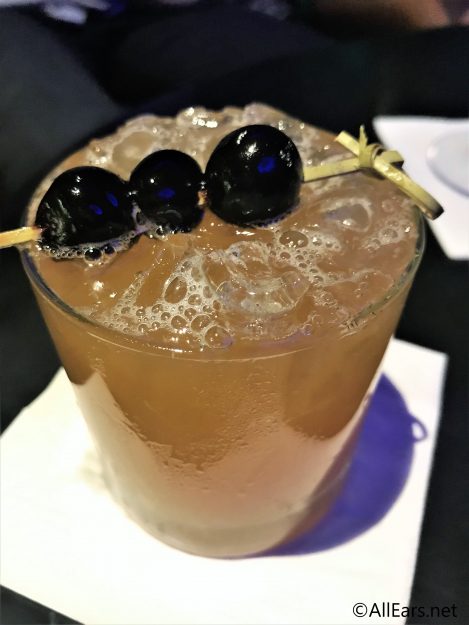 I also stole a sip from someone's Cold Brew XO. This Disney signature is Patron XO Cafe Coffee Liqueur, Heavy Cream, and Cold Brew Joffrey's Coffee. This drink was heavenly — especially if you're a coffee drinker. It wasn't overwhelmingly strong and you could certainly taste the coffee.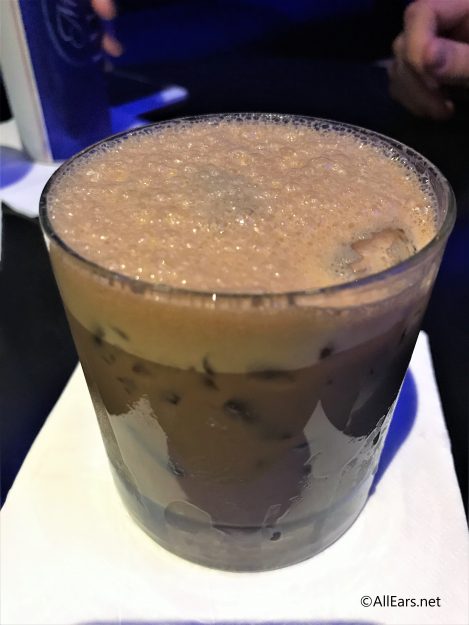 For our last nosh, we went for the The Wave Cheese and Charcuterie Board Experience, featuring unique American-crafted cheeses and artisan-cured meats. Accompanying the cheese and salami was a seeded mustard, tiny pickles, blueberry compote, and multi-grain crostinis. This may not appear like a large portion, but I promise you its looks are deceiving! This was the perfect amount for our last "meal" on the Crawl.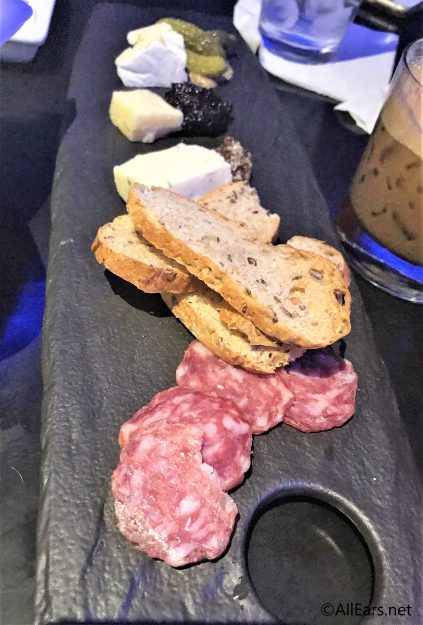 Our server also brought out some of the Wave's signature multi-grain bread and pink sea-salted butter. Trust me, you're going to want to ask for some of this.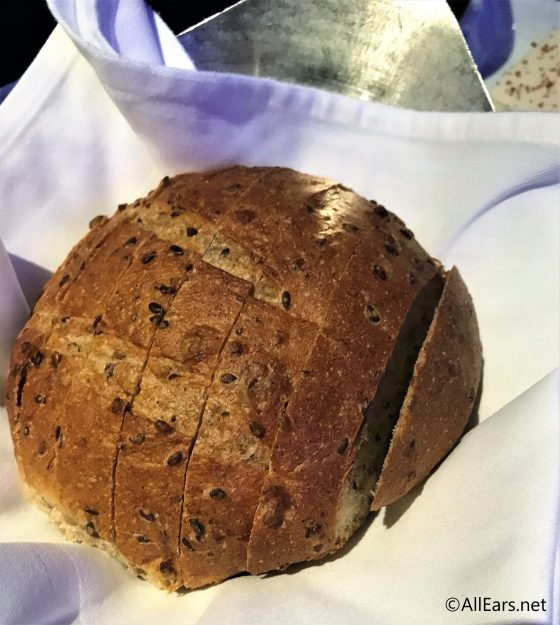 Overall, a Monorail Crawl is a great way to spend an afternoon or evening at Walt Disney World. It allows you to try some great Disney drinks and eats that you may not experience if you stick to the parks! It also provides you with a chance to see three of Disney's most beautiful resorts, and take a spin on their signature transportation. Whether it's a rainy afternoon or date night, a Monorail Crawl is a fun, unique activity to add to your next WDW vacation!
Have you been on a Monorail Pub Crawl before? What's your favorite stop? Let us know in the comments!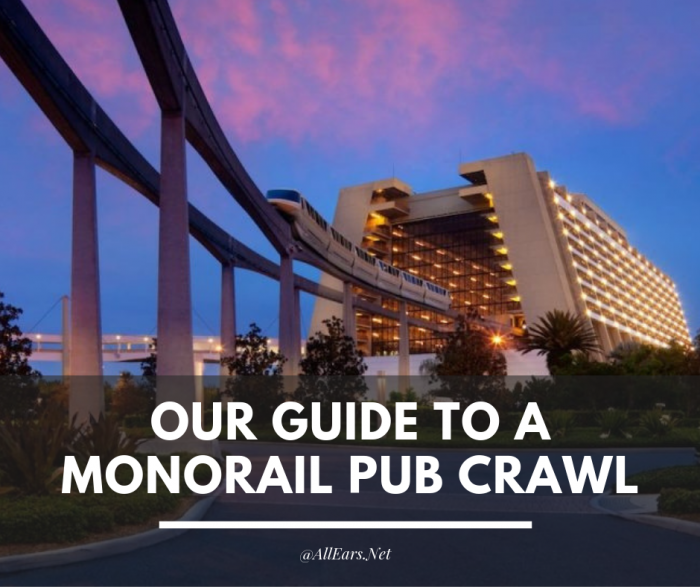 Heard about our FREE weekly newsletter? It's full of tips, news, features and fun! Subscribe by clicking the link below, and you'll get our FREE download of 109 Tips for the Perfect Disney World Vacation!