My family and I have attended Mickey's Very Merry Christmas Party at Walt Disney World for more than a decade, witnessing the changes through the years. Here, I offer our best tips for making the most of your party night. (In my last blog post, I explained what is new this year for Mickey's Very Merry Christmas Party and offered tips for those attractions and purchases.)
The Christmas party only lasts for five hours — from 7 p.m. to midnight — so you'll need a strategy in order to do most everything that's important to your group. It's unlikely that one family can do everything during that time. Our family focuses on the entertainment that is unique to the party because we can choose to experience other things at Magic Kingdom another day.
Know that your party ticket allows you to enter the Magic Kingdom at 4 p.m., even though most party activities do not start until 7 p.m. You can use those three hours to experience other holiday entertainment, ride attractions, eat dinner and get in line for rare characters.
Before the party starts, you might want to check out: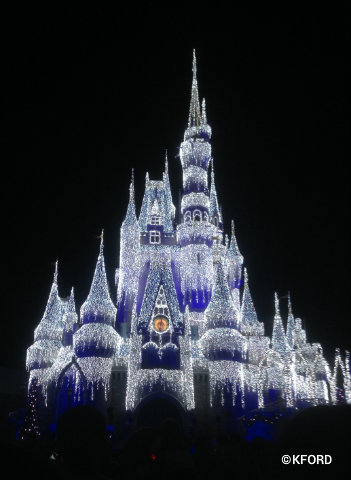 ** A Frozen Holiday Wish. This short stage show takes place in front of Cinderella Castle during which the folks from Arendelle light up the 200,000 "icicles" adorning the castle. It takes place at 6:30 and 8:15 p.m. daily, which means day guests can see the first show. In our experience at the 2014 and 2015 parties, both shows are super crowded in the hub because that's where you need to be if you want to see the "Frozen" characters on stage. However, you can see the castle being lit up from anywhere on Main Street. Next time I view this show, I think I would prefer a little more breathing room.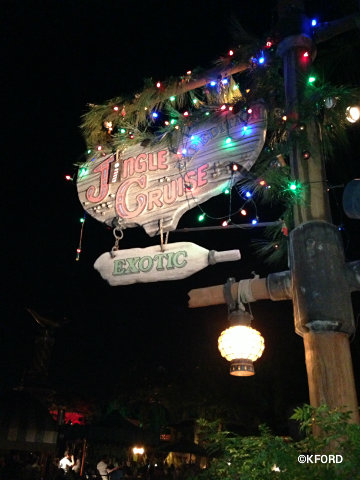 ** The Jungle Cruise. This classic attraction has been transformed into the Jingle Cruise for the fourth year. The "world-famous" holiday overlay can be experienced during regular park hours, too, but if you have some time to kill, it's a fun way to get in the Christmas spirit before the party. Plus, you'll see all the little holiday touches better in the daylight.
** Attractions. If you think you might want to go on some rides before the party starts, be sure to book FastPasses. Although FastPass+ is not available during party hours, it is included with your ticket for rides scheduled between 4 and 7 p.m. If you forget to do this, you can stop by the kiosks in the Magic Kingdom, but know that many attractions may not have availability at the last minute.
** Dinner. My family and I usually choose to have a quick-service dinner before the party starts so as not to use a lot of the time we could be spending on the holiday activities. This is a matter of personal preference, though, because a table-service meal might be more important to other guests.
** Rare characters. Finally, if you are interested in meeting any of the characters with long lines, it makes sense to do your waiting before the Christmas party starts so you'll have more time to enjoy the entertainment that only takes place after 7 p.m. Plus, some of the characters have come out early for guests with party wristbands.
New this year are Zootopia's Judy Hoppes and Nick Wilde, who are meeting in Tomorrowland.
For the third year, guests can meet Jack Skellington dressed as Sandy Claws and Sally Stitches in the gazebo in Liberty Square.
Look for Scrooge McDuck, Santa Goofy, and Daisy Duck, Donald Duck and Minnie Mouse in their holiday finest in Storybook Circus in Fantasyland.
Cinderella with Prince Charming and Rapunzel with Flynn Rider greet guests during the party at Princess Fairytale Hall. Prince Philip joins Princess Aurora (Sleeping Beauty) and Snow White and her prince in the castle courtyard. These are rare appearances by the princes.
All Seven Dwarfs pose for photos across from the circus tent and the splash pad in Storybook Circus in Fantasyland.
Santa Claus hears children's wishes in the garden adjacent to City Hall on Main Street, U.S.A.
Talking Mickey Mouse is dressed in his Christmas clothes in his usual spot inside Town Square Theater.
Aladdin and Abu alternate with Jasmine and Genie at the set across from the Magic Carpet ride.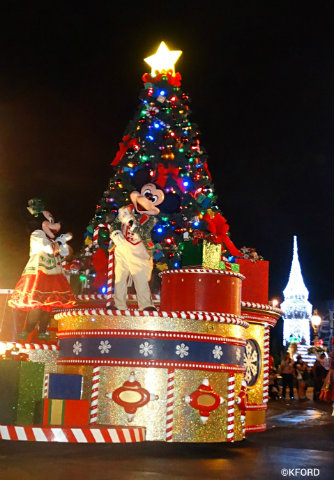 Once the party starts, you won't want to miss Mickey's Once Upon A Christmastime Parade, which includes beloved Disney characters, everyone's favorite toy soldiers and a certain Jolly Old Elf. The parade is presented twice — at 8:30 and 11 p.m. — bookending the Holiday Wishes fireworks. The first parade is always much busier than the second, so if you can wait, I'd recommend it. If the second parade is past little ones' bedtimes, plan on securing a spot along the parade route an hour in advance. Know that it's almost always less crowded in Frontierland, which is where the parade starts, so you usually can grab a decent seat with much less waiting.
Holiday Wishes: Celebrate the Spirit of the Season starts at 10 p.m. and also is another must-see. For this display, however, you can step onto Main Street U.S.A. or around the perimeter a few minutes before the start time. When the fireworks end 20 minutes later, we usually grab a spot on the curb for the second parade. You'll notice that is "snows" on Main Street during each parade. It also "snows" at the end of the evening, so if you stay until the last half hour of the party, you can step right into the "snow" and take some fun photos.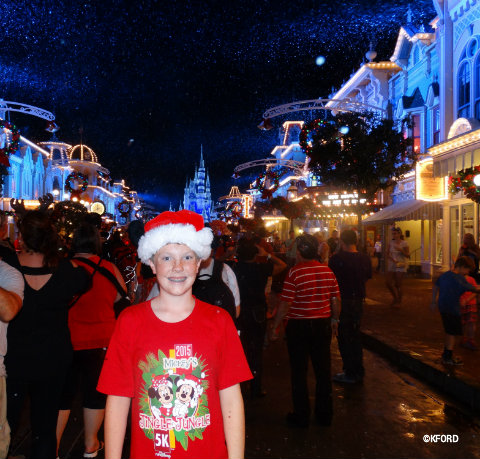 During the party hours, there also are two stage shows — A Totally Tomorrowland Christmas and the new Mickey's Most Merriest Celebration — that are presented multiple times throughout the night. Both are fun and festive shows if you have time to catch them.
In between, be sure to sample all-you-care-to-eat cookies and hot chocolate and other drinks throughout the park. This year, guests have choices of four sweets and four beverages. See the list and where to find them in my previous blog.
No matter how many times my family and I have seen Holiday Wishes: Celebrate the Spirit of the Season and Mickey's Once Upon a Christmastime Parade, they still amaze us! It's not the Christmas season until we've seen the fireworks over Cinderella Castle and toy soldiers march in precision formations down Main Street, U.S.A.
Tickets still are available for select dates in November and December. See pricing information and discounts on the AllEars.Net resource page.