Lately, when I want to use a prime lens these days at Walt Disney World, I put the Sigma 15mm f/2.8 Fisheye lens on my full-frame digital SLR. A Nikon D750 in my case. This is the third time I have featured this lens on the blog. Let's get started.
Spaceship Earth is my Cinderella Castle for Epcot. It is my second most photographed object next to the Magic Kingdom landmark. In this photo, I put it at the top third of the composition as I featured the flower bed as you walk into Future World from World Showcase. It's almost like Spaceship Earth is rising from behind the flowers.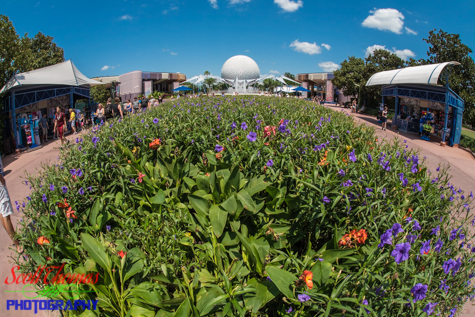 Spaceship Earth rising behind a flower bed in Epcot.
Nikon D750/Sigma 15mm, 1/125s, f/16, ISO 280, EV 0.
Next, I took a trip back in time. I mean way, way back with Ellen and Bill Nye the Science Guy in the Universe of Energy. The ride vehicles do not go very fast so I used 1/60th of a second shutter speed with the aperture set to wide open at f/2.8. The D750 can go as high as ISO 12,800. Lightroom did a good job of cleaning up the noise.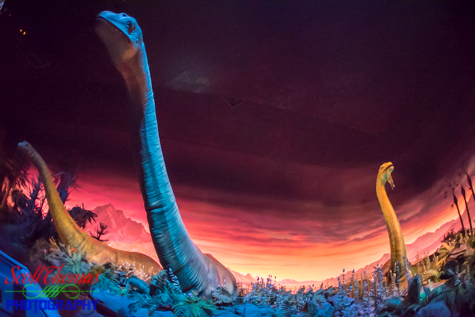 Dinosaurs inside the Universe of Energy.
Nikon D750/Sigma 15mm, 1/60s, f/2.8, ISO 12800, EV +1.0.
Next, it was my first ride on Soarin' since they updated to a new flight plan. Disney does allow photography without a flash. I requested to sit in the middle of the three rows of seating on the "plane". With the fisheye, this allowed me to frame the photos using people's legs and feet.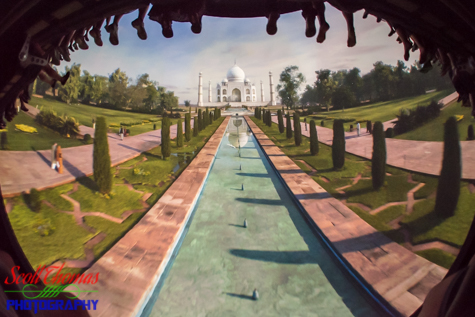 Flying towards the Taj Mahal in Soarin' inside The Land.
Nikon D750/Sigma 15mm, 1/125s, f/2.8, ISO 6400, EV 0.
The Fisheye Lens is not for everything or everybody. I like to use it to get my creative photographic juices going as it does take forethought to use it correctly.
For reference, here are the other two blog posts on the Fisheye: