To all who come to this photo trivia game, Welcome! Along the way, the photos can make us relive memories and see details Walt's Imagineers put into everything we love in Walt Disney World!
Thank you for the nice notes, Jim & Lorie Sonnen, Ken Savage, Sarah and Chris and everyone else!
Dan In Nh, it's in the 20 already in your area?!
Patti Mccaffrey, welcome back!
Now for Challenge #459: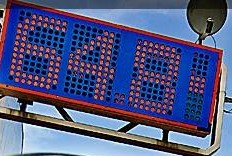 And here's the answer: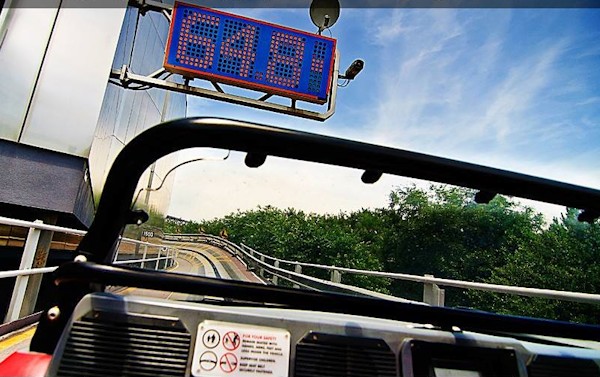 Copyright © Barrie Brewer
Everybody got this one; even people who have never been on it! It's the speed clock at Test Track as you go outside and around the curve! Or as Team Hill reminded me, the technical term is "that speedometer readout sign thingy". lol
Thanks, Jennifer Rowell and Josh Weiss! Now I have "Danger Zone" in my head. 🙂
Kris Nixon, me too! The speed run is so short! I wish it went around a couple times!
Team Bonnie Sue and Karen Schlumpf, I am ready to go!
Vicki Britt, single rider line rocks! But that was nice that they could put you and your daughter together. Smitty, lol! It is amazing how long it can get!
The Kertes Family, isn't it amazing how close it is to Mexico?
Matt Holley, does your son hold on or hands in the air? 🙂
Ashley Collins, would I lie to you?

Mike Haeberle was the first to send in the correct answer! Congratulations to Mike and to all our winners this week! Brian Gallant, Larissa Huda, Matt Wildey, Ken Savage, Emily Hudson, Belicia, Scott C., Vera And Izzy Williams, Luis Rodriguez, Sandie Albrecht, Jim & Lorie Sonnen, Joann Albrecht, Carla Nale, Martha & Justin Collins, Al & Kerry Ganter, Linda Ranatza, Beth B Mcmeekin, Hunter Armstrong, Adolph And Kimberly Timm, Jill Hauth, Team Hill, Antoinette Leblanc, Tammy Warmouth, Sam Rossman, The Nufranick Family, Kristi Strembicki, Eric Berger, Phyllis, Joseph M. Zafia, Bob & Kathy Mckim, Kyran Smith And Chiara, Marsha Waidelich, Theresa Rucando, Margaret Convery, Jan Rosato, Ken Maikowski, Sands Family, Mike Walter, Bob Patterson, Blake Schmidt, Kris Nixon, Scott Greenbaum, Donna Frank, Linda College, Hillary Waldroop, Carolyn Como, K Beasley, Kye Layton, Team Bonnie Sue, Roxanne Kliebert, Jennifer Rowell, John Bickers, The Parker Family, John Paul Carnell, Michael & Jackie Mclucas, Jim Finley, The Gunnels Gang, Loring Family, Scott Mcbride, Gloria Martin, Wayne Chadourne, Andrew Carrieri, Andreas Beer, Axel Beer, Ed Suscreba, Mickey Eckett, Vicki Britt, Michael O'brien, Elaine Tomko-deluca, Karen O'brien, Michaela O'brien, Jodi Cook, Linda Scrivano, Deb Ragno, Kyra, Herb Miller, Tricia Petty, Maureen And Warren Handy, Zach And Lindsay M, Paul Dickson, Chris Kelly, Andy Hickey, Carla C, Jason Steinmetz, Stefanie Vandiver, Kerri Coggins, Michelle, Hobbes And Snorky, Theresa Maradei, Mike Amor, Tom Koval, Ronald Delorey, Smitty, Steve Knapp, Grumpy's Groupies, Arlene Vicek, Sarah And Chris, Laurie Walker, Megan Joyce, Mildred Popp, Debra Kuklinski, Karen Taylor, Janet T Thorn, Les Whitten, Kerry A., Bonnie Jean, Jessica Gruhlke, Mike Malampy( Malampy Benco Family), Tim Johansen, Cathy Fleming, Linda Hoffman, The Rider Family, Cynthia Hitchcock, Chris, Gretchen, And Katie Barnes, Josh Weiss, Jeff Blank, Jessica Polizzotto, Deb Gallo, Rob Blundin, George Mundy Jr, Dallas Hamilton, Dan In Nh, Les Stewart, Matt Holley, The Hutchinson Family, Chris Bauman, Jeremy Reichelt, Tommy Montgomery, Wendy T Faler, Karrie Rodriguez, Jameesd (dzneynut), Matthew Frey, Carri Marotto, Caroline Burmester, Mark Hardy, The Holmes Family, Jamie Steiner, The Kertes Family, Jamie Poynton, Will Gates, Karen Bellamy, Matthew Grace, Bob Hendrix, Eric Enli, Melesia Lovw, Scott Sangston, Patti Mccaffrey, Christopher Hall, Brian Richmond, Maryann Eckenrode, The Patterson Family, Chloe Mayhew, David Uchtman, John Warner, Larry Sprenkle, Dee Dee Kenney, Karen Schlumpf, Doug Olson Family, Maryann Romagnano, Cheryl E, Susan Doucette, Maureen Tavrell, Barry Sklenar, Duskin Henard, Erin Hammer, Shelly Borella, Rebecca Keenan, Nick Bryant, Patrick Broaddus, Tracy Discher, John Foggo, Sheila Bagg, Ed Adams, Jodie S., Diane Curfman, Mis Jamie Marie, Mis Jamie Marie, Ashley Collins, Cheryl Costello, Barclay Bakkum, Mike Gillardi, Shirley Garcowski, Sandy Ceplecha, Chip Vermette, Don Purney, Peggy Saeger, Thomas Higbee Sr, Carol Bertolo-gamill, Robert P. Flaherty, Jane Johnson, The Harper Gang, Ruben O'meara, Mark Proper, Paul Ignudo, Lori Rienhardt, Jo Ann Bailey, Elaine Prosecky, Olszak Family, Christy A Schor, and Jean Bussell!
_______________________________________________________
Challenge #460 Where in the world is this?
Going outside the parks: you see these in several places around Walt Disney World, so you just have to identify the object. Tougher one? There's a bit of a hint on the starbo–I mean, right side of the thumbnail.

Do you know? Do you have a guess? Please send in your answer, before the end of the day on Thursday, November 24th, by clicking on the blue box below.
Please do not post answers using the Feedback Form link at the bottom of this post.
See you soon, Players!


_______________________________________________________________________
Everyone who sends in a correct answer to a Where in the World Challenge this month will be entered in a drawing at the end of the month for some special AllEars® goodies!
–