I searched all over the Magic Kingdom one day for a suitable subject to photograph for this Disney Pic of the Week about Thanksgiving. I went through all the shops on Main Street USA and the Holiday Shop in Liberty Square to no avail. After a ride in the Haunted Mansion, I walked past the Liberty Tree Tavern, which is home to a very Thanksgiving-like dining experience, and spotted the harvest decorations one would see on a table for a family's Thanksgiving day dinner in the United States.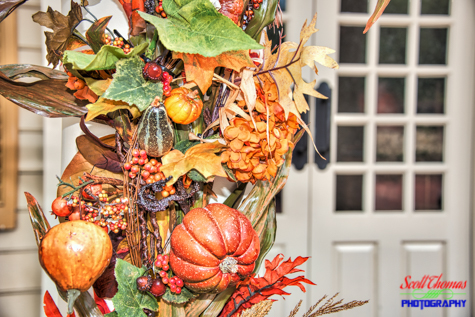 Harvest decorations outside the Liberty Tree Tavern in Liberty Square.
Nikon D750/28-300VR, 1/160s, f/6.3, ISO 100, EV 0, 62mm Focal Length, Fill Flash.
Notice even with an aperture of f/6.3, the background is out of focus. That is because I got very close to the decorations before taking the photo.
Deb will be here tomorrow to share her Thanksgiving photo.
To my fellow United States citizens, have a Safe and Happy Thanksgiving holiday!