Disney's "Moana" was worth the wait.
My 12-year-old daughter had been anticipating this animated movie from Walt Disney Animation Studios since she heard about it more than a year ago. Not only does she like the Disney princesses but she also loves all things related to Hawaii. This seemed like the perfect marriage of her favorites.
But you don't have to have an interest in either, as in the case of my 14-year-old son, to thoroughly enjoy "Moana." That's because the story is engrossing and the animation breath-taking. Plus, much of the original music has been developed in collaboration with "Hamilton" composer and actor Lin-Manual Miranda.
The story fully develops the growth of a Hawaiian princess (voiced by Auli'i Cravalho) —- though not yet an official Disney Princess — who resists her role as a leader expected to do what her predecessors have always done. When her people are in danger because their Hawaiian island of Motunui is not able to produce enough food, Moana must set out to break her father's rule of "not going beyond the reef" in order to save them.
We see early in the movie that Moana has a mind of her own, and indeed she is a strong female role model throughout the movie. Moana is determined and courageous. She may be a princess, but Moana sure doesn't want to be treated like one. She very much takes offense when Maui (voiced by Dwayne "The Rock" Johnson), the demigod and shapeshifter she must confront, says, "If you wear a dress and have an animal sidekick, you're a Princess." But perhaps what I like best about the example Moana sets is that her character is one that does not need a prince (or romance) to be successful. Writer Jared Bush crafted her from the same mold as the plucky Merida in "Brave."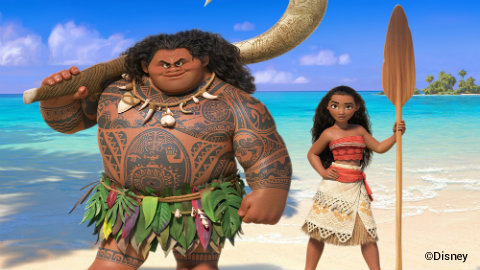 One of things that sets Moana apart, though, is her special bond with the ocean, and it's those scenes in which the animation really shines, thanks to directors Ron Clements and John Musker. To say the ocean is an actual character in the movie would not be an overstatement. It certainly has a sparkling personality of its own. And, we discover, Moana comes from a long line of sea-voyaging navigators who all have had an ongoing relationship with the ocean, though perhaps not as special as hers.
The previously mentioned Maui is a central character because he inadvertently caused Motunui's food shortage, which was the revenge of the lava monster Te Ka. About 1,000 years ago the demigod stole a magical object, and Moana needs his assistance — and that of his fishhook that allows him to shapeshift — to return it and restore balance to her island.
This movie has a lot of funny moments, many of which are brought about by Pua the pig and Hei Hei the unbelievably dumb chicken. At our screening, adults and children alike laughed frequently throughout the movie.
"Moana" is rated PG for "peril, some scary images and brief thematic elements." The images in question involve the reappearance of the lava monster, but they really are not that frightening, in this parent's opinion.
By the way, make sure to stay in your seat through the credits or you will miss out.
Disney has attached the short "Inner Workings" to "Moana." The official description is that this "is the story of the internal struggle between a man's pragmatic, logical side and his free-spirited, adventurous half." Of course, those of us who have seen Pixar's "Inside Out" immediately will make comparisons. Although the short is mildly entertaining, it doesn't compare to "Inside Out" or other recent shorts, for that matter. "Inner Workings" blends computer-generated and traditional hand-drawn animation.
DISCLAIMER: I viewed "Inner Workings" and "Moana" at a media screening before its official release. This did not affect my review; my opinions are my own.