As a fan of collaborations between The Walt Disney Co. and designer bag manufacturers, I was excited to see the newest line from LeSportsac. The Wave Reader Collection features Moana from the animated movie of the same name that will be released this week. But you can get the LeSportsac bags now.
LeSportsac is known for its lightweight, durable bags. The brand features lines not just of handbags, but also backpacks, baby essentials and travel systems. They all are convenient for packing because they can be folded up inside each other, or a suitcase, and brought out as needed. I love that idea for travel that might include souvenir shopping!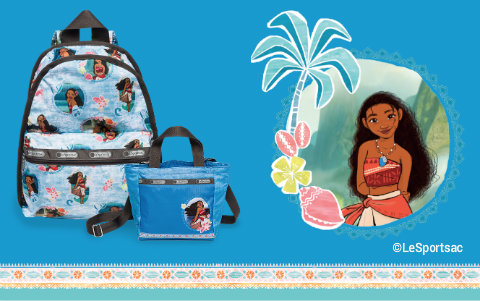 The new Moana collection Wave Reader is a store exclusive, meaning that it must be purchased at a LeSportsac store rather than online, and some pieces are exclusive to Hawaii retail locations. However, you can call the Santa Monica, Calif., store, which is the only store in the continental United States to carry the collection, at 310-899-6876 to place an order for the items that are not Hawaii exclusives. Products can be shipped within the continental United States and Alaska. Plus, LeSportsac is offering free ground shipping for the rest of November.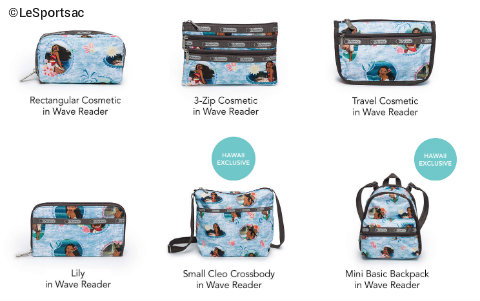 The Wave Reader collection includes the following sihouettes: Rectangular Cosmetic ($28), 3-zip Cosmetic ($28), Travel Cosmetic ($29), Lily Wallet ($65), Basic Backpack ($118), Medium Weekender ($138) and Large Weekender ($144). In addition, the Mini Crossbody Picture Tote in Bold Adventure features Moana ($78). The Hawaii exclusives include a Small Cleo Crossbody, Mini Basic Backpack, Classic Hobo, Deluxe Everyday Bag and EveryGirl Tote. In addition, the Hawaii stores carry a Rectangular Cosmetic bag in Ocean Spirit, which also feature a single image of Moana.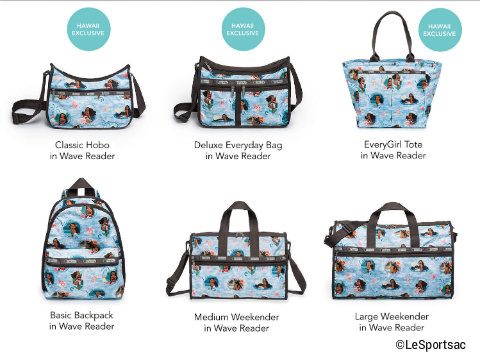 Moana is not the first Disney character that has inspired a collaboration with LeSportsac. It's not even the first Polynesian print! One of the most popular collections was one based on Mary Blair's it's a small world attraction at Disney Parks that came in many different prints, including Polynesian Paradise.
Currently, the LeSportsac Minnie Mouse prints Vacation Paradise, Sing and Sway, Minnie's Paradise, Love in Paradise, Hula Hibiscus and Minnie Hula, Mickey Loves Minnie, Love Check, Springtime Outing and Love at First Sight are on sale.
Already intrigued by Moana? Check back tomorrow for my movie review.