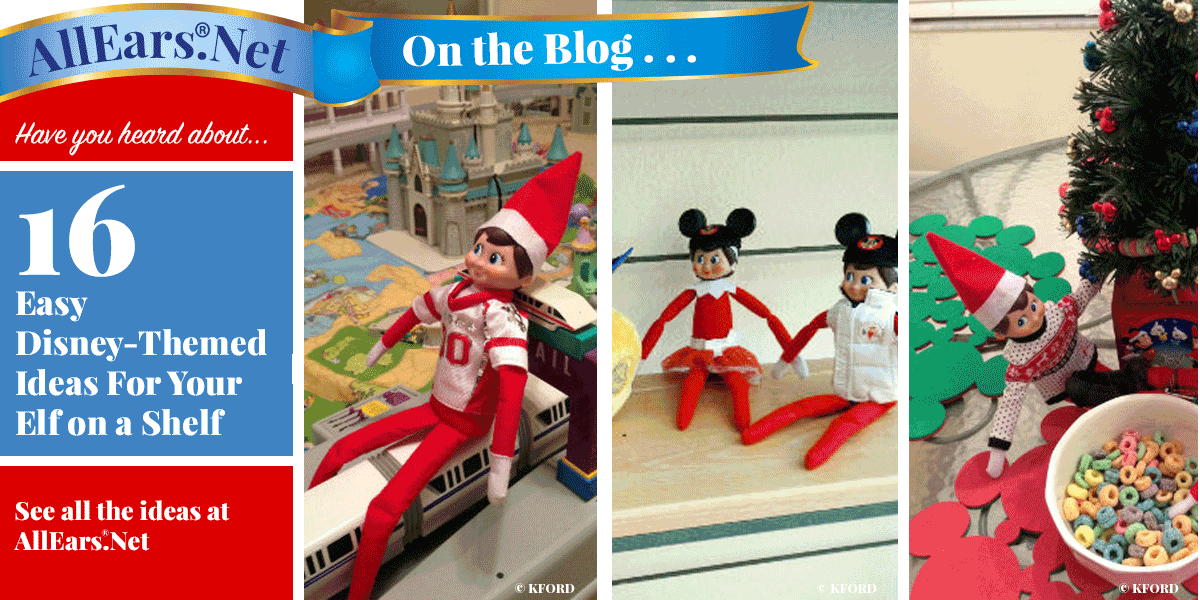 This week is a week that many of us parents have been simultaneously dreading and looking forward to since Christmas Day 2015: It's the return of the Elf on the Shelf shenanigans. Yesterday marked the start of Elf Scout Return Week, the time when most families welcome back their scout elves or adopt new North Pole helpers. Our elves, Sugar Plum and Blizzard, usually arrive the day after Thanksgiving and true to form, they showed up for our North Pole Breakfast yesterday. You're never too old to have the elves help kick off the start of the Christmas season!
For those who have somehow missed this very popular recent Christmas tradition, allow me to give you a brief explanation. The plush elves are sent by Santa to keep an eye on the children of the family and to report back each night whether they should be on the Naughty or Nice list by the time Christmas arrives. But the elves like to have a little fun, too, so when they return in the morning from their trip to the North Pole, they move to a different spot in the house. Often, they get into some mischief, which surprises the kids when they wake up.
The official rules: "First, a scout elf cannot be touched; Christmas magic is very fragile and if a scout elf is touched it may lose that magic and be unable to fly back to the North Pole. Second, a scout elf cannot speak or move while anyone in the house is awake! A scout elf's job is to watch and listen." The only exception to this rule is that children may gently play with their elves on Christmas Eve because they do not need magic to get back to the North Pole that night; they ride with Santa on his sleigh.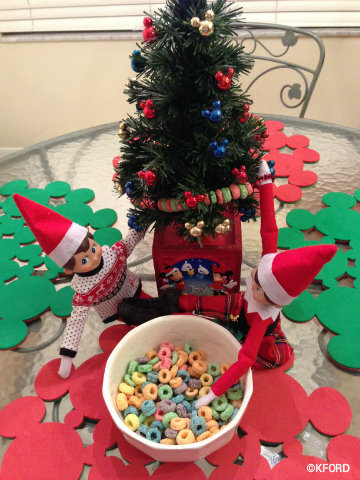 I love seeing photos of the elves' endeavors at different houses! When I was perusing recently, it occurred to me that our Sugar Plum and Blizzard have not shown their Disney Side enough. That seems unforgiveable given our family's love of Disney!
There are so many clever Disney-themed ideas on Pintrest, Etsy and other online sites. Here are some of my favorite Disney-themed ideas that the elves set up: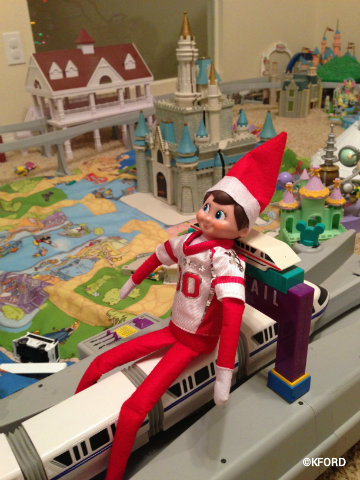 ** Elves like to recreate attractions from the Disney Parks.
** Mickey Mouse hat ornaments make great elf hats.
** An elf might want to dress up as a Disney Princess.
** Give a new elf a "My First Visit" button from one of the Disney Parks.
** A plush Olaf might pose with Snowgees made of two big and two little marshmallows. (Faces can be drawn with markers.)
** Elves can announce or count down a trip to Walt Disney World, Disneyland or Disney Cruise Line.
** Set up a meet-and-greet with a Disney plush character complete with an autograph book.
** Elves like to draw red reindeer noses or mustaches with a dry-erase marker on the glass of a framed photo of your family at Disneyland or Walt Disney World.
** Allow Elf to sit on the couch to play Disney Infinity.
** An elf might leave a message on an extra cheer card from a runDisney event.
** Even elves like to go on Disney vacations. Sometimes they snap photos of themselves on attractions or by Disney icons.
** Elves like to play Disney board games, too.
** A Disney bedtime story might be just what an Elf needs to get to sleep in the morning.
** Elves love to bring small gifts, like a Disney sweet or a Disney ornament.
** You could find your family's elf sitting on the couch with Disney plush and popcorn buckets with a note explaining there is to be a Disney movie night at your house.
** Sometimes Hidden Mickeys are formed when an elf spills something in the house, such as M&Ms, Legos or some other small household object.
Has your elf shown his or her Disney Side? Tell us about it in the comments!
Follow @Kristin_B_Ford