SeaWorld Orlando kicked off its Christmas Celebration this past weekend with new characters Rudolph the Red-Nosed Reindeer and friends, new features added to its Sea of Trees light show and the return of Clyde and Seamore's Countdown to Christmas show. My children and I were ready to get in the holiday spirit and leave the decorating to someone else, so off we went to check out the opening weekend decorations and entertainment.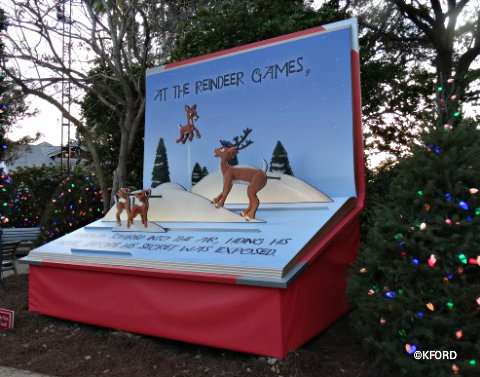 Rudolph and his friends from the beloved Christmas classic are making their debut this year at SeaWorld in its new ChristmasTown area, which is accessible from the Christmas Market located along the Bayside Pathway. Once inside ChristmasTown, visitors can choose to meet Rudolph and Clarice together in one area or go to another spot that alternately hosts Yukon Cornelius and the Abominable Snowman. On the day we attended, we found the line for the reindeer pair consistently to be about 45 minutes from the time the area opened at 5 p.m. until it closed at 10 p.m. By contrast, the wait for Yukon Cornelius and the Abominable Snowman was only about 10 minutes, though the snowman did seem a bit more popular than the arctic prospector.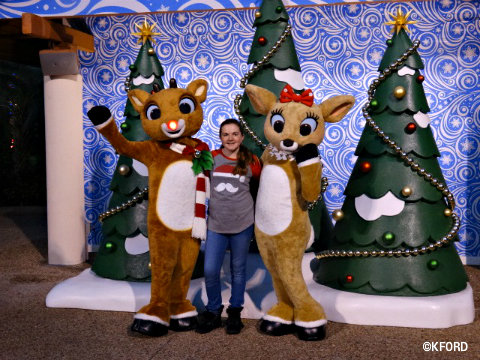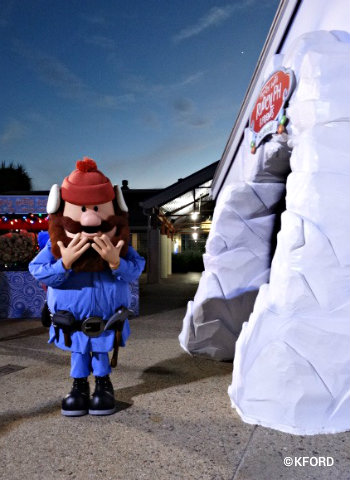 Tip: Both spots do have professional PhotoKey photographers, but you also can use your own camera or cell phone for pictures.
In addition to the character meet-and-greets inside ChristmasTown, visitors will find games of chance (for a nominal fee) that have Rudolph-themed prizes, a gift shop dedicated to Rudolph souvenirs and a holiday snack shop.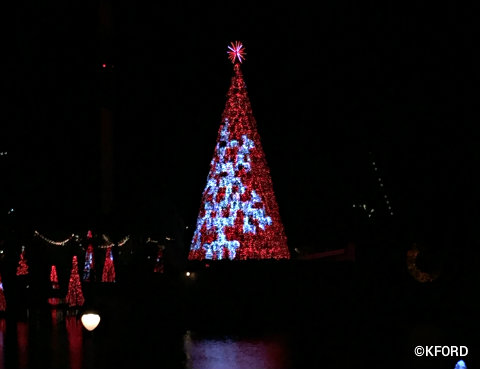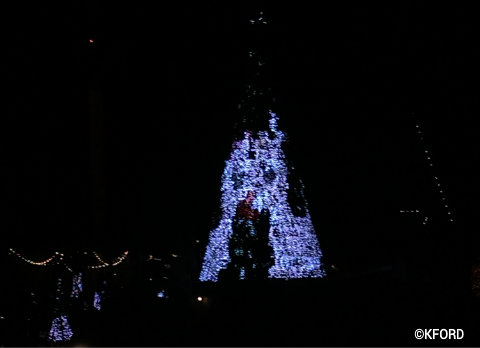 Back out in the Christmas Market, guests can take advantage of some of the best views of SeaWorld's Sea of Trees light show, which takes place on the nearby water. The trees light up in various color schemes, which is synchronized to music. This year, the Sea of Trees show has been expanded to include a 70-foot Christmas tree that serves as a canvas for various images of Rudolph while songs from the classic television show are heard. The Sea of Trees "dance" at multiple times each night, so be sure to check the printed show schedule or SeaWorld Orlando website for times each day.
Tip: Each Sea of Trees show only lasts a few minutes and is visible from the perimeter of the lake. There are so many good viewing spots that it is not necessary to line up way ahead of time. However, most of the shows are preceded by snow flurries near the Shops at Waterfront if you choose to watch from that vantage point.
With the departure of the Polar Express overlay at the Wild Arctic attraction, Santa Claus has moved from that simulation of the North Pole to a new location in the park. Santa's Workshop presented by Coca-Cola is located near the Pass Member Lounge not far from Shamu Stadium. Santa's Workshop is open from 11 a.m. to park closing through Dec. 24 during SeaWorld's Christmas Celebration.
Tip: Santa and Mrs. Claus also greet guests at Santa's Fireside Feast. My son and I enjoyed that experience several years ago. You can read all about it here. (For current pricing, visit the SeaWorld Orlando website.)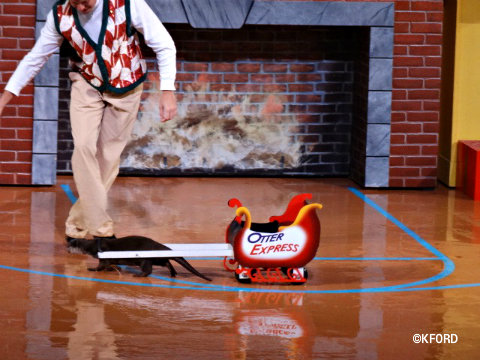 Finally, the popular show, Clyde and Seamore's Countdown to Christmas, returns after a two-year hiatus during which Sea Lion & Otter Stadium was being renovated and a new year-round show developed.
Clyde and Seamore's Countdown to Christmas is, like all their other themed shows, filled with plenty of laugh-out-loud theatrics as the loveable sea lions, their human friends, otters and even a walrus get ready for Santa's visit. The jokes are corny, and the pratfalls and physical humor are really just a variation of what the characters do in other shows — yet the audiences love it as always, and for good reason. It's a show that doesn't take itself — or, in this case, any holiday tradition — too seriously.
Tip: Be sure to arrive at Sea Lion & Otter Stadium at least 15 minutes before the start of each show to get a good seat and to see the return of a fan-favorite mime before each show. The mimes don't have a role in the regular sea lion and otter show, so this is a limited-time engagement.
SeaWorld's Christmas Celebration takes place Fridays, Saturdays and Sundays November 25 through December 11 and then runs daily December 16 through 31. To read more about the many other events that are part of the Christmas Celebration, see my previous blogs here and here. (Remember that The Polar Express has traveled away from SeaWorld and been replaced with the Rudolph The Red-Nosed Reindeer franchise.)