by Al Krombach
AllEars.Net Guest Blogger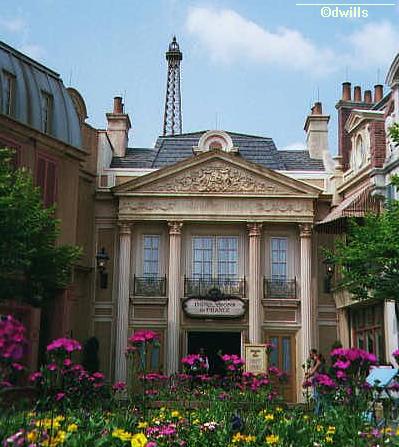 From the first peaceful notes of a lone flute to the concluding triumph of a full symphony orchestra reinforced by pipe organ, "Impressions de France" at Epcot's France pavilion has thrilled generations of visitors as much for its music as for its visual panorama of western Europe's largest and most varied landscape.
The 18-minute presentation is the oldest film still running in its original version at Walt Disney World. Displayed across five screens in a 200-degree arc – the normal field of vision of a (very comfortably) seated human – the presentation has played roughly 200,000 times by my calculations since Epcot's opening day on Oct. 1, 1982.
Even before that landmark day, hard-to-impress Disney Imagineers were calling the Palais du Cinema theater's sound system the best they had ever heard in a Disney theme park, with thundering bass, brilliant highs and great detail. Electrical engineer Steve Alcorn, in his book about Epcot's construction titled "Building a Better Mouse," said the sound was so good that listeners at early test sessions were distracted by narrator Claude Gobet's breathing; the narration had to be re-recorded before the show's public debut.
Not so when it came to the music track, which was ready well in advance of Epcot's premiere. The score features a who's who of French classical composers, including Claude Debussy, Camille Saint-Saens, Francois Boieldieu, Jacques Offenbach, Maurice Ravel, Eric Satie, Paul Dukas and Buddy Baker — but wait, who? As they sing on Sesame Street, one of these things is not like the others.
Disney Legend Norman Dale "Buddy" Baker was the man behind the music of "Impressions de France." The composer and/or arranger on more than 125 television shows and 40 feature films since joining Disney in 1955, he was the Disney Studio's veteran composer in residence when the studio "loaned" him to WED Enterprises to oversee the musical development of Epcot.
WED — the forerunner of today's Walt Disney Imagineering — was up to its mouse ears with Epcot, tasked with developing two dozen attractions simultaneously when previously they'd tackled only one or two at a time. Baker, in addition to the France pavilion's presentation, also found himself responsible for the music in other shows in Future World and World Showcase. But "Impressions de France" was perhaps his greatest labor of love.
Baker sifted through 200 years of French classical music to choose the excerpts that best accompanied each scene. Each selection then had to be arranged and timed precisely to match each frame of film before he conducted the recording session with the London Symphony Orchestra. He had to arrange the music that would stitch the classical selections together seamlessly, so that one scene led smoothly to the next. He also composed his own original music to accompany many of the scenes, often using typical French instruments like accordion to capture the scenes' flavor, whether rural, religious or citified.
In fact, of the 49 separate scenes in "Impressions de France," Baker's music accompanies 22 of them.
For those who can recall the film, or who want to listen for Baker's music at their next visit, two of his lengthier excerpts stretch from Scene 8, a horse cart passing through a village, to scenes 14 and 15, the palace at Versailles; and Scene 30, a wedding in a Brittany church, to Scene 37, a couple dining outdoors in twilight above Cannes.
Unfortunately, those segments are not to be found within the "Impressions de France" selection included on the seven editions of Disney parks music CDs published since 1999. The less-than-10-minute track, while including most of the classical selections, unaccountably omits all of Buddy Baker's original music except for about 30 seconds' worth of a wistful interlude that accompanies views of the Seine River and Notre Dame cathedral near the end of the film.
"Impressions de France" in the France pavilion repeats roughly on the hour and half-hour, beginning at about 11:30 a.m. daily. While the theater seldom fills up for any showing these days, the first and last shows of the day are the least crowded. Soundwise, there's not a bad seat in the house. While the soundtrack has always been digital, the quality of the projected images was vastly improved in 2011 when the film itself was remastered and digitized, eliminating the scratches and other annoying imperfections of conventional film that sometimes plagued viewings before that date.
Buddy Baker was named a Disney Legend in 1998. He died in 2002. In a filmed 2001 interview, the host asked him what constitutes the "Buddy Baker sound."
"French," Baker said, "out of the French school of music. I have a tendency to lean that way."
Park-goers who keep coming back for repeated viewings of "Impressions de France" are very glad he did.
RELATED LINKS:
— Full listing of "Impressions de France" scenes in order of appearance.
— Listing of "Impressions de France" musical selections.
ABOUT THE AUTHOR: A professional journalist for more than 30 years, Al Krombach has served with several Florida newspapers and retired in 2015. He is an alumnus of the Florida State University College of Music and has worked with a variety of musical groups (as an instrumentalist) and choirs (as a director). He and wife Vicky have three children and five grandchildren, every one a Disney fan. They are longtime Disney aficionados and have accumulated more than 250 park visits since the World began.