By Guest Blogger Kay Belin and Comments by Deb Wills
Fabulous lights, wonderful music, and delicious sweets certainly bring out the festive spirit in all of us. Disney has put all three of these ingredients together to offer the 90 minute Merry and Bright Dessert Party at Hollywood Studios.
This special ticketed event allows guests to enjoy the famous Osborne Family Spectacle of Dancing Lights while enjoying some holiday sweets and drinks in a private area at the end of the Streets of America.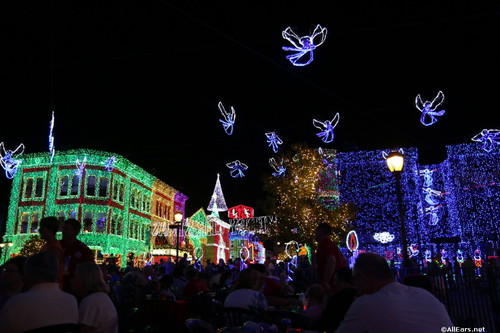 Every guest of the party will be given a large light-bulb sticker to wear. This sticker was always coming off and it would have been a nice touch to perhaps have some sort of plastic credential to wear around your neck instead. Be sure to put the bottom section in a safe place – you will need that to get your special blanket when you are ready to leave.
When you entered you were given unique glasses to wear while enjoying the lights. I have to say I expected to see millions of Mickeys when wearing them but instead something else surprised me. I think I will keep it a surprise to all of you planning on enjoying this party!
Tables are set up to accommodate everyone (or so it seemed) and seat 4 persons. Most tables have wonderful views of the lights and the light shows taking place around them. It was quite enjoyable to have a seat to relax and take in the beautiful views. It was especially nice to listen to the music but not have it so loud that you could not have conversations with those around you.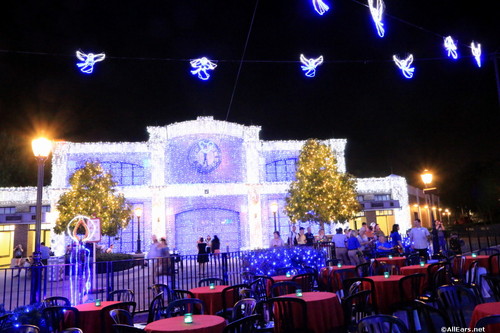 KAY: Unfortunately, the tables were a bit too close together making it difficult to wind your way back with a full plate of sweets or drinks without taking many detours or hitting chairs.
DEB: I totally agree on the closeness of the tables. For an event at this price point, I would want a roomier table set up and not have to balance my food while navigating the chairs and tables. Also, while the location is great, you still need to venture out into the actual Osborne Lights to see displays on both the sidewalks (see below) and the color canape!
There is a section of tables for wheelchairs and ECV's. Getting around the dessert tables and drink stations is more roomy than the seating area which makes it nice for all guests.
Now it's time to talk about the sweets and drinks. I was amazed at the great offerings for this dessert party. There are two stations with the same desserts on each and two sides allowing for many guests to serve themselves at the same time. There was never a line so you weren't spending your whole evening standing waiting for food and drink.
Some of the offerings, and they could change from party to party, include light-bulb eclairs, lemon and raspberry cups, chocolate truffle wreaths, rice crispy bon bons, white chocolate peppermint mousse, and coconut cakes. The mousse and coconut cakes were favorites while the eclairs were a bit messy to eat and not as appealing.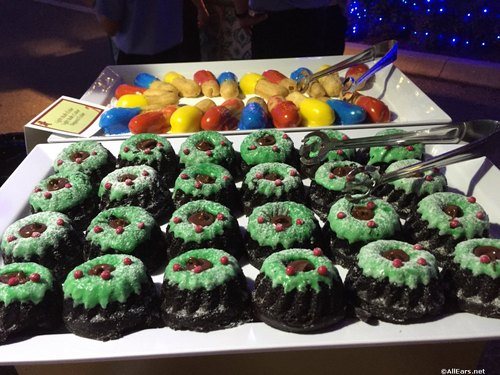 Another station served pecan and apple pies with buttered popcorn vanilla gelato and these were both very good and popular.
KAY: I especially appreciated their effort with those guests who needed gluten free desserts as they will provide a cute box with a variety of sweet items for them. If you have such a need or need no sugar added desserts please note that when making a reservation so they can be ready to serve you your special items.
DEB: My favorite was the Gelato 🙂 To me the desserts available were not as good or varied as other Hollywood Studios dessert parties I have attended. The addition of the ever popular Mickey Ice Cream Bar would have been nice.
DEB: Even noting a special dietary request on your reservation does not necessarily guarantee a special dietary box. Go over to the dessert area after getting your table and ask cast members for the Gluten Free or No Sugar Added. I was told the Gluten Free box is almost always on site. However, on the night we went, there weren't any "no sugar added" options. The manager did offer to go to a restaurant and get something but I declined. Here is a photo of the Gluten-Free dessert box. Also note there are 2 items on the dessert bar labeled as "No Gluten Added". Scroll Down for contents of Gluten Free Dessert Box.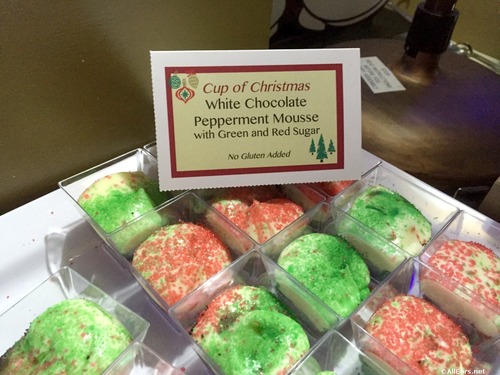 The coffee station included several flavored additives (hazelnut or caramel cane sugar syrup; zero calorie French Vanilla syrup) as well as tea and hot cocoa complete with peppermint and marshmallow offerings. Water, soda, cider and juice are available.
Four alcoholic choices were found at the bar and were given special holiday festive names such as Jack Frost, Snowflake Flurry, Warm Mistletoe, and Cinnamon Crush. The warm mistletoe is indeed a warm drink and probably not the best choice on a hot night , although I did enjoy the flavor. It was nice to see even the bar themed for the evening.
Pictured below:
The Cinnamon Crush – Hot Apple Cider with Fireball Cinnamon Whiskey — think a sweet cinnamon red hot ~!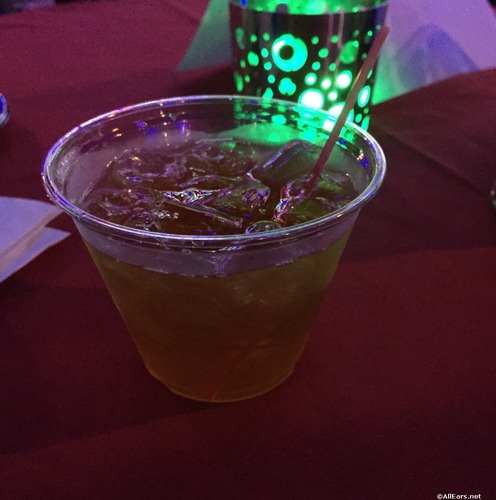 Warm Mistletoe – Hot Chocolate, Bailey's and White Chocolate Syrup
In addition to bottled water and sodas there are 2 Merry and Bright non-alcoholic beverages. The Elf Warmer is hot apple cider garnished with dried apple slice. The Rosy Cheeks, has passion, orange, and guava juice with a touch of Grenadine.
Remember the light bulb sticker I mentioned at the start? Well, be sure and pull it back out so you can get your parting gift as you leave! It is a very nice lap blanket which is something very special this year since it has the Osborne Family Spectacle of Dancing Lights, 2015 written on it. Since this is the last year of the lights this will be a keepsake you will cherish. The blanket comes in either blue or red and measures approximately 42″ x 52″.
CONCLUSIONS:
KAY: I enjoyed the event and recommend it but, I find it better suited to a date night situation or adults versus families. With the cost being $69 for adults and $39 for children (3-9) I don't feel the food offerings for the children would make it cost worthy. Most children enjoy simple sweets such as cookies and these choices are very sophisticated and more for the adult tastes. Although you can come and go as you wish during the party wiggle worm children will want to be out on the street getting up close to the lights and the action and counting how many lighted Mickeys they can find.
DEB: I, again, agree with Kay. To me, this event is about sitting, relaxing, noshing and sipping on the sweetness, and enjoying the ambiance of the lights. While you can come and go, I would wait until you are ready to leave the event (or it concludes) and then go visit the lights up close and personal. If you or your group don't want to sit, relax, and enjoy the evening I suggest you attend Minnie's Holiday Dine (review coming) and then go walk the lights on your own.
This is sadly the last year for the Osborne Family Spectacle of Lights in Hollywood Studios and this Merry and Bright Dessert Party would be a great way to say good-bye. Being able to sit and look upon the lights and not be in the throngs of people moving down the Streets of America is relaxing. Add to that some tasty sweets and drinks makes for a wonderful evening.
You still have a chance to book the party as it will continue until December 30 excluding 11/17, 12/9, and 12/18. Party time is 7-8:30pm until 12/24 and then 8:30-10pm until 12/30. Check in may begin as early as 6:30pm.
Admission to Hollywood Studios is required and you are not able to use Disney Dining entitlements for this event. In case of rain it will be moved under cover. You can book on line or by calling 407-939-3463.
This is a bittersweet year for many of us who have enjoyed seeing this incredible light display for the last twenty years. Change is hard and we have lots to look forward to ahead in the Studios. Take this opportunity to say good-bye with this comfortable and festive dessert party.
CONTENTS of the Gluten Free Box:
Housemade Popcorn and dried cranberry mix (small)
OMG It's Gluten Free Fudge Brownie
Housemade Cookes (3)
Larabar Cashew Cookie
Larabar Peanut Butter Cookie
Enjoy Life BoomChocoBoom rice milk crunch bar
Please leave your comments and questions below!
DISCLAIMER: Kay and Deb were guests of Walt Disney World as media. This did not affect our story, and our opinions our own.