Over the past several years, I have taken a singular topic and discussed its theming from park to park and land to land. Some of these subjects have been lampposts, benches, water, and restrooms. Today I'm going to tackle the subject of landscaping and how plants helps set a mood and tell a story.
Vegetation is something we take for granted. It exist everywhere, yet we rarely pay any attention to it unless we're visiting an arboretum or park. The same is true at Disney World. Foliage is everywhere, but we give it little notice. But I can assure you, if the Imagineers didn't pay a lot of attention to plants, Disney parks would not be the inviting and beautiful places they are. Instead, they would be more akin to the old seaside amusement parks that once dotted the eastern and western seaboards. If it weren't for landscaping, rides, food stands, and shops would be crammed in next to each other with no greenery buffering their harsh lines.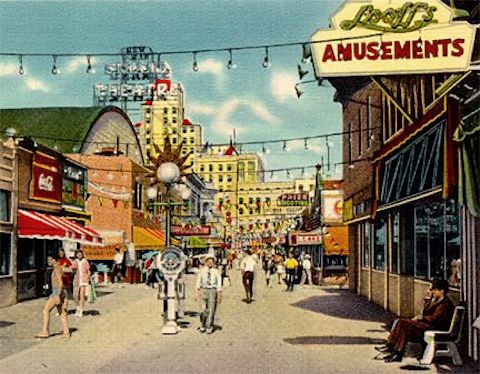 To give you an idea of how important the Imagineers think landscaping is to the "story," here are a few staggering statistics pertaining to Walt Disney World.
The total property of Walt Disney World contains seven million trees, shrubs, and flowers.
Nearly 12 percent of the Walt Disney World Resort property, an area equivalent to nearly 3,000 football fields, is devoted to gardens and maintained landscapes. That's 4,000 acres worth of beauty.
Three million bedding plants and annuals are planted each year at Walt Disney World theme parks and resorts.
More than 4,000 hanging baskets are planned and produced each year. These are created in advance so they may be themed with seasonal flowering trees, bedding plants, and surrounding architecture. Most baskets take three months to produce. Hangings can grow to three feet in diameter and may weigh more than 65 pounds. Some 800 baskets are displayed at one time.
Nearly 13,000 roses (100 varieties) are shown throughout the Disney property. Removing spent blooms in the rose gardens of Epcot requires a good day's work each week. That equates to more than 400 hours per year.
More than 3,000 plant species are displayed at Walt Disney World. They represent flora from all over the United States and 50 other nations on every continent except Antarctica.
Topiaries number more than 200. These are composed of shrub or sphagnum moss planted with "creeping fig" and English ivy vine material. As many as 20 different plants and flowers are used to create various topiaries.
To maintain the vast greenbelts of Walt Disney World, gardeners mow the equivalent of 18 trips around the Earth at the equator each year.
All this landscaping requires 65,000 sprinkler heads on 2,000 miles of water pipes.
The waterways of Walt Disney World are monitored routinely by the Reedy Creek Improvement District for insecticide and fertilizer contaminants. At the first sign of any imbalance in the system, steps are taken to locate and eliminate the cause.
To cut down on man-made chemicals, an army of 10.5 million beneficial insects are released each year to control plant pests. A single adult predatory beetle can eat up to 500 white fly eggs a day.
A diverse group of over 600 horticulture professionals (gardeners, arborists, irrigation specialists, and pest management specialists) join the bugs in keeping the flora beautiful.
So now that you know the facts, let's take a look at the landscaping found in the parks.
Perhaps the most famous garden at Walt Disney World is the Mickey floral found at the entrance to the Magic Kingdom. This always impeccably manicured piece of land is a major photo op for guests. In fact, so many people want their picture taken here that Disney has stationed a fulltime photographer nearby to snap your photo.
Mickey has changed over the years. Take a look at this next picture which was taken in 1986. Notice how Mickey's features are outlined in concrete. Today these borders are gone and flowering plants make up the total design.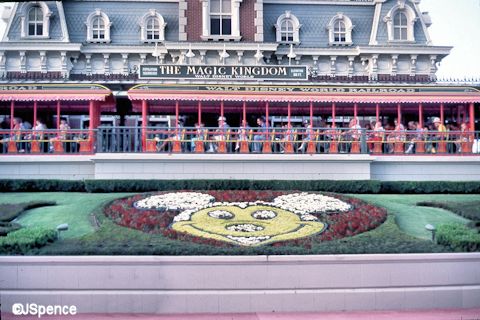 Before I go any further, I must explain that Disney has had to make one concession in their efforts to authentically landscape their parks. They have had to include waist-high fences around many lawns and gardens, even when they don't logically belong. The Imagineers learned early on at Disneyland that guests did not respect obvious boundaries and would trample flowerbeds without a second thought.
Take a look at this early picture of Disneyland. Notice there are no fences around the lawns of Town Square.
When guests do venture where they don't belong and damage plants, the landscaping crews come to the rescue. Each night, all flowerbeds are inspected and the trampled growth is replaced with new. In the morning, everything looks fresh and perfect.
When cities began to grow in America, landscaping took a backseat to commerce and greenery was all but neglected. But it didn't take long before city planners discovered that people longed for plant life. To that end, the designers started to line boulevards with trees and include parks and squares in their city plans.
Main Street is an idealized representation of a medium-size town somewhere in the Eastern United States. No town ever really looked this good, but it's how we like to imagine people lived during the turn of 19th to 20th century. And to help this fantasy along, the Imagineers did their part by including a lovely square at the beginning of Main Street. Here you will find an ever-changing array of flowers and the seasonal decorations of Halloween and Christmas.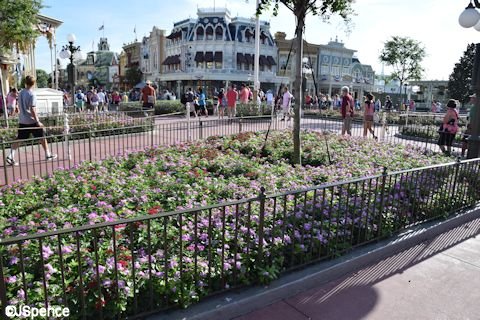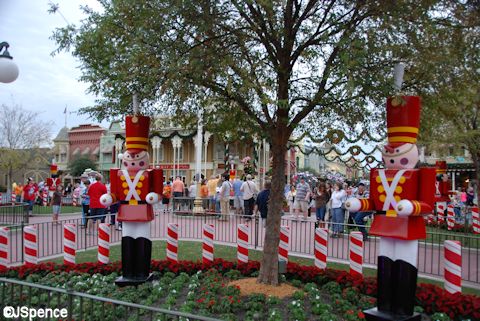 In an effort to "soften" the look of Main Street even more, the Imagineers recently added new permanent flowerbeds to the steps of City Hall.
The main thoroughfare of Main Street is dotted with a number of trees. These are continually pruned so they don't grow too large for their surroundings. At Disneyland, the trees along Main Street are sprayed with a growth retardant so they don't dwarf the scaled-down buildings of this roadway.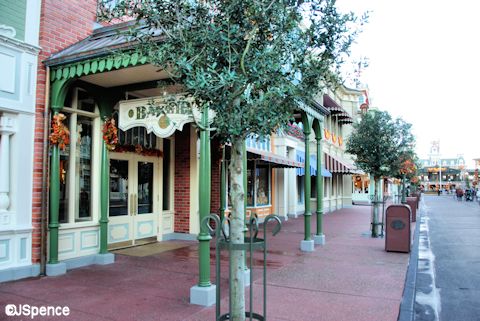 Down Center Street, a graceful bottlebrush tree can be found. In addition, a number of potted plants line the buildings. These containers would never do on Main Street proper as this is a high trafficked area and guest would continually trip over them.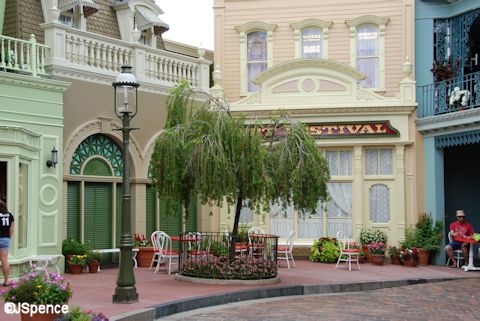 The lampposts of Main Street also offer guests a splash of color. Some of the 4,000 hanging baskets of Disney World can be found hanging from these light fixtures.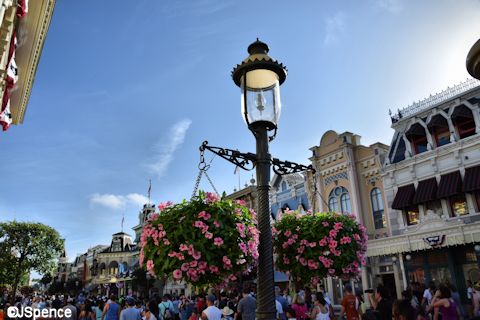 The left side of the Crystal Palace borders Main Street. Here we find a formal Victorian garden. However, the right side of this building sits adjacent to Adventureland. To help create a seamless transition, the foliage here is tropical and scruffy.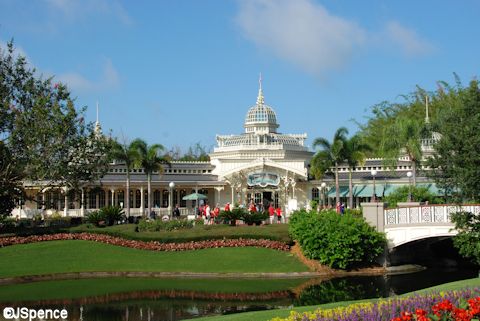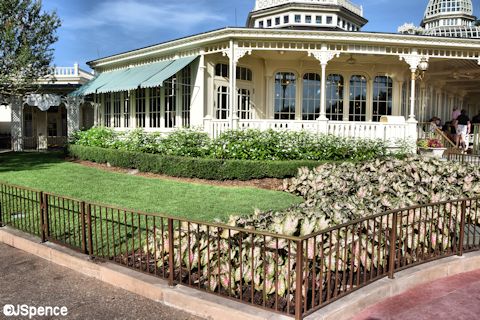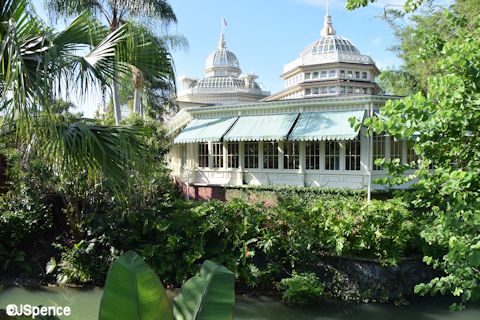 The Hub is currently undergoing a major refurbishment. The pedestrian areas are being enlarged for better firework viewing and traffic control. Because of this, I will not be discussing the gardens in this area today. But judging by the concept art I've found, it looks like this space will continue to be filled with beautiful patches of ever changing colors.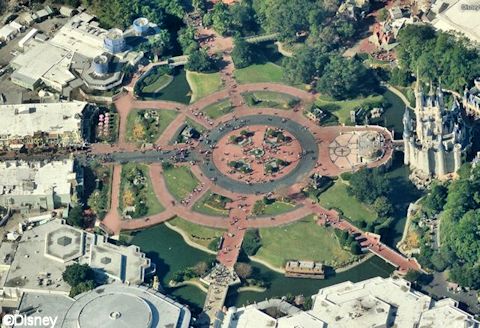 For those of you who love the dragon topiary found along the banks of the Swan Boat Waterway, it appears that Disney is leaving it intact. I took this construction picture a few weeks ago and it is obvious that the Imagineers are saving this opening day piece of living art for future generations.
When looking through my January 1972 Disney World pictures, I found this old photo of the dragon. If you notice, he used to face the opposite direction.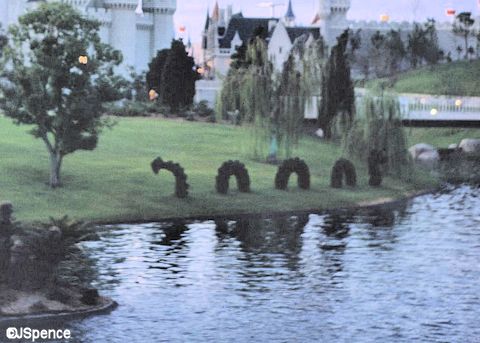 The dragon is what I refer to as "traditional" topiary. It consists of one or two plants that have a rudimentary metal structure beneath to give it a basic form. It is grown over years and is cut and pruned into a shape. By contrast, the many character topiaries created today for the Flower and Garden Show at Epcot use and elaborate wire mesh body that already resembles the character being created. On top of this mesh are multiple "creeping" plants, flowers, and spray-painted dead moss. These can be fashioned in months, rather than years.
Because of time constraints, the Imagineers used fake, plastic topiary along their roadways when Walt Disney World first opened. It was reasoned that guests would never get close enough to these "plants" to be able to tell the difference.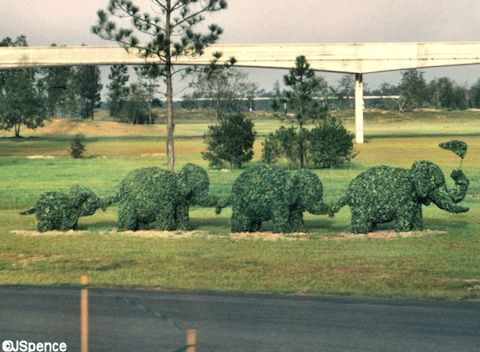 The mood for Adventureland is set before you ever step foot into this land. This is accomplished by the positioning of a large volcanic rock planter near the entrance of this area. Here, towering palms suggest the tropical climes of the world. Behind these palms is a lush jungle not yet explored by man.
Just inside Adventureland are three more planters. If you look closely, you will discover the volcanic rock is peppered with flotsam and jetsam from the Robinson's ill-fated ship, the Swallow.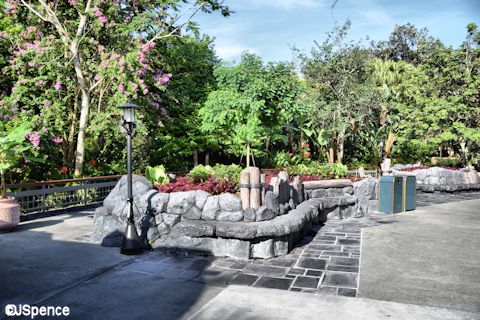 To the south of these planters is more jungle. At certain times of the year you can discover some beautiful and unusual flowers in this area.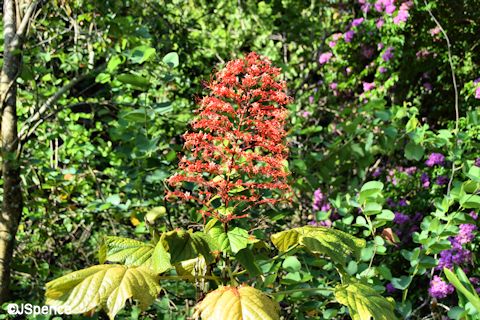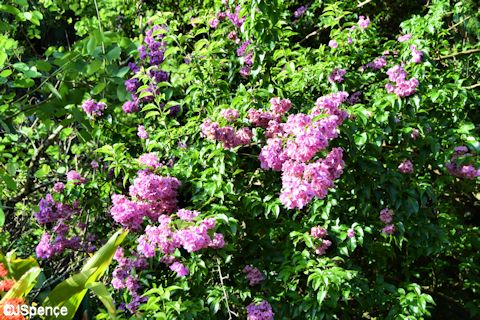 Although the Swiss Family Robinson banyan tree is not real, the growth around it most certainly is. Take a look at these next two pictures. The first was taken in January, 1972, three months after the Magic Kingdom opened. The second picture was taken in July, 2014. The first picture was taken from approximately where Aladdin's Flying Carpets sits today. The second picture was taken from roughly the same angle, but a little closer to the tree. You can see the same bridge in the lower left hand side of each picture. I think you'll agree, the plants of Adventureland have grown significantly over the years.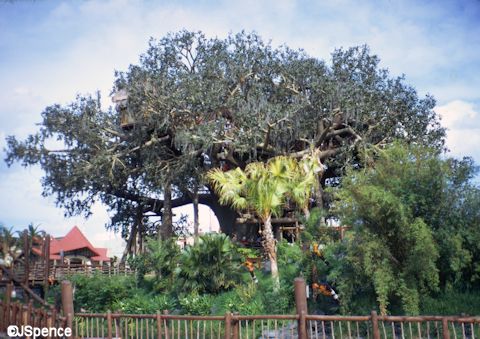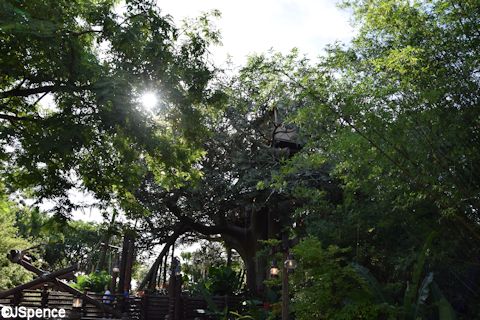 Take a look at this fountain/planter found in Caribbean Plaza. These next three pictures will give you a good idea of how the gardeners at Walt Disney World are constantly tending to and rearranging their plantings.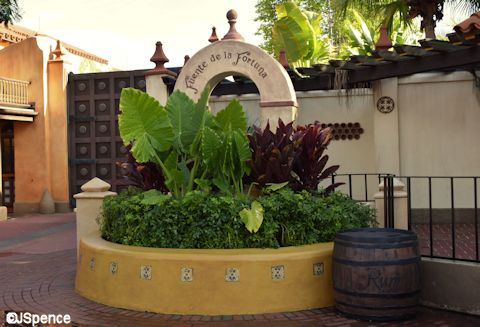 That's it for today. Check back tomorrow when I'll cover the rest of the Magic Kingdom's landscaping.