In case you don't read social media or have been offline recently, please allow me to report about Walt Disney World's latest hard-ticket event called Villains Unleashed!, which was held on Saturday night.
Those of you who follow me know I am a huge Disney theme park fan. While I try my best to be objective and fair, sometimes I follow the "if you don't have something nice to say, then don't say it" line of thinking. Therefore, this blog may come as a surprise when you read the good, the bad and the ugly. I will share my experiences, some photos and video and comments and suggestions about how this could have been better.
I was actually quite excited and thought the event would be really fun. More than 50 villains, some never seen before, were going to appear. How could one not have high expectations? Announced in early June, this separate-ticket event would cost adults $67 plus tax and kids 3-9 $62 plus tax. There was even an early ticket purchase opportunity for Annual Passholders and Disney Vacation Club members, but no discount. The event was from 8 p.m. – 1 a.m.
The evening started off on a positive note when a terrible thunderstorm rolled through the area about 4:30 p.m. After it passed, temperatures dropped a good 10 degrees and for a while, the humidity was low as well. Perfect, I thought!
We arrived just before 7 p.m. at Disney's Hollywood Studios and once we were through the turnstile, we were given cool event "credentials" courtesy of PhotoPass. But then we looked for a map and couldn't find one anywhere. We asked several cast members and were told they all were gone. HUH? The event start time was still one hour away!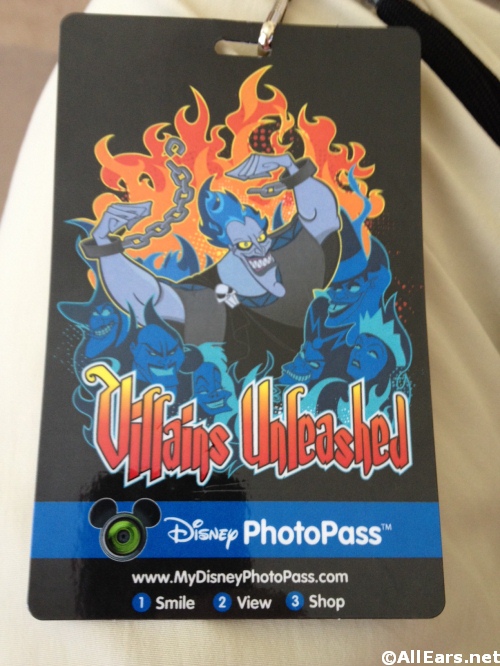 We were trying to hook up with friends, but that was tough given the crowds on Hollywood Boulevard. We expected this would be the case, though, and figured once the opening show was over, the crowds would disperse all over the park.
The show was fun, perhaps the second-best part of the whole evening. Hades and Meg were the hosts and introduced the 50 villains who would be in the park. Most made a short appearance when they were called, but not everyone was on stage.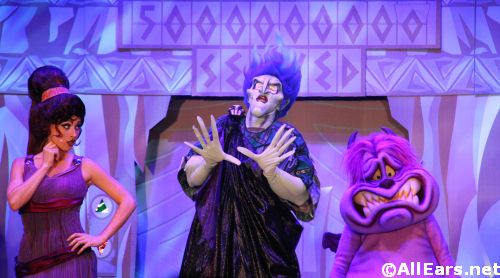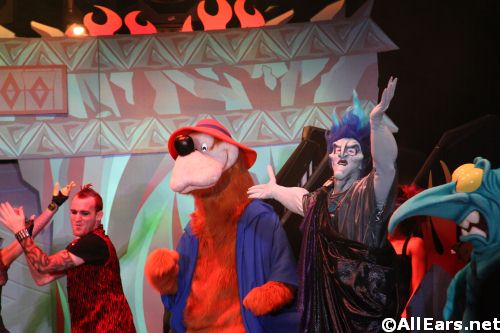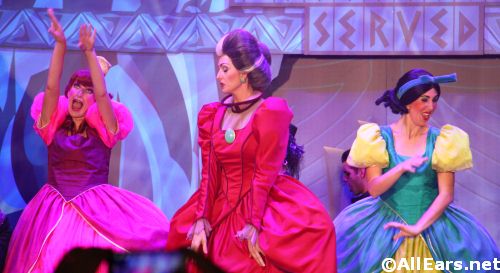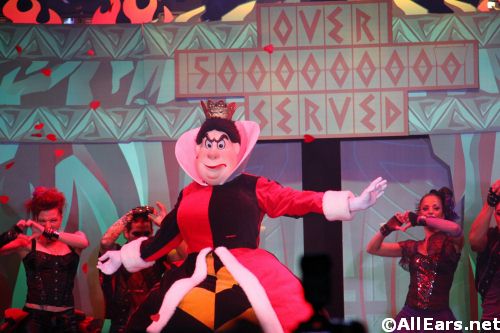 Once the show was over, everyone started to move. The line to get into "Club Evil" at the Brown Derby, which had special food and beverages, was long so we decided to bypass it and get in line for the 9:30 p.m. "Oogie Boogie's Freaky Funhouse Show" at the Theater of the Stars.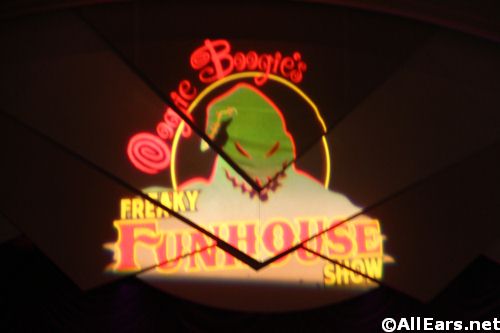 Actually, the pre-show entertainer there was much, much better than what followed.
Wow, and not a good wow! If this show had been anywhere else except Disney, it might have been acceptable, but it was not. In my opinion, this was not family friendly, though it did live up to its billing as "freaky"! I talked to several families I know, and they all were extremely disappointed and left shaking their heads. Take a look below at some of the tamer acts. I've spared you several of the more risque photos.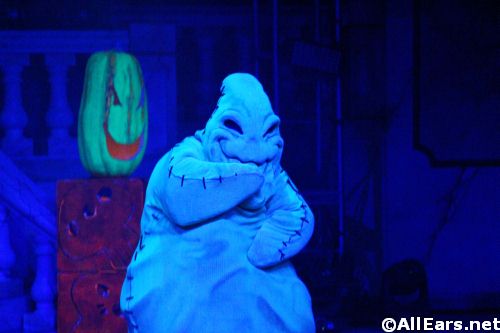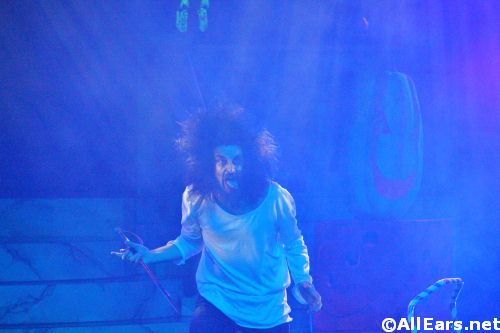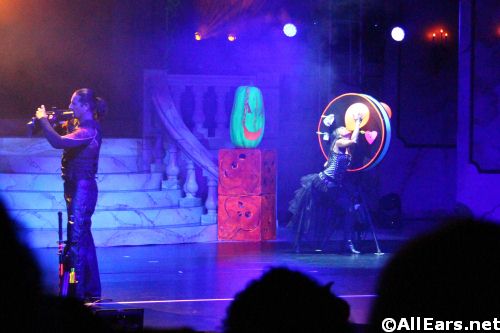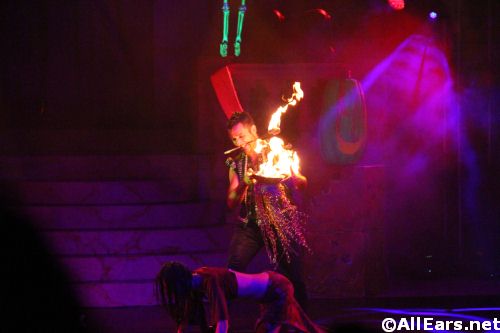 As we left there, we ran into friends who managed to see Constantine (from "Muppets Most Wanted") because they got in his line before 7 p.m. and were in the second grouping. The meet-and-greet line to see Kermit the Frog's alter ego was the first to close because it was so popular. However, there was a string of closures well before the event ended. (Twitter was very helpful in trying to figure out what was happening around the park.)
Next, there was a showing of Fantasmic at 10 p.m. A special pre-show had been announced, and some guests were told that villains would appear. From those I spoke with afterwards, the pre-show did not feature villains and they felt like they wasted precious time at a show they could see any other day.
So it's now almost 10:30 p.m., and I am not feeling like I have even come close to getting my money's worth. We decided to head to the "Guardians of the Galaxy Awesome Mix Tape Dance Party." Amazingly, it wasn't too crowded. There was a DJ on stage playing tunes and there was air conditioning, which we fully appreciated! We quickly realized no one was dancing, though, and instead they were at the rope trying to get photos with Star Lord and Gamora. I never did get close enough to them but managed some video (see below).
Afterward, I considered going to check out the merchandise, but reports were that lines were long — no surprise — and many event-only items already had sold out.
Next, I headed over to the other side of the park in hopes of finding some characters to meet. The lines for the dedicated meet-and-greets were very long or long-closed due to capacity. I wasn't about to wait two hours of my five party hours to see a character, but many guests did just that. Instead, I spent time roaming around and checking out the happenings. I watched Frollo quickly walk to and fro on the Streets of America, and he barely stopped for a photo. Stromboli seemed to be doing the same thing — only faster.
My must-see list, if there was such a thing, prior to the event included Constantine, Shenzi, Banzi and Ed, Captain Gantu, Shan Yu and a few other rarely seen characters. By the time I got to these character locations, the lines were long closed. I did see a couple of characters on my list from the sidelines, but there were no special character meet-and-greets or photo-ops for me this night.
Villains Unleashed Character Appearances:
At 11:30 p.m., I was hot, tired and frustrated, so I headed out of the park. Part of me wanted to see the fireworks, but I wasn't going to wait another 75 minutes for that. I had a fleeting thought to stop at Guest Relations and complain, but I saw a huge line, shrugged and kept walking.
The final kicker as I was leaving: No one was passing out Villains goody bags. I didn't even realize there was a goody bag until I got back to the Boardwalk Inn. It wasn't that I needed one, but it was the principle of the thing. I do like the pre-autographed cards from the event and wished I had gotten them.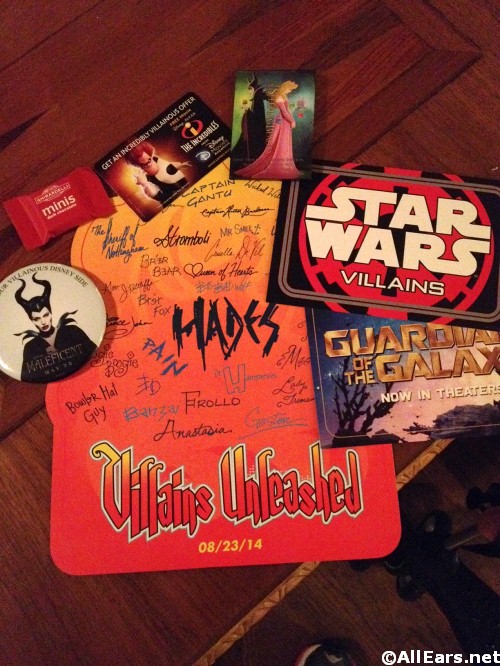 Overall, I did enjoy the opening show, and I now wish I had stayed for the fireworks. From what we saw from the Boardwalk area, they looked awesome.

So, why did this event fail?
Let's start with the price. I don't mind paying for quality, but this was far from a quality event. At $70 a ticket, I had expectations. And I don't think they were unrealistic expectations considering the price is similar to tickets for Mickey's Not-So-Scary Halloween Party, which also features many character meet-and-greets, and is much better planned and executed.
Most importantly, the event seem to be oversold, yet I was told it never sold out. How then do you run out of maps before the event even begins? Cast members were handing out lanyards, so why wasn't another group handing out maps? Don't blame guests for taking multiples! If you've ever tried using one map to actually see what you want to do during an event, it's a mess by the end of the night. I usually take an extra one for a souvenir.
Clearly someone should have done the math and realized there were way too many guests for the 50 villains. Plus, some villains were in small groups, so there weren't 50 separate lines or areas.
This event was about the characters, not about the rides. Why would anyone spend $70 to ride attractions that can be enjoyed during any regular park visit? Walt Disney World seems to have underestimated the huge draw of the special characters. That seems impossible when the same chaos happened at last year's villains event that was not a hard-ticket event.
My suggestion: Allow one FastPass+ per person for one character meet-and-greet during the event. Stagger the release of the FP+ to attempt fairness. Guaranteeing only one character meet might be frustrating, but isn't it better to arrive with realistic expectations than to be continually disappointed as the night goes on?
Disney easily could have sold more food, beverages and merchandise — if they had been properly stocked. Special drinks and some of the food were gone long before the event was over. And the merchandise … It is rare that a special Disney event has sufficient amounts of special merchandise and enough cast members to check folks out, so it's not another 30-minute wait.
My suggestion: Have a pre-order form for T-Shirts and other items, paid at the time of order and then have a package pick-up area. That, at least, would have helped with the merchandise shortage.
I also would recommend that these types of events be held in cooler seasons. Hot weather, crowds, families with young kids, serving alcohol and long lines don't make for a pleasant experience for anyone. I love the Disney Parks and I love special events. Sometimes things are done well, like Frozen Summer Fun, and other special events have frustrated and disappointed me. Sadly, none have disappointed me as much as the Villains Unleashed!
Was your experience different? Tell us what you though of Villains Unleashed! in the comments.