My friend Donald and I recently ate dinner at the Turf Club located at Disney's Saratoga Springs. But before I describe our evening, I'd like to give you a quick history of this restaurant.
The Disney Institute was the brainchild of Michael Eisner. He had visited a similar facility in Southwestern New York where guests had the opportunity to attend lectures, see theatrical performances, enjoy recreational activities, and attend classes designed to entertain and educate. Eisner was taken with this concept and knew something similar would be a perfect addition to WDW. To that end, construction began on the Disney Institute in 1995 near Downtown Disney.
For guest lodging, the Disney Institute would use the existing townhomes and treehouse villas that had been constructed during the property's early years. For the classes, lectures, and performances, architect Tom Beedy designed a "community" that resembled a small New England Town. Initial construction began with the expansion of the existing Buena Vista Golf Club. This building grew to three times its original size and featured the Welcome and Check-in Center, a shop named "Dabbler," a relaxation area called "The Gathering Place Lounge," and a full-service restaurant to be known as "Seasons."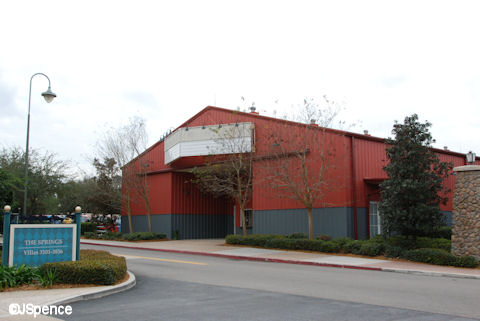 Sitting approximately where the Artist's Palette kitchen, ordering station, and registers are located today, Seasons Restaurant offered Institute guests a fine meal. Here's what the official Disney literature had to say in 1999:
"Fresh, seasonal Florida produce is the centerpiece of every meal at Seasons Restaurant, served in four dining rooms decorated to reflect summer, winter, spring, and fall. Lunch offers light salads, sandwiches, and seafood and the dinner menu allows Chef Marianne Hunnel to show off her creativity with the freshest Atlantic seafood, meats, and pasta dishes."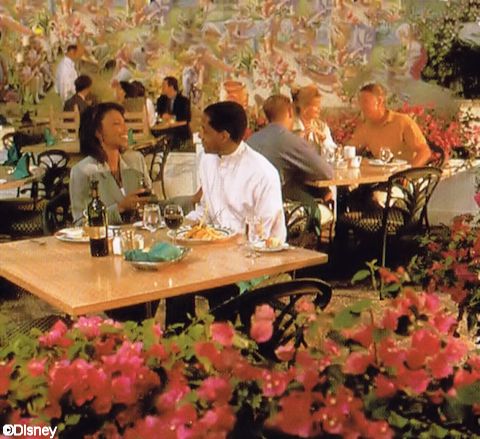 By the way, Chef Marianne Hunnel is still working her culinary magic at Walt Disney World restaurants today.
I only ate at Seasons Restaurant once during its existence. And I only have a few memories of my evening. But I do remember I came away pleased with the meal, service, and decor and I had every intention of returning. Unfortunately, the majority of this establishment's patrons came from the struggling Disney Institute and it could not compete with nearby Downtown Disney eateries and other, more themed restaurants found around property. It closed in 2000.
The concept of four dining rooms themed around the seasons of the year was resurrected at the Sunshine Seasons Foot Court in the Land Pavilion at Epcot. Although subtle, the carpet color and table tops reflect summer, winter, spring, and fall in four, walled-off areas.
As the Disney Institute continued to search for participants, the massive Disney marketing department continued to promote the facility. But it was a lost cause. As fewer and fewer guests signed up for classes, less and less programs were offered. The final straw came with the slowdown in tourism after the 9/11 attacks. The Disney Institute closed its doors in 2002.
Interestingly, the Disney Institute still exists today, not as a guest enrichment package, but rather a corporate development program. Disney uses their own success in the business world as a model for other companies to emulate. Their goal is to use time-tested practices, sound methodologies, and real life business lessons that can facilitate corporate culture change in other organizations.
To make a long story short, Saratoga Springs grew from the ashes of the Disney Institute. Knowing that this new, sprawling resort would need both a counter-service and table-service restaurant, Seasons Restaurant was gutted, the kitchen rearranged, and walls repositioned. Thus was born the Artist's Palette and the Turf Club Bar & Grill.
For a more thorough description of the Disney Institute and Saratoga Springs' early history, read my more detailed article by clicking here.
Many people don't realize that the lovely sitting room outside the Turf Club is actually the restaurant's lounge. A pool table is on hand as is a TV that is usually tuned to ESPN. A walk-up bar serves soft and hard drinks beginning at 4 each evening. This is a great place to sit and unwind, even if you're not planning a meal here.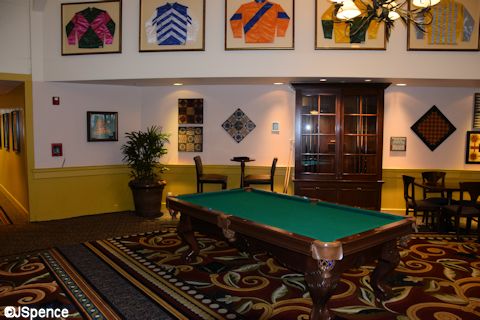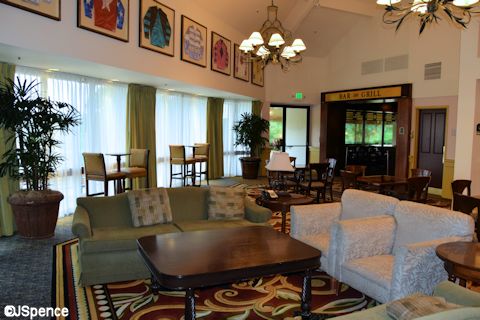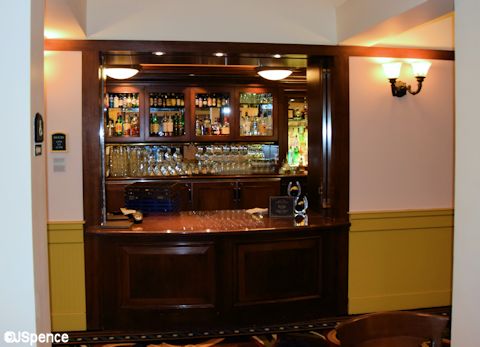 The Turf Club Bar & Grill is located just off of this lounge and offers understated sophistication. Although I've never been to a private racetrack club/restaurant, I somehow imagine this is what it would be like.
The walls of this establishment are made up of dark woods with tan accents. The carpet is a rich green with gold highlights. The tables and chairs have a clean look and also feature dark woods. The lighting is simple and keeps the atmosphere subdued, which is perfect. A wall of windows runs along one side of the restaurant and allows filtered sunlight to bathe the dining room. Several shadow boxes hang on the walls displaying racing gear.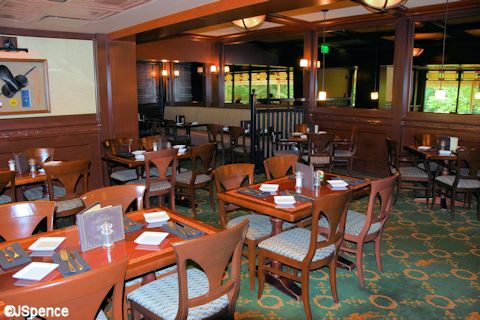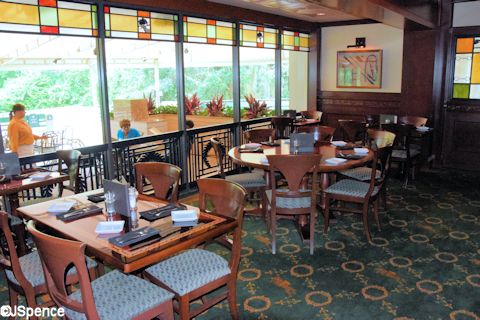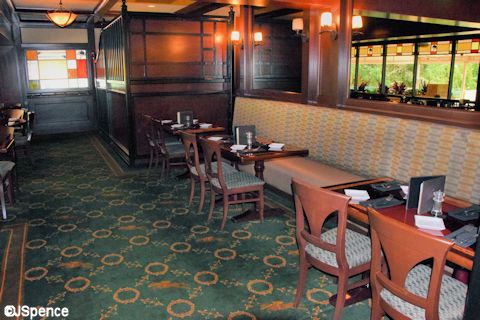 Adjacent to the indoor dining room is a covered porch with additional tables for outside dining. While eating here you can see the Sassagoula River in the distance and the water taxis ferrying guests to Downtown Disney, Old Key West, and Port Orleans. When the weather is pleasant, this is a wonderful spot to enjoy a meal.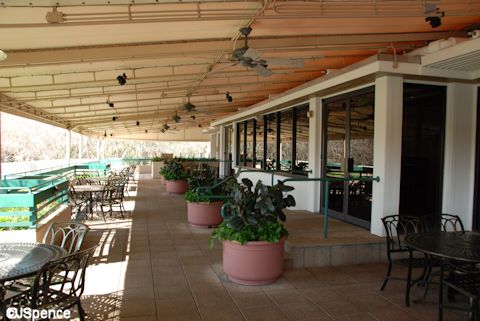 For many years, the Turf Club was open for lunch as well as dinner. However, due to a sparse afternoon attendance, the midday meal was discontinued here a few years ago. Sigh. Dinner is served from 5pm to 10pm and reservations are recommended.
I have eaten at the Turf Club many times, mostly for lunch until this meal was discontinued, but also for dinner on a number of occasions. The food is consistently prepared well and presented attractively. When it comes to service, the wait staff has always taken good care of me. On that note, I would like to single out one server in particular.
I first met Max when I was eating lunch here on a regular basis. Besides being a genuinely nice guy, Max seems to know how to time a meal correctly. I have never felt rushed or hurried when he is waiting on me. He also keeps my drinks refilled without asking. This is something I really appreciate. Max seems to be able to sense my mood and only engages me in extra conversation if I signal a desire to be talkative. Sometimes well-meaning cast members can overdue the "where are you from" routine. If you're planning a meal at the Turf Club, ask for Max. You won't be disappointed with his service.
The tables at the Turf Club are simply set. A knife and fork sit atop a cloth napkin with a bread-and-butter plate to the side. Salt and pepper shakers hold up the drink menu. There are no tablecloths.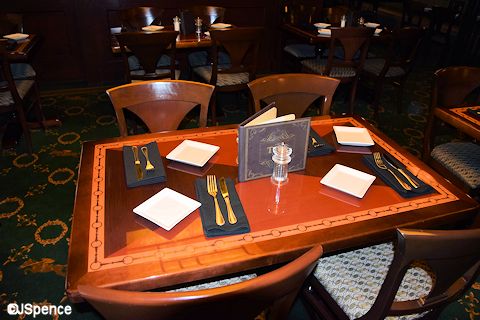 As with most dinners served at Disney restaurants, ours started off with a basket of bread. To give their establishment a distinction from the rest, the Turf Club accompanies this with maple butter. Overall, the rolls were unremarkable, but the maple butter made up for this.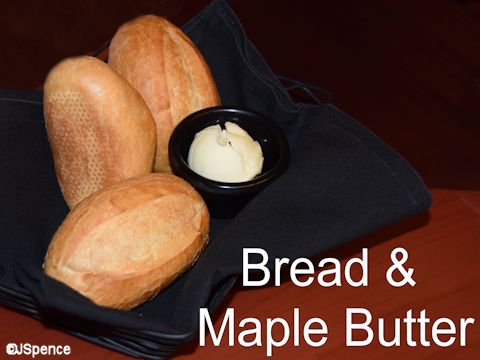 I know its tradition, but I have always wondered why restaurants serve three rolls for two people. Why can't they just serve four to begin with? I know they'll bring more if requested, but"¦
Since I was writing a review for AllEars, we ordered a three-course meal. I started with the Steamed Mussels for my appetizer. These are prepared with fennel, shallots, white wine, tomato pesto, and fresh herbs
The mussels were excellent and plentiful. I loved the flavor. And when I was finished with the mussels, I used the bread to soak up the cooking liquid that remained at the bottom of my bowl. My only complaint was that I encountered a few pieces of grit in two of the mussels. But this is nothing more than I find at any restaurant when I order this meal.
Donald ordered the Tomato Bisque for his appetizer. This offering has been a staple of the Turf Club for a long time. It is wonderful, rich, and creamy. It is topped with a dab of goat cheese which turns a good soup into an outstanding delight. I have had the tomato bisque here many times and I'm never disappointed.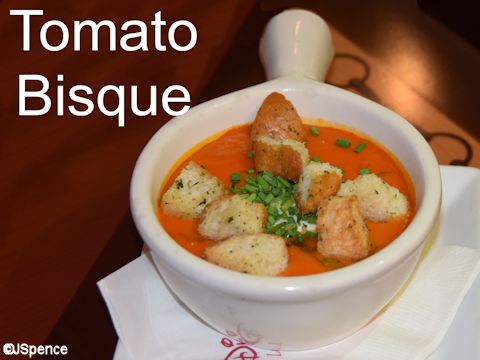 I know for a review I should order something more unusual than prime rib, but I'm a meat lover and this is one of my favorite dishes. It has also been on the Turf Club menu for a long time so I believe it is considered one of their signature meals.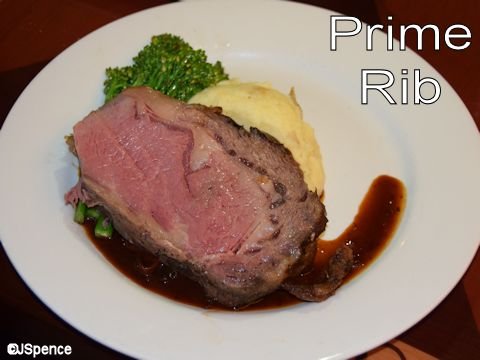 I like my meat rare as you can see in the above picture. Yum. The prime rib was tender, nicely marbled, and flavorful and was served with a cherry-peppercorn sauce which was a nice addition. I was quite pleased with my selection and it satisfied my craving for beef.
The prime rib was accompanied with mashed Potatoes and broccolini. I'm not a fan of chefs stacking food. I prefer my selections to each have their own space on the plate. I don't want to have to "unpack" my meal before I start eating. But stacking food is the trend at the moment so I have to go with the flow.
Normally, if mashed potatoes are offered with a meal, I'll ask for a substitute. It's not that I don't like mashed potatoes, it's just that I think they are bland and there are usually more flavorful options. But since I was doing a review, I opted to take what was offered, and I'm glad I did. I couldn't believe how much flavor the chef packed into this mundane tuber. I could have made a meal on the potatoes alone.
As for the broccolini, it was fine. Nothing worthy of praise or criticism.
Overall, I was very happy with my dinner.
Donald ordered the Root Beer Brined Pork Chop.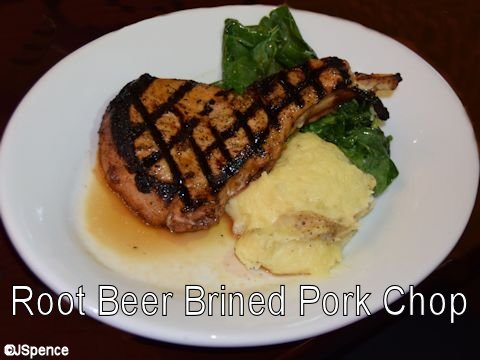 Donald made his selection because he was intrigued by the idea of meat being marinated in root beer. Although presented beautifully, his expectations were greater than the actual product. Although the meat tasted more than fine, it really didn't have that "wow" factor he was looking for. There was no hint of the root beer flavor at all. Next time he'll opt for something different.
For dessert I had the Warm Seasonal Fruit Crisp with streusel topping and vanilla bean ice cream.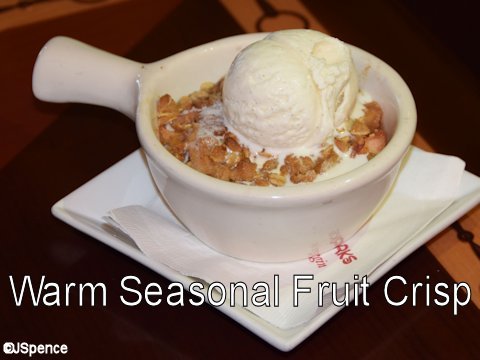 The seasonal fruit being offered during my visit was apple. Not very exotic. In essence, I was served warm apple pie a la mode. However, I LOVE warm apple pie a la mode and I was not disappointed with this offering. It was everything it was supposed to be and I was glad I ordered it.
Donald ordered the Lemon Curd & Berries.
This dish layers lemon curd, whipped cream, and seasonal berries in a tumbler. The seasonal berries in this case were blueberries.
For Donald, lemon flavor runs a close second behind chocolate. He was most pleased with his selection and would not hesitate to order it again.
Although I don't have any pictures, I would like to make a few more suggestions. These are based on past experiences.
For an appetizer, try the Turf Club Signature Grilled Romaine Salad. It features grilled hearts of romaine with Caesar dressing, balsamic vinegar reduction, and roasted cherry tomatoes. It is outstanding. I use to order this for lunch on almost every visit.
For dinner, try the Grilled Salmon with Teriyaki Glaze, with Cilantro Jasmine Rice and Green Peas. The salmon is exceptional. The best I've had anywhere on property.
For dessert I like the Cheesecake with Seasonal Topping. As you would expect, the seasonal topping is usually berries, but that's okay. This cheesecake is not pretentious. It's just your basic cheesecake. However, it's GOOD basic cheesecake and always satisfies my craving for this extremely fattening dessert.
I recently reviewed Shutters at Old Port Royale located at the Caribbean Beach Resort. In that review I said that the restaurant was worth trying if you're staying at that particular resort. But it certainly isn't worth a trip out of your way to get there.
The Turf Club almost falls into this same category. It's a great place to have supper if you're staying at Saratoga Springs, but I'm not sure it's worth the drive if you're staying someplace else. Well, I'm ALMOST sure it's not worth a drive. The thing is, I like the Turf Club a lot more than Shutters. I think the food is comparable between the two, but the atmosphere at the Turf Club is far more refined. This is something I'm looking for when I'm dining out. While Shutters sits adjacent to a food court and is decorated in festive colors, the Turf Club is tucked away from everything and offers a subdued atmosphere. I like this and it might compel me to drive out of my way to enjoy a meal here. Note, my recommendation is dependent on you having a car and driving yourself. It is not worth a bus ride from your hotel to a theme park, transfer, and then another bus ride to Saratoga Springs.
Bottom line, I think you'll enjoy dinner at the Turf Club whether you're staying at Saratoga Springs or if you make the drive over. It's a nice spot.
To watch a clip that highlights Saratoga Springs dining, check out the video below. If you watched the full Saratoga Springs video yesterday, you have already seen this material.