Over the past several years I have stayed at every Disney resort. I did this so I could take pictures, create videos, and write reviews. Now that I've completed this mission, I'm starting the cycle all over again. But since not much changes from year to year, I am not writing completely new reviews. Instead, I'm just reporting on what has changed since my last visit. However, I am taking new pictures and creating all new videos. So far I have revisited Coronado Springs, the All Stars, and Caribbean Beach. Today I'll be discussing Saratoga Springs.
Actually, it was only a year and a half ago that I stayed at Saratoga Springs and wrote a review so this resort was low on my list for a relook. However, a good friend of mine had some Disney Vacation Club (DVC) points that were expiring and offered them to me at the last minute. (Thank you, David.) With such short notice, Saratoga Springs was the only resort I was able to book for four nights.
After an extensive look around Saratoga Springs, I could see no changes in and about the resort. When I returned home, I went through my pictures from 2013, looking for differences I may have missed during my visit. I'm sure some small things have been altered, but they certainly were not obvious to me. Because I have nothing earth-shattering to report, this article will be about some of the things I experienced during my stay. To see the complete resort review I wrote last year, click here.
Meaning no offense to any of you who have purchased a DVC membership at Saratoga Springs, but this spot is the least popular membership resort located at Walt Disney World. I'm not saying Saratoga Springs is a bad resort. In fact, it's very nice and worth your consideration when looking for a place to stay. I'm simply saying it is the last DVC to fill its rooms. This is why I was able to get a four day reservation during July with less than a week's notice.
So what is it that makes Saratoga Springs less popular than the other Disney World DVC's? Location is a major factor. With the exception of Old Key West and Kidani Village at the Animal Kingdom Lodge, all of the other DVC's are located convenient to a theme park. This gives them a definite edge over Saratoga Springs. Kidani Village is popular because of the animals outside the rooms and Old Key West is in high demand because it was the first Disney membership resort and the rooms here are significantly larger than at any of the other resorts. After Old Key West was built, Disney decided they could save money by making the rooms smaller in the subsequent DVC resorts. Pity.
Another thing people don't like about Saratoga Springs is its size. It is huge. And unlike the Caribbean Beach Resort that has a dedicated bus that continually circles that resort, Saratoga Springs does not. Instead, you must catch a theme park bus to travel in one direction around the resort and a Downtown Disney bus to travel in the other direction.
Location and size are the two major failings of Saratoga Springs. But it does have a lot going for it as well. Here are some of the things I like.
First, I enjoy the atmosphere. I think the resort is beautiful. The lakes are lovely and the grounds are lush and well-tended. If you take the time to walk around Saratoga Springs, you'll discover many lovely spots.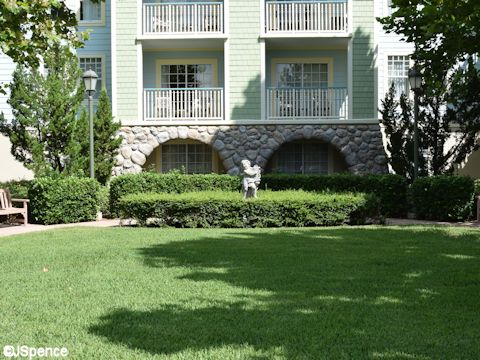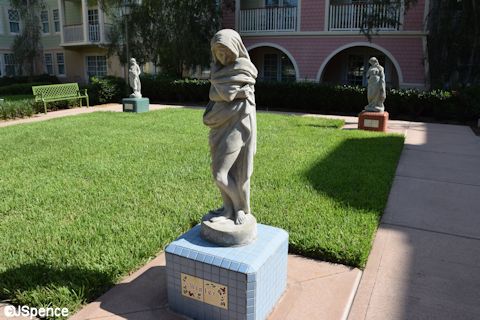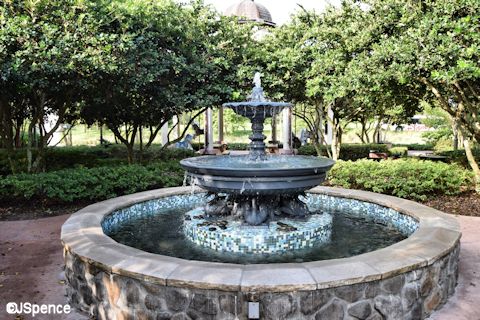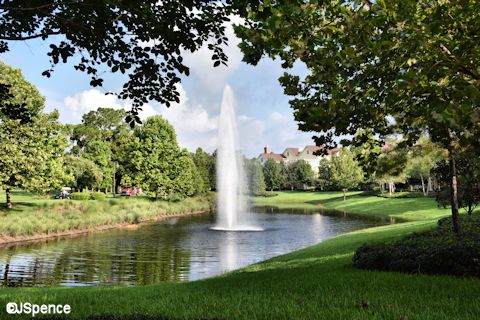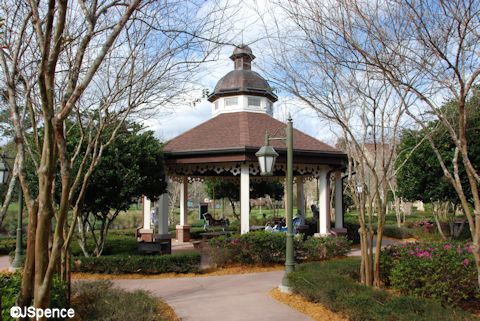 I like the Artist's Palette Food Court over those at any of the Value or Moderate resorts.
First, I like the menu here. At Artist's Palette, the chefs try (and succeed) to be a little more upscale with their offerings with dishes like Bistro Buffalo Chicken Panini, Greek Salad with Chicken, Lobster Club Sandwich, and Chicken Spinach Artichoke Flatbread just to name a few.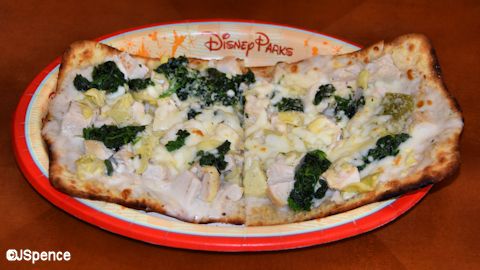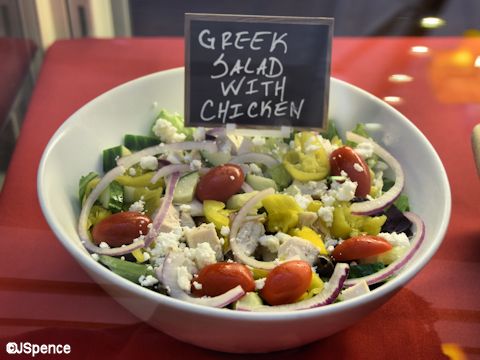 The food is made fresh with each order. You can easily see the chefs hard at work behind the counter.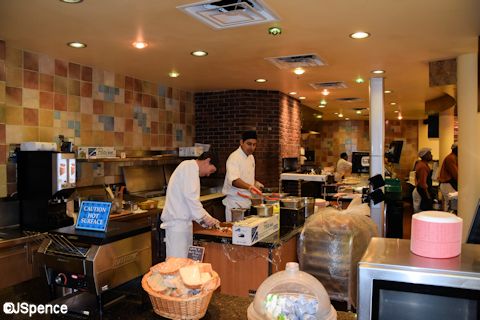 And finally, I like the ordering and serving process.
Once you decide on a selection from the overhead menus, you get in line. Here, a friendly cast member will take your order and give you a receipt and a numbered table-tent.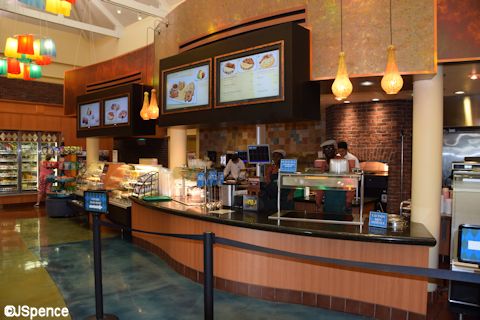 From the ordering station you proceed to a nearby register and pay. It's also at this station that you order your fountain drinks. Bottled and canned drinks can be obtained at the neighboring refrigerators.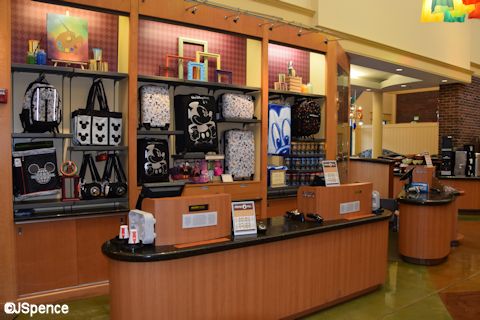 Once you pay, you take your beverages and table tent and find a seat in the adjacent seating area.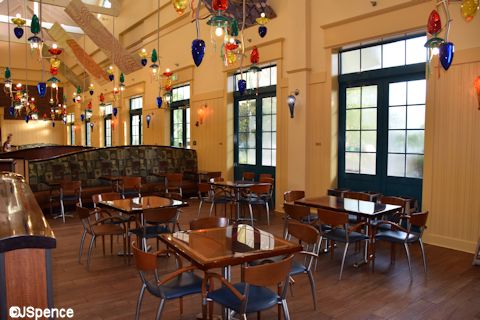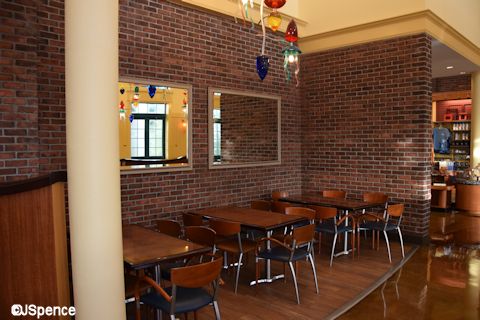 Now here is the best part. Once your food is ready, a cast member brings it to your table, piping hot or appropriately chilled. I love this. No longer do I have to wait in line to pay as my food's temperature tries to approach room ambiance.
Three cheers for Artist's Palette.
Something I noticed on this most recent trip was an "Allergy Friendly" case. Here guests hungering for a snack can choose from Chocolate Chip Cookies, Bean & Rice Chips, Fudge Brownies, Caramel Corn, and Granola Bars. I'm sure this addition will make a lot of people with special dietary needs very happy.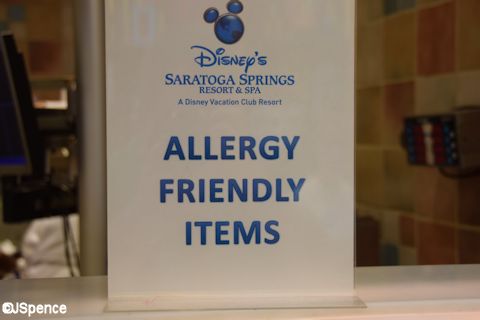 I like the swimming pools at Saratoga Springs. High Rock Spring Pool is the largest and usually the busiest. It also has a pleasant bar for when you're in need of an adult beverage or your child needs to refresh their refillable mug.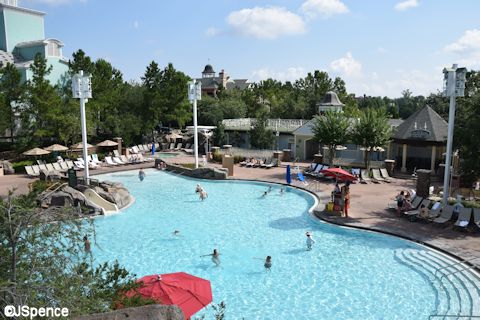 Paddock Pool has the best children's water-play area. In addition, breakfast and lunch are served here. I've enjoyed several alfresco meals at this spot and have appreciated the atmosphere, even though I wasn't going for a swim. The Paddock Grill is also the only spot at Saratoga Springs where you can get a hamburger.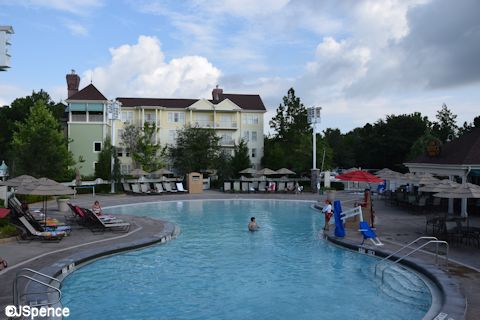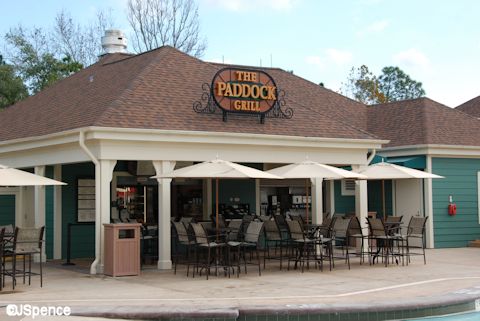 I like the design of the Backstretch Pool. It has a great children's splash-n-play area that truly embraces the horserace theme of Saratoga Springs. However, the red and white color scheme can be a little intense for some. This pool also has a refreshment/food bar that is open seasonally.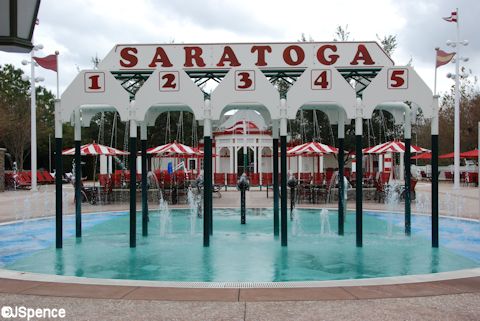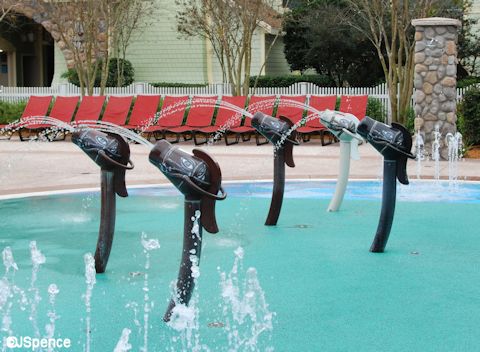 The Congress Park Pool has by far the quietest atmosphere of the four. This can be attributed to the lack of a splash-n-play area for the kids. This pool also has the most sophisticated atmosphere. Congress Park Pool is the perfect spot for adults who want some peace and quiet.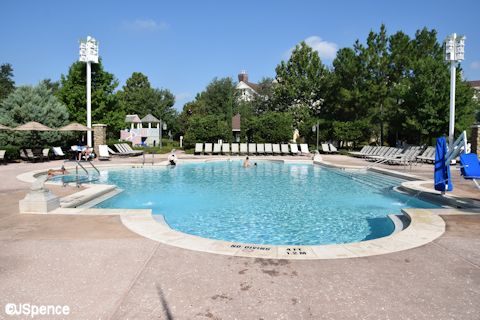 To see a short movie that highlights these pools, check out the video below.
Under construction is a new footbridge that will connect Saratoga Springs to Downtown Disney. This is part of the Downtown Disney/Disney Springs expansion. When complete, this will add a new element to this resort that will hopefully boost its popularity.
During my visit I stayed in a one-bedroom villa. Overall I like these units and believe a family could be quite happy here. The only change in decor I could find since my last visit was the elimination of the bedspread in favor of the "spa look." This appears to be standard practice now at all Disney World resorts.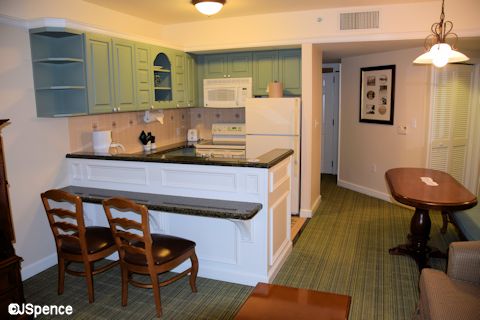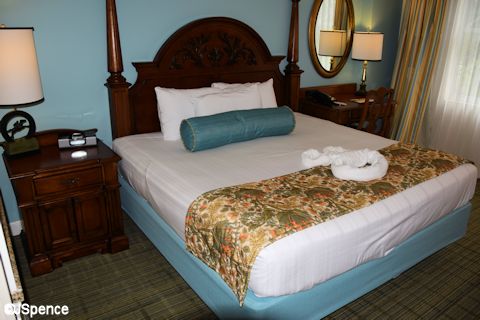 To see a short movie that highlights a one bedroom villa, check out the video below.
I have two stories about my room to share with you. One good and one not so good. Let's start with the not so good.
The living room couch is a convertible sofa. Because of this, the foundation beneath the cushions is not as good as a foundation found beneath a standard sofa. It has been my experience that hotel convertible sofas are tolerable for seating but not really comfortable. The foundations give out quickly with all the wear and tear they endure.
Well, that was certainly the case in my room. I don't believe I have ever sat on a more uncomfortable couch. All support beneath the front of the cushions was gone. When I sat down, I sank so low that the wood strip across the front of the sofa cut into my legs. To help alleviate the problem I took two bed pillows and placed them beneath the cushions. This helped some, but the couch was still painful on my legs. Ouch. Disney needs to address this issue.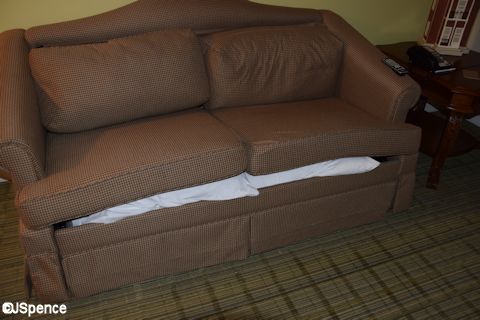 On the other hand, the bed in the bedroom was more than comfortable for sleeping. No complaints about the mattress.
Now for the good story, however my tale starts out on shaky ground.
Whenever I do a resort review, I open every drawer and cabinet to check for cleanliness and other unexpected surprises. You never know what you might find. The house cleaning staff is supposed to inspect every nook and cranny while cleaning a room, however sometimes things get missed. This is just a fact of life and nothing to get worked up about. If when I enter a room I find a minor issue, I shrug it off and let it go. However, if I find something beyond insignificant, I contact the front desk.
The first thing I do when I arrive at my room is to stash my luggage so I can take "clean" pictures. I want the room to look exactly like it would if you, my readers, were arriving. You don't want to see my personal belongings. Then I start opening doors, drawers, and cabinets and begin taking pictures.
The rooms at Saratoga Springs have a coffee table positioned in front of the sofa. In order to provide guests with maximum storage, these are also chests that open up.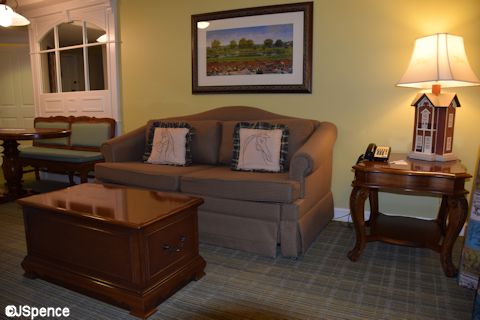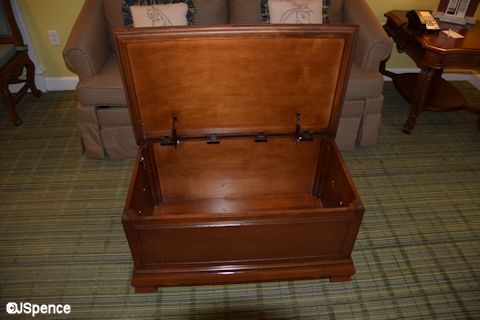 When I opened this chest, I noticed that the hydraulic hinges were broken. Without these safety devices, the lid could slam shut on someone's fingers or worse, a child's head.
This is one of those items that housekeeping could easily miss and I wasn't concerned about it for the duration of my stay. I had nothing to store and no children to worry about. However, I felt that this issue was important and called the front desk. I wanted to make sure the chest would be attended to before the next guests arrived, who may have children.
In less than 15 minutes, a maintenance man was knocking on my door. He took one look at the problem and told me that he could not fix it in the room and that he'd have to take the chest back to his shop. He went on to tell me that he wouldn't have a replacement until the following day. I assured him that there were no children present so I didn't care if it was fixed immediately or not. He agreed to leave the chest for the time being, but informed me that if there had been children in the room, he would have had no choice but to remove it immediately. The chest was swapped out the next day.
I applaud Disney for their proactive safety policy.
As I said at the beginning of this article, not much has changed since my last visit. This makes it difficult for me to come up with original information that I haven't said before. However, I did re-film the entire resort.
To take a look at all that Saratoga Springs has to offer, check out the following video. Note, the video does contain the swimming pools segment mentioned earlier.
During my stay, I enjoyed dinner one evening at the Turf Club. Check back tomorrow and I'll give you the rundown of my experience.
That's it for today.