Hi Everyone,
Before we get started with today's blog, you must endure an advertisement for a new feature AllEars has started. Each week, Deb Wills hosts a video show that brings our readers a "bit of Disney." The topics will be as varied as our blogs. Sometimes we'll discuss new offerings like "Epcot After Hours" and "Harambe Nights." Other times we'll bring you park and resort details like "Fort Wilderness Little Known Facts." You never know what's in store so you'll just have to tune in to find out.
This week, Deb came to my home and allowed me to show off my "Pirate" guest bedroom We had a lot of fun and I hope you find it interesting and entertaining.
I have already recorded another session with Deb about the PeopleMover at Disneyland and the Magic Kingdom. And I plan on doing more videos in the future. To make sure you don't miss anything, you might want to subscribe to our new show.
Each day, thousands of people drive north on World Drive and pass through the Magic Kingdom toll booths. Once on the other side, most guests veer left toward the Magic Kingdom parking lot. However, there is a second group of people that continue driving straight ahead or veer right. They are aiming for either the golf courses, the Grand Floridian, Polynesian, Contemporary, Wilderness Lodge, or the Fort Wilderness Campground. There are also a number of cast members in this second group who take this route aiming for backstage facilities or the property's north exit onto Reams Road.
Although the right side of the toll booths are unofficially designated for the resorts and the left side for the Magic Kingdom, this is a clumsy arrangement. Many people don't know this and hotel guests and cast members are forever getting stuck behind a day visitor paying to park and asking a dozen questions.
None of the other toll booths at WDW give motorists a choice of direction. Once you pass through the other parking lot entrances, the only place to go is that theme park's parking lot. So why is the Magic Kingdom different? To answer this question, we must look back into Disney history.
Walt was far more interested in building the "city" of EPCOT than the Magic Kingdom. But he knew that the amusement park needed to be built first to help generate the funds necessary to construct his futuristic community. To that end, he wanted the Magic Kingdom placed at the north end of property. He also wanted all of the "vacation" hotels to be clustered around the Magic Kingdom. By doing this, these facilities would act as the "weenie" and draw guest through a large portion of the property, and eventually, past Epcot to get to their vacation destination.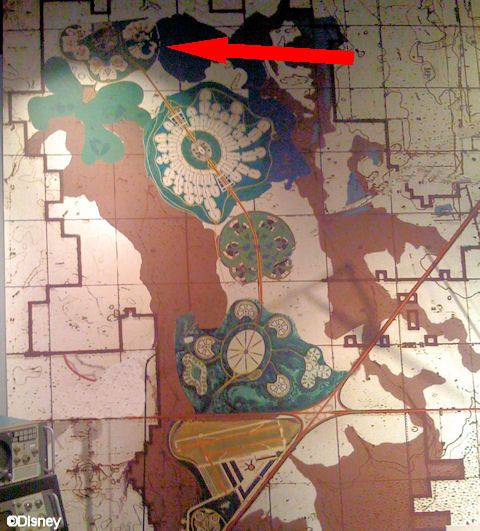 After Walt's death, the bean counters wanted to construct the Magic Kingdom closer to the interchange of Interstate 4 and Highway 192. This would have saved the company untold dollars as not as much infrastructure would be needed. It would also make the Magic Kingdom more accessible to motorists. But Roy wanted to honor Walt's wishes. He also knew that the property's needs would eventually have to be attended to and it would be better to do it now rather than later.
Although concepts for the "city" of EPCOT were bantered about for a number of years after the opening of the Magic Kingdom, for the most part, this dream died with Walt. Eventually, the company built EPCOT Center (a theme park) and placed it somewhat in the same vicinity as where the city would have been developed. They also connected this new park to the TTC with a monorail.
When Michael Eisner took the reins of the company in 1984, he was directed by the Bass brothers (who were major stockholders) to develop the property far beyond what his predecessors had done. And Michael did just that. He built two more theme parks, more golf courses, two water parks, many hotels, a learning center, a sports center, a motor racetrack, and expanded Downtown Disney. However, he did not build more monorails due to their excessive costs. Instead, the company opted to use buses to transport guests around property.
Because the property was so vast, these new facilities could be placed almost anywhere. But I'm sure serious thought was given to each new facility's location. Still, I have a few problems with the decisions that were made and feel the Imagineers could have done a better job. Let me give you a few examples.
As I mentioned earlier, I don't like the toll booth arrangement at the Magic Kingdom. This should be simplified. Hotel guests should have a way around the booths. Only those parking at the Magic Kingdom should have to pass through these pay stations.
Disney's Hollywood Studios was positioned in a location that makes it difficult for the park to expand. It's bordered by major roadways on two sides, the main entrance on another, and its own parking lot on the fourth. In addition, an office building was built in it's backstage areas, limiting even more growth.
The parking lot has two entrances, one of these being off of the signal-laden Buena Vista Drive. This second entrance is woefully inadequate to handle the traffic it does.
To exit the Studio, you are dumped back onto signal-laden Buena Vista Drive. You should exit the Studio onto a "highway" as the other three parks do. Signals just slow things down.
As Disney World had untold acres of undeveloped land, I was always amazed that the Imagineers chose this location for the Studio. Why didn't they position the park where it could grow and provide a decent exit and only one, all-purpose entrance?
The company built the Walt Disney World Speedway right in the middle of the Magic Kingdom parking lot in 1995. The track was designed to fit within the boundaries of the existing infrastructure, requiring minimal rerouting of existing roads. For several years, the track was home to the annual Disney 200. During the rest of the year, it was used for lesser events and test driving. However, its location turned out to be a nightmare. First, the constant engine roaring infuriated Polynesian guests. Then the issue of parking became a problem as the Speedway was sharing the Magic Kingdom lot. All in all, it was a disastrous decision to place this facility here and the Disney 200 only lasted five years before it was discontinued.
Downtown Disney was placed too close to State Road 535 (S. Apopka-Vineland Blvd.). Entering Hotel Plaza Blvd (on route to Downtown Disney) from this roadway during the off-season is bad enough, but come the busy times of the year, Apopka-Vineland is almost impossible to navigate.
Downtown Disney also sits along signal-laden Lake Buena Vista Drive. Driving along this roadway can test the patience of any sane person. Disney is currently in the process of expanding this six-lane road to a ten-lane road. I hope this helps, but I'm not holding my breath.
I like the Swan and Dolphin Resorts. I think they are a lot of fun. But I hate where they are located. They should NOT be visible from Epcot's World Showcase. This "mistake" bugs me a lot.
I love the addition of the moderate and value resorts to Walt Disney World. This allows a wider audience to enjoy the many perks available to on-property guests. However, none of these properties are adjacent to a theme park. This makes them less desirable than a deluxe resort. Even the DVC properties Old Key West and Saratoga Springs are removed from the theme parks and require auto or bus transportation to reach WDW entertainment.
I'm not blaming anyone for the layout of Walt Disney World. It happened over time and the Imagineers tried to make the best decisions they could as new ideas were born and old ones dismissed. But it did get me to thinking, how would the Imagineers design the entire property if they knew in the mid 60's that no EPCOT "city" would be built, but instead, four theme parks, 20-something hotels, water parks, and everything else that happened over the last 43 years. So, I took out pen and paper and started my own design from scratch.
The Walt Disney World property is basically a rectangle with a lot of irregular borders. For simplification, I'm just going to use a basic rectangle with straight edges. Please bear with me as I lay out my plans. This is an elementary concept that would have to be tweaked depending on the land and water that naturally exists. But remember, when Walt Disney World was first being planned, the Imagineers turned a swamp into Seven Seas Lagoon. They also constructed 47 miles of canals, 22 miles of levees, and 24 water-control structures and floodgates across the land. These facts let me be free with my design as I know Disney would be willing to move mountains (if Florida had any) to create the perfect vacation destination.
So here goes. My idea for the "perfect" layout of Walt Disney World if I could build the entire compound from scratch today.
Okay, my first decision might sound blasphemous to many of you, but I would not put the Magic Kingdom in its current position. Walt wanted it at the north end of property so it could be the weenie to draw guests past EPCOT, but we have no need for this in my design. And when you think about it, the ferryboats and monorails easily add 20 minutes each way to a day visitor's schedule on a good day. On a busy day, even more time. And if the idea of a lake in front of a theme park was so good, why hasn't it been recreated at any other Disney park? However, I would still create Seven Seas Lagoon. More on this in a minute.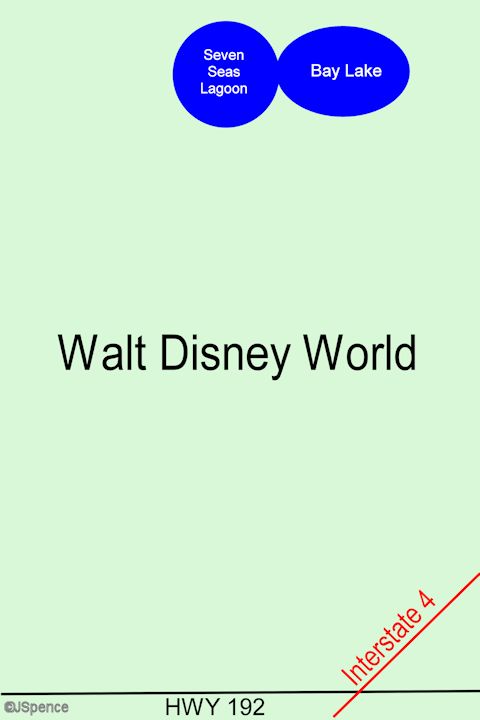 I would have World Drive travel up the middle of the property, much as it does today. I would locate the Sports Center at the north end of property, near Seven Seas Lagoon and Bay Lake. This facility would circle much of the lagoon and lake and contain the three golf courses, water recreation, the Richard Petty Driving Experience, and all of the sports facilities found at Disney's Wild World of Sports complex today. The water parks and miniature golf courses would also be found in this area. Remember, my maps are not to scale. They're just here to give you an idea of general placement.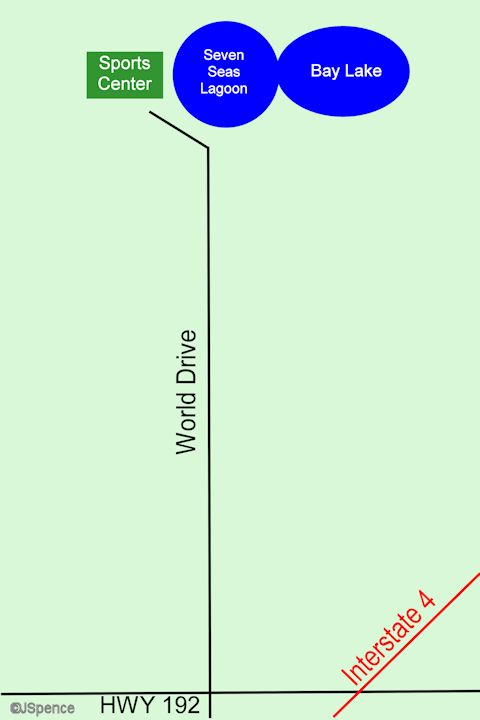 I would put Downtown Disney smack-dab in the middle of the property. World Drive would run beneath this shopping district. Walt originally proposed having automobile traffic run beneath EPCOT.
Even though my drawings don't show it, there would be adjacent parking lots for all facilities.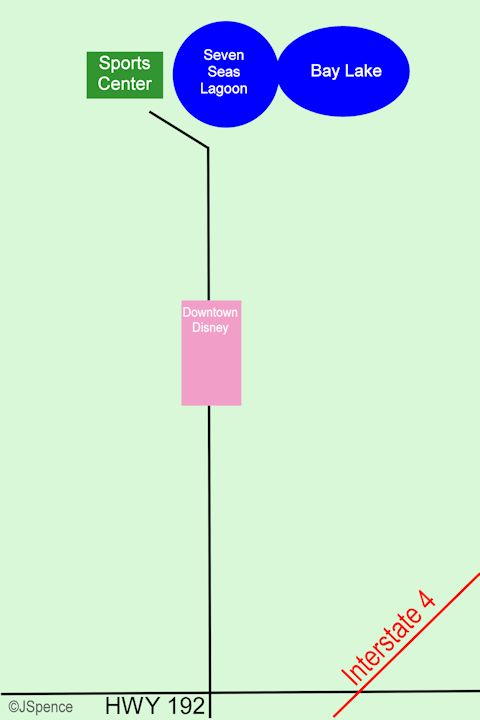 Now for the theme parks"¦ I would create four "villages," each one anchored by a park. In a way, my design mimics the layout of the Magic Kingdom, only on a much larger scale. I have a central hub (Downtown Disney) and the sports center and the four villages radiate from this central location like Tomorrowland, Fantasyland, Liberty Square, and Adventureland.
If you haven't figured it out by now, I'm a Left Brain sort of person. I'm a logical, orderly, linear thinker. We would need a group of Right Brain people to come in and humanize my design. For example, in my drawing I have the four villages laid out very neatly. In reality, some villages would be closer to Downtown Disney and others further away. And their size would also vary greatly. After all, Epcot is twice the size of the Magic Kingdom and the Animal Kingdom is five times the size of the Magic Kingdom. In addition, the suitability of the land and property boundaries would also play a part in the design.
Walt's original plans for the city of EPCOT called for a monorail system to connect the major locations around property. I would do the same. NO MORE BUSES.
Like the Magic Kingdom monorail, my system would be a double highway-in-the-sky with each side running in the opposite direction. But unlike the Magic Kingdom's version, these monorails would stop at every station. By doing this, no area would be more than three stops away.
Each village would contain one theme park, two deluxe hotel/DVC resorts and one each moderate and value resort. One of the villages would get the extra bonus of the campground. This way, no park would be superior in its lodging options. So if Disney's Hollywood Studios is your favorite park, you could stay right next door in whatever type of accommodation you like. In other words, no resort would be "stand alone" as some are today. Space could be left for additional growth within each village or new resorts could be added near the Sports Center, creating another village.
The current Epcot hotel complex (Yacht, Beach, Boardwalk, Swan, and Dolphin) is a good example of what each village might look like in my new design. There would be a small lake in which the various accommodations would be clustered. However my lakes would be larger than Crescent Lake. I don't like the crowded feel that currently exists with the Epcot Resorts. There would also be a promenade that connects all of the hotels. And there would be "backdoor" entrances into every park for hotel guests.
NO HOTEL WOULD BE VISIBLE FROM WITHIN A THEME PARK!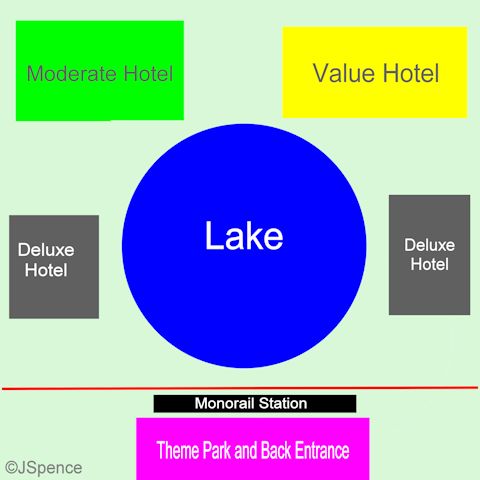 When approaching a village by car, the roadway would split. Day guests going directly to a theme park would pass through a toll booth. Those going to the hotel complex would be directed to each resort's own parking lot.
As I mentioned earlier, Walt wanted monorails to connect the major locations around property. In addition, he wanted PeopleMover stations adjacent to the monorail platforms. He would use this slower moving transportation system to transport guests to the smaller attractions. So to get around within any of my villages, guests would ride on PeopleMovers.
Running in the opposite direction of the People Mover would be a watercraft system. Although not nearly as efficient, boats add a lot of ambiance to an area.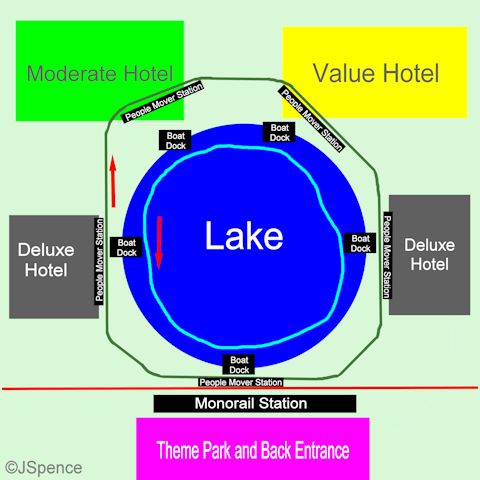 Remember, each village would look entirely different from the other three. The lakes' shapes would be varied and the hotel theming would be as diverse as it is today. In fact, I like many of the current hotel designs. There is no reason we couldn't reuse some of the present-day motifs. So of you like the way the monorail runs through the middle of the Contemporary, let's recreate it. If you like the laidback atmosphere of Port Orleans, let's recreate it. But if we're starting from scratch, new designs would also be welcome.
So there you have it. My idea for Walt Disney World if I had created the master plan back in 1965 with 2014 knowledge. If you like my ideas, great. If you have your own ideas, share them. If you hate my plan, no problem. None of it really matters as this was an exercise in futility. But I enjoy playing the "what if" game and I hope you enjoyed my vision of Walt Disney World.